Bye Weeks: Arizona, Cleveland, Green Bay, Washington

Grab a Helmet

Brian Hartline v. TEN: He's the 21st-rated receiver on a points per game basis so, technically, he's a borderline must-start guy in 12-team leagues. Do people perceive him that way in general, however? ESPN's Scouts Inc. report on the former Buckeye concludes thusly: "He would not be considered a No. 1 receiver." Well, I guess that answers that. To be fair, I can't be sure when the ESPN intelligentsia made that assessment. If it was before this season, they've missed out on a breakout campaign wherein he has certainly acted like a No. 1 receiver, regardless what his measurables say he should be. He's the 11th most targeted receiver through nine weeks and is also tied for 19th in total receptions. What holds him back at this point are a dearth of touchdowns (just one) and the fact a lot of his targets go uncaught, probably because Ryan Tannehill is still honing his accuracy. I like Hartline against Tennessee's bend-AND-break secondary in Week 10.

Ryan Broyles @ MIN: Titus Young got most of the attention after Nate Burleson's injury left a hole in the Lions' receiving corps and the Boise St. grad even capitalized on that opportunity by snaring nine balls to the tune of 100 yards and two scores in the Week 8 showdown with Seattle's Pro Bowl-caliber corners (very cool). Naturally, he followed that up with a two-catch, 20-yard clunker against the very average Jaguar corners in Week 9 (not so cool). Broyles, meanwhile, has been quietly producing very useable stats for fantasy owners since getting his first real look in the Week 7 game v. Chicago. His targets have stepped up from four to five to six in the past three weeks and he's already registered a couple of 50-yard outings and two scores. None of this would come as a surprise to Bob Stoops or Broyles' college battery mate, Landry Jones. All the undersized wideout did at Oklahoma was set an NCAA FBS record with 349 career receptions. Give him a look if you're missing some of those Packers wideouts this Sunday.

T.Y. Hilton or Dwayne Allen @ JAX: After taking a backseat to Heisman winner Robert Griffin III through the first several weeks, Andrew Luck has asserted himself and reminded everyone why he, and not Griffin, was the No. 1 pick in last April's draft. He's done so, in typical great quarterback fashion, by diversifying his targets and taking what defenses will give him. Tom Brady does it. Peyton Manning does it. Aaron Rodgers does it. You know a quarterback is great (or will soon be great) when he starts throwing lots of balls to guys nobody has heard of. Hilton and Allen certainly qualify…or did before the last couple weeks. The former tallied 102 yards and a score last week while the latter, locking down the TE position in Coby Fleener's absence, notched six grabs for 75 yards on seven total targets. Expect more of the same from both against a sliding Jags crew in Jacksonville Thursday night.

Grab Some Wood

Brandon Gibson @ SF: Gibson hasn't been terrible this year, which I realize immediately is a back-handed compliment of the highest order. It's saying something, nevertheless, that he's managed to produce some pretty reliable point totals in a struggling offense, modest though they may be. Here's the problem, though: He's only been productive against the league's more generous pass defenses (your Green Bays, your Washingtons, etc.) When he's faced legitimate defensive competition (Chicago and Seattle, respectively, in Weeks 3 and 4), those totals have gone from modest to anemic (just 4.7 fantasy points combined in those two games). San Francisco might very well be the best pass defense he's faced thus far and he's got them twice in the next four weeks. You weren't counting on Brandon Gibson to lead your squad to the promised land, I hope, but if you were…. Stick with Danny Amendola, who's back this week, or the electric Chris Givens if you insist on having Rams receivers in your lineup.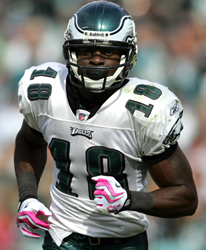 Maclin hasn't lived up to his ADP.

Jeremy Maclin v. DAL: I was majorly bummed when I missed out on Maclin in one my various drafts this past August. That frustration was compounded when the owner who snagged him made an early offer, several weeks into the season, which included the Philly receiver but wasn't ultimately good enough to accept. Why did I just share all that? Sometimes, the guys you covet really do end up sucking and missing out on them in the draft and resisting the urge to acquire them can be the best thing that happens to your fantasy squad. Maclin hasn't sucked exactly but he still embodies my lesson learned for 2012 (I require recurrent training). He's simply failed, like most of the Philly offense, to live up to expectations, averaging a ho-hum 7.7 fantasy points/game. That's squarely in Dez Bryant, Brandon Lloyd, Hakeem Nicks, and Antonio Brown territory, names which have caused similar amounts of consternation, I suppose. Stop gambling with Maclin.

Dwayne Bowe @ PIT: Bowe has been, arguably, the Chiefs' most reliable skill position player this year, producing fairly regular totals despite incredible uncertainty at the quarterback position and injuries pretty much everywhere you look. I said "fairly regular," not "extraordinary." He's topped the 100-yard mark just twice this season and both of those games occurred earlier in the season (Weeks 2 and 4), before Matt Cassel was apparently lobotomized. Zombie Cassel is still under center for Kansas City and now he, Bowe, and the rest of their beleaguered teammates face Pittsburgh at Heinz Field on a Monday night. There aren't many good matchups for the Chiefs these days, granted, but this one absolutely doesn't qualify by any stretch of the imagination. Steer clear of Bowe and every other Chief this week.

Good luck, folks!

Quarterbacks