Bye Weeks: Arizona, Cleveland, Green Bay, Washington

Grab a Helmet

Chris Johnson @ MIA: He was well on his way to a snooze-worthy outing against the Bears last Sunday, his first in several weeks, when – with about 10 minutes to go in Chicago's 50-21 romp – he struck for one of those patented one-play scoring drives, an 80-yard sprint to the house. Almost instantly, Johnson's performance went from prosaic to profound. His well-documented struggles notwithstanding, there are still very few runners in the league who can turn chicken scat into chicken salad the way he can. He's a true home-run hitter and, 80-yard touchdown jaunts being the NFL's equivalent of grand slams, a guy who can change fantasy matchups in a hurry. That was actually his second such blast in the last three weeks, a pretty solid indication the man we once called CJ2K may be regaining his form. I wouldn't have liked this matchup with Miami four weeks ago but Johnson has gotten better and the Miami front seemingly worse since then. Get him in there and hope the uptick continues.

Vick Ballard @ JAX: Ballard is actually the latest back to have faced the Fish and he was surprisingly effective in that matchup, tallying just shy of 100 yards on 19 total touches in the Colts' nail-biting 23-20 Week 9 victory at Lucas Oil Stadium. The Mississippi St. product has only warning track power compared to Chris Johnson (his longest career run is a mere 26 yards) but he always seems to gain positive yards and is a fairly effective pass-catching option for Indy's high-powered passing attack. That's a good thing because it means he'll stay on the field come passing downs…and there are plenty of those in a Bruce Arians-led offense. Ballard will also be garnering most of the rushing opportunities for Indy (Donald Brown is still on the mend, apparently), so I think it's safe to call him one of the better plays for Week 10. Start the rook against Jacksonville's suspect defense (25.3 average points yielded to opposing RBs).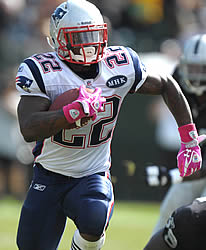 Stevan Ridley: Leader of the three-headed monster.

Stevan Ridley, Danny Woodhead, or Shane Vereen v. BUF: Before you start firing off those nasty emails…no, I'm not suggesting these guys are interchangeable. Obviously, Ridley is the back to own of the three, provided you're willing to employ a ball carrier who plays for the game's most unpredictable (read: maddening) coach, Bill Belichick. That unpredictability, however, is precisely what makes guys like Woodhead and Vereen, ostensible backups, somewhat relevant and occasionally even more so. Think back to Week 4 when the Pats had TWO 100-yard backs (Ridley and Brandon Bolden) and another (Woodhead) who scored a receiving touchdown. If you're counting at home, that's three backs on one team north of 8 fantasy points in one game. New England's opponent that day? Yup, you guessed it: Buffalo. I think Ridley's a lock for triple digits and a score or two. It wouldn't surprise me at all, though, to see either Woodhead or Vereen (or both) throw up some solid numbers, as well. If you need serious help on this penultimate week of byes, give them both a look.


Grab a Gatorade

Ryan Mathews @ TB: Mathews has been one of the bigger disappointments at the running back position this year, primarily because he missed the first two games of the season and was, thus, never likely to regain the elite status he achieved last year. It's worse than that, though. On a per game basis, he's only the 22nd best running back to date. Indeed, his 10.8 points per contest put him behind the aforementioned Chris Johnson (somewhat understandable), Michael Turner (barely understandable), and Shonn Greene (not in the least bit understandable). What's wrong with the former Fresno St. stud, you ask? Well, the Chargers' offense in general, and Philip Rivers in particular, have been suffering through a season-long malaise. Additionally, Mathews' chronic fumbling problem and his proneness to injury seem to have motivated Norv Turner to utilize other running back resources on the squad more frequently, namely Ronnie Brown of late. You probably won't sit him but bear in mind he's been underperforming and now draws a Tampa defense that is flat stuffing opposing rock-toters (3.4 yards/attempt and 77.3 yards/game, best in the league in both categories).

Matt Forte v. HOU: Forte's numbers have dipped a bit since last year, as well (12.8 points/game v. 14.4 in 2011) but he's been pretty steady for the most part and has handled the slight workload reduction and partial job share with apparent grace. Actually, the addition of Michael Bush may render Forte more valuable down the stretch as he's less likely to get injured the fewer touches he receives. And by "more valuable," I of course mean "at all valuable." He missed everything after Week 13 last season with a balky knee. Unfortunately, in order to get to Week 13 (and beyond), one has to actually make it to the fantasy playoffs. That could be much more difficult if Forte struggles against the Texans' stellar stop unit this Sunday night. They're surrendering just 11.7 fantasy points/game to opposing backs and have still yet to give up a single rushing touchdown on the season. I'd bet a pretty good chunk Forte won't be the guy to break that spell.

Jamaal Charles @ PIT: Charles seems to have survived the vicious blow delivered last Thursday night by San Diego linebacker, Donald Butler, and will likely be back in the starting lineup for the Chiefs on Monday night. That doesn't mean he should be back in yours, however. Since an explosive three-week stretch in the early going (560 total yards and three scores from Weeks 3 to 5), he's effectively disappeared, averaging a trivial 41 total yards/game in his last three tilts. He also hasn't scored recently. It would be tempting to think the competition has stiffened since that productive stretch but he posted those numbers against San Diego (tough), Baltimore (tough), and New Orleans (gooey soft). Since then, he's faced San Diego again (still tough), Tampa (really tough), and Oakland (they just gave up 272 total yards to Doug Martin). I don't like him at this juncture and certainly not against a newly steeled Curtain on primetime TV.

Wide Receivers