Nobody needs to be told starting Aaron Rodgers, Arian Foster, or Calvin Johnson is a good idea. Duh, right? You can't have studs at every position, though, unless you're in the shallowest of leagues. This is where the Shot Caller comes in. Need help deciding which bargain basement QB to use and which to ignore on Rodgers' bye week? Let's talk. Looking for solutions at running back because Foster is a game-time decision? Look no further. Need to know which of your unproven targets to start and which to sit since you ignored Megatron and went RB-QB-Gronkowski in your first three rounds? I'm your huckleberry. Past results may not guarantee future success, but I believe ignoring them entirely can ruin your Sundays in a hurry. Read on for a little history and, hopefully, a little sage advice.
Bye Weeks: Dallas, Detroit, Oakland, Tampa Bay

Grab a Helmet

Andrew Luck v. GB: We should have known it was going to be an unusual start to the season when five rookie QBs were tapped for starting duty on opening weekend, a record since the NFL-AFL merger in 1970 (by far). More unusual still is how fast two of them (and maybe a third?) have become viable fantasy starters. RGIII is, of course, lighting things up in our nation's capital but Luck is no slouch either. Through three games, he's averaged 40 passes per contest, topped the 300-yard mark twice, and most importantly, crested the 20-point mark (FF Today default scoring) in all three games. That's the kind of consistency we expect from 10-year veterans, not four-game fledglings. This week he draws a Pack D whose early numbers (201.3 passing yds/game) belie a continued inability to defend top shelf signal callers. Drew Brees shredded them for 446 yards and three scores last Sunday. Give Luck a look if you're feeling…you know.

Peyton Manning @ NE: Griffin III and Luck have been revelations in their freshman campaigns but so in a way, has the ageless Manning. Some visible rust could reasonably have been expected early on and indeed, he looked really shaky for an eight-minute stretch to start the Atlanta game in Week 2. Take out those eight early pass attempts however, wherein he threw three miserable picks, and this is what his stat line looks like through four games: 95-145 (65.5%), 1,128 yards, eight TDs, and zero INTs. In other words, it's business as usual for the certain Hall of Famer. This Sunday he squares off against old nemesis, Tom Brady, and a Patriots team he's faced 16 times in his illustrious career to the tune of 274.4 yards and 2.25 TD passes per game. Ryan Fitzpatrick just lit the Pats up last weekend so there's no reason to think Peyton won't do the same, as he has many times before.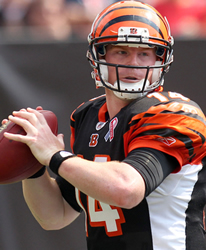 Andy Dalton is shaping up to be a top ten fantasy Quarterback.

Andy Dalton v. MIA: I just made the following trade offer in my 12-team, 2-QB league: Adrian Peterson and the aforementioned Fitzpatrick (whom I love, by the way) for Dalton and Victor Cruz. I don't expect my opponent to accept, but if he does, I'll consider it a win. Peterson and Cruz could end up being a wash by year's end (it's a PPR league) but Dalton is quietly on his way to a fantastic season and is just a tad more reliable than the wildly erratic but productive Fitzpatrick. Here's how the former Horned Frog projects, in fact, for the entire season: 4,444 passing yards, 32 TD passes, 144 rushing yards, and 4 TD runs. Those numbers would have placed him squarely in the top 5 for 2011, a historically incredible year for fantasy signal callers. Even if he tails off a bit, he's looking like a legit top 10 guy for 2012. Start him this weekend against a Dolphins D that has been super-stingy against the run but quite indulgent vs. the pass (almost 300 yards/game).


Grab a Clipboard

Kevin Kolb @ STL: Numbers may not lie but they sure do mislead us from time to time. Take for instance this year's Cardinals. They sport the league's 31st best offense (total yardage), its 17th best defense (ditto), and…one of just three unblemished records along with Houston and Atlanta. How is that possible? Give Kolb at least some of the credit. He's been more consistent than in years past (a 97.6 QB rating), is mostly avoiding the killer mistakes he's historically been prone to, and (conversely) is capitalizing on turnovers his teammates have forced. Whatever he's doing, in other words, is working for Arizona. Will it work for you? I have my doubts, especially against a vastly underrated Rams defense holding opponents to a collective 64.2 passer rating through four games. That's best in the league by the way. Sit Kolb on Thursday night and wait for a better matchup.

Alex Smith v. BUF: I'm sure the Niners expected Smith to become more than just a Kolb-like game manager when they made him the first overall pick in 2005, but…at least he's become a pretty good one. That's something, right? His 98.1 passer rating and 5-1 TD-INT ratio are stellar, if not gaudy, figures and he's keeping the San Francisco ship pointed squarely in the right direction, toward a return to the NFC title game and a possible Super Bowl appearance. Unfortunately for fantasy GMs, that's not a compelling enough reason to give Smith much run. The Niners are built to grind out games with a punishing ground attack and a rugged defense, a tried and true recipe for NFL success. About the only tinkering they'll do with that formula is what we witnessed last week, a Colin Kaepernick-led spread package sprinkled in to spice things up. Newsflash: Smith comes out when Kaepernick goes in.

Matt Schaub @ NYJ: Here's another guy whose value in real life far surpasses his value in the fantasy world. The Texans may not possess, statistically speaking, the league's best ground attack (a ninth best 136.5 yards/game), but they do have arguably its best player at the position, lead the league in rushing attempts through four games, and are clearly committed to the methodical offense/suffocating defense approach employed by Jim Harbaugh in Frisco. And it's kinda hard to argue with the results so far. Houston is 4-0 and has only trailed for about 20 of a possible 240 minutes of game time to date. Until they're forced to throw the football more, Schaub will continue to be a middle-of-the-road QB option. I don't think that will happen on Monday night in Gotham when the Texans square off against Rex Ryan's overrated and underachieving front seven (172.8 rushing yards yielded per game). Sit him down if you have other options.

Running Backs