Bye Weeks: Dallas, Detroit, Oakland, Tampa Bay

Grab a Helmet

Brian Hartline @ CIN: Now HERE'S a waiver wire pickup I can get behind. Hartline was nothing short of phenomenal in the desert last Sunday, tallying 12 receptions for a mind-boggling 253 yards and a score against a pretty decent Cardinals secondary. One-hit wonder, you say? Well, he isn't going to match those numbers again, most likely, but he sure is capable of notching triple digits on a semi-regular basis. Here's why: Hartline is the third most targeted receiver through the first four weeks of the season, right behind Dwayne Bowe and Victor Cruz. Last week, in fact, he was the target on 21 of Ryan Tannehill's 41 tosses. That's half! Even if he only CATCHES half of them (which he basically did), he's scoring double-digit fantasy points for you, especially in PPR leagues. Go get him and immediately insert him in your lineup against the Bengals this weekend.

James Jones @ IND: Here's another guy worth plucking who might still be available on your league's waiver wire. I actually tagged Jones as a possible breakout candidate prior to last season, reasoning he offered more value than the statistically similar Jordy Nelson, who was being drafted, on average, a full three rounds higher. My logic was fairly sound, I think (he was and still is one of Aaron Rodgers' favorite red-zone targets), though the prediction was spectacularly inaccurate. You win some and lose some, right? Jones gets a belated opportunity to validate my belief in him against the Colts this Sunday as he'll likely take over the starting slot normally occupied by Greg Jennings. He's thick, has great hands (though occasionally lousy concentration), and is still frequently targeted where it counts, in the red zone. Give him a look if you're missing some stud wideouts this weekend.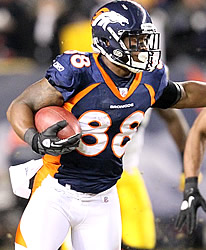 Demaryius Thomas and Eric Decker are good plays in what should be a shootout in New England.

Demaryius Thomas or Eric Decker @ NE: These guys are making Peyton Manning's re-entry to the NFL fray a relatively seamless one. What's striking however, is how remarkably similar they are statistically. Thomas has notched 21 grabs for 325 yards and two scores while Decker has caught 24 passes for 322 yards and a single touchdown. Oh, and they've both been targeted exactly 35 times. They're probably, in other words, the two most statistically similar receivers in the entire league and they just so happen to play for the same team. I wouldn't hesitate to start either (or both) against a New England defense giving up boatloads of yardage through the air. It's shaping up to be a shootout in Foxboro and you're going to want a piece of it.


Grab Some Wood

Any NY Jets Receiver v. HOU: In the wake of Santonio Holmes' season-ending injury, it's tempting to look for the new #1 wideout amongst the remaining receivers on hand in New York. Here's the only problem with that: That receiver probably ISN'T on hand. Stephen Hill may one day develop into a primary receiving threat but he's banged up right now and literally hasn't caught a pass since Week 1, despite being targeted nine times since then. Jeremy Kerley has proven a little steadier and has certainly demonstrated some home run ability, but he's probably more of a complementary threat than anything. Chaz Schilens was actually the leading receiver in Week 4 but that isn't saying much considering he only caught three passes for 45 yards. Hey, I just thought of something, actually: Why would you want the #1 target for Mark Sanchez anyway? If you're looking for production from the Jets' passing attack (and I use the term loosely)…well, good luck with that.

Justin Blackmon v. CHI: After a painfully slow start to the season, Blackmon showed legitimate signs of life last week, catching six passes on 10 targets for 48 yards. The six receptions and 48 yards weren't much to write home about, granted, but…baby steps, right? Plus, the 10 targets indicate he's firmly on Blaine Gabbert's radar after averaging just five per outing in the first three games. Of course, it could be argued that's not necessarily a good thing as Gabbert, following a decent opening day effort, has struggled mightily since. Also, there's no way around the fact that Blackmon on a per-target basis is still producing the lowliest output of any starting receiver in the league (just two fantasy points/game despite 25 total looks). Michael Jenkins has been more productive than that…and I doubt you're considering starting Michael Jenkins. Leave Blackmon alone until the Jaguars passing attack, on the whole, shows a whole bunch more.

Brandon LaFell v. SEA: Unlike Blackmon, LaFell got off to a strong start this season, racking up nine receptions, 155 yards, and a score in the first two games against division rivals, Tampa and New Orleans. Maybe, it seemed, the Panthers had finally located their long-sought complement to perennial Pro-Bowler, Steve Smith. Since then, LaFell has managed just a single reception for 27 yards despite being targeted nine times by Cam Newton in successive losses to the Giants and Falcons. So much for that, eh? Newton isn't the most accurate marksman in the business for sure but he's had no trouble finding Greg Olsen the past two games and it wouldn't surprise me to see LaFell fall further out of favor as the desperate Panthers seek answers. Also, he'll be squaring off against Seattle's super-sized (and super-talented) corners this coming Sunday, a bad matchup for even the league's better receivers.
Good luck, folks!

Quarterbacks