Bye Weeks: N.Y. Jets, St. Louis, San Francisco, New England

Grab a Helmet

Mike Williams @ OAK: I've been slow to embrace the Tampa passing attack, mostly because I watched a fair amount of Rutgers games the past few years (I'm a college football junkie…what can I say?) and just never saw Greg Schiano demonstrate an affinity for pass-first football. Nevertheless, the Bucs are airing things out fairly regularly so far. More importantly, they aren't exactly a dink-and-dunk operation, meaning they're maximizing those aerial opportunities. Their 8.1 yards-per-completion mark is actually tied for second best in the league (with Washington and Carolina). Vincent Jackson gets most of the pub (and deservedly so after that Week 7 eruption against the Saints) but Williams has really been coming on of late. He's getting consistent targets – about eight per game in his past four – and has topped the century mark twice in recent weeks. He's also notched a couple of scores, including one last week against Minnesota. I like him this Sunday against the Raiders dicey secondary.

Cecil Shorts v. DET: I was a little quicker on the trigger with the exciting Shorts, recommending a start against the Pack last Sunday. He didn't let me down, parlaying 12 targets, a career high, into eight grabs and 116 yards in the loss at Lambeau. Coach Mularkey has rewarded the Mount Union product (awesome!) with a permanent starting gig, despite the fact Laurent Robinson is back at practice and ready to resume contributing. It's not hard to see why Shorts has become so valuable despite ho-hum measureables. He's got adequate size, is a former QB, and is also a coach's kid (always a bonus). Incidentally, he's also not the first Mount Union receiver to make it to the big time recently. Can you name the other? While you're chewing on that, get Mr. Shorts in your lineup against the Lions this weekend.

Randall Cobb v. ARZ: Cobb is a guy I really liked coming into the 2012 campaign (and I can prove it) but even a bleeder of green and gold such as myself couldn't have predicted this kind of breakout for him. Of course, I also couldn't have predicted Greg Jennings would basically not play and that Jermichael Finley would basically not perform. Throw in a couple of nagging Jordy Nelson injuries and you've danged near got a new #1 wideout, at least temporarily, in the land of cheese. One thing's for sure: Aaron Rodgers sure loves this guy, as evidenced by the 50 targets he's earned despite a sometimes secondary role. Moreover, he's getting red zone looks, odd for a slot-type such as Cobb. You can't go too wrong in fantasy football when you've got one of Aaron Rodgers' favorite receivers playing for you. Start Cobb against the Cardinals.

Grab Some Wood

Kenny Britt v. CHI: Count me as one of those folks beguiled by Britt's natural ability. I'm not sure how I missed him in college (since I watched all those Rutgers games) but he really is how you'd draw up a receiver if you were building one in the lab: tall, heavy-ish, quick enough, above-average hands, solid route-runner. He's got some character concerns, yeah, but he seems to be maturing in this, his fourth season. Now, if he could just get paired up with an actual NFL quarterback. No offense to Matt Hasselbeck, but…I wish he were more offensive (the good kind). Despite a whole bunch of targets, Britt has only topped the 60-yard mark once this year and has exactly one TD to his credit so far. I'd call that a semi-slump and the best way to break out of a semi-slump is to play almost anybody but the Chicago Bears. If you've got some decent depth, sit the former Scarlet Knight down. This is a ghoulish matchup.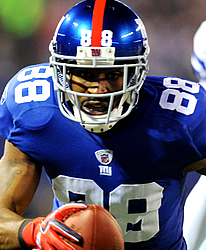 Nicks is averaging 50 yards over the last three weeks.

Hakeem Nicks v. PIT: Nicks has had a mostly disappointing year punctuated by one gigantic performance (199 yards and a score in the Week 2 win over Tampa). His nagging, leg-related ailments are the primary cause for his inconsistency but he's been ruled healthy for several weeks now and…nope, not a lot to show for that. He's averaging about 50 yards per game the past three weeks and has still only scored that one touchdown on the season. At the risk of sounding like a broken record, there are a lot better ways of breaking a slump than facing one of the league's better secondaries. Chicago's is certainly the most opportunistic but Pittsburgh's may still be the very best. They're fresh off shutting down super-rook Robert Griffin III in Week 8 and will probably be up to the challenge of slowing down Eli et al. this Sunday. Wait until Nicks shows you he's "back" before giving him the nod.

Devery Henderson v. PHI: He'll sucker you in with a great performance (123 yards and a score against San Diego), tease you further with a decent follow-up game (75 yards against Tampa), and then – right when you're ready to buy Devery Henderson stock – he'll do what he did last Sunday night against the Broncos: nothing. I mean, literally nothing. Drew Brees looked his way four times in the loss to the Broncos and the former LSU Tiger managed to catch none of the passes. Zero catches for zero yards = zero points. I have a higher than usual risk tolerance but even I can't stomach gambles such as this guy. Knock yourself out if you're desperate but don't be surprised when Henderson returns the favor with a knockout blow of his own to your team's playoff chances.

Good luck, folks!

Quarterbacks