Nobody needs to be told starting Aaron Rodgers, Arian Foster, or Calvin Johnson is a good idea. Duh, right? You can't have studs at every position, though, unless you're in the shallowest of leagues. This is where the Shot Caller comes in. Need help deciding which bargain basement QB to use and which to ignore on Rodgers' bye week? Let's talk. Looking for solutions at running back because Foster is a game-time decision? Look no further. Need to know which of your unproven targets to start and which to sit since you ignored Megatron and went RB-QB-Gronkowski in your first three rounds? I'm your huckleberry. Past results may not guarantee future success, but I believe ignoring them entirely can ruin your Sundays in a hurry. Read on for a little history and, hopefully, a little sage advice.

Note: Fantasy points based on FF Today's default scoring system.
Bye Weeks: N.Y. Jets, St. Louis, San Francisco, New England

Grab a Helmet

Michael Vick @ NO: The time for desperate measures in the City of Brotherly Love draws nigh, it appears, and this former superstar could be living on borrowed time as the Eagles' head signal caller. An embattled Andy Reid toyed with a possible switch earlier in the week but ultimately granted his equally embattled QB the temporary stay of demotion. His timing (for Vick's owners, at least) couldn't have been more propitious. Philly draws the NFL's most generous defense in Week 9, a Saints group yielding an NCAA-esque 474.7 yards/game. How bad is that? Try 50 yards PER GAME worse than the worst defense in NFL history (the 1981 Baltimore Colts). Simply put, if the Saints don't get some stuff figured out (and fast), they are going to literally smash records for defensive futility this season. Don't expect a quick fix this Monday night with the still-potent but desperate Eagles coming to NOLA. It's safe to ride Vick for one more week.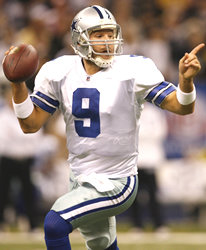 Romo could find himself in a shootout with the Falcons.

Tony Romo @ ATL: Tony Romo's job isn't in immediate jeopardy but one could make the argument it should be. The Bears and Giants are leading the league in interceptions (16 apiece) and he's basically the reason why, having supplied more than a quarter of those picks (5 and 4 in respective losses to those clubs). Tied for third, by the way, is Atlanta (10), Romo's opponent this Sunday night. Gulp. Luckily for fantasy GMs, turning the ball over a bunch doesn't equate to near certain doom as it does in real NFL games. Indeed, some of the more useful options at the position (Michael Vick, Philip Rivers, Andy Dalton, etc.) double as some of the more turnover-prone players in the league. Romo's the most turnover-prone of them all (by a fair margin) but he managed to overcome four picks last week and still tally 31+ points, his highest output of the 2012 season. Go figure…and then go get him in your lineup.

Carson Palmer v. TB: If I told you Palmer has the same number of touchdowns (both passing and rushing) as the aforementioned QBs, would you be surprised? I am and I even tabbed him as a dark horse candidate for top 10 honors back in the preseason. It's true, by the way. All three quarterbacks have thrown for nine touchdowns and run for another and Palmer lags only slightly behind Vick and Romo in the fantasy points/game metric through seven games (they've all had a bye). He could easily keep pace this week against a Tampa defense yielding 310 passing yards/game, just barely ahead of the 32nd-ranked Redskins on the year. With Denarius Moore emerging as an elite target, Darrius Heyward-Bey continuing to rebound from a scary Week 3 collision, and the Raiders' second-half schedule about to take a turn toward the pillowy, Palmer could be about to commence a serious surge. Don't forget about him.


Grab a Clipboard

Matt Cassel @ SD: DO forget about his former SC understudy, however. Cassel's demotion to second string lasted all of a quarter when Brady Quinn suffered an early concussion in the Week 8 game versus Palmer's Raiders. Reprising his role as the Human Turnover Machine, Cassel promptly bungled another snap exchange (don't they practice stuff like that?) and threw another pick in the 26-16 defeat. Is it any surprise Romeo Crennel confirmed the job still belongs to Quinn when he returns? Yup, you read that right: Brady Quinn's job as a starting quarterback is secure. In the event you're wondering why the Chiefs stink to high heaven this season…there you go. While we're on the subject of USC alums, by the way, here's a bonus Shot Caller prediction for the huge Pac-12 showdown this Saturday evening: Ducks 56, Trojans 27. GO DUCKS!

Matt Hasselbeck v. CHI: Since taking over for Jake Locker in Week 4, the wizened Hasselbeck has been remarkably consistent, if not exactly remarkable. He's posted no fewer than 14 fantasy points in his last five appearances (four starts) and no more than 19. He's not terribly bad, in other words, and not terribly impressive. Put another way, if you're so good in other areas that you really only need about 15 points (200-ish yards and a score) from your QB, he's your huckleberry. Forget about all that this week, though. The Titans square off against Midway's Monsters at LP Field on Sunday and the boys from Chicago are routinely making opposing QBs look bad this season. Only Andrew Luck and Aaron Rodgers have had even a modicum of success against them (Weeks 1 and 2, respectively) and Hasselbeck, with all due respect, isn't on par with those guys.

Matt Schaub v. BUF: So, basically, your Week 9 rule of thumb is this: Don't start any quarterbacks named Matt. Schaub is certainly more capable than either of the aforementioned guys but he's often relegated to the role of game manager when the Texans are doing what they do best, which is running the ball downhill and stifling opposing offenses with a championship-caliber defense. A well-rested Arian Foster should have a field day against Buffalo's stinky stoppers (6.0 yards yielded per carry) and I wouldn't even rule out Justin Forsett as a super-sneaky option if you're really in a bind (Ben Tate looks to be iffy). Schaub, on the other hand, is probably looking at one of those ho-hum, 200-yard, one-TD days he's been known to specialize in. The Texans won't care (and won't lose) but YOU might if you opt to give him a go. Proceed with caution.

Running Backs