I've spent the last couple of weeks discussing some of the more notable names in the NFL, attempting to identify—as precisely as one can at this point—the league's elite fantasy performers for 2012. Most of your pre-draft energy, after all, is spent making sure those first several picks aren't squandered on players who could potentially sink your fantasy ship. Nevertheless, there comes a time in every draft when the sure things are long gone and it's time to engage in some speculation. Accordingly, I'd like to shift gears and focus attention this week on those who have yet to make a name for themselves at the professional level, players who won't even necessarily be called on draft day (depending on your league's size and depth) but who, nevertheless, could end up factoring into the overall fantasy equation should opportunity come knocking. They won't all end up being relevant by year's end (I'm not that good), but I think the following players stand a better chance than most of gaining fantasy market share in 2012.



Quarterbacks



Editor's Note: Jake Locker was initially included in this article, which was submitted just prior to him being named the starting quarterback in Tennessee. Locker was removed from this piece but should be on your fantasy radar as solid QB2 with QB1 upside.

Colin Kaepernick, SF: Speaking of legs, this guy's got 'em for days. Did you happen to catch his 78-yard touchdown jaunt in the Niners' first preseason game against Minnesota? 78 yards! That would be the longest touchdown scamper by a quarterback since "Slash" Stewart motored 80 yards for the Steelers almost 20 years ago. There simply aren't many signal callers in the NFL who have that kind of rushing ability. In fact, I can think of three. Also, this just in: I'm a complete sucker for quarterbacks who can scoot.

Now, time for a little reality check. Kaepernick tallied that six-pointer running a zone read option, an unusual play by staid NFL standards. In fact, he spent most of the night running shotgun sets and rolling out of the pocket (where he doesn't look at all comfortable). Clearly, the Frisco brain trust has decided he won't thrive in a traditional pro-set offense and has built up an alternate, somewhat gimmicky scheme in which he might. That could be interpreted as disheartening news for a first-round pick in just his second season. Or, we could go glass half full on this and say the Niners felt highly enough of his skill set to broaden their offensive horizons and build the game plan around his unique abilities. However you look at it, the former Nevada star is close to securing the No. 2 spot behind Alex Smith. If Smith goes down—he suffered a league-high 44 sacks in 2011 and has only played 16 games in two of his six seasons—you can bet your sweet bippy Kaepernick is going to become a very hot commodity on the waiver wire. Pick him up before the season starts, why don't you?

Shaun Hill, DET or Kyle Orton, DAL: Neither of these two vets have anywhere near the athletic prowess or general upside of the aforementioned youngsters. They're aging. They're boring. They're backups. In other words, they're perfectly ignorable in most fantasy drafts. What they do have (and have in common) are boatloads of career starts under their respective belts. Hill has tallied 26 career starts in six or so full seasons (he also spent time in NFL Europe), a pretty good sample size for an NFL field general. His completion percentage is over 60 and his passer rating is north of 80. Orton, on the other hand, has started 69 games, completing about 58 percent of his throws and maintaining a passer rating just barely under 80. Simply put, these guys are the very definition of "serviceable."

Serviceable doesn't cut it, though, when you're contemplating late-round fliers, does it? You want potential! You want sexy! OK, how's this for potentially sexy? If either of the men in front of them go down (and one of them is named Matt Stafford), Hill and Orton stand to inherit two of the league's most explosive offenses. Here's the potential formula: Lots of NFL experience + freakishly talented receivers + aggressive offensive schemes = cha-ching! I don't care who throws footballs to Calvin Johnson. He's going to catch them and, more often than not, do wonderful things with them. The same can be said, albeit on a slightly more modest scale, about Miles Austin and Dez Bryant. Hill and Orton, though currently cruising toward retirement as members of the clipboard and ball cap crew, aren't incapable. If things break just so (poor choice of words, I realize), they could be fantasy factors in a real hurry.



Running Backs



David Wilson, NYG: NFL teams, even defending Super Bowl champs, don't typically select projects in the first round of the draft. The first round is for procuring immediate help. Despite their recent success, New York certainly needs it at the running back position. Gone is their longtime bruiser, Brandon Jacobs, whom the G-Men jettisoned after a very lackluster 2011 campaign. Left behind are Ahmad Bradshaw, the talented but oft-injured meal ticket, and D.J. Ware, a seldom utilized backup with decent size but hardly compelling ability. And it's not exactly like this particular trio was setting the world on fire to begin with. Conversely, they comprised the league's very worst rushing attack last season.

Enter David Wilson, a potential game-changer from Virginia Tech, who Coach Coughlin and company are hoping will help rectify that lowly ranking. Wilson is certainly an intriguing specimen. Though seemingly typecast as a "speed back" (he's absolutely speedy), most seem to overlook the fact he was a workhorse in college. In his one season as a full-time starter at that level, he carried the ball almost 300 times. He's also, unlike most change-of-pace guys, not at all afraid to mix it up. In fact, he tallied more yards after contact than any back in the entire NCAA in 2011. That includes Trent Richardson, by the way. Wilson won't be asked to carry the load in Gotham, but he probably could if necessary.

Oh, and it's not at all hard to imagine it being necessary, by the way. Ahmad Bradshaw, a similarly sized and talented (though somewhat slower) ground-gainer, has only made it unscathed through one of his five seasons. Should Wilson be pressed into full-time duty, I believe he would offer near total replacement value from a fantasy perspective. Even if Bradshaw remains healthy, Wilson probably gets enough work to merit bye-week replacement status in this, his rookie season.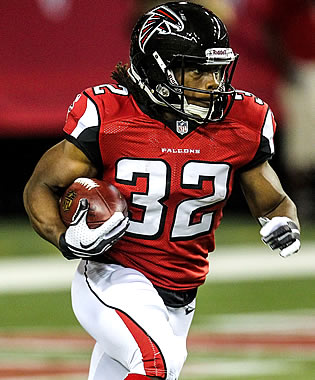 Backup running back Jacquizz Rodgers is an ideal RB4 in PPR leagues.

Jacquizz Rodgers, ATL: This guy was a workhorse in college, as well, though he hardly fits the profile. He's barely taller than my sisters and weighs several Big Macs shy of two bills. Nevertheless, he finished no lower than 20th nationally for rushing attempts in each of his three seasons at Oregon State. How did such a compact guy withstand so much punishment? His low center of gravity, surprisingly powerful legs, and uncommon shiftiness and maneuverability made for a pretty lethal combination in Corvallis, especially against the somewhat "indulgent" defenses of the former Pac-10.

Quizz is running with the big boys now and probably can't, unlike Wilson, carry a full-time load should something happen to Michael Turner. Of course, the best way to ensure nothing does happen to Mr. Turner is to lighten his load and get the youngster some legitimate reps. Will the Falcons actually commit to giving The Burner an occasional breather this year, as they've promised in years past? They'd better, because he isn't getting any younger, faster, or more dynamic. Rodgers may not be capable of carrying a full load but that doesn't mean he can't play all three downs. He's sturdy, does his best running between the tackles, and could certainly handle 5-10 carries per game and several more targets in the passing game.

Oh, almost forgot the best part: Quizz is an outstanding pass receiver out of the backfield. He tallied 21 receptions in limited time last year but could easily triple that output if given enough opportunities. In fact, he notched 78 receptions back in 2009 for the Beavers, surpassed only by his even smaller brother, James (also a Falcon, incidentally). You wish Atlanta weren't so conventional—they've never been lower than 11th in total rushing attempts since Mike Smith took the job—but the pressure is on to reach the next level, and I've gotta think that's going to translate into a more dynamic scheme in 2012. Rodgers will be an integral part of that scheme, it appears, and for that reason, I won't hesitate to nab him as my third or fourth RB come draft day.

Rashad Jennings, JAX: The way things are looking right now, Rashad Jennings might end up being more than just an "integral part" of the Jaguars' backfield by the time September rolls around. He could be the show. Though Jennings is nominally still the backup in Jacksonville, Maurice Jones-Drew's protracted holdout makes it more likely, with every passing day, that Jennings will be the opening day starter. Even if the main man returns before the games begin (likely), I've a hunch Jennings won't fade into oblivion.

Truth be told, he was on my super-secret sleeper list for 2011—the one I only share with imaginary friends and real ones who don't give a hoot about fantasy football. Coming off a 2010 season in which he tallied almost 500 rushing yards, a shade over 200 receiving yards, and four scores as MJD's fill-in, I thought the Jags' brain trust might opt to lade his broad shoulders with even more responsibility last year. They indeed might have, too, had he not wrecked his knee in the preseason and missed the entire slate. Ugh. Tough to get behind a guy when he's coming off a washed-out season, has never been a full-time starter, and is backing up the league's reigning rushing champ, but....

Jennings has ideal size (6'1", 230 pounds), a muscular build, quick feet, and a second gear when he reaches the second level. Moreover, though he hasn't carried the ball a ton at the NFL level, he does sport a mighty impressive 5.4 yards-per-carry average. In other words, he's proven to be a capable ball carrier already. Finally, Jennings is a refreshingly independent individual who possesses an unusual work ethic and a reputation above reproach. Though hard work and good character may not get you far in the NFL, the lack of either (or worse, both) will certainly buy you a ticket to the unemployment line in pretty short order (see: Ochocinco, Chad). I'm grabbing this good guy because he also happens to be a talented individual who may be available for the right price late.



Wide Receivers



Randall Cobb, GB: The proliferation of three-, four-, and five-wide sets in modern NFL offenses makes defining the word "backup," as it pertains to receivers at least, pretty danged subjective. Fair enough. Let's limit this discussion to the No. 3, 4, and 5 receivers on NFL depth charts and see if we can come up with some potential gems. Sound like fun?

Hey, found one! Cobb came to the Tundra from the University of Kentucky where he starred as a wide receiver…and as a quarterback…and as a wide receiver again…and as a punt returner…and as a…. Selling tickets and handing out programs may have been the only things Cobb didn't do during his undergrad days in Lexington. Such versatility rarely manifests itself at the NFL level, where specialization (not to mention stodginess) is the order of the day, but it does speak to overall athleticism and feel for the game. Cobb has both of those assets in spades and seems to have, ironically, landed in the perfect spot for a man of his talents.

I say "ironically" because he's currently listed as the fifth wide receiver on Green Bay's depth chart. Typically, being buried on a team's depth chart doesn't scream "perfect spot," but this isn't your typical team. There are plenty of Aaron Rodgers fastballs to go around in Titletown. Further, the Pack's running game is a shambles right now. Though it may not bode well for their championship hopes, the 40-plus passing attempts we're likely to see on a routine basis should keep those many mouths fed. Cobb is just one of those mouths, sure, but Donald Driver is getting older and it isn't a stretch to envision the youngster eating into the venerable Driver's slot receiver looks sooner rather than later.

Rueben Randle, NYG: The third wide receiver spot in New York has been a pretty lucrative one for fantasy GMs the past several years. Hakeem Nicks, Steve Smith, Mario Manningham, and, of course, Victor Cruz have all filled the role at one point or another before moving up the pecking order. This year, Nicks and Cruz are the clear 1 and 2, but with Smith now in St. Louis and Manningham across the continent in San Francisco, a question's being asked around camp: Who will step up to become that critical third option for Eli Manning this season? As of press time, it's still pretty much anybody's guess.

Randle is mine, you've no doubt gathered, but I want to make one thing perfectly clear: It's absolutely a guess and I'm almost certain he won't start the season in that role. Domenic Hixon, the most accomplished of the four candidates, is probably the odds-on favorite to start, but he's really struggled to stay healthy (two ACL injuries in two years) and probably can't be counted on to last the whole year. Ramses Barden has tantalized the Giants' brass for three years but can't seem to translate his freakish size into production (just 15 career receptions). Lastly, Jerrel Jernigan, a third-round selection in 2011, totaled precisely zero catches in his rookie year and probably makes the squad only if he brings something to the table on special teams.

That brings us back to Randle, the least experienced of the bunch but also the guy with the most upside. Though he played in a run-first offense at LSU, he still managed to post some pretty good numbers and often showed off the trademark size and athleticism which SEC studs typically display. Should he land that No. 3 role at some point, he could become a Manning favorite as opposing defenses go all-in to shut down Nicks and Cruz, one of the NFL's most dynamic and dangerous duos.

T.Y. Hilton or LaVon Brazill, IND: The Andrew Luck era has begun in Indianapolis, and though his primary targets, Reggie Wayne and Austin Collie, will be holdovers from the previous regime, it's pretty much a free-for-all after that. Gone is Pierre Garcon, off to serve as the new headliner in DC. Gone is the oft-injured Anthony Gonzalez, currently on the street after getting cut by New England in May. Gone are reliable tight ends Dallas Clark, who flew the coop to Tampa, and Jacob Tamme, who followed Peyton Manning to Denver. The Colts were obviously down and mostly out last year, but that's still 123 receptions that just walked out the door (176 more if you go back to the 2010 season).

Hilton and Brazill, two strikingly similar rookies, are in the mix to fill the void at receiver, along with some other assorted cast-offs (Donnie Avery, Quan Cosby) and undrafted free agent types (Griff Whalen, Kris Adams). Though both are a tad undersized (neither is 6'), each possesses elite playmaking ability and an electricity that will be sorely needed in the revamped Indy attack, not to mention on special teams. Each, in fact, could probably claim to have been the most dangerous athlete in their respective college conferences, the Sun Belt (Hilton) and the MAC( Brazill). For the cost of a late third-rounder and a sixth-rounder, I think the Colts got a couple of pretty good prospects.

Of course, the franchise spent their second and an earlier third-round pick on a couple of pass-catching tight ends, Coby Fleener and Dwayne Allen, who will also be counted upon to fill the vacuum created by mass defection of Peyton's old playmates. Are there really enough balls to go around at Lucas Oil Stadium? Here's the final reason I like either Hilton or Brazill (or both) to be relevant sooner rather than later: Bruce Arians. Yup, the guy who transformed the Steel Curtain from a traditional ground-and-pound outfit to one of the league's most pass-happy under Ben Roethlisberger has brought his five-wide sets to Naptown. The 2011 season may indeed have been a snoozer for Colts fans, but 2012 is shaping up to be anything but.