Nobody needs to be told starting Aaron Rodgers, Adrian Peterson, or Calvin Johnson is a good idea. Duh, right? You can't have studs at every position, though, unless you're in the shallowest of leagues. This is where the Shot Caller comes in. Need help deciding which bargain basement QB to use and which to ignore on Rodgers' bye week? Let's talk. Looking for solutions at running back because Peterson is a game-time decision? Look no further. Need to know which of your unproven targets to start and which to sit since you ignored Megatron and went RB-QB-Jimmy Graham in your first three rounds? I'm your huckleberry. Past results may not guarantee future success, but I believe ignoring them entirely can ruin your Sundays in a hurry. Read on for a little history and, hopefully, a little sage advice..

Note: Fantasy points based on FF Today's default scoring system.
Bye Weeks: N/A

Grab a Helmet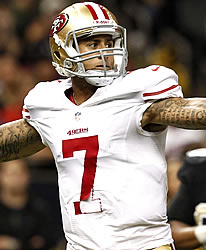 Kaepernick racked up 51.3 FPts the last time he faced the Packers.
Colin Kaepernick v. GB: The hype machine has been running full bore since Kaepernick pantsed Dom Capers' bewildered Green Bay defenders to the tune of 444 total yards and four scores in the Divisional Playoffs. I guess everyone's forgotten that was just his eighth career start, huh? Maybe a larger sample size would justify the runaway expectations? (Nope, not at all bitter about the way he abused my Pack.) In all fairness, it was a scintillating performance and I can see why folks are getting carried away this preseason. Ron Jaworski's HOF prediction is a tad premature but it's fair to say the kid is a force to be reckoned with. Unfortunately, the same Packer defenders, for the most part, will be reckoning with him this Sunday. Here's hoping Coach Capers put his thinking cap on this summer because if he didn't, it could get real ugly in a real hurry. Again.

Terrelle Pryor @ IND: Remember way back in August when I told you Pryor might be the future in Oakland and, thus, a good backup to have on your roster? The future has arrived, albeit a lot sooner than anyone expected. Matt Flynn couldn't get out of his own way this preseason and so the Silver and Black have opted to plug in the former Buckeye under center, hoping his über-athleticism is enough to carry them to some victories. Failing that, he should at least keep the Raiduhs faithful, not to mention fantasy GMs, interested. If you're stuck with a tough matchup in Week 1 or play in a two-QB league, consider Pryor right from the outset. He's bound to do something with his legs against Indy's way-below-average run defense (ranked 31st in yards/attempt in 2012).

Ben Roethlisberger v. TEN: Big Ben lacks the mobility of the aforementioned youngsters and, accordingly, has been one of the most frequently sacked QBs the past several years. This makes him a bit of a dying breed in today's NFL with its mobile, dual-threat signal callers who can attack defenses in a variety of ways. Roethlisberger still has only one way, essentially: his right arm. And in case you've forgotten, it's still a danged productive appendage. Despite sitting out three full games in 2012, Roethlisberger still managed to tally 26 passing TDs. If you project that total out to a full 16-game slate, he'd have tied for fifth most in the league with Matty Ice. The durability concerns are valid, yes, but it's Week 1 (when everyone's healthy) and the Titans are coming to town (26th-ranked pass defense last season). Don't forget Pittsburgh's running game is in disarray, as well.

Grab a Clipboard

Jake Locker @ PIT: I spent a grand total of $4 in a recent auction ($200 budget) to acquire Locker and the previously mentioned Terrelle Pryor. Since it's a two-QB league and I already own Aaron Rodgers as my keeper, I figured quarterback wasn't exactly a position of need. That little gamble appears to have worked out so far (thanks for stinking up the joint, Matt Flynn!), but there's no telling what my prospects look like in the long term. In the short term, I'm going with the Raiders' project instead of the Titans' franchise, at least for this weekend. Though Locker showed improved consistency and accuracy this preseason, he also draws a formidable opponent to kick things off. The Curtain yielded just 185.2 passing yards/game in 2012, good for first in the league. This was on the heels of a league-best 171.9 yards/game mark in 2011. Sounds like trouble, even if Locker's vastly improved.

Josh Freeman @ NYJ: There were some weird rumblings in the off-season about Freeman's lack of job security, but Greg Schiano – the man who fueled most of it with lukewarm endorsements of his young field general – recently put that uncertainty to rest. Freeman will start and Mike Glennon will back him up heading into 2013. Count me among those who, like Coach Schiano, would like to see more from this prototypically-constructed triggerman, however. In four professional seasons, he's been all over the map, boomeranging from 10-18 TD-INT ratio in his rookie year to 25-6 to 16-22 and finally to 27-17 this past year. Will the real Josh Freeman please stand up? I'm willing to gamble on big, athletic QBs (see above), but I'd worry about an inconsistent one facing a stout Jets defense that will be carrying its atrocious offense all season long. Expect limited points and disappointing production from the Tampa O this Sunday.

Philip Rivers v. HOU: Offense was never a problem in San Diego, where Rivers once made 4,000-yard seasons and playoff appearances look routine. Of course, he had a lot of top-shelf help back then (LaDainian Tomlinson, Darren Sproles, Vincent Jackson, etc.). Now, you'd need a program to figure out who he'll be targeting with his passes. After Antonio Gates, (fading fast with three straight seasons of declining production), there's Vincent Brown (19 career receptions), Malcom Floyd (nine years, zero 1,000-yard seasons), Eddie Royal (was last relevant in 2008), and Keenan Allen (will be relevant soon, but he's a rook). I like what Danny Woodhead might bring to the table and Ryan Mathews, when healthy, is a solid receiver out of the backfield. Nevertheless, the Bolts look as if they'll be taking another step back in 2013 and it probably starts with a tough opener against one of the AFC's best on Monday night.

Running Backs