Call me strange (you wouldn't be the first), but my favorite part of a fantasy draft – especially in my larger, deeper leagues – is always the very last part, when my fellow GMs are too busy pounding brewskis or hurling insults to think about which NFL backups they should be adding to their benches. That's all we've usually got left to select from at that point in the proceedings and I can practically read their minds: "These guys barely matter to their OWN teams, so how are they going to matter to MINE?" I hope you never figure this out, guys, but…backups ALWAYS end up mattering. 47 different quarterbacks, for instance, started games in 2012, the lowest number in years (it was 56 the year prior and 62 in 2010), but still more than the 32 which everyone seems to pretend will start games on draft day. And that's just one position. Backups may be inherently less valuable than starters (duh), but they sure become valuable in a hurry when they stop being the former and start being the latter.

What follows is a short list of current NFL backups who I think, given an injury here or a poor performance there could end up making a big splash this season. Get 'em while they're not so hot and you may put your squad over the top somewhere down the line.



Quarterbacks



Nick Foles, PHI: Michael Vick was recently handed the keys to Chip Kelly's Philadelphia experiment and this Duck fan, for one, couldn't be happier. Vick – with apologies to Cam Newton, Robert Griffin III, and Colin Kaepernick – is still the quintessential dual-threat demon who running Chipper's version of the spread could bring revolution to the professional game. He's got the game's best set of wheels at the position, a big time wing, and will be working with some very talented teammates (e.g., LeSean McCoy and DeSean Jackson). That's the good news. Here's the bad: He's played 16 games precisely one time in nine NFL seasons.

Foles would seem to be the proverbial square peg in Coach Kelly's round hole of an offense, but I think that's a misconception born of a much grander misconception people have about the offense in general: namely, that it will look exactly like it did in Eugene. Yes, the Ducks ran the ball all over the place the last five years. Wouldn't you if you were squaring off against pillowy soft Pac-12 defenses every week? When squared off against a grown man Auburn defense in the 2010 BCS Championship and a nastier LSU crew in the 2011 opener, they threw 40 and 54 passes, respectively.

The Eagles, like those Duck teams, will take exactly what defenses give them, run or pass. What will make them unique is how often they do that. New England almost set a record for most plays from scrimmage in 2011 borrowing many of Kelly's concepts. Now that he's joined the league, the record is positively imperiled. If Foles gets a turn in Philly – and Vick's injury history suggests he will – he's going to be leading a team that equates quality with quantity. Nobody appreciates quantity more than fantasy GMs.

Ryan Fitzpatrick, TEN: There are basically three reasons a backup QB sees the field in the NFL. We just touched on the first (injury) and we'll touch on the third soon (novelty), but the second is why I'm touting Fitzpatrick: plain old poor performance. With the possible exception of Christian Ponder or whoever starts Week 1 for the Jets, nobody starts the 2013 campaign on a shorter leash than Jake Locker, Tennessee's immensely talented but maddeningly inconsistent young quarterback.

The Titans selected Locker back in 2011 (eighth overall) despite serious concerns about his decision-making and accuracy. No doubt, the Tennessee brass were beguiled by elite athleticism and a rocket launcher of a right arm, gifts which would likely have made him the very first selection a year prior had he entered the draft. Unfortunately, Locker's done nothing in his first two years to dispel those initial concerns and has rarely justified his lofty draft position, let alone an even loftier number one selection. He's turned it over more times than he's thrown TD passes in 16 career appearances (still making bad decisions) and his completion percentage sits well below the NFL Mendoza line (still inaccurate).

Locker has time, of course, to mature into a legit NFL triggerman…but not much time. Bud Adams is 90 and impatient for a winner. That's primarily why the Titans spent a TON of money this off-season (and several high draft picks) upgrading a porous offensive line and a thin receiving corps. No more excuses, in other words. Oh, and they threw some of that dough at a turnkey backup should Locker ultimately fail to deliver. Fitzpatrick was never great in Buffalo, granted, but he's started 67 career games and averaged close to 24 TD tosses the past three seasons. In other words, he's a good bet to both play and produce at some point.

Terrelle Pryor, OAK: Matt Flynn hasn't played nearly enough to be considered a persistent injury risk and we really don't know how well he'll perform given that he's started exactly two games in five seasons. All we know is that he's safely ensconced as the starter in Oakland for now and, if he survives behind an unsettled front line, for the foreseeable future. That doesn't mean Pryor will necessarily be relegated to clipboard duty all season. On the contrary, Raiders' offensive coordinator Greg Olson seems determined to find a way to get the unusually talented former Buckeye on the field one way or another.

It's probably not fair to label Pryor a mere novelty act in the Tebow Time tradition. He's a more explosive athlete (sub-4.4 speed), has a rifle for an arm, and demonstrates great touch on deep balls (an Oakland staple, of course). Plus, his mechanics, though sub-standard, are nowhere near as unsightly as Tebow's. In other words, he's an actual quarterback – albeit an unpolished one – who wouldn't require a completely customized scheme to succeed. That said a completely customized scheme is exactly what the Raiders may have in store for him this year.

And why shouldn't they? Would a Terrelle Pryor "package" really be any more unusual than what the Raiders' Bay Area neighbors did with Colin Kaepernick last season before Alex Smith went down for good and…well, you know how that one turned out. I'm not predicting Pryor will be this year's Kaepernick, mind you. I'm just saying he's similarly talented (maybe even more so) and has similarly unproven talent ahead of him on the depth chart. If Flynn goes down or gets the boot, it'll be a land grab for Pryor. Why not get him earlier while he's still cheap?



Running Backs



Stepfan Taylor, ARI: I'm going to spend a couple hundred words explaining why Taylor should intrigue you, but here are four that paint the picture if you're short on time and want to skip ahead: "Rashard Mendenhall" and "Ryan Williams." If those two guys are ahead of you on a depth chart, you have a chance to be very relevant very soon. The former wore out his welcome in Pittsburgh following an impressive three-year stretch (two 1,000-yard seasons and one near-miss). The latter will reach 1,000 yards for his career sometime in the 2023 season at his current pace.

Taylor doesn't wow with speed or athletic ability. That's how a decorated stud from Stanford ends up getting drafted in the fifth round. What the former Cardinal brings to the Cardinals is great vision, patience, a sturdy frame (he had the fourth most carries in the FBS last season), and an aptitude/appetite for pass blocking, something most rooks sorely lack. Oh, and he's not too shabby as a receiver. Basically, he's a lot of things the other two guys (and former Cardinal Beanie Wells) aren't. Yes, he lacks great upside and general pizzazz. We're talking about an offense that ranked dead last in rushing yards last year and by a pretty sizeable margin. Wouldn't the Cards take boring and reliable over exciting and unpredictable at this point?

Don't' underrate that pass protection bit, by the way. Other than turning the ball over, an inability to chip in on passing plays is the quickest way to the bench in the NFL, a predominantly pass-heavy league. And in a pass-heavy league, the Cards are about to become one of its most pass-heavy teams under Bruce Arians. I'm betting Taylor will play soon and could carve out a bigger role than some envision.

DuJuan Harris, GB: This is technically cheating since the Pack's official depth chart still lists Harris as the #1 guy, just as it did when the season ended on the Candlestick turf last January (not over it). Most fantasy GMs are treating rookie Eddie Lacy's promotion to that post as a fait accompli, so for all intents and purposes, Harris is being TREATED like a backup. Maybe even as the backup to the assumed backup (Johnathan Franklin).

Lacy is certainly a physical specimen who Pack fans (present company included) are hoping will seize the lead back role. And he should. He's very sturdily built and runs with brutish force, but has surprisingly nimble feet and owns a wicked spin move. He looked great in his preseason debut, every bit like a feature back, actually. Feature backs aren't always complete backs however, and Lacy isn't an exception. He's not a great pass blocker (remember what I said above) and isn't particularly experienced as a pass receiver either. In other words, he's not great in the passing game, something the Packers are…uh…kinda known for.

This is where Harris comes in should he ultimately lose out to the Alabama rook. The undrafted former Troy Trojan and used car salesman ignited the Pack's moribund ground game last year with a scintillating blend of speed and jitterbugging athleticism, scoring four TDs in the final six games. Perhaps he was just a sight for sore eyes, but it was clear from his first action that he brought something totally different to the table. He still does and for that reason, he's not worth completely ignoring on draft day. Johnathan Franklin, by the way, is. Here's what one personnel guy had to say about him: "…if you didn't know he was a draft pick, you'd think he was a free agent." Ouch.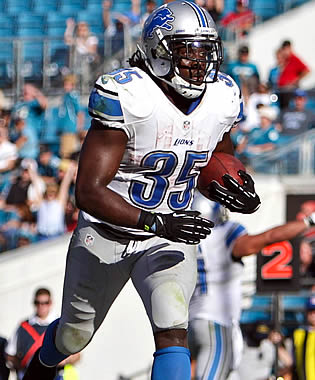 Bell, not Leshoure should be on your backup plan.

Joique Bell, DET: Only a handful of teams ran the ball less in 2012 than the pass-happy Lions, so it would seem like an odd choice to endorse Bell, the ostensible third-stringer in Detroit. Guess it's time to hit the stats, eh? The Wayne State product (and one-time Harlon Hill Trophy winner…think Heisman but on a smaller scale) actually carried the ball 82 times last season, more than all of the following individuals, solid backups on everyone's radar : Danny Woodhead, Andre Brown, Ben Tate and Shane Vereen. He also accumulated more receiving yardage than all those backs, as well…and every other back in the league not named Darren Sproles or Marcel Reece. Surprised? I was too until I remembered Matt Stafford threw the ball an unconscionable 727 times last year. SOMEBODY had to catch all those passes!

Bell isn't getting much love this preseason if his ADP is any indication. He doesn't have one, actually. Every other guy I just mentioned (and a guy I mentioned above, Johnathan Franklin) does. I'm not entirely sure how the third most productive receiver at the running back position becomes untouchable simply because Detroit adds another running back in free agency, Reggie Bush (one-time winner of the actual Heisman…kind of). Sure, their skill sets overlap somewhat, but Bush has never carried the ball even 250 times in a season and barely handled 50% of Miami's total carries in 2012. That's the first time, by the way, he's ever been responsible for more than 50% of his team's carries. If he leaves 40% of the carries to someone else in Motown, why wouldn't it be Bell? I'm guessing Mr. Bush was brought in as an upgrade to the one-dimensional Mikel LeShoure and not the multi-dimensional Joique Bell. Expect similar digits in 2013 and even more if Bush misses any time (as he has before).



Wide Receivers



Rueben Randle, NYG: I've gone almost an entire column without tooting my own horn, but I'm suddenly feeling like a little walk down memory lane. Up for it? In this very piece last year, I touted not one but tworeceivers who went from relatively unknown at the time I wrote about them to very much known by season's end. The first was Randall Cobb, the Pack's Swiss Army knife who exploded onto the scene and became the league's 17th most productive wideout. The second was T.Y. Hilton, Indy's surprise rookie breakout who, even more surprisingly, ended the year as the 25th most productive receiver. For the sake of full disclosure, the third receiver I endorsed – and the one I completely whiffed on – was none other than…Rueben Randle. Ha!

I'd like to think I was just a year early in predicting the young Giant's emergence. The truth is that, though he was certainly gifted enough to contribute right away from a physical standpoint, he wasn't mentally ready to handle Kevin Gilbride's complex scheme with its multiple sight-read adjustments and route options. This shouldn't have been too surprising, actually, since he came from a very rudimentary system at LSU. And even though he was apparently lost in 2012, he still demonstrated a couple flashes of brilliance (Week 5 against Cleveland and a two-TD day to close out the regular season).

I expect plenty more of those flashes now that Domenic Hixon has signed on with Carolina and cleared the way for the talented Randle to be the #3 guy in New York. We all know how sweet a spot that has proven to be, but it may not even be the ceiling for Randle this campaign. Hakeem Nicks is entering his fifth season and hasn't once played all 16 games.

Markus Wheaton, PIT: If Randle's the Cobb-esque breakout candidate for the 2013 season, Wheaton's this year's version of T.Y. Hilton. The former Beaver ended up sliding into the third round of April's draft, probably because he ran a solid, but not sublime 4.45 40-yard dash at the combine, just average for a receiver on the smallish side (he's 5'11" and 185 pounds dripping wet). Take it from someone who's watched him up close and personal these last several years; he's faster than that. In fact, one website scouting service compared him favorably to a speed demon Steelers fans should be pretty familiar with: Mike Wallace.

Wallace's departure is primarily the reason Pittsburgh needed Wheaton in the first place and also why I like him to contribute right out of the gate. If a rookie receiver could be stepping into a perfect situation, he seems to be doing it. The Steelers don't have a lot of proven talent left at the position other than Antonio Brown (two solid but unspectacular seasons) and Emmanuel Sanders (a first-time starter in this, his fourth season), and the youngster is almost assured of being no worse than the #3 guy right away. That's not a bad thing to be when Big Ben is the one delivering footballs.

The recent injury to Pittsburgh's other prized noob, Le'Veon Bell, is another reason to be excited about Wheaton's prospects. Minus Bell, the Curtain's going to be forced to rely heavily on some running backs that, to put it kindly, aren't terribly reliable (Jonathan Dwyer, Isaac Redman, etc.). I think it's safe to say that through the season's first several weeks, they could be "dinking and dunking" a lot more than they intended to. Get Wheaton late if the secret's not already out before then.

Keenan Allen, SD: Back in October 2011, I decided at the last minute to drive down to Eugene with Pop and catch my Ducks in person (I wasn't a season ticket holder then). Three things stand out clearly when I think back on that game: 1) It was raining hard, something the Ducks' venerable PA announcer famously promises never happens (even as it's happening); 2) The boys debuted the "Puddles" jersey for the nationally televised contest; and 3) Keenan Allen. The stud receiver WAS the Cal offense that evening as he hauled in nine receptions for 170 yards and a score. What's crazy is that every one of the nearly 60,000 folks in the stadium knew he was going to be the intended recipient of almost every pass thrown…and he still couldn't be stopped.

Allen is unquestionably a first-round talent who slipped in the draft due to concerns about his knee. Thus, he's already buyer beware before he's even played a game. But…oh, that talent. He's big (6'2" and 200+), strong, very quick, has superb hands and is basically everything you're looking for in a #1 receiver except maybe elite downfield speed. I'm not sure that last part matters however, because he's extremely elusive and will run right through poorly executed tackles.

Why I specifically like him this year is because he's landed in a great situation. In case you haven't noticed, the Chargers have a wide receiver problem. Like, a big one. Danario Alexander is gone right when we were warming up to him. Robert Meachem might be the most overpaid wideout in the game. Malcom Floyd is…well, he's Malcom Floyd. Meh. If Allen can stay healthy and earn some looks from Philip Rivers, he could easily become the Bolts' most important pass-grabber and in very short order. He's a steal late in the draft if you have the room on your bench.