Nobody needs to be told starting Aaron Rodgers, Adrian Peterson, or Calvin Johnson is a good idea. Duh, right? You can't have studs at every position, though, unless you're in the shallowest of leagues. This is where the Shot Caller comes in. Need help deciding which bargain basement QB to use and which to ignore on Rodgers' bye week? Let's talk. Looking for solutions at running back because Peterson is a game-time decision? Look no further. Need to know which of your unproven targets to start and which to sit since you ignored Megatron and went RB-QB-Jimmy Graham in your first three rounds? I'm your huckleberry. Past results may not guarantee future success, but I believe ignoring them entirely can ruin your Sundays in a hurry. Read on for a little history and, hopefully, a little sage advice..

Note: Fantasy points based on FF Today's default scoring system.
Bye Weeks: N/A

Grab a Helmet

Alex Smith @ PHI: There's a perfect storm brewing in Philadelphia, where the only thing more potent than Chipper's offense might be whoever lines up against his Eagles defense on any given Sunday…or Thursday. It's a tried and true fantasy formula (dazzling offense + deficient defense = cha-ching!) with one added wrinkle, an outrageous tempo that could lead to record-setting numbers, both good and bad. They're all good as far as we're concerned and Andy Reid's Chiefs will be the beneficiaries of Philly's largesse in one of the more eagerly anticipated showdowns of the weekend. Though Smith has been just a solid QB2 thus far (22.0 points/game), a few numbers stand out: 1) He's 2-0, something only seven other QBs can say; 2) He's sporting a brilliant 4-0 TD-INT ratio; and 3) He's got more rushing yards than all but two other signal callers…and Michael Vick isn't one of them.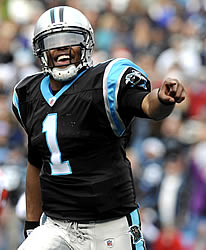 Newton's breakout game could come this week against the Giants.

Cam Newton v. NYG: Neither is Newton. I've been crushing pretty hard on these dual threats lately, but conspicuously absent from the conversation has been the guy I'd still consider the prototype for this new breed of quarterback. He's gigantic (6'5", 250 lbs.). He's fast (4.58 in the 40, only .05 slower than Kaepernick). He's got a rifle for a right arm. Basically, he's everything you'd want in a zone-read maestro and then some. What's been missing for Newton in 2013, of course, have been actual results. Through two games, Carolina is winless and Cam is just the 25th ranked field general in fantasy points scored. Boy, have we got a cure for that! The Panthers welcome New York's Giants to Charlotte on Sunday, a group that's yielding a league-worst 38.5 points per game. If you're waiting for the big man's breakout game, the wait should be over.

Matthew Stafford @ WAS: Clearly, I don't think much of the defense they're pretending to play in the NFC East these days. The aforementioned Giants are ranked 20th in total defense (373.5 yards/game) while Dallas sits at 25th (395.5) and Philadelphia at 30th (460.5). Where does that leave Mike Shanahan's Washington team? If you watched Aaron Rodgers dice the Skins into tiny little pieces last Sunday – 480 yards and four scoring strikes – you already know or should be able to guess (dead last at 511.5). Stafford plays catch with the best receiver in the game and has now added one of the most versatile running backs to his arsenal, as well. I'm not saying he'll be able to duplicate Rodgers' numbers this Sunday, but…well, yeah, that's exactly what I'm saying. The Redskins are reeling and that means you start your Lions in Week 3. All of them.


Grab a Clipboard

Ben Roethlisberger v. CHI: The barely concealed exasperation in Mike Tomlin's voice during the post-game presser on Monday night portended a rough week of practice for his Pittsburgh troops. It's gonna take a lot more than fire, brimstone, and several hundred up-downs to fix what's wrong with this Steelers offense, however. As the refreshingly forthright coach elaborated on Tuesday, "The most significant reason we're 0-2 is we're not scoring enough points." Mmm-hhh. And the most significant reason you're not scoring enough points, Coach Tomlin (19 through two games), is that you've got basically no talent on offense outside of the man who attempts to orchestrate the whole mess, Ben Roethlisberger. The running game is a shambles. The receivers don't scare anyone. The decimated offensive line can't block anyone. That about sum it up? Steer clear of Big Ben until some of his weapons (e.g. Le'Veon Bell, Heath Miller) return.

Josh Freeman @ NE: The already cool relationship between Josh Freeman and Greg Schiano took a turn toward the frosty this past weekend when Tampa dropped a second completely winnable game to the Saints at home, largely because Freeman stunk (9 for 22, 125 yards). Now comes word that Schiano might also be at odds with prized free agent acquisition, Darrelle Revis, over his less-than-congenial coaching style. Could a complete mutiny on the pirate ship be too far off on the horizon? Freeman has taken the unusual step of requesting a mid-season trade, suggesting he's ready to mail it in and/or move it on out. Regardless, you probably don't want much to do with him until the situation resolves itself. The spat has clearly made him even more erratic than he already was and there's no guarantee he'll even be the starter much longer if Schiano wins the power struggle. Steer clear, mateys.

EJ Manuel @ NYJ or Geno Smith v. BUF: Though these two greenhorns are sporting identical 1-1 records, that's just about where the similarities end. While the precocious Manuel is the toast of Orchard Park after a "legendary" win last Sunday, Smith is barely holding off undrafted free agent Matt Simms for the Jets' job he almost certainly didn't win from Mark Sanchez back in training camp, Rex Ryan's equivocation notwithstanding. For one more Sunday, however, the two have another thing in common: I won't be recommending them as starters. Smith is basically an auto-sit until he demonstrates more readiness, but Manuel – already a sneaky start candidate when the spot is right – gets the clipboard because the Jets are back to playing the type of defense Ryan can boast about (a second-best 241 yards/game). This one shapes up to be a low-scoring affair. Avoid the two rooks unless you're desperate.

Running Backs