Nobody needs to be told starting Aaron Rodgers, Adrian Peterson, or Calvin Johnson is a good idea. Duh, right? You can't have studs at every position, though, unless you're in the shallowest of leagues. This is where the Shot Caller comes in. Need help deciding which bargain basement QB to use and which to ignore on Rodgers' bye week? Let's talk. Looking for solutions at running back because Peterson is a game-time decision? Look no further. Need to know which of your unproven targets to start and which to sit since you ignored Megatron and went RB-QB-Jimmy Graham in your first three rounds? I'm your huckleberry. Past results may not guarantee future success, but I believe ignoring them entirely can ruin your Sundays in a hurry. Read on for a little history and, hopefully, a little sage advice..

Note: Fantasy points based on FF Today's default scoring system.
Bye Weeks: Baltimore, Chicago, Houston, Indianapolis, San Diego, Tennessee

Grab a Helmet

Robert Griffin III @ DEN: An exact body count hasn't been confirmed yet, but we know this much about the Week 7 carnage: It was extensive and couldn't possibly have come at a worse time. Week 8's slate is one of the lightest of the season, meaning fantasy GMs will be scrambling to fill sudden vacancies with a dangerously shallow pool of free agents. Kinda makes you appreciate a guy like RGIII, doesn't it? Despite all the consternation about his reconstructed knee, Griffin has missed only one regular season game since he entered the league (Week 17 of last year). Unless your championship is played very late, that means you've never had to worry about him missing a scheduled start. He's been a little more error-prone this year and less successful, sure, but he's still a top 10 QB (23.8 points/game) and only Dallas has been worse against opposing QBs than Denver.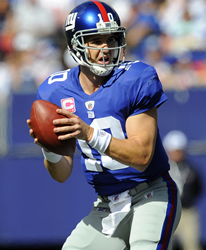 It's all about matchups and Eli has a good one against the Eagles.

Eli Manning @ PHI: Peyton's kid brother has been quite a bit more error-prone and a whole lot less successful than RGIII thus far. He's thrown a league-leading 15 interceptions already and was only this past Monday able to steer the Giants to their first victory of the season. It would stand to reason you should be wary of him, then, correct? Well, yes and no. He's currently on pace to throw 34 picks, a pace that would put him in historic company (only George Blanda, Vinny Testaverde, and Frank Tripucka have thrown more in a season) and could, theoretically, earn him the hook at some point. On the other hand, he's still a two-time Super Bowl MVP who's also on pace to best his career average for fantasy points/game, despite the copious turnovers. He notched 24.7 in his last outing against Philly (just three weeks ago), so hang in there with Eli for now.

Colin Kaepernick v. JAX (in London): San Francisco's seeming experiment to turn Colin Kaepernick into a pocket quarterback was mercifully suspended last Sunday in Tennessee, meaning we finally got a glimpse of the dual-threat dynamo we thought we were getting when the season began. Kap ran the zone read extensively in the victory over the Titans and, as a result, tallied 68 yards and his first rushing TD of 2013. That's five more rushing yards and one more score than he'd tallied in the previous four games combined. It's unclear what caused Coach Harbaugh and Co. to steer away from this fruitful wrinkle (fear of injury, anticipation of defensive adjustments), but we can only hope those concerns have been permanently alleviated. The Niners draw Jacksonville next, one of the worst NFL teams in a generation, and Kaepernick could be in line for a very big day if given license to ramble.


Grab a Clipboard

Mike Glennon v. CAR: Tampa's falling out with Josh Freeman is still the hot topic at One Buccaneer Place, meaning Glennon's OJT as the team's new signal caller has been only lightly discussed so far. That's kind of a shame, actually, because the kid hasn't been too bad. After a predictably rough debut against Arizona in Week 4, Glennon settled down for two near identical performances in Weeks 5 and 6 (26 completions and two TD strikes against both Philly and Atlanta) and now sets his sights on division rival Carolina in Thursday's primetime matchup. So much for flying under the radar, huh? Good or bad, Glennon's gonna have the spotlight all to himself against the Panthers. My guess is he'll be longing for sweet anonymity after Carolina's elite defenders have their way with him and the Tampa offense. Keep Glennon in your long-range plans but forget about him in Week 8.

Jason Campbell @ KC: If you've read this far, you've obviously pardoned me for recommending Brandon Weeden against the Pack last Sunday. That or you happened to miss last week's column and still harbor delusions I occasionally know what I'm talking about. I do, for the record (key word: "occasionally"), but that definitely wasn't my finest hour. Weeden was an abomination in Week 7, completing just 17 of 42 passes against Green Bay's below-average secondary for 149 yards, a score, a pick, and one signature under-handed fling that has come to symbolize his brief career as a failed starter. Next up for Cleveland is…the guy who wasn't good enough to beat out Weeden OR get promoted when he initially succumbed to injury back in September. Yeesh. Campbell may be the last man standing for the Browns, but that's only because he hasn't had a chance to stink or get hurt yet. Ignore him completely.

Kellen Clemens v. SEA: The Duck fan in me wants to believe Clemens – an Oregon alum/native from the tiny community of Burns – will rise and shine in the Monday night spotlight against Seattle's vaunted Seahawks. The realist in me knows he isn't going to. If you're not familiar with Clemens' NFL oeuvre, here's what you need to know: 1) He's started 12 games in seven seasons, winning only 4 of them; 2) He's never thrown for 300 yards in a game; and 3) He's never thrown for more than one TD in a game. If those numbers aren't uninspiring enough, consider the outfit Clemens will be trying to best on Monday. Seattle's defense has already tallied 11 picks this year (second in the league) and 23 sacks (tied for fourth) and is also limiting opposing QBs to just 6.2 yards per pass attempt (second). Clemens and a hobbled St. Louis O v. Richard Sherman and Seattle's wicked D = epic mismatch.

Running Backs