Bye Weeks: Baltimore, Chicago, Houston, Indianapolis, San Diego, Tennessee

Grab a Helmet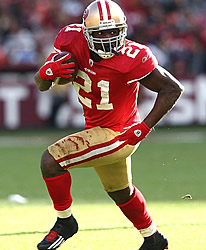 Frank Gore: The 49ers workhorse.
Frank Gore v. JAX (in London): Depending on whether you included Doug Martin (I didn't), the running back position numbered either 9 or 10 automatic starters as of last week. Now that Martin is out with a torn labrum, that number is definitely 9, fewer when byes are taken into consideration. To my surprise, Gore is still part of that group. Yes, he plays for a decidedly run-first outfit, but he's reached the ripe old age of 30 (60 in running back years) and bleeds carries to, not only his fellow running backs, but also his fleet-footed quarterback. I figured we'd see a significant tapering of production in 2013. Nope. Gore has logged 127 carries thus far (fourth most amongst RBs) and is on pace to tally almost precisely the same number of points he did last season. Keep riding San Fran's workhorse against Jacksonville's brutal run stoppers (153.3 yards/game) in London this Sunday.

Le'Veon Bell @ OAK or Eddie Lacy @ MIN: If Bell and Lacy keep playing the way they've been playing of late, the ranks of elite running backs we can count on regardless of matchup will swell by two more members sooner rather than later. Both these greenhorns were slowed by injuries in the early going (Bell with the so-called Lisfranc injury and Lacy by a concussion), but they're injury-free as of Week 8 and are commanding a high proportion of their respective teams' running back touches as a result. Bell is averaging almost 20 looks and a healthy 12 points in his first three starts. Lacy, since returning from the concussion, has earned exactly 25 touches per game and 68 total rushing attempts. That's more than any other player in the league through that same three-game span. It's an uncertain RB world so you may as well hitch your wagons to these two promising rooks.

Fred Jackson @ NO: Nobody's ever asked me why my Twitter handle is @GrumpyJDH, so I thought maybe I'd provide a little insight by telling a quick story. Back in August, we conducted our first ever auction draft in my most important league, a highly competitive league comprising dudes I respect but hate losing to. Because we also froze two players apiece, the available pool was smaller than usual. C.J. Spiller was the unquestioned crown jewel of that pool IMHO and I, having frozen no running backs, was determined to get him. I did…to the tune of $55 (we had $200 to spend). So basically, I bid more than a quarter of my auction budget for Buffalo's second most productive running back. The end. This, my friends, is precisely the type of experience that, when multiplied many times over the course of 42-plus years, can make a fellow just a wee bit ill-tempered.


Grab a Gatorade

Chris Ivory @ CIN: Oh, but that's not all. Spiller's disappointing campaign left me highly exposed during these heavy bye weeks. In order to level the load, so to speak, I went out and acquired Bilal Powell prior to Week 7, thinking he might just be the type of no-nonsense, nothing-special option that could see me through to the playoffs. Naturally, the minute I acquired him and plugged him into the starting lineup, the Jets decided Chris Ivory deserved 34 carries. Chris flipping Ivory! 34 carries!!! If you're thinking now's the time to jump on the Ivory bandwagon, the following two facts should give you pause. First, he barely managed 100 yards and 10 fantasy points despite the truckload of carries. Second, Rex Ryan admitted he gave Ivory all the attention because he had the "hot hand." When coaches start talking "hot hand," you should run for the hills. I won't be starting Powell this weekend (lesson learned), but Ivory is equally borderline.

C.J. Spiller @ NO: And no, I'm clearly not over it. I mean, if I wanted a guy who relies almost solely on home runs and rarely finds the end zone, I'd have spent all my money on Chris Johnson. You all know how I feel about Chris Johnson. And in case you're wondering, yes, I'm secretly hoping this sit-down recommendation will spur the disappointing Spiller on to a scintillating second half of the season. That probably won't happen, though, until I trade him for…

Lamar Miller @ NE: …someone like this. Crazy as it may have sounded at the start of the season, Lamar Miller straight-up for Spiller would be a pretty even deal if you consider only what's been accomplished thus far. Through six games, Miami's meal ticket has accumulated 254 yards on 59 carries and a couple of rushing touchdowns. That's good for 6.7 points/game. Spiller, meanwhile, has notched 362 yards (more than a quarter of them on 2 of his 90 carries) and a single score, good for…exactly 6.7 points/game. Miller's got less of a track record, granted, and he's now facing the prospect of a Daniel Thomas job share. That doesn't make him a whole lot less risky than Spiller, though, especially considering the latter has a more imminent threat to his long-term value (the aforementioned Fred Jackson). Play it safe and sit both of these disappointing backs down in Week 8.

Wide Receivers