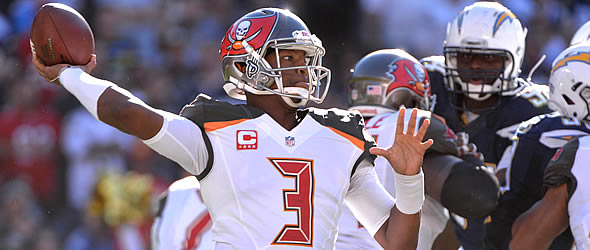 Jameis Winston is the first quarterback to ever start a career with back-to-back 4,000-yard seasons.
Jameis Winston, TB
ADP: 7.07, QB7
Jameis Winston's fantasy stock will continue its upward trend heading into 2017. He's gotten off to one of the best starts in the history of the league, becoming the first quarterback to ever start a career with back-to-back 4,000-yard seasons. As he matures and learns the league and all the nuances the position requires, Winston will become a perennial top-5 fantasy QB.
Tampa Bay, of course, bolstered the team's offensive weapons this off-season. Adding WR DeSean Jackson should improve Winston's decision-making, as the bulk of his 18 INTs last season came as a result of force-feeding Mike Evans the football. That won't be the case in 2017. Rookie TE O.J. Howard also gives Winston an additional weapon in two tight end alignments with Cameron Brate. When it's all said and done, Winston should once again surpass 4,000 passing yards while also increasing his TD totals into the mid-30s.
Carson Wentz, PHI
ADP: 12.05, QB18
The first quarter of 2016 was magical for Carson Wentz. He tossed 7 TDs through the first four games with only one interception. The rookie then proceeded to throw 9 TDs and 13 INTs in the season's final 12 games. Reasons vary as to why Wentz's production took a nosedive—bad mechanics, poor offensive line play, any number of things.
We can also point to the lack of offensive weapons in 2016. De facto No.1 WR from last season, Jordan Matthews, has moved on to Buffalo. Matthews is a solid player, but he's more of a No.2 receiver on an NFL roster. The Eagles front office did a great job trying to ensure that Wentz has the proper tools around him on offense. In comes Alshon Jeffery and Torrey Smith—both upgrades over Matthews. TE Zach Ertz rounds out what could very well be considered the best receiving trio in the NFC East. Wentz is almost an afterthought in drafts this season. Don't sleep on him. Grab him as a QB2 and watch as he flirts with QB1 status throughout the season.
Matthew Stafford, DET
ADP: 10.07, QB14
Matthew Stafford's 2011 season of 5,000 passing yards and 41 TDs seems like a lifetime ago. While he's fallen short of matching those numbers across the board since then, Stafford has quietly become one of the top late-round QBs over the past several years. No, his numbers aren't eye-popping. But in favorable matchups throughout the season, he's a viable starter capable of delivering QB1 production.
One caveat on Stafford, however, is his inconsistency. Last season, he had seven games of multiple TDs, but he also had four games with zero TDs. Detroit's dedication to the passing game and its inability to consistently run the ball places a huge responsibility on Stafford. But with that responsibility comes volume, and volume can translate into stellar production. Expect the Lions to once again be one of the teams most reliant on passing the football, which, in turn, will increase Stafford's value.
Philip Rivers, SD
ADP: 9.12, QB13

One of the constants in fantasy football over the past decade has been Philip Rivers—not only for his production, but his availability. He hasn't missed a game since 2005 and has averaged 31 TD passes over the past four seasons. The Chargers will continue to lean on the veteran signal caller to lead an offense that puts up numbers despite having minimal household names.
TE Antonio Gates remains an option, and RB Melvin Gordon's rebound from a forgettable rookie season in 2015 brings optimism, but make no mistake: the success of the Chargers offense rests on Rivers' shoulders. He ended the season with nine straight multiple-touchdown games, making him a sneaky and predictable option at QB. His 9th round ADP makes him a low-end QB1 for those owners who wait until later to select a quarterback.

Dak Prescott, DAL
ADP: 10.08, QB15
It amazes me that Dak Prescott doesn't get the kind of love I think his credentials deserve. He finished 2016 with 29 total TDs and only four interceptions—and two of those came in one game. The chances of Prescott repeating the four-INT performance in 2017 are slim, but it speaks to his decision-making and his accuracy—two traits that, if done on a consistent basis, can catapult quarterbacks to untold heights.
Ezekiel Elliott's suspension—for however long it will end up being—will make Prescott more of the focus. It may even provide him with more opportunities to run the football, further increasing his value. As a late 10th round selection, I think he's a steal in 12-team leagues.