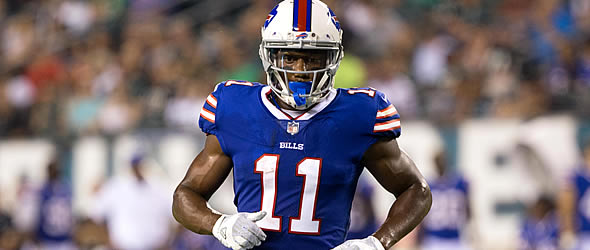 Boldin's departure should lead to more opportunities for Zay Jones who will play outside in 2-WR sets.


Zay Jones, BUF – Anquan Boldin's thanks-but-no-thanks gesture to the Buffalo Bills leaves a void in that offense. The organization now lacks a veteran presence in the passing game—something the team needs. But it opens up a huge opportunity. In steps rookie Zay Jones—a player who will have two things working in his favor come draft day: value (12th round ADP) and volume. There won't be much competition for targets, so Jones could become a viable option.

The phrase "break out" is a relative term. I'm not saying Jones will become an unquestioned WR1 for your fantasy team—the Buffalo offense is simply not that kind of unit. They finished last season with the fewest pass attempts in the league, and the second-fewest in 2015. But that didn't prevent Sammy Watkins from being starter-worthy in 2015 or Charles Clay from being starter-worthy in 2016. With Jordan Matthews still battling a sternum injury, the table is set for Jones to make a name for himself in 2017.

Pierre Garcon, SF – At 31 years old, Pierre Garcon is no spring chicken. His advancing years, however, should not scare fantasy owners away this season. Garcon's departure from Washington to San Francisco instantly propelled him as the team's unquestioned lead receiver, and with it, a boatload of potential to put up solid numbers.

New head coach Kyle Shanahan brings with him the same offense that further solidified Julio Jones' ridiculous status as a fantasy stud. Garcon, of course, is no Julio Jones, but it's certainly intriguing to know that Garcon will be put in similar situations as Julio to succeed. That's enough for me to look at Garcon as one of the top WR3s in fantasy this season.

Robby Anderson, NYJ – The New York Jets in 2017 will battle the Cleveland Browns for the worst team in the AFC. There's not much to say about this team on either side of the ball, other than somebody has to catch passes. Surprising receiver from last season, Quincy Enunwa, was injured during the first weeks of training camp and is out for the season. Like Zay Jones mentioned above, the opportunity is there from a value/volume perspective to make Anderson a spot-starter in 2017.

Any talk of the Jets passing game must start with their quarterback. Starter Josh McCown is on his eighth team and has 79 career TD passes in 82 career games. Ouch. McCown at QB doesn't instill confidence, I know. But with a potentially porous defense, the Jets will have to pass to remain competitive in games this year. In spite of the almost assured inconsistent play from Anderson, a season of 70-75 catches is not a stretch.

Martavis Bryant, PIT – If Martavis Bryant can ever get out of his own way, he would eventually find himself as one of the top 10 receivers in the NFL. His combination of size, speed and pure athleticism puts in rarified air. He returns after missing all of 2016 because of suspension, but the off year should not deter fantasy owners from taking a chance on one of the league's best deep threat receivers.

Pittsburgh was one of the top pass-attempt teams in the league last year. That shouldn't change in 2017. Bryant's presence, coupled with Antonio Brown's continued dominance, opens things up tremendously for the Pittsburgh passing attack. And with all the attention Brown is sure to get, Bryant, assuming he's matured, should become a top-end WR3/low-end WR2. Expect for Bryant to have his best season as a pro.