A Long December




12/10/09



Aggressiveness is a characteristic that tends to reward fantasy owners more times than not. In the NFL, an offensive line will sometimes hold up long enough to give the quarterback enough time to beat man coverage down the field and make the defense look foolish against a fierce pass rush. More often than not, though, when a defense brings the heat and forces the action, crisis management becomes the name of the game for the opposing team.

In that same vein, I hope to apply that same kind of pressure to the owners in all of my leagues by beating my opponents to the punch in regards to personnel moves. Sometimes, reaching a conclusion about a player too quickly is much like trying to blitz Peyton Manning – dangerous and painful. However, coming to a correct conclusion two weeks or two minutes quicker than your opponents is considered foresight. Fantasy owners can be a uneasy lot, knowing that one two-or-three-game losing streak can wreak irreparable damage to his/her team's chances to make a visit to the fantasy postseason. But just as it is in the NFL and in life, it's hard to land the big prize by playing scared. Thus, I will strive each week to help each of you become a smart blitzer, so to speak.
---
"And it's been a long December and there's reason to believe
Maybe this year will be better than the last
I can't remember all the times I tried to tell myself
To hold on to these moments as they passed"
- Counting Crows, "A Long December"
As I was trying to organize my thoughts for this week's column, I happened to think about this song. Perhaps it was mere coincidence, but I thought it was appropriate when considering the plight of all fantasy owners as we enter fantasy football's second season. On one hand, fantasy owners *should* be thrilled just to reach the postseason, a place where only half of the teams find themselves in 12-team leagues that start their playoffs this coming week. On the other hand, we are less than two full weeks into the final month of 2009 and many of us will be forced to consider next season already after the completion of this weekend's games.
It's hard to believe, I know, but I am not immune to "this-might-be-the-end" syndrome. For many years, I've often joked that I could shoot holes into a "perfect" roster while dressing up the most flawed of fantasy teams. I suppose this admission makes me the proverbial "don't get too high, don't get too low" type of fantasy owner. However, I have been participating in money leagues for over 10 years now and I must admit I am getting the feeling that the word "bittersweet" will be used to describe Fantasy Football 2009 for me.
First, the "sweet" part of the equation: all six of my fantasy teams (four PPR, two non-PPR) have locked up playoff berths. Of that collection of teams, two secured first-round byes this week, three qualified via the wild card and my final one - an autodraft league with immediate family and some friends - doesn't start the playoffs until Week 15 (and goes through Week 17). I defeated the nearest competitor in my division in that final league last week, so I should have wrapped up a first-round bye there as well. I'll be the first to admit - it doesn't get much better than three first-round byes and three winnable first-round games when you begin the season with six fantasy teams.
Now for the "bitter" pill: Most of my early success was built on the pairing of Maurice Jones-Drew and Ronnie Brown, including my two biggest money league teams. (The other money league team was built around Adrian Peterson and Brown.) The common denominator, of course, was Brown. For all the former Brown owners out there, I probably don't need to remind you that he was a top-10 RB in fantasy before going down for the season. For as difficult as it is to secure two top-10 RBs in highly competitive leagues, I don't need to lament on how hard it is to make sure you can draft/acquire a viable third RB in case one of your two "no-brainer" options is lost. Fortunately, most of the remaining owners in my leagues also have RB woes of their own – even if they didn't lose a player like Brown – so perhaps I should be more thankful than bitter.
In the case of my MJD-Brown teams, I was fortunate enough to have LeSean McCoy as an option to get me to this point, but until we get some clarification on Brian Westbrook and his return - which is looking more and more likely - the rookie only serves as a band-aid. Fortunately, I have a decent shot (blind bidding) at Correll Buckhalter in my biggest money league - an unusual last-minute drop by an owner last week in a league where the next best free agent option prior was Leonard Weaver - and I have an outside shot at Jerome Harrison in the MJD-Brown league, although I am a bit deeper at RB in that league if I don't win the bid. On the AP-Brown team (non-PPR), I am down to choosing between Cadillac Williams, Chris Brown and Mike Bell as my RB2 because Ronnie Brown and Leon Washington both have bid my team adieu, although Wednesday's news of Quinton Ganther's promotion may help carry me if I am successful in landing him in blind bidding.
Certainly, just about every fantasy team that is still in the hunt for a title has felt the sting of an injury or two over the course of the season - at the very least - but rarely do teams with more than one or two "fill-ins" thrive in the fantasy playoffs. While every season tends to produce a postseason "darling", we don't get to choose who that player(s) might be and, quite often in deeper leagues, that player is already on a roster. Furthermore, we don't get to choose what position that playoff superstar plays; in other words, finding that clutch player isn't exactly one-stop shopping.
Throw in the fact that owners who invested in "perfect team" members such as Peyton Manning, Reggie Wayne, Joseph Addai, Drew Brees or Marques Colston may need to start finding alternatives as early as Week 15 and the list of "old reliables" continues to shrink. Granted, Saints HC Sean Payton has already announced he doesn't intend on sitting his starters in his team's pursuit of perfection, but what happens if New Orleans and Minnesota both lose over the next two weeks? This scenario likely means Saints starters will be joining Colts starters on the sideline early in Week 16. I really don't want to consider the alternatives at this very moment and I doubt you do either.
Either way, the old cliché of "taking-one-game-at-a-time" certainly holds true for the fantasy playoffs. No longer are you concerned about long-term implications or trying to win the points title in your league. Your one and only focus is to outscore your opponent THAT week - no matter the consequences - because there is no guarantee that your team will be around to play the next week. The fantasy postseason is when calculated risks can not only result in important wins, but they can also lead to big payoffs as well. (Obviously, the opposite applies as well.) But the key phrase here is "calculated risk". By now, I would expect most owners to know their team's strengths and weaknesses.
For example, Philip Rivers faces Dallas this week while Joe Flacco opposes Detroit. Playing Flacco over Rivers is not a calculated risk; it's just not a smart move. Conversely, benching Cadillac Williams for Jerome Harrison is a calculated risk. No, the Steelers haven't turned soft on run defense just because DE Aaron Smith and S Troy Polamalu are out, but they aren't near the defense they were in 2008 anymore either. All Harrison has done in three games with feature-back-like touches is approach or exceed 100 total yards and catch at least five passes in each contest. Let's just say I like Harrison's chances of putting up a 15-point game in PPR leagues better this week than I do Williams' vs. the Jets, although the matchup says I should go with Caddy.
With that in mind, I feel my time over the 2-3 three weeks would be best served by identifying unsuspecting players/defenses who I believe could emerge as the "fantasy darling" for that week. Each player/defense will be owned in less than a third of all leagues. (I'm using the % owned from ESPN.com leagues as of December 8.) I settled on 33% primarily because I'm working under the assumption that most readers of this column don't have the luxury of plucking Jonathan Stewart off the waiver wire at this point of the season. It should also be noted that all recommendations are based on PPR scoring.
So, without further ado, the Unsuspecting Stars of Week 14...
Quarterbacks
Note: Alex Smith is somehow owned in less than 1/3 of ESPN Fantasy Leagues and is a viable QB1 this week, but I'm looking for a bit more of a challenge here.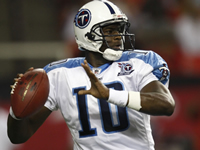 Vince Young: Leading the Titans' resurgence.
Vince Young (vs. Rams) As much as a household name as Young is, it's rather surprising to me that Young is not owned in more leagues. I can only surmise that owners are waiting for the other shoe to fall on him. While I have suggested - and still believe - that Kerry Collins could be leading the Titans' resurgence just as easily as Young is, that doesn't mean that Young hasn't drastically improved as a passer. What's more is that you can see that all of Tennessee's offensive players are buying into the improvement he has made as a QB. And, sometimes, that's all that matters. This week, Young will get to face the Rams' banged-up defense. St. Louis has actually fared pretty well recently vs. opposing QBs and isn't near the pushover it was over the first half of the season, but I believe the Rams will commit all their energy to stopping Chris Johnson and take their chances with Young as a runner and passer. I don't foresee a big passing day for him, but I could see an undisciplined pass rush or two leading to about 30 rushing yards. Throw in about 200 passing yards and 1-2 total scores and he could make for a viable play in Week 14.
Jason Campbell (@ Raiders) Through the first half of the season, the Redskins' offense was putrid, averaging 17.6 PPG. The running game was average at best and the passing game was a non-factor. In Week 7 - the week before the team's bye - Washington made the call to relieve HC Jim Zorn of his playcalling duties and bring in Sherm Lewis. Since the world's most famous senior center bingo caller and Meals On Wheels deliverer decided to leave his cozy former lifestyle, Campbell's numbers have taken off. What is the most interesting is he hasn't become more efficient (86.5 first-half QB rating compared to 89.7 second-half QB rating; 7.4 YPA in both halves), he is just getting more opportunities (28.5 attempts/game in the first half of the season, 35.5 in the second half) and feeling much less pressure in the pocket (3.6 sacks/game first half; 1.3 in the second half). The payoff is that Campbell is fantasy's ninth-best QB over the last five weeks. Despite possessing one of the game's best CBs in Nnamdi Asomugha, Oakland is only in the middle of the pack vs. opposing QBs. Much like the rest of the players on this list, a huge game should not be expected this week, but a more-than-serviceable one should. How confident am I in him? He is getting the start over Carson Palmer for me in the highly competitive SOFA Auction Fantasy Football League.
Running Backs
Jerome Harrison (vs. Steelers) In a scenario that only fantasy football can create, Harrison gets the unthinkable nod against the Steelers' once-vaunted defense. In what is shaping up to be an old-fashioned "I'm tougher than you are" football game on Thursday, the weather could very well dictate that both offenses play things pretty close to the vest. (Please bear in mind that while Harrison looks like an obvious starter for the Browns on Thursday, HC Eric Mangini could easily decide that Harrison has regressed as a pass blocker once again. After all, I'm not sure how he was able to improve that skill in 33 plays vs. the Bengals in Week 12 after not playing a snap the previous two weeks, but I digress. For now, we are going to have to assume that Mangini realizes Harrison gives his offense its best shot at moving the ball.) Against a Pittsburgh defense that will be minus DE Aaron Smith and S Troy Polamalu, fantasy points (specifically receptions) shouldn't be as hard to come by as they usually are vs. the Steelers. I don't foresee 100 total yards from Harrison this week, but a repeat of Week 13's 17 touches sounds about right. It should also be noted that Harrison has caught at least five passes in each of his three starts this season and managed at least 13.5 PPG in PPR leagues in those games. The fact that he faced the Ravens, Bengals and Chargers in those contests should ease your mind even more if you have to consider playing him this week.
Quinton Ganther (@ Raiders) This was a spot occupied by Rock Cartwright until Wednesday, when HC Jim Zorn opted to turn to the ex-Titan. Despite being about the same size of the RB he is replacing, Ganther has a little more lateral agility and speed than does Cartwright. This week, Ganther draws the Oakland defense, which is third-friendliest defense vs. RBs in PPR leagues this season. The Raiders have surrendered seven 100-yard games and 17 TDs this season, so deep leaguers may want to take the plunge on a player going back to his hometown in Week 14. Be advised that Cartwright probably will be getting at least 5-10 touches, so don't go crazy with expectations. But the Raiders defense has been known to give up a big running play or two per game and Ganther would be the most likely culprit this week, so there is hope with this 2008 seventh-round pick.
Wide Receivers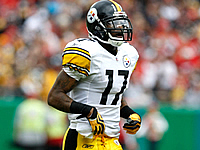 Mike Wallace: Looking for a 5-75-1 line Thursday night.
Mike Wallace (@ Browns) Before digesting Thursday's weather report (which calls for a typical December snowstorm in Cleveland), the rookie from Ole Miss was an obvious choice for this slot with the news that Hines Ward will likely not suit up. However, a slippery field could minimize his speed, which in theory, takes away his biggest asset. While that is a strong and valid argument, I have seen enough of Wallace to know that he is not strictly a deep threat - that's just been his role up to now. Bear in mind that he'll be assuming Ward's possession WR role this Thursday and it's not as if Santonio Holmes will fall into Ward's role and Wallace will replace Holmes. The game plan figures to be run heavy and the contest figures to be fairly low scoring, but Pittsburgh's isn't about to abandon its passing game just because of the cold and snow. Holmes and TE Heath Miller should be the biggest beneficiaries of Ward's absence vs. the Browns, but Wallace is certainly capable of beating the Browns' DBs, so it wouldn't be all that surprising if the rookie posts a 5-75-1 line.
Kenny Britt (vs. Rams) Assuming "starter" Justin Gage doesn't return this week, it seems like a fairly easy call to talk about Britt against a defense that just lost its franchise player (S O.J. Atogwe). The Rams have been better than one might think against opposing WRs, but with Chris Johnson scaring the daylights out of defenses nowadays, St. Louis will almost assuredly load the box and take its chances with Young as a passer and runner. Don't expect either strategy to work out well; in other words, Johnson should get his 125+ yards rushing and Young will probably hit on a couple of long balls to Nate Washington and Britt. Despite Britt's obvious talent, beware I am recommending his role in the offense more than I am recommending him this week. (For those of you who don't know already, HC Jeff Fisher has stated Gage will return to the starting lineup when he is deemed healthy enough to take the field.) In short, if Gage is active and starts this Sunday, I would assume Fisher is happy with Gage's health and I would start him in fantasy instead. Keep in mind that before Britt started rolling over the past three weeks, it was Gage who was starting to take off.
Tight Ends
Note: Jermichael Finley, like Smith, is owned in less than a third of ESPN leagues, but that should change pretty quickly. He appeared as a TE1 in my Dealing With The Deadline article nearly a month ago, so his MNF explosion wasn't a complete shock. What is more amazing is the fact he is owned in only 16% of leagues.
Bo Scaife (vs. Rams) In fantasy football, it's hard to go wrong with a QB's favorite target as a fantasy option, even on a run-heavy team. When the two have been playing together since college, it's even better. Over the last four weeks, Scaife has seen at least five targets in each contest and as many as 10. Furthermore, Scaife has caught at least five passes in each of the last two contests. While I do expect a heavy dose of Chris Johnson and a few deep shots to Nate Washington and Kenny Britt, there will be a handful of long third-down conversions that Tennessee will need to pick up and I suspect Scaife will be in line for a decent PPR day. St. Louis is right in the middle of the pack in defending the TE, so if you're looking for an upside TE play, I'd give Scaife strong consideration.
Anthony Fasano (@ Jags) Jacksonville has been pretty solid at defending the TE (ninth-best in PPR), but that ranking has come against a lot of teams that either have average TEs or don't feature one in their offense. Fasano doesn't exactly qualify as an elite TE (or even come close to that designation) and Miami doesn't usually make a special effort to include Fasano in the gameplan, but the Dolphins have started relying more on their passing game since Ronnie Brown. The increased emphasis on Chad Henne, Davone Bess and Brian Hartline has led to much more involvement for Fasano, who has totaled 10 catches on 13 targets over the last two weeks since returning from a hip injury. I'll be the first to admit I would need to be desperate at TE to plug Fasano into my starting lineup at this point, but if you are still looking for a plug-and-play option after Owen Daniels' injury or are a disgruntled Jeremy Shockey owner, I may take the plunge.
Kickers
Note: Garrett Hartley is owned in just 5% of leagues, but I attribute that to the late announcement of his promotion last week. He's top-five kicker option the rest of the way.
Jay Feely (@ Bucs) I was quite surprised to see Feely is owned in only 15% of leagues. I have been rolling with him in one of my money league teams for several weeks now and will use him with confidence this week in a warm-weather game against the Bucs. He posted 14 points against the Bills last Thursday and the Bucs qualify as a similar opponent. Given how dependent kickers are on the effectiveness of the offense (and defense, in some cases) on gameday, they are guaranteed nothing. But considering that Tampa Bay allows the fifth-most points to kickers this season, Feely is a pretty good option this week.
Shayne Graham (@ Vikings) I'm going off the matchup board for this one, but the Bengals' commitment to the run has reached epic proportions. In recent matchups that screamed for Carson Palmer to air it out, Cincinnati has opted to run instead and play defense. (While the strategy has been effective, I'm going to chalk this over-the-top emphasis to the run to uneasiness about Palmer's injured left hand.) I'd usually say a tough defense like Minnesota would curtail that approach somewhat, but the Bengals have executed the same strategy vs. stingy run defenses such as Pittsburgh and Baltimore. While the "Williams' Wall" should keep the Cincy running game in check for the most part, the loss of MLB E.J. Henderson may be enough for the Bengals to enjoy moderate success. With 13 FG attempts over the last four weeks (12 makes), Graham seems like a pretty good bet for 2-3 more attempts against the Vikes' solid defense that will probably keep the Bengals out of the end zone for the most part on Sunday.
Defenses
Buffalo Bills (@ Chiefs) Sometimes, picking out a fantasy defense late in the season is as much about the degree to which the opponent is struggling as it is about how talented the defense is. Over the last two weeks, Kansas City has scored a total of 27 points on offense while losing by a total of 60 points. Buffalo can't do much as a team, but it has shown a propensity to stop the opposition's passing game, if only because the run defense is so bad. However, I have seen a better defensive effort under interim HC Perry Fewell and think Buffalo can give Kansas City fits if the Chiefs don't show any more desire than they have in recent weeks. I can only recommend them as a desperation play (and it would take an owner more bold than I to use them), but there are certainly worse options that are on playoff rosters this week.
Houston Texans (vs. Seahawks) Houston can't help it if its last three of its last four games have come against the Colts (twice) and Titans. By comparison, Seattle shouldn't be all that taxing on this defense. The Seahawks can't seem to settle on an offensive identity and are a different animal on the road (16.7 PPG) than at home (23.8). The only explosive offensive element Seattle has shown lately - Justin Forsett - is hampered by a quad injury and further hampered by HC Jim Mora's insistence that Julius Jones is a better back. For Houston, this game represents the final opportunity the team has to make a playoff push and desperate teams usually play with more of a sense of urgency at home. That should be enough against a Seahawks team that loses by an average of 13 points on the road in 2009.

e-mail me with any questions/comments.