Dealing With The Deadline




11/12/09



Aggressiveness is a characteristic that tends to reward fantasy owners more times than not. In the NFL, an offensive line will sometimes hold up long enough to give the quarterback enough time to beat man coverage down the field and make the defense look foolish against a fierce pass rush. More often than not, though, when a defense brings the heat and forces the action, crisis management becomes the name of the game for the opposing team.

In that same vein, I hope to apply that same kind of pressure to the owners in all of my leagues by beating my opponents to the punch in regards to personnel moves. Sometimes, reaching a conclusion about a player too quickly is much like trying to blitz Peyton Manning – dangerous and painful. However, coming to a correct conclusion two weeks or two minutes quicker than your opponents is considered foresight. Fantasy owners can be a uneasy lot, knowing that one two-or-three-game losing streak can wreak irreparable damage to his/her team's chances to make a visit to the fantasy postseason. But just as it is in the NFL and in life, it's hard to land the big prize by playing scared. Thus, I will strive each week to help each of you become a smart blitzer, so to speak.
---
As a writer, you become accustomed to deadlines. In fact, the ability to meet them can often determine whether or not there will be another article left to write. After a while, a writer can actually grow to love deadlines, almost as if it serves as some artificial inspiration or fills some sadistic need to see if we can use the clock as some kind of motivation to pull one more quality work of art out of our fingertips.

As a fantasy football owner, I absolutely despise deadlines. I despise the deadline which forces me to set my lineup five minutes before the start of the early games on Sunday, in large part because the joy of playing the right players each week doesn't come close to matching the dread that comes with benching a player who decides to boost your league-leading bench points total (isn't that right, Greg Olsen?).

But, for me, the saddest deadline as a fantasy owner comes once a year - my leagues' trade deadline. When the trade deadline has past, no longer does an owner have the ability to play the "market". Instead, we are left with only hope - hope that the waiver wire will provide our teams with the key component that our teams are missing (Ladell Betts, 2006; Ryan Grant, 2007 come to mind) in order to make that late push to lock up a playoff spot and, ultimately, secure a shot at the league title.

While the deadline can be stressful for both the writer and the fantasy owner, the ability to deal with the deadline can be particularly rewarding for the writer and/or owner who knows how to use it to their advantage. For the writer, the energy surge you get as time winds down can almost be exhilarating and can sometimes help you focus all your creative energy into one application. The reward is typically the confidence that comes from pounding out an article with time to spare that combines creativity with coherency.

For the fantasy owner, the rush can almost provide the same kind of energy and the reward can come in the form of using the trade deadline to squeeze your fellow panicky owner into adding one more player in a trade that he/she doesn't want to part with - but has to - in order to secure the player that he/she must have. The reward can also be as simple as looking at your team as the deadline passes and realizing that you have done everything in your power to produce a winner.

Just like a writer, a fantasy owner's ability to thrive at the deadline can determine whether or not the holidays will be merry in late December or something much less joyful. Granted, the loss of one's writing job is more tragic than the downfall of one's fantasy team, but doesn't the world just seem a little brighter around the holidays when you know that all the eating and shopping will be somewhat offset with a hefty league prize?

It is with that in mind that I will divert a bit from my usual workload/target analysis. Instead, this week I will provide my rest-of-the-season rankings in an effort to give you some sense of value as you wrap up your trade talks for the year.


In what will be a reoccurring theme throughout this piece, take advantage of New Orleans. I absolutely have no qualms with the Saints' run towards 16-0. Whether or not they get there is debatable, but there is no denying their remaining schedule is about as fantasy-friendly as they come. In three upcoming games vs. the Rams and Bucs (twice, including Week 16), Brees could legitimately throw for around 10-12 TD passes. Similarly, Brady gets the edge over Manning for a slightly easier remaining schedule as well.

Fantasy's current #1 QB (Rodgers) headlines the "injury risk QBs" and drops all the way down to fourth because the chances he will continue his stellar play lessen each week he incurs five more sacks. Warner gets the nod over Schaub because he has served his bye already and has a very nice fantasy playoff schedule while Schaub has yet to play more than 11 games in a single season as a Texan. I will continue to hold his recent injury past against him until he actually makes it through an entire 16-game schedule.

Favre will spend most of the second half of the season playing under a roof and against eight-man fronts, so he doesn't figure to slow down anytime soon. Pittsburgh will likely be in some cold-weather, windy games in December, so he falls a bit because his yardage totals will probably take a hit. The risk of running with Big Ben as your #1 QB late in the season is that he'll post a low-yardage, 1-2 TD game because the weather and the Steelers' dominant defense will often lead to a run-heavy attack and/or short fields.

The way Chicago's defense is playing right now, Cutler may have little choice but to continue airing it out; as luck would have it, the Bears' remaining schedule doesn't exactly lend itself to rushing success either. Rivers is probably a top-five fantasy QB and needs to start almost regardless of the matchup, but five of his remaining seven games (for fantasy purposes) are against defenses that aren't too shabby at defending the pass. He's a pretty good bet for at least two TDs per game most weeks, but his yardage totals may be erratic.

After the Steelers in Week 10, Palmer and the Bengals should be poised for big things in the passing game, but Cincy has been content with beating opponents on the ground almost regardless of the matchup, so predicting big numbers for Palmer seems a bit foolish. However, his remaining schedule looks easy enough where he should be able to post at least one or two more 3-plus TD games. Conversely, McNabb isn't about to catch a break anytime soon. Because the offense is so pass-heavy and his offense is so loaded with explosive weapons, he'll have his big games in the second half, but he'll probably have a few clunkers in there as well.

Much like Philly, Dallas isn't guaranteed much success through the air either. Teams have already started to double Miles Austin and most of the upcoming defenses on the Cowboys' schedule are solid against the pass. Flacco may be the ultimate matchup QB in the second half. He's not likely to have much success vs. the Colts or the Steelers (twice, including Week 16), but he could be in line for huge days vs. the Browns (Week 10), the Lions (Week 14) and Bears (Week 15). Hasselbeck's remaining slate of games almost qualifies as ridiculously easy, but the offensive line is enough of a concern that I wouldn't count on him making it through the rest of the season unscathed.

Second-Half Surprise: Alex Smith, 49ers. It's fairly obvious that Niners' coaching staff must have seen something they liked a few weeks before they decided to pull Shaun Hill halfway through their game vs. the Texans a few weeks ago. In Hill's six starts to open the season, the Niners attempted 32 passes in a game just one time. Since Smith was promoted to the top of the depth chart two games ago, San Fran has attempted at least that many passes in both contests, including the Week 8 vs. the Colts in which the Niners led for most of the game. Perhaps the switch of offensive philosophy has to do more with the quick learning curve of Michael Crabtree, but it does appear San Francisco is much more willing to throw than it was earlier in the season.


As we set the stage for next season, it appears likely there will be four worthy candidates to go #1 overall in fantasy drafts (Jones-Drew, Peterson, Chris Johnson and Rice). MJD and Peterson are performing almost right in line of what I had predicted for them entering the season (fantasy point-wise), but Johnson has used three out-of-this-world performances to get himself into the good graces of fantasy owners once again. If he continues his 6.7 YPC pace, Johnson will need roughly 19.5 carries per game over the remaining eight contests to become only the sixth player in NFL history to eclipse the 2,000-yard mark in a single season. As it stands, his current YPC is the highest for a non-QB since Lenny Moore averaged 7.0 YPC for the Baltimore Colts in 1961. Just as impressively, Rice's 92-catch pace would make him just the fifth RB in league history to log that many receptions in a single season (Larry Centers, Eric Metcalf, LaDainian Tomlinson and Johnny Morris are the others).

Fantasy-wise, Thomas Jones and Michael Turner have been pretty much the same back in 2009. Going forward, though, I would prefer Jones. While Turner gets to enjoy the overmatched Bills' run defense in Week 16, his road to championship week isn't quite as smooth at Jones'. When you also consider that Jones will contribute more in the passing game than he did in the first half (following the loss of Leon Washington), his value in PPR leagues gets a slight boost. Schedule and contributions in the passing game also give Gore and DeAngelo Williams a slight edge over Turner for the remainder of the season. I love Gore's Week 16 matchup vs. Detroit whereas I still don't like D-Will's shot at huge numbers during the fantasy playoffs despite Carolina's renewed emphasis on the running game (or renewed emphasis on making sure Jake Delhomme doesn't beat his own team). The presence of Jonathan Stewart keeps Williams fresh, but you just never know what week the Panthers will decide Stewart should vulture Williams' touchdowns.

I see Mendenhall and Benson as the same back for fantasy purposes for the remainder of the season. Neither player will set the PPR world on fire but both players will see almost all of their team's carries and have some pretty favorable matchups the rest of the way.

As Ronnie Brown continues to make Chad Henne more and more irrelevant, it's become clear that in Miami's running game, Brown is the Dolphins' Mr. Inside to Ricky Williams' Mr. Outside. Almost all of Brown's 30 carries that are labeled as wide left or wide right are the result of a slow-developing play out of the "Wildcat" whereas most of Williams' 31 outside plays are designed outside runs, such as a toss, sweep or even an option pitch such as the one he scored on in Week 9. While it makes sense from the standpoint that Williams is probably the more explosive RB of the two, it befuddles me that a running offense like Miami's would be that obvious with their attack. (To their credit, they did a better job of switching that up in Week 9.) While I feel I have a fairly discerning eye, I know I am not the only person to pick up on this tendency. Outside blitzes in recent weeks have made Williams less of a factor out of the "Wildcat", which is why I believe the team has started to work rookie QB Pat White into the mix more often. Either way, owners of either Brown or Williams should be able to get some solid production out of their backs over the next three weeks when Miami faces the Bucs, Panthers and Bills in succession. But keep the inside/outside approach in mind when the Fins' schedule gets a bit more difficult during the fantasy playoffs.

Steven Jackson will continue to see his 25 touches/game in the Rams' otherwise useless offense, which will make him a fine low-end RB1 in PPR leagues and top-end RB2 in non-PPR. In a real NFL offense, he'd be a great bet for 15-20 TDs this season, but St. Louis may not give the opportunity to score more than five times in 2009. Much like Brees above, Pierre Thomas has a schedule in which he should be able to produce solid fantasy numbers. It's hard to recall the last time two RBs who have produced such weak rushing totals were still such solid players in fantasy, yet Joseph Addai and Tim Hightower have used their gaudy totals in the passing game to boost their anemic numbers on the ground (neither player is averaging more than 3.6 YPC).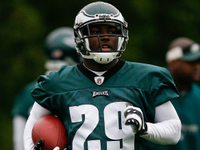 McCoy: Second-half surprise?
It's very difficult for me to put Ryan Grant in Matt Forte's neighborhood, but it's becoming apparent that Chicago isn't going to get it done on the ground this season. Forte will probably never be the type of explosive RB who goes over 5.0 YPC, but he isn't a sub-4.0 YPC ball carrier either. If we are to believe his running splits, the problem is on the right side of the offensive line. On plays in which Forte runs up the middle or to the right, he is averaging a dismal 2.9 YPC. On runs to the left, it is a much more respectable 4.4 - this is a problem the Bears will likely have to address in the off-season. Grant gets the nod due to a slightly softer schedule because it could be argued the Bears face only one opponent (the Rams) in which Forte could dominate. The Packers' slate of games isn't much more favorable, but at least Grant has some hope during Weeks 14-16.
Second-Half Surprise: LeSean McCoy, Eagles. I'm really going to roll the dice on this one, but Brian Westbrook is dealing with an ankle injury and has been held out of the last two games due to a concussion (which, by the way, is a smart approach by the Eagles' brass). Already known as one of fantasy's most injury-prone RBs, Westbrook may need to miss another couple two-week periods to deal with a future injury if his history continues to rear its ugly head. Philly's remaining schedule doesn't do the team many favors, but McCoy could very well be that second-half darling that every fantasy team wants on their roster as they make their championship push if Westbrook must miss any more games because the Eagles' offense does a fine job of making their RBs almost matchup-proof due to their heavy use in the passing game.

I'm not going to spend much time with the top seven receivers in either PPR or non-PPR. There is very little separation between these WRs in terms of their fantasy-point potential. Fitzgerald is arguably the most consistent weekly point producer at WR that I can remember since I started playing fantasy football. In PPR and non-PPR, it seems he is always posting at least 12-15 points, which is worth an awful lot when you talk about the inconsistent nature of the WR position. I'm a bigger fan of Marques Colston and Vincent Jackson in non-PPR formats for the simple fact that each has an elite QB in an elite passing offense throwing them the ball, almost regardless of the coverage they are facing on any given play.
The next wave of WRs (Sims-Walker, Ochocinco, Ward, White, DeSean Jackson, Austin, Rice, Driver, Hester and Marshall) all have the ability to match the elite WRs above some - if not most - weeks, but have at least one knock against them that keeps them from being Fitzgerald-consistent or Moss-explosive. However, if I have two strong RBs, I'd be more than happy to roll with two WRs from this group.
Dwayne Bowe may be able to join the above group if the Chiefs follow through with their plans to run a more up-tempo offense. Calvin Johnson's owners have to be getting impatient but, unless we receive some dooming news about his knee in the near future, he is still the most physically-gifted WR in the league. As long as he stays healthy, his numbers will improve dramatically. His high-target, low-production Week 9 was to be expected after being sidelined for as long as he was. I'll predict it gets a whole lot better in Week 10 when he faces a Vikings' defense minus CB Antoine Winfield.
I see the Giants' Smith and Austin as WRs who have hit their apex for the season, but that doesn't mean they won't deliver consistent production for the rest of the season. But just like the Eagles did in Week 9 with Austin, defenses have and will make the necessary changes to make sure 200-yard, 2-TD games won't become the norm. I'm interested to see if Boldin's week off will allow him to reclaim his status as a high-volume pass catcher once again. Part of me believes Kurt Warner only has eyes for Fitzgerald at this point, even if his inability to throw the ball downfield favors a run-after-catch wideout like Boldin.
The high ranking of Crabtree figures to raise an eyebrow or two, but the Niners are passing the ball much more effectively than they were prior to Alex Smith being named the starting QB. Vernon Davis has benefited the most, but Crabtree has completely blown away his critics (and even his coaching staff) with his ability to step right in and produce. Two of his next three games (Chicago and Jacksonville) figure to be games in which the rookie should light it up, something that can't be said about most of the players ranked below him.
Second-Half Surprises: Robert Meachem, Saints AND Jacoby Jones, Texans. Fantasy leaguers have been teased by Meachem's talent for so long, it almost seems ridiculous he is only in his third year and just turned 25 in September. But just as Chris Henry's injury in Cincinnati frees up Andre Caldwell and Laveranues Coles for more snaps (and possible fantasy production), Lance Moore's supposed high ankle sprain will allow Devery Henderson and Meachem to contribute more. We have a pretty good idea of what Henderson is all about, but Meachem has provided us some recent glimpses of his tremendous potential. In Week 9, he saw a career-high six targets and made them count. No one is overtaking Colston as Drew Brees' #1 target, but I wouldn't be totally surprised if Meachem is ready to assert himself as a viable option behind Colston, Jeremy Shockey and Reggie Bush in the passing game. Three games against the Rams and Bucs (twice) should give Meachem a handful of opportunities to take advantage of what could be a lengthy absence for Moore.
Jones has already flirted with some degree of fantasy relevance by serving as a Meachem- or Henderson-like big-play influence for the Texans prior to Owen Daniels' injury. I believe Week 9 was only the tip of the iceberg as it relates to Jones' ability to be more than just a deep threat. He will stand clearly behind Andre Johnson and Kevin Walter in the pecking order for targets among Houston WRs, but the nice thing about big-play WRs like Jones is the fact they don't require a lot of catches to do a lot of damage. The Texans have a pretty favorable schedule for the rest of the season, so you could do a lot worse in deeper leagues than to make a play for Jones.

With Owen Daniels out for the season, Dallas Clark and Vernon Davis have emerged as the top options at the TE position. At the rate both players are being targeted, don't expect their production to slow down anytime soon. The next 5-6 TEs (Celek, Gates, Gonzalez, Shockey, Heath Miller and Witten) are all in the same neighborhood and could realistically be traded for each other right now, which is a shocking revelation from what we "knew" about 4-5 weeks ago. After that, it appears that Olsen and Shiancoe are their individual QB's favorite target when they get in scoring range.
If Finley can get healthy anytime soon, I like him to break into the second class of TEs above, but it seems that his recovery time from a sprained knee could be measured with a sundial considering he was a game-time decision two weeks ago. According to the Packers' TE, he's ready to go, but the team is being overly cautious. Keller has seen double-digit targets in two of his last three games, so he could also move a few steps up over the next couple of weeks. Winslow and Heap are both players who could be top-12 TEs on different teams, but Winslow's fantasy potential for 2009 is going to be rocky with rookie Josh Freeman throwing the ball. Ray Rice is getting so much work now in the short passing game that Heap has been rendered somewhat ineffective after a strong start to the season. If Chris Cooley could be ruled out for the season, Fred Davis would be the only other player besides Brandon Pettigrew who could move up substantially between now and Week 16.
Second-Half Surprise: Jermichael Finley, Packers. The stage is set perfectly for him, so long as he gets back on the field soon. Aaron Rodgers trusts him, Green Bay has a multitude of receiving threats that should leave the middle of the field open and the schedule doesn't look all that menacing, at least for his ability to produce solid stat lines. If healthy, I wouldn't be surprised if his second-half production meets or exceeds that of the bigger TE names like Gates or Witten.

Defense/Special Teams
Rk
Player
1
Saints DST
2
Eagles DST
3
Steelers DST
4
Cowboys DST
5
Vikings DST
6
Chargers DST
7
Jets DST
8
Broncos DST
9
Bengals DST
10
Patriots DST
11
Giants DST
12
Cardinals DST
13
Colts DST
14
Titans DST
15
Ravens DST
There's seems to be a general belief that the Saints' defense cannot continue their high-scoring pace. As an owner of their defense in all three of my money leagues, believe me when I say I expect more of the same. At least four of their games (Rams, Week 10; Bucs, Week 11; Redskins, Week 13; and Bucs, Week 16) are against offenses that either can't sustain offense or have a rookie QB under center. For a high-scoring team whose defense has obviously made it a point of turning over its opponents, more defensive touchdowns and big plays should be in the offing. In fantasy, it isn't always the best real defense that wins; it is often the defense that makes the most happen that prevails. Quite often, the "most" happens against the weakest opponents.
Like the Saints, the Eagles, Cowboys and Steelers all blitz with such effectiveness that each unit should be worth starting on a weekly basis from here on out, even though their schedules suggest that it won't all be smooth sailing. The Vikings should rejoin the elite defenses once they get Winfield back while the Bengals could benefit from a Saints-like stretch after Week 10's showdown vs. Pittsburgh.
It appears to me that Denver is an elite defense when DC Mike Nolan can match up his personnel with the offense's down-by-down substitutions. But over the past two weeks, Baltimore and Pittsburgh have utilized an up-tempo attack that has, at times, completely left Denver dazed and confused. Fortunately for the Broncos, not a lot of their remaining opponents have the offensive structure and/or personnel in place to run the no-huddle as effectively as the Ravens and Steelers did.
On a related but slightly different topic, here are some interesting nuggets if you study the stats like I do: In the two full games Saints DT Sedrick Ellis has missed, New Orleans has allowed 343 rushing yards (compared to 417 yards in the five full games he played before his knee injury).
Similarly, since the Titans returned CB Cortland Finnegan to the lineup, Tennessee has permitted a total of 363 passing yards, two passing touchdowns and five interceptions in two contests. In the three full games he missed, the Titans surrendered 1,040 yards, 12 passing TDs and one interception. Believe me when I tell you the Titans' revival has much more to do with the defense (and the new conservative offensive gameplan that complements the defense) than it does Vince Young. Although Young is certainly doing his part, I think Kerry Collins would have fared just as well over the last two weeks.
Especially in light of Veterans' Day, I'd like to conclude this edition of the Blitz by thanking all military personnel – past, present and future – for the work that you do and the freedoms that each of you allow us to enjoy. It is safe to say that however many times we thank our veterans for all they do, it still isn't enough. It takes a truly special person to be willing to make the ultimate sacrifice for his or her country. Your work is greatly appreciated!

e-mail me with any questions/comments.