A Matter Of Trust




12/24/09



Aggressiveness is a characteristic that tends to reward fantasy owners more times than not. In the NFL, an offensive line will sometimes hold up long enough to give the quarterback enough time to beat man coverage down the field and make the defense look foolish against a fierce pass rush. More often than not, though, when a defense brings the heat and forces the action, crisis management becomes the name of the game for the opposing team.

In that same vein, I hope to apply that same kind of pressure to the owners in all of my leagues by beating my opponents to the punch in regards to personnel moves. Sometimes, reaching a conclusion about a player too quickly is much like trying to blitz Peyton Manning – dangerous and painful. However, coming to a correct conclusion two weeks or two minutes quicker than your opponents is considered foresight. Fantasy owners can be a uneasy lot, knowing that one two-or-three-game losing streak can wreak irreparable damage to his/her team's chances to make a visit to the fantasy postseason. But just as it is in the NFL and in life, it's hard to land the big prize by playing scared. Thus, I will strive each week to help each of you become a smart blitzer, so to speak.
---
After watching a few of the worst games over one weekend that I can remember in some time*** - and how it affected the fantasy football world - one thing kept coming to mind: who can we trust in fantasy? Seriously, no one should expect a professional in any vocation to work at peak efficiency 100% of the time, but for a league in which so many "pros" are making more money in one season than many of us will make over the 25-30 years, it would seem that consistency would not be so hard to find. Granted, most of us do not have to: worry about RBBC at our jobs (imagine for a second if lawyers or doctors "shared the load" at their jobs, for example, one lawyer was the opening argument and cross-examination specialist while another one strictly handled closing arguments), face the prospect of the media trying to pull apart your co-workers at every turn or concern ourselves with people at work whose sole purpose is to stop us from doing what we want to do - even if sometimes seems that way.
But getting back to the issue of trust, who makes your list of "trustworthy" players? Using consistency scores over the last two seasons, I decided to investigate this a bit further. Just as in school where 70% is a passing score, winning about 70% of your games during a 13-week fantasy regular season will leave you with a 9-4 record (.692 winning %), which will almost always get you a playoff berth - if not a division title and first-round bye. Using that same rationale, I'm setting the bar at 70% consistency for all fantasy players (or players who are subpar less than 30% of the time) across the board.
(Remember, this analysis is only for the last two seasons and is simply looking for fantasy players who were subpar less than 30% of the time they took the field. Because the "measuring sticks" change each year, I cannot give a firm fantasy point average for each position, but rather the "subpar level" that each position recorded that season. At QB, that measuring stick is 19.12 fantasy points/game for 2009 and 17.21 in 2008. At RB, the numbers are 12.61 and 12.12. WRs check in at 11.21 and 11.60 and TEs hover around 10.56 and 9.32, respectively. Lastly, this is for standard-scoring, 12-team PPR leagues (all TDs worth six points) that require one starting QB and TE, two starting RBs and three starting WRs.) I think you'll be surprised by the results.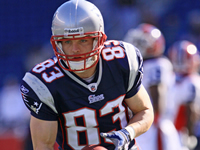 Welker: Your fantasy best friend.
Meet your fantasy "best friends", the players who over the last two seasons were there for you more often than anyone else. Consider the magnitude of this list for a minute if you would. At QB, you need your fantasy signal-caller to average 200 yards passing and two scores in seven of every 10 games. At RB, the averages are 60 yards and a score. At WR, five catches for 70 yards will do the trick and, at TE, five catches for 50 yards is just about enough. Further consider this list could have been reduced to five if you want to get technical and hold injuries or suspensions against a player. For example, Welker missed a few early games due to injury and Bowe just got done serving a four-game suspension. What's most surprising to me is the fact that not a single RB made the list. Believe it or not, last year's qualifiers were Matt Forte, LaDainian Tomlinson, Steve Slaton, Thomas Jones and Peyton Hillis. (Peyton Hillis, really?!?!?)
Perhaps I'm being a bit unfair at setting the cutoff at 30%. For those of you wanting to know, here is the list of additional players that would make the cut if I raised the bar to 35%:
However, if we were to make the cutoff at 40%, we'd also be assuming that 8-5 (.615 winning %) always gets fantasy owners into the playoffs, which it does not. And we all know that somewhere along the way, at least of our opponents will make you their Super Bowl, which shrinks the margin of error even further. Granted, not all of your consistent players are going to hit rock bottom in the same week, so I understand this analysis is a bit lacking in some areas. With that said, it's becoming easier to see why the gap between the #1 team and #10 team is about three games in competitive leagues - we are dealing with a lot of mediocre fantasy players, some much more so than others.
How is this possible? After all, I'm certainly not calling Manning or Chris Johnson mediocre, am I? The answer is no. In psychology, students are often taught that "people are a product of their environment". The same statement applies here as well. Manning, for instance, can blame his knee rehab in 2008 and young WR corps in 2009 for being left off the first list. Johnson was being eased in last year during his rookie season and dealt with a more pass-heavy offensive approach from his offense before the bye in 2009. Steven Jackson's lack of a credible supporting cast recently has made him less consistent than he is capable of while players like Maurice Jones-Drew and Ray Rice are off both lists entirely due to their respective delays to "feature-back" status.
Looking ahead to 2010, you're going to see roughly 10-12 of the 17 aforementioned players go in the first two rounds of fantasy drafts next summer and rightfully so, barring the unforeseen. But some of these players (in particular Bowe, LT, Smith, Gates and Gonzalez) will all be seen as players coming off disappointing seasons and thus will see their stock drop. But should it?
Due to his age and shaky future with his current employer, LT will be a hard sell as anything more than a low-end RB2 next season. Outside of him, I think the other 16 names listed above are players that you definitely can "trust". I'm not going to even attempt a Big Board for public consumption anytime soon, but I'll project now that if you can kick off your draft with Gore (Round 1), Manning (Round 2), Welker (Round 3), Smith or Bowe (Round 4) and Gonzalez (Round 5) next summer, you will find that you have yourself an incredibly consistent and competent team. The point I want to make here is that in a game like fantasy football that has so many variables contributing to its outcome each week, the goal should be to land as many constants as possible. With 4-5 "constants" making up your nine-man starting lineup, you increase your margin for error significantly - which is a very good thing. Ultimately, the draft only puts you in position to succeed; in-season management takes your team to the playoffs and wins championships. But the path to fantasy success begins by locking up as many constants as you can early on - so you don't leave early-season points (and thus, wins) on the bench - and easily identify your team's weaknesses before your competition takes advantage. When an owner can use the waiver wire as a way to supplement their bench as opposed to their starting lineup, then it is quite likely their team is in very good shape.
So let's get back to what makes even the NFL's best players "untrustworthy". Sometimes, the biggest obstacle can be the one group of people that fantasy owners SHOULD be able to count on - coaching. For as much good as the great coaches do for their teams, isn't it amazing how often even they forget their team's identity? If I can say that about the great coaches, what does it say about the average or poor ones? The answer to these types of questions usually can be answered in one of two ways: 1) the GM "hints" who should play and the head coach or coordinators don't feel they has the authority to go against him or 2) the coaching staff - as a whole - are poor talent evaluators who can easily be swayed by a box score or the public. One of my biggest never-to-be-answered questions is: what exactly goes on during an NFL practice? Of course I'm being a bit sarcastic, but I ask because I find it amazing how often players just seem to burst on the scene. Let's examine a few pertinent examples:
These examples - and others like them - are the situations that drive even the best fantasy owners crazy. Each of these players saw significant time on the rosters of fantasy teams in each of my money leagues throughout the season, but at some point of the fantasy season, their spot on the roster became expendable because we can no longer wait for a coach to see what we've already seen in a certain player. Despite the fact that coaches and personnel people spend countless hours, days and weeks observing every on-field move players make, the light does not come on quick enough to help us fantasy owners who invested a draft pick and 6-8 weeks of patience. I'm all for the game of secrecy that NFL coaches love to play with each other - even if it pains me as a fantasy owner - because the element of surprise often helps teams gain an edge. But when NFL coaches leave gamebreaking players on the sidelines of games while other less productive players are seeing 5-10 times more snaps per game at their position because of the size of their contract (and ultimately costing their teams in the process), we are dumbfounded.
I'm going to venture off the NFL path now to address the sad conclusion to another college football season. I'm far from the first person to weigh in about the BCS, but year after year I am amazed by the BCS' inability to pit the two best teams in college football against each other when that is supposed to be its sole purpose. Michael Wilbon, columnist for the Washington Post and co-host of ESPN's "Pardon The Interruption", fondly refers to the BCS as "the cartel". By my count, the BCS - since 2001 - is 2-6-1 in picking the right game (two no-brainers, six wrong picks and one season in which only a playoff could have honestly decided a champion. Let's review the BCS picks from over the last nine seasons:
Not that anyone was going to beat the 2001 Miami Hurricanes, but an Oregon team led by Joey Harrington and Maurice Morris finished the season stronger than just about any team in the nation - something that could not be said about Nebraska, which tailed off badly at the end of what started out as a dominant season. A weak 31-21 victory over an average Kansas State team led to a 62-36 blowout loss to Colorado two weeks later in a game that really wasn't even that close. Undeterred, the BCS decided that nationally-televised loss wasn't enough to knock out the Huskers, who were completely outclassed by the 'Canes, 37-14. Somewhat appropriately, Oregon blasted Colorado in its bowl game matchup, 38-16.
It's hard to argue with Willis McGahee's Ohio State Buckeyes playing Miami in one of college football's great games following the 2002 season. Of course, it was hard for the BCS to get this one wrong with these two powerhouses being the only undefeated teams that season.
In 2003, the BCS took a bashing by selecting LSU and Oklahoma (instead of media favorite USC). Why? Much like the Huskers and Buffalos a couple of years earlier, the Sooners were embarrassed by Kansas St. in their last game (the Big 12 Championship), 35-7. That 28-point drubbing was more BCS-friendly that USC's three-point loss at Cal in September of that season. Long story short, USC was handed the mythical "People's National Champion" that season while the Tigers downed Oklahoma, 21-14.
One of the biggest mistakes (in my estimation) in BCS history came in 2004 when undefeated Auburn was left out of the National Championship game in favor of Oklahoma and USC. While not many people saw anything wrong with this arrangement, anyone who really saw Auburn play that season knew the Tigers' running game (led by Cadillac Williams and Ronnie Brown) and incredible defense was the right matchup against the Trojans' explosive trio of Matt Leinart, Reggie Bush and LenDale White. Of course, USC thrashed Oklahoma, 55-19.
Ah, bliss. USC played Texas in one of the greatest games in college football history. Of course, the game was a no-brainer as the Trojans and Longhorns were mostly dominant on their way to registering the only two undefeated records leading up to that historic showdown at the Rose Bowl.
Following the 2006 season, we were exposed to the first of two successive Ohio State beatdowns. However, unless the BCS was willing to consider the third undefeated that season, Boise State, this game pitted the only two remaining unbeaten teams. Florida defeated the Buckeyes, 41-14.
In 2007, there was more chaos. Only one team, Hawaii, finished the regular season unblemished. But much like other WAC teams this decade, no one chose to take them seriously and after one look at its schedule, it's easy to see why. In a year that five or six teams probably had legit cases to play for the national title, only a playoff could have settled this quagmire. LSU downed the Buckeyes, 38-24.
The BCS' fascination with Oklahoma continued following the 2008 season. Despite Boise State finishing the season undefeated, USC rolling through the Pac-10 after a tough road loss to Oregon State early on and Texas actually defeating the Sooners, the BCS hid behind a tiebreaker rule as opposed to using common sense in putting the Longhorns in the title game. Florida defeated Oklahoma, 24-14, in a game that really failed to hold my attention throughout.
This year is by far the biggest argument yet for a playoff. Even though Alabama and Texas both are unbeaten, there are an additional three teams that enter the postseason undefeated, which makes this season a "pass the eyeball test" season for the zero-loss teams. In my estimation, the two best teams in college football this year - by far - were Alabama and TCU. Texas' signature win was probably a 41-14 thumping of Oklahoma St., which later got shelled by a mediocre Oklahoma team, 27-0. Worse yet, the Longhorns struggled to beat Texas A&M and got a lot of help to beat a Nebraska team that simply did more to stop itself on offense in the Big 12 Championship than the Texas defense did.
But it gets worse. Rather than give the other three undefeated teams each a shot at the "big guys", the BCS decided to take the least well-rounded team of the bunch (Cincinnati) and place it against the team that a lot of people thought was the best team in college football before the SEC Championship. Next, rather than allow Boise State and TCU to whip a team from a BCS conference, someone decided that it would be a great idea to let the two non-BCS teams knock each other off instead. While the "experts" can sell the Fiesta Bowl as another "battle of the undefeated", the game hurts college football long-term. Instead of giving two teams an opportunity to show they belong in the national title discussion, this game simply saves BCS conference teams from the embarrassment of getting beat by non-BCS teams while minimalizing the accomplishments of the Broncos or Horned Frogs. This hurts recruiting and, ultimately, the ability for either team to maintain their success. Unfortunately, I have noticed this same trend with the NCAA Tournament over the last few years as the committee has resorted to pairing up as many "Cinderellas" in the first round as possible in order to keep the bigger conference teams around longer.
Perhaps everything I have offered up to this point is subjective, but the fact that only three of the previous eight (I'm predicting Alabama will make it three of nine) BCS title games have been played within single digits suggests there has been a single powerhouse team almost every year or a definite flaw in the polling system. I'll let you guess which one I think it is…
Ultimately, I wanted to review this recent history of the BCS because I wanted to see if there were other people like me who not only feel like the BCS has removed some of the luster from college football, but also feel like the "cartel" has caused you to lose some degree of interest in college football. Anymore, I can only watch an entire *regular season* college football game if I am scouting for future NFL talent (which is still quite often). However, I remember a time not so long ago where I could spend all day Saturday taking in football and loving every minute of it...but I digress.
As I write the Blitz for the final time in 2009, I'll leave you with a short to-do list in order to improve as a fantasy owner in time for next year. (Believe me, I'm far from perfect as a fantasy owner!):
At the end of each season, I like to sit back and take inventory on what exactly happened. Just like with anything else, the sooner you complete this process, the more you'll likely remember what happened and how it happened. For example, if you were to take a long break from fantasy football after this week, the chances you'll remember just how big of an impact the losses of DE Aaron Smith and S Troy Polamalu had on Pittsburgh's defense will probably fade from your memory, for example. No offense to any of the players I'm about to mention, but there is no way anyone can convince me that Bruce Gradkowski (32.3), Aaron Rodgers (41.5), Chris Jennings (13.3), Louis Murphy (28.8), Greg Jennings (22.8) or Jermichael Finley (22.4) put up any of their eye-popping PPR totals against this vaunted defense - one year removed from one of the best defensive showings in NFL history - against a healthy Steelers' defense in one season, much less a three-week period.
Something else I like to do as the current fantasy season winds down is get a head start on the talent evaluation period for the next fantasy season. This not only includes watching every bit of NFL playoff action I can, but also involves taking in as many of the college bowl games as possible. (Bowl season is a great time to evaluate talent as well as seeing which players can perform when the pressure is at its apex.) With nearly 70 teams playing in the college postseason nowadays, the chances that you will see next year's fantasy rookie contributors in action are very high.
Lastly, I try to put together a mini-Big Board at the end of the fantasy season to leave me with some impression of how I feel about the top 50-100 players heading into next season. I also try to form a "wish list" for each team (does Houston address its RB situation with a free agent/draft pick or wait for Steve Slaton to come back healthy, for example), understanding that an addition/subtraction from one area of a team affects several players. The trick is understanding which additions/subtractions help take pressure off the players on a team (and thereby increase their effectiveness) and which additions/subtractions put more pressure on players (causing you to decide whether a player on his old team will get more touches, see more double teams or something else entirely).
Does that sound like a lot? It's not. And understand going in, that you will be wrong on occasion. But this preparation helps you hit the ground running a lot easier in May and June when it is time to start forming some opinions about the upcoming season while your competition is, well, not doing much football-related.
Happy Holidays and good luck to everyone competing in your league's fantasy title game(s). I'll be happy to answer any questions or address any comments to help you secure a little extra dough or bragging rights! In closing, it is only right to update each of you on the team I referenced on several occasions throughout the season – here is a link. Much as I suggested in the article, I had a good feeling about this team despite a 3-5 record at the time. Since I pushed all my chips into the center of the table Jim Fassel-style, I have yet to lose since, although I have a very formidable opponent standing in my way this weekend. Here's to hoping that I can do Fassel one better and come home with the title.
That's all for 2009! Thank you to everyone who let me know just how much they enjoyed the Blitz this season.
e-mail me with any questions/comments.
---
*** - The games referenced in the first paragraph were:

1) Buffalo-New England - in which the Bills' offense absolutely dominated on their first offensive drive of the game and did next-to-nothing thereafter,

2) Minnesota-Carolina - in which the Vikings played like they knew they just clinched a division and officially declared themselves a Brett Favre offense after giving Adrian Peterson a season-low 12 carries against the 26th-ranked run defense...all this despite being within one score for nearly 3 1/2 quarters and

3) Washington-NY Giants - in which all but a handful of Redskins checked in for the night early in the first quarter with their new boss - GM Bruce Allen - in town for a nationally televised game and most of the players supposedly playing for their jobs.