A Case For Logic




11/05/09



Aggressiveness is a characteristic that tends to reward fantasy owners more times than not. In the NFL, an offensive line will sometimes hold up long enough to give the quarterback enough time to beat man coverage down the field and make the defense look foolish against a fierce pass rush. More often than not, though, when a defense brings the heat and forces the action, crisis management becomes the name of the game for the opposing team.

In that same vein, I hope to apply that same kind of pressure to the owners in all of my leagues by beating my opponents to the punch in regards to personnel moves. Sometimes, reaching a conclusion about a player too quickly is much like trying to blitz Peyton Manning – dangerous and painful. However, coming to a correct conclusion two weeks or two minutes quicker than your opponents is considered foresight. Fantasy owners can be a uneasy lot, knowing that one two-or-three-game losing streak can wreak irreparable damage to his/her team's chances to make a visit to the fantasy postseason. But just as it is in the NFL and in life, it's hard to land the big prize by playing scared. Thus, I will strive each week to help each of you become a smart blitzer, so to speak.
---
When it comes to fantasy football, I consider myself a man of logic. As with anything, sometimes a lineup decision comes down to playing a hunch over doing what the numbers say you should do, but more often that not, I spend a great deal of time during the week paying homage to what an opposing defense has done to similar offenses and/or players over the course of the season - in other words, I play the matchup. Unfortunately, football isn't always a logical game and NFL coaches often forget what players are their staples.

Allow me to present exhibit A: Steven Jackson vs. Maurice Jones-Drew vs. Ronnie Brown

Jackson - Talk about a team committing to its offensive centerpiece. Despite the fact that the Rams have lost in five of their eight games so far by more than 20 points, St. Louis hasnít forgotten who its best player is. In Week 1, Jackson saw a season-low 16 touches, all rushes. Since then, he has no fewer than 22 touches with only two games with fewer than three catches. Now the argument can be made that Jackson is the only offensive threat the Rams have, but I would argue that most teams or coaches would air the ball out in the second half of these blowout games in a desperate (usually futile) attempt to move the ball quickly down the field. The Rams understand that Jackson is not only their best rusher, but also their best big-play threat in the passing game. Most Ramsí supporters knew 2009 was going to be a rough year, so why should they go out of their way in an effort to come back when they don't have the horses to do so?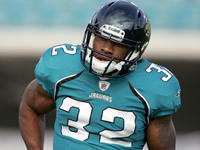 Jones-Drew: Fantasy MVP?
Jones-Drew - Most fantasy owners are happy when their player delivers a healthy fantasy point total, regardless of how those numbers are reached. This brings me to MJD, who has arguably been the most valuable player in fantasy so far despite the fact he has seen 13 or fewer rushes in four of the Jags' seven games so far. As I alluded to in last week's column, I want my "feature back" to see 20-25 touches each week, not 20-25 rushes, so MJD should be plenty fresh for the stretch run. What troubles me is that in nearly half of Jacksonville's games so far, "Pocket Hercules" has seen 17 or fewer touches four times, including two games with only nine touches (both vs. TEN, one being Week 4's blowout win and the other being last week's blowout loss). It was particularly sobering to see him receive his first carry at the 5:50 mark of the second quarter of Week 8 - an 80-yard TD run. (Interestingly, his last touch came at 13:33 of the fourth quarter, meaning he did all of his damage in less than two quarters.) Seeing as how MJD's yards/touch average is up to 5.6 and that he is scoring once every 14.1 touches in 2009, Jones-Drew could easily be pushing LaDainian Tomlinson's historic 2006 season if he was getting anything close to Jackson's workload. (By comparison, Adrian Peterson is scoring once every 23 touches.)
On Tuesday, Jags HC Jack Del Rio laid the blame for MJDís inconsistent touches at the feet of QB David Garrard, suggesting that Garrard audibles out of runs too often. Therefore, Del Rio has limited Garrard's ability to audible on certain plays. The last time there was a public outcry of MJD not receiving enough carries, it was the RB himself calling out his offensive coordinator. Since this directive is coming from the coach this time, it would be more than a little surprising if the mighty mite isn't receiving well over 20 touches/game for the remainder of the season. As luck would have it, the schedule would appear to favor such a strategic decision, starting this week with the Chiefs.
Brown - While I praised the Dolphins' coaching staff's usage of acknowledging their offensive strengths last week, I also mentioned how much I would like to see Miami throw the ball to their backs more often, especially given their lack of any consistent receiving threat. It's becoming more apparent to me that either they have no desire to create regular big plays from the passing game or they don't think they can. What is problematic for me is that for a team as RB-centric and ball-control as the Dolphins are, they don't use their two best receivers - their RBs - in that role more often. There are any number of things that Miami can do - maybe a swing pass out of the Wildcat or lining both RBs out wide as neither RB could consistently be covered by a LB - in order to get its backs more catches. But it is inexcusable to have two receiving backs as good as Ricky Williams and Brown to rank fourth and seventh, respectively, on this team in catches. While Williams is producing better than most of the lead backs out there, Brown - still Miami's best playmaker - and his value to fantasy owners is way too dependent on the ground game. Just as the Dolphins have been able to use two RBs at the same time successfully in the run game, they can do the same thing in the passing game.
Hopefully, the Jackson example sheds a bit of light on the notion that it is possible for a team to continue sticking to the run later in a game while not actually giving up. Understandably, the knee-jerk reaction to falling behind in a game is to catch up by going pass-heavy because it can often gain yardage in chunks quickly. But what if your team's best big-play option is a handoff to the running back? Game-breaking players play all over the field, so just because a team is inconsistent offensively or finds itself behind in a number of games, it shouldn't necessarily mean that the time is right to force-feed the ball to a group of receivers who may or may not be up to the task. In the Jags' case, the fact that Jacksonville actually has some receiving talent should actually help the team stick with MJD longer because they should be able to convert on third down more regularly. As much as I have respected Jags' OC Dirk Koetter's ability to run an offense in the past, he simply is not doing a great job of utilizing his weapons as well as he could this season.
Now getting back to the "logic" of fantasy football. Because my big-money team - the one I have mentioned here over the past few weeks (and below as well) - seems to not only be my best team talent-wise and the best example of the topics I write on each week, I will reluctantly mention it yet again because it has also become my biggest source of frustration this season. After rolling out to a 3-1 start in dominating fashion, my team has taken a Giants-like turn for the worst, losing four straight. After consecutive weeks of running into a 150-point buzzsaw in a league where 120 is a good total, I managed to put up a fair effort in Week 7 minus MJD and Brandon Marshall. Week 8 was supposed to be the week where my team got healthy on the competition, but alas, my team was burned like many other owners' teams were by a sad home effort from the Cardinals' defense, who watched the Panthers' defense put up 20 fantasy points on them instead. My current losing streak has come despite a dramatic talent upgrade to my roster.
I honestly donít believe I could do much more to ensure my team's peak production and believe that, ultimately, fantasy justice will prevail, if there is even such a thing. While I'm as disappointed in this team's record as any fantasy team I can remember, the trading deadline has passed, so my upgrades will come via the waiver wire. Believe me when I tell you that I have won leagues in many different ways. Some of my past championship teams recorded 100-point victories en route to a 15-1 record while others have started the season 0-3, only to breeze through the second half of the fantasy schedule and win the championship going away. I even recall a team about five years ago winning the league prize on a tie in which I was wrong on just about every lineup decision I made in Week 16, only to win based on bench points. I often refer to that "championship feeling" I have about teams I own; this is one of those teams. Just for comparison's sake, I'll share the before (Week 1) and after (now) of my team.

Championship Feeling?
Pos.
Before
After
QB
Philip Rivers/Joe Flacco
Philip Rivers/Joe Flacco
RB
Jones-Drew
Jones-Drew
RB
Ronnie Brown
Ronnie Brown
WR
Anquan Boldin
Anquan Boldin/Steve Breaston (depending on who is healthy)
WR
Lance Moore
Brandon Marshall
FLEX
Darren McFadden
LeSean McCoy/Michael Crabtree
TE
John Carlson
Jermichael Finley/Todd Heap/Fred Davis
K
Lawrence Tynes
Lawrence Tynes
DT
Steelers
Saints
Note: In this league, I own the 10th- and 11th-best QBs (fantasy points/game), the #1 and #10 RBs, four top-35 WRs (although Marshall is my best at #20 right now after a dreadful Week 8 and Boldin has been significantly less than 100% the past two weeks), two top-20 TEs, the #1 K and #1 defense.

Here's how I break down my losses so far: my team has lost two games in which my opponent had field days, two in which not enough of my players put it together in the same week and one on a terrible lineup decision in Week 2. Unfortunately, I'm experiencing one of those seasons where I usually lose if I don't pick my lineup exactly right each week. During the bye weeks (in which I often feel I can pull away from the competition due to my team's depth), I have run into season-best performances from Matt Cassel, Roddy White and Kellen Winslow (Week 5); Thomas Jones, Owen Daniels, Mason Crosby and the Patriots defense (Week 6); Ryan Grant (Week 7, with MJD on a bye) and Matt Forte (Week 8, when Ronnie Brown and the Cardinals defense combined for three total points). Some fantasy teams can go all season facing perhaps five season-best performances from opponents - in one four-week period, I have been on the wrong side of nine. (Remember what I said about a week or two ago about being every team's Super Bowl?)

I often preach patience when it comes to fantasy football and this situation is no different. Seriously, how many more times can I really expect to be on the wrong end of such outstanding performances? Sometimes, an owner just has to realize when his team is getting the short end of the stick. For some, it comes in Week 16 after 15 weeks of domination, for others it comes in 1-2 week intervals periodically throughout the season. I choose to believe that most of mine came during one miserable four-week stretch.

This week, despite facing one of the league's most talented teams, I feel I have a good shot at winning because for the first time in a month, the matchups are on my side in Week 9. So, in the spirit of a Jim Fassel "I'm pushing all my chips in" speech which guaranteed his Giants would make the playoffs several years ago, I will exercise the same bravado with this team. Up until the time when I can no longer make my league's six-team playoff, I will choose to believe it will not only make the postseason, but also win the title (unlike Fassel's team).

Itís about time to take a look at the updated workload/target numbers. By now, you know the rules, but here they are again. For RBs, Iíve drew the line at seven touches/game and for WRs/TEs, I stopped at five targets/game, rounding up if I need to.

Each position will be sorted by touches or targets/game



Just think how good Steven Jackson will be in fantasy when the Rams finally get him a supporting cast. While Jackson can thank a good run-blocking line and improved offseason conditioning for some of his production, he is averaging a career-high 4.8 YPC (since becoming the full-time starter) on a dreadful offense that has no player that can stretch the field or even measure up to him in terms of being a reliable receiver. At age 26, Jackson is just now heading into his prime and should have more offensive weapons joining him in the coming years. For 2009, however, Jackson has touched the ball at least 21 times in every game since the opener, so as long as he remains healthy, he's going to ride the fence of being a RB1/RB2 this year despite the fact he is unlikely to score five times.

I saw what I needed to see from Ray Rice vs. Denver. Not only did he run well against a difficult run defense, but he also continues to score from outside the 5 and be the Ravens' leading receiver. I still highly doubt he'll continue his TD pace, but he's on track for 87 catches, which is roughly about twice as many as the most optimistic projector would have forecasted for him this season. His upcoming schedule doesn't do him any favors, but the fact that Rice has five or more receptions in five of his seven games so far and finds himself 14th in the NFL in receptions pretty much insures that he isn't slowing down anytime soon from a fantasy perspective. I doubt I'll ever understand why OC Cam Cameron chooses to wait 2-3 games into the regular season to make one of his RBs a "feature back" (he did the same thing with Ronnie Brown in 2007), but suffice it to say that his offense is as fantasy-friendly as they come, so enjoy the ride for as long as Rice can pull the wagon.

Goodbye Steve Slaton, hello Ryan Moats? Not so quick, unless Slaton fumbles again this week, in which case Moats could easily steal his job. All associations to his former boss - Mike Shanahan - aside, Texans HC Gary Kubiak can't be blamed for doing what he can to make sure Slaton gets "it". Seven fumbles (five lost) is as bad as it sounds, so unlike other waiver-wire phenomenons, I think Moats has staying power. Why? First of all, Moats isnít some fly-by-night journeyman RB who couldnít hack it in the league; he enjoyed moderate success in Philadelphia when the Eagles chose to use him. Despite being knocked for his lack of size, his physical dimensions are eerily similarly to Jones-Drew. Secondly, fumble problems don't tend to just go away over the course of a week or two, so if Slaton continues to cough it up, his role in the offense will shrink quickly. Remember, for as much as Slaton was tearing it up in fantasy over the past few weeks, he has only had one game in 2009 in which he's averaged over 3.7 YPC. Most of his damage has come in the passing game. Notice I did not say that Moats was more talented than Slaton or a carbon copy of Jones-Drew, but if there is one thing that will keep a talented player off the field, it is ball-control issues.

Kubiak's offense has a history of getting production from the RB position and when I look to separate the one-week wonders from the second-half surprises each year, I look at the history of the offense and the coach as well as how likely the up-and-comer can consistently produce. Slaton's number of fumbles is inexcusable - he's tied with JaMarcus Russell for the league lead in fumbles lost - and Kubiak has enjoyed some degree of success from all kinds of backs in the 3 1/2 years since he became the Texans' coach (Ron Dayne, Wali Lundy, Slaton and now Moats). With that in mind, it's not a big stretch to suggest that Moats is another Slaton fumble away from becoming the lead back. Will it happen? I believe it all hinges on whether or not Slaton fumbles vs. Indianapolis in Week 9.

Many coaches preach in the offseason speak to how they want to commit to the run, but somehow it seems to take 3-5 years before their teams actually do so. I don't recall any preseason soundbytes in which the Saints were "committing to the run", but as we stand here midway through the 2009 season, they are tied with Miami for second in the league with 33.7 rushes/game, with an average of 22.7 of those carries going to Mike Bell and Pierre Thomas despite each back not securing a rush in two games apiece. (The 33.7 mark is nine more per game than the 24 the team averaged in 2007 and 2008.) This is possible, in part, because New Orleans rarely ever trails, but it is also occurring because HC Sean Payton saw he had the perfect mix of an explosive offense and ball-hawking defense. Coming off a season in which his QB nearly broke Dan Marino's single-season passing yardage mark, it would have been easy for the coach to dial up another 600 pass plays. Instead, Bell is averaging an unthinkable 18 touches/game while Thomas is doing fine work on just 13 touches/game. Because the Saints play the league's easiest schedule from here on out (with several games against the league's worst offenses - two vs. Carolina, two vs. Tampa Bay, one each vs. the Rams and Redskins), don't expect Payton to ease up on his "hammer" (Bell) to close out those games, so low-end RB2 production may be in store for both Saints RBs.

(Moving onto WRs and TEs, I decided this week to put some weight into the number of targets WRs and TEs have received over the past three weeks. Obviously, many of these players have served their bye weeks during this time, but I feel this will still be helpful to those of you who play in deeper leagues.)





Reggie Wayne's owners had to take a deep breath after learning he had tweaked his groin muscle during Week 7. After receiving a league- and season-high 20 targets in Week 8, it appears he will have no injury issues regarding said groin anytime soon. Wayne has been a model of consistency this season and should remain as such now and into the future. He's not Marvin Harrison during his glory days, but as long as Peyton Manning keeps playing at his current level, Wayne should be a top-five WR in fantasy for years to come.

Next season is still a long ways away, but I have a feeling many of my teams in 2010 will feature at least one or two of the following three players: Wayne, Marques Colston and Vincent Jackson. I have been a fan of Jackson's ever since he was a very raw second-round pick in the 2005 draft from Northern Colorado, but entering this season, I was skeptical of him for three reasons: 1) the healthy return of Antonio Gates, 2) the healthy return of LaDainian Tomlinson and 3) the lack of targets he had last season (101; 35th in the league). While Gates has seen only one fewer target than Jackson through seven games, it's clear to me that Gates is Philip Rivers' second choice when the team needs a play in the passing game. As we know with Tomlinson, his line has went from one of the best run-blocking lines a couple of years ago to one of the worst (I challenge Adrian Peterson, MJD, Chris Johnson or Ray Rice to average four yards/carry running behind the Chargers' current line). While Jackson would seem to be clearly motivated with 2009 being his contract year, I tend to believe that - like Colston - Jackson is nearly impossible to guard. Both WRs have QBs who can throw the fade stop as easily as they throw the jump ball. With both receivers in the 6-4 to 6-5 range and possessing incredible leaping ability, it's almost unfair to ask a DB to stop that.

As far as season-ending injuries go, this season has been fairly tame. In Week 8, however, many owners riding the Owen Daniels bandwagon were served a cold dose of fantasy reality when he tore his ACL for the second time in his football-playing career. While the natural inclination would be to pick up backup TE Joel Dreessen or athletic rookie James Casey, the fact of the matter is unless you had a late-round find (Brent Celek and Heath Miller come to mind) in reserve, the best replacement you can hope for is a player like Fred Davis (if you believe Chris Cooley's injury is going to take him more than four weeks to recover like I do) in deep leagues.

Daniels' absence from the Texans' offense will likely lead to an Andre Johnson target parade in the near future, if not already in Week 9. However, with that force-feeding will also come more defensive attention. Of course, Johnson is physically able to beat whatever scheme is designed to slow him down, but I'd like a clear indication he is nearing 100% before expecting him to perform like a top WR in fantasy again. I suspect he will, but in may be about time to put Kevin Walter back to use as a WR3 in all leagues, as he should receive the bulk of Daniels' looks. But it won't all be on Walter, Jacoby Jones could easily emerge in the coming weeks as a player worth spot starting when the Texans face a week pass defense. It also wouldn't surprise if even David Anderson or Andre Davis put together a fantasy-worthy game or two.

Accident, pattern or trend? It bears mentioning that it has been Jags rookie Mike Thomas - and not Mike Sims-Walker or Torry Holt - has seen the most targets in Jacksonville over the team's last two games. While a 15-14-14 split is hardly worth sacrificing life and limb for, it wasn't too long ago Sims-Walker was the clear #1 target each week. With 7.5 targets over his last two games, I plan on making a cheap bid for Thomas in most of my leagues to see if this is the start of something good. If his targets hold up, expect Holt to be the one who suffers, not Sims-Walker. For Week 9, however, expect Jacksonville to employ a run-heavy approach, so if you do pick Thomas up, play the wait-and-see game with him.

It's become pretty clear when the Niners need to make a play in the passing game, San Francisco's QBs have been instructed to find Vernon Davis and Michael Crabtree. While that may already be obvious to many owners, I thought it was notable that the pair has combined for 31 of a possible 65 targets since the rookie joined the lineup, which represents 48% of the passes Shaun Hill and Alex Smith have thrown in that time. With that kind of involvement and their talent, Davis and Crabtree should be regular starters already in most fantasy leagues, as hard as that is to believe for a player many thought was an underachiever prior to the season (Davis) and a holdout rookie WR (Crabtree).

Philadelphia simply has to find a way to get DeSean Jackson more involved in the passing game. While the Eagles will throw him a bone on an end-around every so often, it is inexcusable for him to have three games of five targets or less, with all three of those contests coming over the last four weeks. Of the Eagles' 235 pass attempts, only 50 (21%) have went in the direction of Jackson. For a player averaging 19.9 yards/touch (including a ridiculous 16.4 YPC on seven rushes), he simply needs more work. As surprising as his 62-catch season of 2008 was, Jackson is only on pace for only 54 catches in 2009 despite averaging 21 yards/catch. While overuse has to be of concern due to his slight frame, it canít be that big of a worry if he is returning punts. Furthermore, I canít imagine his career will be shortened all that much by an additional 2-3 offensive touches per game. Considering he is scoring once every 6.2 touches in 2009 and already has six offensive plays of over 50 yards, it isn't as if he's getting beat up all that much anyway.


e-mail me with any questions/comments.