Week 1 and the Aftermath




9/17/09



Aggressiveness is a characteristic that tends to reward fantasy owners more times than not. In the NFL, an offensive line will sometimes hold up long enough to give the quarterback enough time to beat man coverage down the field and make the defense look foolish against a fierce pass rush. More often than not, though, when a defense brings the heat and forces the action, crisis management becomes the name of the game for the opposing team.

In that same vein, I hope to apply that same kind of pressure to the owners in all of my leagues by beating my opponents to the punch in regards to personnel moves. Sometimes, reaching a conclusion about a player too quickly is much like trying to blitz Peyton Manning – dangerous and painful. However, coming to a correct conclusion two weeks or two minutes quicker than your opponents is considered foresight. Fantasy owners can be a uneasy lot, knowing that one two-or-three-game losing streak can wreak irreparable damage to his/her team's chances to make a visit to the fantasy postseason. But just as it is in the NFL and in life, it's hard to land the big prize by playing scared. Thus, I will strive each week to help each of you become a smart blitzer, so to speak.
---
More games in the NFL are lost than won.

While the validity of that clichť is in some question, we saw several examples of this statement last weekend. In most cases, it isn't a total team meltdown so much as it is a mind-boggling individual miscue or two. In Carolina, it was five mistakes as Jake Delhomme proved that last season's playoff debacle vs. Arizona wasn't a fluke. In Cincinnati, it was two defensive backs playing the player (Brandon Marshall) instead of the ball in the final seconds on Leon Hall's leaping deflection (which he really should have attempted to knock down instead), allowing Brandon Stokley to catch the tipped ball effortlessly and run the remaining 50 or so yards for the game-winning TD in a contest that was more of an offensive struggle than a defensive showdown. In New England, it was the Bills' Leodis McKelvin needlessly attempting to run back a kick return against the Patriots late in the game when Buffalo's entire "hands" team was within 10 yards of each other on the other side of the field. Finally, in Oakland, it was DC John Marshall's decision to go with soft zone coverage late in the game when the Raiders' eight-in-the-box, man-free coverage had baffled the Chargers all game long.

In the end, I would suggest the Eagles, Broncos, Patriots and Chargers avoided defeat more than anything. On the other hand, the Panthers, Bengals, Bills and Raiders all did their best to snatch defeat from the jaws of victory (you read that right). Now, understand that "avoiding defeat" isn't necessarily a bad thing, think of it more as a survival technique in the NFL. Sometimes, games turn on a favorable call or an inexplicable bounce, but a team has to be in position to take advantage. Teams that routinely avoid defeat are ones that have learned how to keep games close enough for long enough so they can take advantage when their fortuitous event happens.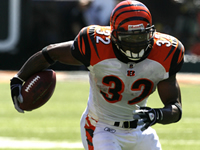 Cedric Benson: Nothing more than 4.0 yard-per-carry-runner.
Of this weekend's losers, I think Cincinnati has the best chance of thriving in 2009. But for the Bengals to be able to do that, they have to drop the illusion they are a running team. Cedric Benson looks better now than he ever did as a Bear, but I don't think anyone - including Cincinnati's coaching staff - believes he is anything more than a four-yard-per-carry runner. Every team needs the threat of the run, but not every team needs to be balanced. As long as Carson Palmer and the WR corps are all healthy, this is a big-play passing team. It seemed as though every time I checked on this game last weekend, Palmer was hitting another "chunk" play (seven of his 21 completions went for more than 15 yards). For a team that faces Pittsburgh and Baltimore twice each season, I assure you that it is not the threat of Benson hitting a 60-yarder up the gut that will keep Steelers DC Dick LeBeau or Ravens DC Greg Mattison in the film room a few extra hours during the week.
Unlike the real thing, fantasy football contests are won more often than they are lost. In the fantasy world, we don't have much say on whether we get to play it conservative or not, especially after the draft is over. In other words, we don't get to sit on a lead or change coverages once we jump out to a 20-point advantage. After seeing how teams can lose leads in the strangest of ways over this past weekend, maybe that's not such a bad thing…
What Week 1 of the NFL season lacked in execution, it certainly made up for in last-minute excitement as the games above suggest. But as anyone who has played fantasy football for any length of time can tell you, Week 1 tends to be about the time of year when owners review the first round of season-ending injuries. Usually, the focus goes to the offensive side of the ball when this occurs because that is the side of the ball we, as fantasy owners, are most concerned with. As luck would have it, the year I decide to write about it, the season-enders happen to the players who won't be putting up numbers in most fantasy leagues. No worries though, we talk about offense, defense and special teams here, so let's get started:
Brian Urlacher - This one stings. All offseason, I waffled on whether I felt the Bears' defense was above-average or elite, but my main concerns centered on the health of DT Tommie Harris, not the MLB. Sure enough, Urlacher lasted all of one quarter. Even most casual fans know just how much of an impact Urlacher can have on a defense, but it isn't an exaggeration to say he is the heart and soul of the Chicago defense, if not the entire Bears' team. His size allows him to be a force against the run while his speed, quickness, acceleration and smarts allow him to be a Pro Bowl-level performer in the passing game. Hunter Hillenmeyer steps in, but almost by default, Chicago's defense goes from potentially fierce to merely average. I'm not suggesting I would target this defense when sizing up fantasy matchups going forward, but I certainly no longer would avoid it.
Shawn Andrews - Back pain and depression wrecked Andrews' 2008 season. While the latter doesn't appear to be an issue anymore, the former has ended his 2009 season as well. When he's right, Andrews is a road grader who used those run-blocking talents during his first four healthy seasons to become one of the league's best interior players. Philadelphia now turns back to Winston Justice, this time on the right side. It's hard for any football fan to forget what happened the last time Justice was named a starter. (In his first career start as a LT in 2007, Justice was repeatedly whipped by Giants DE Osi Umenyiora for a franchise-record six sacks. To his credit, though, the Eagles refused to help out their struggling tackle by chipping Umenyiora or moving a TE over to his side in that contest.) Last Sunday he gave up another sack in his second career start, this time against Julius Peppers. The repercussion here is that a player like TE Brent Celek may be asked to stay in and chip or block more than he ever would have been with a healthy Andrews. Obviously, Celek still hauled in six passes in Week 1, so this may not be an issue for the TE as we move forward. However, if Celekís production hits a lull anytime soon, it may very well be due to the fact that Justice isnít Andrews.
Now for a couple of shorter-term losses:
Anthony Gonzalez - (2-6 weeks; multiple sprained knee ligaments) As a fantasy owner, I can deal with injuries that happen as a result of contact. I can even live with injuries that occur during the week at practice which sideline a player for that week. But I'll be the first to admit that non-contact injuries that happen early in games drive me absolutely crazy, for a number of reasons. The Colts have a Week 6 bye, so look for the Colts to let him recover over the next five weeks in order for a Week 7 return vs. St. Louis. In the meantime, expect a rotation at the WR spot opposite Reggie Wayne between rookie Austin Collie and Pierre Garcon, a favorite of GM Bill Polian. Although Collie appeared to be emerging from the preseason competition between the two, the prevailing opinion is that he will remain in the slot while Garcon assumes Gonzalezís spot. With that said, I'd be hard-pressed to start either one in three-WR leagues anytime soon. The main fantasy beneficiaries figure to be Wayne and TE Dallas Clark. For owners who have little-to-no WR depth behind Gonzalez, a waiver claim for Garcon and Collie (in that order) would be prudent, but I would strongly consider non-Colts alternatives in the interim.
Potential Free Agent Alternatives: Bucs WR Michael Clayton (he has supposedly been promised a larger role by the new coaching staff and may be the best Bucs WR option as Antonio Bryant's knee reportedly gave him enough trouble in Week 1 that he was shut down for the day), Ravens WR Mark Clayton (the oft-injured WR is always a health risk, but at the rate Baltimore has been airing it out in the preseason and in Week 1, this offense may actually support a startable fantasy TE and two WRs), Titans WRs Justin Gage and Nate Washington (I realize neither player should be unemployed in all that many leagues, but I was surprised to see both are readily available in many leagues; the Titans will pass more and both WRs are talented wideouts who, along with rookie TE Jared Cook, should benefit), Vikings WR Sidney Rice (Brett Favre twice threw to the former Gamecock in the end zone, indicating the two may have some chemistry when it matters most).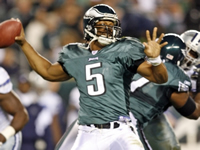 Donovan McNabb: His rib injury will give fantasy owners fits in the short-term.
Donovan McNabb - (Week-to-week; fractured rib) Just like Kurt Warner, I suppose we (as fantasy owners) should have felt fortunate to get one full 16-game season out of both players last season. On what appeared to be a seemingly harmless dive into the end zone, McNabb joined the walking wounded when he was landed on by an oncoming Panthers defender. While it would be foolish to ever count McNabb out of any game, I'd say it's a fairly good bet he misses Week 2, if not Week 3, before a Week 4 bye. With that said, I'm sure the competitor that lies within McNabb will want to match wits with Drew Brees this week. Unlike Gonzalez, this injury will be more of a short-term nuisance than a longer-term concern for McNabb and his owners.
Potential Free Agent Alternatives: Eagles backup QB Kevin Kolb (for obvious reasons), Redskins QB Jason Campbell (as matchups go, it doesn't get much better than the Rams right now), Titans QB Kerry Collins (this week's opponent, the Texans, appeared clueless at times on defense against what was a scaled-down Jets' passing game)
Don't Hit The Panic Switch Just Yet
One of the age-old traditions that makes me laugh, cry and ponder my very existence on this fantasy football planet is the ritual of overreacting to Week 1. While I believe the time between Week 1 and Week 2 is the best time to make impact free agent/waiver wire pickups, bailing on your teamís ďfoundationĒ players too early is a good way to land in the cellar by midseason.
LaDainian Tomlinson - I've already seen and heard a number of analysts suggest that the Chargers are RBBC and that LT is closer to 50 than 30. With all the negative pub Iíve read about him over the last couple days, it is almost as if people expect (and want) him to fail. I canít remember the last time such a great player has received such hatred from the fantasy community. Did LT have the look of a disgruntled back at the end of Monday's game that was seeing his work slowly taken away from him? I didn't see it. Is Darren Sproles more explosive? Sure he is, just as Sproles is more explosive than just about any RB in the NFL. However, I seem to remember a number of fantasy "experts" suggest the Chargers were RBBC in 2006 (when Michael Turner was getting worked in earlier in games) and all LT did was set all kinds of scoring records that year. Look, LT is not 26 or 27 anymore and San Diego's O-line isn't what it used to be, but let's just say right now I'm much more concerned about LT having a high-ankle sprain or handing over third-down duties to Sproles than I am about Sproles forging himself into a time-share role with Tomlinson. LT received the first four carries before injuring his ankle and fumbling for the first time in 993 touches on the last of those rush attempts. On that same ankle, Tomlinson promptly outgained Sproles on the ground from that point on with the same number of carries (9): 45-23. That's five yards/carry on a bad wheel, some of which came with two injured starting linemen.
(Trust me, I'm not hanging on to the memory of LT because he has won me all kinds of fantasy titles because I honestly can't ever remember winning a championship with him on my team!) What I think we can say is that HC Norv Turner wants Sproles to be the third-down back, which means we could see a dramatic decrease in LT's PPR appeal, but then again, I don't think many of us were expecting another season for the ages from LT either. If handing over third-down work and the occasional series qualifies as a time-share, than so be it. What I don't mind is if owners want to bench him for upcoming games vs. Baltimore and Pittsburgh in Weeks 2 and 4 if they have two other RB2 options with solid matchups. I like LT, but as we've already learned, it isn't 2006 anymore and I would think long and hard before playing ANY RB against those defenses, especially on a gimpy ankle. But to write off LT when he all of four healthy carries is a bit over the top in my opinion.
Ronnie Brown - Just like any number of Brown owners, I feel wronged after one week. But I've noticed over Brown's career is that his preseason seems to last a couple of games longer than most everybody else's does. Of the nine Week 1 and Week 2 games he has played in his five-year career, Sunday's 43 yards qualified as the third-best rushing total he has posted! Then, inexplicably, in Week 3, he turns it on (90 rushing yards is his worst performance in any Week 3 with the other three games all going over 100) and he generally remains a productive back thereafter. I'm aware the two-week notion could be a statistical anomaly, but as any fan of LT will tell you that even in his best seasons, Tomlinson also was a bit slow out of the gate.
Lance Moore - There's a certain misnomer about possession-type receivers, the notion being they are always needed. Moore is going to be "needed" a lot this season by Drew Brees, but after a bit of reflection, what reason did Brees have to throw it short when the Lions were getting next-to-no rush against him? Upcoming games against aggressive defenses like the Eagles (Week 2) and Jets (Week 4) should be more telling as to whether Moore is going to lose targets to the likes of Devery Henderson and Robert Meachem going forward. For now, I'll bet that I'm right on this one and the WR that Brees called "my Marvin Harrison" and "a big part of what we do" last month will end up with a fairly nice stat line at the end of the 2009 season.
This Could Be The Start Of Something (Not So) Beautiful
While I believe the above players are in no immediate danger of seeing their fantasy value nosedive, there are players who have given us reason to believe that it may be time to calmly offer their services around the league to make sure we can get something of value in return before it is too late.
Kurt Warner - We can blame Warner's lackluster Week 1 on a number of things, including an inspired Niners' defense or Anquan Boldin's hamstring problem. But the mere fact he couldn't find Larry Fitzgerald until late in the first half and consistently found Tim Hightower (12 of Warner's 26 completions went his way) instead suggests a deeper issue - the issue being either he doesn't trust his surgerically-repaired hip...or he can't trust it. We all knew Warner was an injury risk entering the season and Week 1 did little to convince us otherwise. If you can find an owner or two in your league that will pay for the 2008 version of Warner, consider moving him for a healthier, younger option or, at the very least, ensure that Matt Leinart is resting comfortable on your team's bench. I have a bad feeling this is a situation (with Warner) that will see more lows than highs in 2009.
Pierre Thomas - Some guys can't buy a break. For his first two years, Thomas was stuck behind fan favorite Deuce McAllister and PPR dymano Reggie Bush on the Saints' depth chart, only to show how explosive he was at the end of each season when given the chance. This year, finally, was going to be the season where Thomas announced his arrival as a top-flight RB. However, a preseason knee injury that appeared to be pretty minor opened the door for Mike Bell, who now becomes a pretty big drain on the potential fantasy value of Thomas. I don't believe Thomas will be a dud by any stretch of the imagination, but trying to pin down when HC Sean Payton will elect to feature Bell or Thomas as his main rusher may become a chore. IF Thomas gets the start in Week 2 vs. Philadelphia, it would be good for his long-term fantasy stock if he started fast or Payton may feel the need to rotate his backs for the foreseeable future.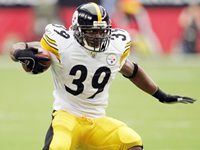 Willie Parker: Is a hamstring injury or a bad O-line to blame?
Willie Parker - Preseason reports had FWP looking as fast as ever. The offensive line was going to improve its play over last year based primarily on the fact that it was entering its second season together. While the Titans figure to remain one of the league's better defenses, the Steelers struggled mightily to get anything going last Thursday, even though Tennessee rarely blitzed or loaded up the box to stop the run. Instead, the Titans lined up in between the offensive line's splits and Pittsburgh appeared powerless to move them out of the way. For now, Parker is blaming a hamstring injury and a lack of preseason work for his Week 1 struggles, but I have yet to see a back thrive in a game where the line fails to open holes or blow defenders off the ball. It's the same phenomenon that is making Rashard Mendenhall a useless fantasy RB as well right now. Because he's as much of a feature back as there is in the NFL anymore, Parker is never too far away from becoming a recommended fantasy starter again, but offensive line play is not something that drastically improves in a week or two.
Sometimes The Door To A Bandwagon Should Be A Revolving One
Owners are often quick to believe that a stellar Week 1 performance from a player that has overcome some degree of adversity may be a sign of things to come. While these occurrences can happen, I would caution not to buy too heavily into these players quite yet.

Tony Romo - I think we'll find out pretty quickly how "Romo-friendly" this offense got in the offseason. Anyone who has followed my offseason columns will remember that I thought Tampa Bay would struggle vs. the pass (the long ball in particular) than it ever did under former DC Monte Kiffin because the Bucs ditched the "Tampa 2" for a more aggressive, man-coverage scheme, something that Tampa Bay doesn't have the personnel for quite yet. And sure enough, I believe each of Romo's three scores in Week 1 were of the long-ball variety. This week's opponent, the Giants, should give us a much better barometer as to just how much better this offense is without Terrell Owens. Looking a bit ahead, Carolina, Denver and Kansas City should give Romo ample opportunity to pad his stats, but after that, I'm not sure I would want to count on him for too much. Honestly, I don't see a matchup after the Cowboys' Week 6 bye that strikes me as an overly favorable one, so feel free to trade up from Romo in about a month after Romo has finished running the Panthers, Broncos and Chiefs ragged.
Nate Burleson - The former Viking is poised to have a much better season than he did in 2008, which came to a screeching halt due to a knee injury after a nice start in Week 1. But I believe all we saw in Week 1 was the first of many instances in which the Rams defense will make a receiver look just a bit better than he is. Most athletes don't regain their "normal" athletic form until the second year after suffering an ACL injury. So while Burleson was lucky in the sense that he suffered his injury right at the start of last season, it would be foolish to believe that he will debunk conventional medical wisdom and enjoy a much more speedy recovery than just about every other player that has undergone ACL surgery.