Hints, Allegations and Things Left Unsaid




9/8/09



With apologies to one fine album from Collective Soul, sometimes all us fantasy football writers have are those three things. Our job is mostly centered on "hinting" which players may do well and the allegations that follow from our adoring readers when they don't pan out. The things left unsaid speak for themselves. All kidding aside, what we can do is focus on the "hinting" part of our job and be thorough enough with our research so the last two don't come into play all that often. For the purposes of this article, I will be throwing out a lot of hints and, this week anyway, laying the allegations at the feet of some untimely moves in Florida, Missouri and New York over the past week, all while keeping the words I would really like to say to three organizations to myself.

There used to be a time (last year and all the years prior to 2009, to be exact) when "Cutdown Day" meant only marginal or overpriced NFL players were handed their walking papers. Apparently, now the same can be said for offensive coordinators. In the final week of the preseason, three play callers were given the axe over a five-day span. (With that kind of heat on the OC's, don't think for a second that fantasy football writers have it any different. After all, a bad preseason by any one of us leads to the same kind of mocking and hatred that play callers encounter when they confront their fans after a few scoreless quarters.)

In all seriousness, though, has the NFL reached the breaking point? In other words, can three franchises honestly say that - in the same week no less - each of them realized the man they entrusted to run their offense in January or February is no longer fit to do so now, less than two weeks before the start of the season? Football - more than any other sport - needs continuity on both sides of the ball for a team to achieve and maintain any degree of consistent success. This is particularly true on offense as team execution is a must; very rarely can a player "freelance" and hope to help his team move the ball down the field. On the other hand, a player like Junior Seau made a living - especially early on in his career - by working outside the framework of the original defensive call. The point to be made here though is that someone (typically an OC) is the one man responsible for overseeing the offense's ability to execute on a daily basis. It is quite possible whatever hope that Tampa Bay, Kansas City and Buffalo had on offense this year is no more (at least for the Bucs and Bills anyway).

Haley v. Gailey

In the case of Todd Haley v. Chan Gailey, I suppose it was only a matter of time before Haley exerted his power. While Haley and Gailey both led productive pass offenses last season, Haley doesn't exactly strike me as the type of coach who wants to share much of anything, including any credit he may get this year for getting more production out of a Chiefs' offense than most people expect. Of the three coordinator firings this week, this one should concern fantasy owners the least. While Haley and Gailey shared similar offensive approaches with their teams last season, the former is a more aggressive play-caller in general and he probably did not want to waste any time in making sure his players and bosses understood that if the team is going to lose this season, they are going to go down swinging.

Schonert, Really?

The most senseless firing to me is that of Turk Schonert in Buffalo. If unemployment was his ultimate destination, it could have been realized at the end of last season when the Bills' offense was dreadful. Instead, Buffalo allowed Schonert to install the no-huddle and spend countless hours diagramming ways to use Terrell Owens and Lee Evans in a fast-paced attack. Realistically, could an OC who likely spent the spring building his pass offense around Owens be expected to get a great deal of production from his offense in the preseason after his offensive centerpiece goes down to a toe injury after the first series or two in the Hall of Fame game? Furthermore, Schonert probably also had his mind on how the running game was going to function without Marshawn Lynch for the first three games of the season. In an interview with a Buffalo TV station on Saturday, the former OC stated his side of the story, which essentially boiled down HC Dick Jauron's feeling that Schonert was using too many formations and that he needed to simplify things. (This from the man who kept John Shoop, quite possibly the worst play caller in all my time of watching the NFL, around for three years in Chicago because his conservative schemes were just what Jauron wanted.) Apparently, Trent Edwards and Lee Evans led the movement of offensive players who made their concerns about Schonert known to Jauron. When those complaints were met with owner Ralph Wilson's agreement, change happened.

QB coach Alex Van Pelt and RB coach Eric Studesville take over for Schonert and, while I didn't think the world of the latter as an OC, I sincerely doubt the new OC combo has been burning the midnight oil with their offseason preparations in hopes that Schonert would get canned at the end of the preseason. Van Pelt's only play-calling experience came with the Frankfurt Galaxy in 2005 (they went 3-7 that season) while Studesville spent most of the last decade in his current position. In my mind, Buffalo has gone from potential fantasy goldmine in the offseason to a near wasteland. As of right now, Terrell Owens is the only player in Buffalo I would feel comfortable starting on my fantasy team...and that may be only as long as he stays healthy. Congrats, Bills players...go make offensive magic happen now with two coaches with next-to-no experience and no past success in their current role.

At the expense of sounding like I'm piling on, the release of Dominic Rhodes on Saturday is further proof to me that the Bills don't know where they are going right now. A team letting go of their fourth-best RB is not surprising, but cutting him after proclaiming him as a strong veteran influence who will help reduce wear-and-tear on Lynch AND doing so right before the starter begins his suspension is puzzling. Fred Jackson and Xavier Omon are fine players, but given the team's offensive line woes, the Bills may need a third RB by the time Lynch is ready to return.

This One Grinds My Gears

The firing that gets me the most is the one in Tampa Bay with Jeff Jagodzinski. Firing a coordinator for a lack of "precision" and then suggesting he may be a better fit as a head coach is essentially telling the rest of the league that he is clueless at running an offense and has trouble dealing with authority. The more notable problem here is that the Bucs failed Jagodzinski and the entire team in the interview process. If the team did not want to fully embrace a deep passing game and a zone-based running game, the team shouldn't have felt compelled to hire Jagodzinski because he was a "name coach". Now, the team must continue applying Jagodzinski's principles without him or switch back to the power-based running and short-passing game that Jon Gruden ran for most of the last decade. Either way, nothing in Greg Olson's (the new OC) resume suggests to me that he was qualified to run another offense anytime soon after showing very little in stops in Detroit and St. Louis.

Besides offering my opinion on what appears to be a rather senseless and disturbing trend in the NFL, I detail the OC departures to reinforce how delicate the balance is between making sure you - the fantasy owner - pick the best players for your team while also recognizing that same player's stock can fluctuate drastically based solely with a change at the offensive coordinator position. My other purpose for such a lead-in is to transition ever so smoothly into some bold predictions for the 2009 season, which may become even bolder now considering that 9% of the league's offenses changed hands in less than five days.

Note: All predictions/assumptions will be based on 12-team leagues that start 1 QB, 2 RB, 3 WR and 1 TE.

Quarterbacks

Of the quarterbacks going after the 12th round, Jason Campbell and Joe Flacco have the best chance to emerge as a starting-caliber fantasy QBs.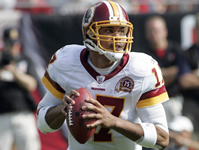 Jason Campbell: Ready to explode on the scene?

Starting with Jason Campbell, he has most of the requirements necessary to finally explode onto the scene: two above-average options in the passing game (Santana Moss, Chris Cooley), good pass-catching RBs and a willingness to take what the defense gives him (no INTs and 66% completion percentage through the first half of last season). What he didn't have last season was experience in Jim Zorn's West Coast offense or the faith from his head coach to show off his arm, both of which he should have this season. Everyone else that could have used another year in the system in 2008 (second-year players Malcolm Kelly, Devin Thomas and Fred Davis to name a few) should now be more adjusted to their surroundings as well. But this prediction is based more on what any talented player can do when his environment isn't changed from year to year. And since we have already seen what Campbell can do when he is in the same offense for more than one year (which has only happened once in his college and pro career), it wouldn't come as a terrible shock if he came fairly close to the 20:7 TD:INT ratio he had in his breakout season with Auburn in 2004.

As far as Joe Flacco goes, I'm choosing to put a lot of faith in OC Cam Cameron. Quite often in his college and pro career, Cameron's presence on a team's sidelines has resulted in a QB enjoying a career year or coming pretty close. Without getting too deep into his bio, he was the QB coach in Washington when Gus Frerotte made his only Pro Bowl and also ushered in Trent Green's emergence into the public's consciousness. After a five-year stint at Indiana University when he made Antwaan Randle El a household name as a QB, he returned to the NFL to help push Drew Brees from possible second-round disappointment to what he has become today. Heck, in his lone disastrous year in Miami, he even made Cleo Lemon a usable fantasy QB! Getting now to his work in Baltimore, Cameron appears willing to back off the 600 rush-attempt goal of 2008 and let his second-year QB open things up a bit more. I, like many others, felt early on the Ravens' preseason aerial display (37 attempts/game was fourth in the league) may have just been an attempt to save the RBs and work out the kinks in the passing game. I no longer feel that way for a number of reasons, one of which is Ray Rice's ascension to near-feature back status. Because Le'Ron McClain will move to more of a fullback role this season, it's safe to say that the Ravens' rush attempts will come down dramatically as neither Rice nor Willis McGahee figure to come all that close to 300 carries, much less both of them. And given Rice's receiving abilities, it would be foolish not to use him in that capacity more often. Lastly, Derrick Mason and Todd Heap appear to be healthy while L.J. Smith was added to complement Heap and help Flacco use the whole field in 2009, as opposed to the routes outside the hashes Cameron called for most of last season.

Running Backs

Out of the group of Ronnie Brown, Kevin Smith and Ray Rice, at least two out of the three will emerge into fantasy first rounders next season.

I've been firmly on board of the Ronnie Brown bandwagon for some time now. I can't help it - I guess - I'm just a fool for a 27-year-old, 230-pound RB who can catch the ball and is in the best shape of his career. Prior to his ACL injury in 2007, Brown was living up to his immense potential as a complete back. Granted, that season came under the watchful eye of Cameron, who just happens to oversee more productive fantasy RBs than just about any other OC in recent memory. So while I won't predict a return to the 2,288 total-yard, 11-TD pace he was on in 2007, he should be the focal point of a power-running game that should only get better in 2009. Ricky Williams is another year older (32) and is unlikely to steal another 161 carries and 29 catches from Brown again. Brown won't keep Williams on the sidelines full-time, but Williams will probably see his 2008 workload cut by a third in both the rushing and receiving departments. If that scenario shakes down as I expect it to, Brown would come close to 300 carries and 50 catches, totals that would make him a PPR beast and solid RB1 in non-PPR leagues.

Much like Brown, Kevin Smith should be able to ditch his biggest fantasy handicap - namely, the other RB in the rotation. That Smith was so productive last season - over 1,200 yards and eight scores in part-time duty - on a winless team that had to abandon the run early in many of its games speaks to his immense potential. With Rudi Johnson out of the picture and OC Scott Linehan now in it, it would come as little shock if Smith neared 350 touches in 2009. There are a handful of opponents that make me cringe a bit (Pittsburgh and Minnesota during the fantasy regular season and Baltimore in Week 14), but all told, it is hard not to like a runner who is going to be so involved in his offense at a RB2 price.

With each passing day, I seem to become more enamored with Ray Rice. Just this past Sunday, I chose him over a host of other backs (Ryan Grant, Clinton Portis, Pierre Thomas and Smith to name a few) in a big-money PPR league. The thing is, I'm starting to believe his ceiling is Steve Slaton-kind of high. Heading into the season, it appears as if Le'Ron McClain will indeed see most of his time at fullback and Willis McGahee could get worked in for a series here and there. And if the preseason was any indication, McGahee may get the majority of goal line carries. But if Cameron's history comes into play as I think it will, Rice will emerge as a true feature back before the end of the season. He's a fair bet to surpass 50 catches, making him a very tempting RB2 in PPR leagues as is, but give him 200-225 (or more) carries behind Baltimore's solid offensive line and it wouldn't come as a complete surprise to see him surpass the 1,000-yard mark on the ground. Perhaps he becomes little more than a real poor man's Tiki Barber (ton of total yards but very few scores), but the fact is he will lead the team in touches and he will probably do so by a wide margin.

Jamaal Charles' fantasy production will either nearly meet or exceed that of backfield mate Larry Johnson in PPR leagues.

Based on what I saw in the preseason, it wouldn't be all that shocking if Jamaal Charles bested LJ in non-PPR as well, but I'll save that for prediction for a prognosticator bolder than I am. (Although I'm willing to roll the dice, I also know when to pull my money off the table!) For the time being, we'll stick with PPR. While it is convenient for me to use Haley's previous team as an example, I think the Edgerrin James-J.J. Arrington arrangement from last year applies here. From what I could tell during the exhibition season, Johnson's role appears to be limited to when the offense is "on schedule" (1st-and-10, 2nd-and-six, 3rd-and-2 or better). Anything more than those distances seems to be Charles' domain. Considering the Chiefs will not be "on schedule" all that often, working out of the spread a high percentage of the time and trailing late in games, I tend to believe Charles will see the field at least half the time. So if he can stay healthy all season, it would not be the least bit surprising to see him catch 50+ passes. Since LJ won't be hauling in many passes of his own or rushing for many TDs, Charles may just win the fantasy battle between the two.

Wide Receivers

Larry Fitzgerald will struggle being the most productive fantasy WR...on his own team.

Let's get the most telling stats out there right away. Larry Fitzgerald led Cardinals WRs in fantasy points on five occasions last season, three of which occurred in the four games Anquan Boldin missed. Worse yet, half of Fitz's 12 TDs were scored in those same four weeks. Meanwhile, Boldin was Arizona's best fantasy WR in seven of the 12 regular season games that he suited up for in 2008. It's not easy for me to try to make Fitzgerald sound bad because he is arguably the most consistent fantasy WR in the game today. But with that said, there is no way I can recommend him being the #1 WR taken in drafts after reviewing the aforementioned numbers. Furthermore, Boldin averaged more than one target/game more than Fitzgerald did last season. While I'll admit that doesn't sound like much, those are not the numbers you want to see in a player that you will need to spend a mid-first round pick on to put on your roster.

Roy Williams will have the second-best season of his career and will still be labeled as a "bust" by the national media and fantasy owners alike.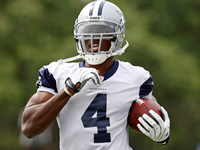 Roy Williams: A bust for all the right reasons.
Only once in Roy Williams career has he surpassed 69 catches or 1,000 receiving yards. He has yet to score 10 times in a single season. I mention those numbers only as a reminder of the worst season Terrell Owens posted as a Cowboy, a season during which many observers noted that T.O. had lost a step. While Williams' 82-1,310-7 line in 2006 serves as a reminder of what he is capable of when healthy, it also spotlights the fact that he will need to come pretty close to matching his career high every year he is in Dallas to make the media forget about Owens. Yes, Tony Romo has established himself as an upper-echelon QB, but unlike the T.O. years, the Cowboys plan on being a running team this season and Jason Witten will remain his first option on most passing plays. So while it is not right and it certainly is not fair, Williams will need to overcome the team's new offensive philosophy, Romo's affinity for Witten and his own injury history if he has any hope of not being labeled a disappointment. That's a lot for one man to overcome and it's probably not going to happen in 2009.
Tight Ends
Todd Heap will re-emerge as a top-15 TE once again, barring injury.
It has come to my attention that this column is taking a Baltimore tint, but the 2009 Ravens don't figure to be as much like the 2008 Ravens as most of us assumed going into the season. No, Baltimore will not throw 40 times a game like it did in the preseason, but the offense will open up more in Flacco's second season. Part of the "opening-up" process includes throwing the ball over the middle on a regular basis, which makes the TE a much more likely option than he was a season ago. Now, I'll be the first to admit that I don't typically recommend injury-prone TEs who have to fight for catches with other injury-prone TEs (L.J. Smith), but the preseason showed us that Todd Heap looks more like his younger self this season than he has in a while and that Flacco will look for him in the red zone. HC John Harbaugh echoed those sentiments as well at the start of training camp, telling the Baltimore Sun, "We want to definitely expand him in the passing area. We want to control the middle of the field with our passing game, and Todd Heap has got to be a big part of that." I'm not sure a return to Pro Bowl form is in the cards for Heap, I'd take the over on a 50-550-5 stat line from him this season.

Kevin Boss will make me regret not putting him on the Big Boards.
Am I already having second thoughts on the Big Board? Well, maybe not so much at the top, but somewhere down the line, I'm getting a bad feeling the "Boss" is going to make me look bad. My reasoning for not giving Kevin Boss any more credit pre-Big Board was sound - my strong impression of Travis Beckum stealing his work in the passing game from the H-back spot - but then the rookie saw very limited work - two catches - in the preseason. Although I still expect Beckum to be fantasy-worthy at some point this season, Boss is one of the few trustworthy options Eli Manning has entering this season. And Manning clearly trusts Boss in the red zone (six TDs last season led all Giants receivers in 2008), so I may need to swallow my pride and admit that Beckum may not emerge as Eli's favorite TE target until 2010.
Miscellaneous
Percy Harvin and Aaron Curry will be the 2009 Offensive and Defensive Rookies of the Year, respectively.
The temptation to take the easy way out and select a RB as the 2009 Offensive ROY was tantalizing, but not a single rookie RB even has a clear path to a full-time job (like Matt Forte last season). Donald Brown, LeSean McCoy, Knowshon Moreno, Chris Wells, Shonn Greene and even James Davis all have the talent to succeed right away, but no one from that group is any better than option 1A or 1B in their teams' RB plans. Yes, the same could also be said for Steve Slaton and Chris Johnson in 2008, but both Slaton and Johnson played on teams with better run-blocking lines or stronger running game approaches. The Colts, Eagles and Cardinals all figure to be pass-heavy teams once again while the Broncos and Browns may not be strong enough defensively to keep their RBs in the gameplan for four quarters. Only Greene strikes me as the lone rookie that has the right combination of playing in a run-heavy offense and a formidable offensive line, but he stands third on the depth chart and is extremely limited as a receiver. At QB, the Jets' offensive approach almost disqualifies Mark Sanchez as a ROY candidate, and while Calvin Johnson can do a lot of things for a QB, I'm not sure he alone will be enough to help Matthew Stafford's candidacy. The rookie WRs appear to be a mess with Darrius Heyward-Bey a definite project and Michael Crabtree a definite holdout. So, by process of elimination, Percy Harvin is my choice to win the award. It's been pretty clear from the outset that Minnesota intends to showcase his talents all over the field. And as we all know, it is much easier for a player to produce when he has opportunity and the team believes in his talent. After watching how the Vikings plan to use him in the preseason, I have no problem endorsing him as a WR3 in 12-team PPR and non-PPR leagues and expect him to meet or exceed the projections I placed on him in July.
Because fantasy football is primarily an offensive showcase, we don't usually take much time to discuss impact players on defense. Much like RB, picking a LB to win the ROY award is not taking a great leap of faith. But unlike the offensive side of the ball, I don't see too many challengers for Aaron Curry except maybe the Bengals' Rey Maualuga or the Rams' James Laurinaitis. Maualuga would have likely been my #1 choice, but his numbers will be stunted by starting the season out on the strong side instead of in the middle, meaning his tackle numbers will be down. Laurinaitis, on the other hand, will be working in the middle, but probably won't have the protection up front a MLB needs or play on a good enough team to catch the eye of the voters. I'm not sure I expect the world from the Seahawks, but the fact that Seattle intends to use Curry as a pass rusher in addition to his normal linebacking duties leads me to believe one of the best prospects at his position to come out of the draft in recent years will be taking home the hardware at the end of the season.
And with that, I am happy to announce that the next time fantasy owners tune into this column, we will have seen each team kick off in what is one of the best weekends in sports each year. I will also be moving from Tuesdays to Thursdays in an effort to adequately prepare each of you for the upcoming week of NFL action. Since it also appears as if I will be free on Saturdays this fall, I am contemplating ending each column this season with a "College Spotlight" in which I highlight a player I watched over the past weekend who I feel may be of some help to fantasy owners in 2010 or beyond.
In the meantime, go pick up Cadillac Williams like I advised you to do a week or so ago as he was placed atop the Bucs' most recent depth chart on Monday. Since Tampa Bay appears to be committed to a 2-2-1 split of RB carries to open the season, Williams may get enough playing time to use in a flex spot. But whatever happens with the Bucs' RB rotation, I assure you that starting NFL RBs are better off on your fantasy bench than in someone else's lineup. Always consider potential trade value! For example, if your WR5 is unlikely to see your starting lineup and is just taking up a bench spot, then adding someone like Williams makes a lot of sense because in 2-3 weeks, he could bring back a WR3 or low-end TE1 in return from a desperate owner.