Offensive Coordinator Changes (Part 2)




6/9/09



It might strike people as odd as to why any fantasy sports website would spend any time detailing the exploits, backgrounds and impact of assistant coaches. After all, they aren't the ones who face the camera each week and take an endless number of questions from the media. They also never step foot on the field actually trying to execute the plays, right?

To me, turnover in the assistant coaching ranks certainly isn't the most important thing in determining fantasy player value, but for it to receive as little attention as it does in a sport as detailed (and wildly popular) as professional football is mind-boggling to me. In fact, I'll go back to school to illustrate their importance. In this model, the players are the students, the head coach is the superintendent and the assistant coaches are the teachers. The head coach sets forth the direction of the curriculum and how it will be implemented. The players generally go along with the direction and implementation of the program, but sometimes they will rebel. Just like teachers, assistants are the people who spend the most one-on-one time with their pupils and, quite frankly, can be the main reason as to whether or not a player falls in line or not. In essence, how well they "teach" the coursework and relate to the students often can determine whether or not their students will succeed.

Sure, the example is a bit limited because school coursework isn't centered on what the student does best like football, but rather what the state requires. But I do believe given that limitation, we are all too quick to praise or criticize the players and coaches themselves for failing to live up to expectations when the people that are teaching NFL Football 101 are generally assistants. The truth is that for every offense or defense that looks like it has no clue, there is a Mike Mularkey in Atlanta smart enough to feature Michael Turner in order not to give Matt Ryan too much too quickly or a Dan Henning in Miami open enough to innovation that he allows a new QB coach (David Lee) to come from the college game and implement the "Wildcat". I can remember being critical of both Mularkey and Henning in years past for not being able to mold their schemes in order to suit their team's personnel, but in 2008, they did.

Last week, we covered five of the 12 teams that made changes at offensive coordinator. Even though I am going in alphabetical order, it just so happens that many of the more important transitions - for fantasy owners - are taking place with this week's six teams. New Orleans also will be sporting a new OC - Pete Carmichael Jr - after three years of stellar work as Drew Brees' QB coach. However, I can't imagine HC Sean Payton will be giving up his play-calling duties anytime soon, thereby relegating Carmichael to just another set of eyes and ears for Payton for the foreseeable future. However, I can't imagine HC Sean Payton will be giving up his play-calling duties anytime soon, thereby relegating Carmichael to just another set of eyes and ears for Payton for the foreseeable future.

So, without further delay, let's get it started.

Indianapolis - Clyde Christensen

When Peyton Manning says something negative about his team or organization, it's newsworthy. When he suggests there "isn't a whole lot of coaching going on" during camp, it may be time to start worrying about an offense that has been one of fantasy owners' best friends since he arrived on the scene in 1998. Sure, turnover in the coaching ranks is par for the course in the NFL, but Indy has been seemingly immune to this notion since Manning joined the Colts over 10 years ago. How odd is it then that the change took place in part due to the league (and the Colts themselves) for failing to ensure that assistant coaches like OC Tom Moore and OL coach Howard Mudd would be taken care of into the future once they retired?

While much of the credit for his 176 consecutive games-played streak goes to the Manning himself for being such a quick decision-maker, Mudd's lines have been stellar year after year and deserve high praise for not allowing the Colts' quarterback to be sacked even 30 times in any one season. (Manning was sacked 29 times in 2001; in no other season has he been sacked more than 23 times.) While both coaches will be returning in a consulting role, Christensen and new OL coach Pete Metzalaars likely will not the same gameday access to the veteran duo they have enjoyed since joining Indy as position coaches when adjustments need to be made on the sidelines during a game. The latest word is that both Mudd and Moore's roles will not change all that much, but if that is the case, the Colts then have to be careful not to stunt the growth of Christensen and Metzalaars because they will be needed sooner than later. I have a feeling we haven't heard the last of this...

In case inquiring fantasy minds want some reason as to why they should worry, allow me to briefly remind (or inform) everyone just how decorated Moore's resume is. Moore coached Lynn Swann and John Stallworth during the Pittsburgh Steelers' dynasty in the late 1970s, and wide receiver Cris Carter in Minnesota. In 1994, Moore left the Vikings for the Detroit Lions, where he watched over the incomparable Barry Sanders and the first set of teammates to ever catch 100 passes in a season - Herman Moore and Brett Perriman. Perhaps Moore has been the Phil Jackson of offensive football coaches, seeing a situation where there were multiple star-quality players and knowing he could be the final piece in turning an underperforming offense into a top-notch unit. But even if that isn't the case, Tom Moore is the only offensive coordinator Manning has ever known. So while it is true that Manning does call his own plays at the line nowadays, he always did so with Moore's help. As Moore often said, his role was to give Manning "an idea" and it was the QB's job to take it from there. And don't think for a second that Manning is the only one breaking down defenses in the film room during the week.

Christensen came up from Tampa Bay with former HC Tony Dungy to serve under Moore in 2002. Unfortunately for him and the Colts, he has only one season of calling plays on his resume. Now the majority of folks out there in fantasy-land will suggest that when it comes to the elite quarterbacks like Tom Brady and Manning, it doesn't matter who the play caller is. While it is true that players make the team and run the plays, it is typically the coaches that put them in the best position to succeed game after game. New England is really the only team in recent memory that hasn't experienced a fair amount of dropoff after losing a coordinator, but I believe that is more of a function of Bill Belichick's insistence on not counting too much on any one player, hiring good (and moldable) assistant coaches and making sure those coaches accentuate the positives their players bring to the table. (As sad as it sounds, this does not happen near as often as it should in the NFL.)

Now in regards to how this change figures to affect the Colts offense in 2009, I will defer ever so slightly to team president Bill Polian, a man whose eye for talent may be second to none in the league. In all my years watching NFL football - and in particular, the draft - I have yet to see another personnel man do their job better than he does. With that said, Indianapolis will be undergoing a transition unlike any one has seen since he has run the team. For a team that hasn't seen change at the top (HC, OC, DC, special team coordinator) since Dungy arrived in '02, it will have to replace every one of those positions this season, three of which will be assigned to coaches that have never held their new posts at the pro level (HC Jim Caldwell, ST Ray Rychleski and Christensen). With that kind of mass change all around, it is hard to forecast another banner season for Manning and company in 2009. With that said, the Colts have enough of their core back that I don't foresee the bottom completely dropping out of this explosive offense either.

Verdict: On one hand, the Colts have all the weapons a play caller would need to make a name for himself right away. On the other hand, inexperienced coordinators tend to error on the conservative side. Also consider the fact that Manning will not be working with Marvin Harrison for the first time in his career and that two of his four primary targets will have a combined two seasons of experience between them (Anthony Gonzalez, Austin Collie). Lastly, I would be remiss in not at least entertaining the notion that the reason RB Donald Brown was taken in a first round in April was because Caldwell (and maybe even Polian) wanted to put a little bit more of the offensive responsibility on the running game. From where I stand here in early June, I still believe Manning is a top-five fantasy QB, but at least for this year, I'm not expecting anything more than the 4,000 yards and 28 total touchdowns he put up last season, with a better than 50% chance he doesn't hit both of those benchmarks for the first time since 2005. Reggie Wayne and Dallas Clark's fantasy stock should remain solid and Gonzalez should ascend into mid-#2 WR status. But if I'm looking somewhere on this team for a player who will benefit for all this turmoil, I will go with Brown. Joseph Addai is the more talented player, but his penchant for injury and untimely fatigue during games have me believing early on that Brown will be the Colts' fantasy RB to own this season.

New England - Bill O'Brien?

As only the Patriots can, there is some doubt about who will be calling the plays for what could be the league's best offense. As of this writing, they have yet to name an OC and probably will decline to do so, just as they did the year following Charlie Weis' departure to Notre Dame. The OC title eventually fell onto Josh McDaniels, who managed to do just fine with the responsibility. Although years of experience would suggest that longtime OL coach and assistant HC Dante Scarnecchia get the job, his plate is plenty full as it is. Therefore, O'Brien, who worked closely with McDaniels each of the past two seasons, should be the natural choice to guide this offense in the right direction. After working with the WRs in 2008, he will oversee the QBs this time around, making him a natural pick as the play caller as well. It would be a rapid rise for O'Brien if it happens as he joined the club after serving as the offensive coordinator at Duke University in 2005-06.

O'Brien will be jumping right into an offensive philosophy that he helped create and install in 2007, the same year the Pats brought WRs Randy Moss and Wes Welker aboard. There is little doubt that the team is chomping at the bit to get going again with a healthy Tom Brady again. While Moss' assertion in late May this offense would match or exceed the 2007 record-setting version is nice, a slow start should be expected from Brady regardless of how glowing the reports are about his knee - if Brady immediately overcomes the trust issues every player has following a devastating knee injury, he would be the first. Additionally, the first-half schedule of 2009 doesn't line up quite as nicely for Brady to surpass his 50-TD standard of two seasons ago. (Only the Chargers could really challenge the Pats' offense two seasons ago.) This season, the Jets, Ravens and Titans all should be able to stand up defensively to New England's offense through the first two months of the season.

But it far from gloom and doom for fantasy owners here. Brady will eventually trust his knee - probably no later than the midpoint of the season - and his owners can expect extremely healthy numbers from him once again giving his familiarity with the system and the fact that his key cogs - Moss and Welker - will be entering their third year in the system.

Verdict: So long as Brady, Moss and Welker are around, the Pats will be tempted to make another run at their record-breaking offensive output from 2007, no matter who is wearing the headset on the sidelines. Brady should be considered right up there with Drew Brees as fantasy's top QB entering 2009, but as stated earlier, he probably won't hit the 30-TD mark after eight games like he did in his last full season. However, Moss should return as the undisputed #1 fantasy WR again and Welker should continue being a PPR dynamo. As for the running game, I see little reason why New England would go away from their three-and-four-headed monster at RB. Sammy Morris will likely be the most valuable fantasy RB as long as he stays healthy but Fred Taylor and Kevin Faulk will also get enough work to be included on fantasy benches. However, without Mike Shanahan and his revolving door of RBs in Denver, New England may replace the Broncos as the new king of fantasy headaches when it comes to picking a fantasy RB off their team.

Oakland - Tom Cable?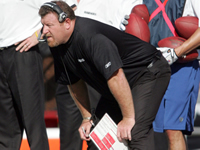 Tom Cable's offense will once again be focused on the run.
Doing their best Patriots' impression, the Raiders have also elected not to name an official offensive coordinator. Unlike their East Coast counterpart, they don't have Randy Moss anymore, are run-heavy and have little reason for preseason optimism in the passing game (outside of Zach Miller). While he has plenty of passing game coaching experience along with him on the sidelines (QB coach Paul Hackett, passing game coordinator Ted Tollner), this offense will go only as far as the running game will allow it. Along with Hackett and Tollner, Oakland also has two more new assistants, one each at WR and TE. With a roster that is already void of proven playmakers at WR, it is going to be that much more difficult for QB JaMarcus Russell to take any kind of leap toward respectability right away.
The one thing that Oakland can hang its hat on heading into the season is its running game, which recorded a top-10 finish in 2008. But as it goes with the Raiders, not even that is all that great of a revelation for fantasy owners. The one thing that Oakland does seem to have in common with New England is the fact that any one of three RBs could have a banner fantasy day in any single game. (For example, Darren McFadden's 164-yard, one-TD stunner in Week 2, Justin Fargas' 82-yard, one-TD showing vs. the Chiefs and Michael Bush's 177-yard, two-TD explosion in Week 17 against the Bucs.)
Verdict: Starting with the running game, keep an eye on reports coming out of Oakland this summer. The Raiders can't simply dismiss the type of runner that Bush is and with the addition of Lorenzo Neal in the offseason, the former Louisville standout doesn't figure to go back to fullback. Of course, McFadden returns and it would be shocking if Al Davis isn't making it known that he needs to be on the field more than he was last year. Also, let's not forget the team's leading rusher last year, Fargas, who isn't the type of rusher to just let the young kids pass him by. I'd be surprised if this arrangement doesn't turn into Earth, Wind & Fire west with Bush and McFadden getting most of the touches over the first three quarters and down by the goal line while Fargas comes in during the final quarter, using his physical style to punish a tired defense although that means he would also see the fewest carries of the bunch, ala Ahmad Bradshaw. This is one situation that will likely go right up to the wire for fantasy owners who draft in late August or early September, but if one player such as McFadden were to see the majority of first-team reps, he could be highly undervalued this summer.
While Oakland may boast three usable options in the running game, I'm not sure it possesses more than one draftable talent in the passing game. Considering the mess that surrounded him last season, Miller's 56-catch, 778-yard campaign in 2008 stands as one of the season's more impressive individual feats. He is certainly a startable player in typical 12-team leagues that require a starting TE. Outside of that, there is much left to be desired. No one outside of Al Davis can realistically say Russell is being given much of a chance to succeed, made that much worse by the fact accuracy never was his calling card anyway. At WR, Johnnie Lee Higgins' 22 catches led his position in 2008. The team is said to be thrilled with Chaz Schilens and shocked many with the first-round selection of Darius Heyward-Bey, so maybe one of those two can double Higgins' total from last season. Long story short, I highly doubt I'm drafting any player - besides Miller - associated with the Raiders who is dependent on Russell getting him the ball in 2009.
St. Louis - Pat Shurmur
Unlike his uncle, the late great defensive coordinator Fritz Shurmur, Pat hopes to make his impact on the offensive side of the ball. (Fritz served as an assistant for the Rams from 1982-90 while Pat spent each of the past seven seasons working as the QB coach for Donovan McNabb in Philly.) It will be interesting to see how much Eagles HC Andy Reid - he of the pass-first philosophy - rubbed off on him over that time because new St. Louis coach Steve Spagnuolo has already proclaimed RB Steven Jackson the centerpiece of the offense. Whether that means Jackson takes on a Brian Westbrook-like stat line or sees something bordering on the ridiculous 436 touches he managed in his second full year as a starter in 2006 remains to be seen.
Here's what we do know: Shurmur and Spags will certainly eliminate most of the time-consuming routes that the Rams had become synonymous for over the Mike Martz years (and Linehan to a smaller degree) such as the deep-in route, emphasizing shorter, quicker passes and keeping QB Marc Bulger upright. After years of getting beat up with below-average line play and five-second pass patterns, it will be interesting to see if Bulger can reclaim the level of play that allowed him to be a two-time Pro Bowler. Making his job even more difficult will be the absence of WR Torry Holt, who was let go in the offseason in part to make way for the new wave of Rams wideouts including fifth-round pick Brooks Foster, trade acquisition Laurent Robinson, second-year WR Keenan Burton and last year's pleasant surprise, rookie Donnie Avery. Foster and Robinson fall into a similar category as players that have been unable to put up numbers worthy of their talent so far in the college and pro game, respectively. Foster may be able to blame his weak college stats on the plethora of receiving talent the Tar Heels ended up with in Chapel Hill. Since being hyped up by former Falcons HC Bobby Petrino, Robinson hasn't been able to stay healthy.
Verdict: After believing in Bulger just a bit longer than I should have, I find it hard to like his 2009 chances at fantasy success in a new offense with a team that is clearly in transition. Add to that the fact that Holt is no longer around and it makes it hard for any fantasy owner to get too overly excited about any Ram except Jackson. As long as TE Randy McMichael stays upright (certainly not a guarantee), he might be a decent fantasy option. However, with teams now gearing up to stop Avery, I would be quite surprised if his numbers took much of a jump over last season. He has the talent to overcome it, but it may not happen until 2010. Therefore, I can't foresee Avery being much more than a matchup-type play until then as well, while I can't imagine why Robinson or Foster would see the light of day on fantasy rosters this season. Burton could be a wildcard, but there is enough youth on the field and enough turnover in the coaching ranks to expect rough waters for this group of receivers this season.
San Francisco - Jimmy Raye
Since former OC Mike Martz's philosophies clashed in just about every way possible with the power-running, ball-control offense Mike Singletary seeks from his team, it did not take long for the new HC to remove him from his staff after last season ended. It did, however, take quite a while for Singletary to find his replacement. After a brief flirtation with Dan Reeves, the 49ers settled on another conservative play caller in Raye. This will be the sixth different team he has served as a coordinator for and the seventh time that Raye has assumed that role for a team.
Although Raye has led his offenses to several top-10 finishes in passing offense over the years, don't expect that to be the case again, at least not in 2009. First and foremost, QB Shaun Hill isn't the type of QB who would expect to flourish in an offense where he was counted on to attempt 30-35 times a game. And while Frank Gore won't be the best RB he has worked with in his 32-year NFL career (Eric Dickerson probably holds that title), he is right up there with the best all-around talents Raye has coached since he tutored Marcus Allen with the Chiefs back in the mid-90s. As an OC, Raye figures to be what he always has been - a close-to-the-vest play caller who is focused on pounding the ball and getting big plays out of the passing game via run after catch as opposed to using deep speed. With WR Josh Morgan hoping to improve on a rollercoaster 2008 and the Niners' first-round selection of Michael Crabtree, Raye should have a pair of receivers who can manufacture those big plays. But the biggest beneficiary of Raye's presence could be TE Vernon Davis, who is seen mostly as a bust thus far into his career (as teams don't draft tight ends at #6 overall just to serve as one of the better blockers at his position while sporting questionable hands and concentration). However, Raye may be Davis' best hope yet for taking him from a player seen as an underachiever to one who emerges as one of the top five players at his position.
Verdict: Long story short, Gore will be the centerpiece of this offense. After that, Davis may represent the most valuable fantasy property on the team for the upcoming season. Raye, who has been a TE-friendly coach going as far back as his time with the Rams in the 80s (Mike Barber, Jim Price), will be working with the most talented player he has enjoyed at that position since he mentored a young basketball player from Cal named Tony Gonzalez during his first four seasons in KC. Otherwise, I have to believe San Francisco wants to get Morgan and Crabtree entrenched in the starting lineup as soon as possible while hoping longtime vet Isaac Bruce is willing to accept most of his snaps in three-wide packages. I don't think any of the above receivers, though, will be more than bye-week fillers for fantasy purposes this season. I also expect Hill to assume the reigns early in camp from his competition in camp, Alex Smith, and be a serviceable fantasy backup in 2009, just as he has been in the past couple seasons when he has been allowed to start.
Seattle - Greg Knapp
Unlike all the other situations we have covered in this two-part series, the Seahawks give us the unusual daily double of a HC-OC combination that has already worked together (Jim Mora and Knapp were in the same roles they currently hold from 2004-06 in Atlanta). What's more, they also just "happen" to have a fairly prominent RB from their days with the Falcons, T.J. Duckett, currently on their roster. While that isn't necessarily where the coincidences end, there isn't a great deal from the trio's history with Atlanta that we can gather because the centerpiece of the offenses (Michael Vick with the Falcons; Matt Hasselbeck with the 'Hawks) couldn't be any more different.
What is clear from Knapp's background is that his offenses have historically been quite proficient on the ground, so that is where we will start. In his eight years as offensive coordinator, Knapp's rushing attacks have placed in the NFL top-10 every time, including five top-five finishes - highlighted by three consecutive top-place finishes in Atlanta, which can be looked at with a critical eye because Vick rushed for no less than 597 yards in Knapp's three seasons as the OC. Nevertheless, five non-Vick years have netted top-10 finishes, so fantasy owners really need to pay attention to Julius Jones - and yes, maybe even Duckett to a lesser extent - this season. It is interesting to note that Duckett received over 100 carries and scored eight TDs in each the two seasons he worked with Knapp while Warrick Dunn rushed at least 265 times both seasons, making for at least a 70/30 split. With no new competition in camp and Mo Morris in Detroit, a similar workload share could (and probably should) be expected this season. Another Knapp protégé, FB Justin Griffith, was the only back added to the squad in the offseason, meaning Jones should be in line for as much work as he can handle. That notion may or may not be a good thing, however, depending on whether you are a JJ supporter and suggest he can handle the load but his coaches keep forcing him to share or believe he is just an injury-prone runner (although he has missed just one game over his last three campaigns).
Considering he just finished a two-year stint with Oakland, Knapp must be thrilled by the idea of working with the best talent he's had in the passing game since Jeff Garcia and Terrell Owens were chewing each other out in San Fran just after the turn of the century. With Hasselbeck, prized free agent WR T.J. Houshmandzadeh, injured returning WRs Deion Branch and Nate Burleson along with TE John Carlson, the skill position talent is bountiful. While every aforementioned player is acclimated to the West Coast offense, most of them are coming off surgery and, along with LT Walter Jones, are far from guaranteed to return to their pre-injury form.
Verdict: As the last paragraph hinted, the jury is out on the M.A.S.H. unit the passing game turned into during the 2008 season. Carlson, Houshmandzadeh and rookie WR Deon Butler are the only likely contributors from the passing game this season that aren't using this offseason to recover from an injury. If the reports on all the walking wounded are good during training camp, it would be no surprise to me if Hasselbeck returned to being a top-10 option at QB (so long as his back cooperates), Houshmandzadeh continued his PPR domination and Carlson took the next step and emerged as an every-week, no-brainer play in 10-or-12-team leagues. I'm a bit more skittish on all the other wideouts, as their injuries are not the type that players seamlessly return from after one offseason. As for Julius Jones, I can easily see him ascending into mid-#2 fantasy RB status so long as Walter Jones can squeeze another productive year out of surgically repaired knee and the rest of his zone-blocking line remains healthy. Because of all the injury question marks, Seattle is probably the team that fantasy owners need to pay attention to the most during the preseason. An entirely healthy roster could easily net 4-5 weekly fantasy plays whereas a Walter Jones or Hasselbeck injury hiccup could turn this team into a fantasy wasteland.
Tampa Bay - Jeff Jagodzinski
Most football fans recall that Jagodzinski famously upset the brass at Boston College by pursuing the head coaching job of the New York Jets this offseason without the permission of the Golden Eagles' athletic director Gene DeFillippo. He was promptly fired for his actions despite a 20-8 record and consecutive ACC Championship Game appearances. But that one blemish aside, perhaps no OC is a better fit for the personnel he will be working with this season than "Jags". All their other flaws aside, most of the prominent QBs, WRs and TEs on this roster will welcome an attack that is sure to feature a strong-armed QB throwing to receivers who can make plays downfield - a definite change of pace from recent Buc teams.
Jagodzinski has experienced a great deal of success in his recent college and pro stops. In 2007, he installed a deep passing game at BC that catered nicely to eventual 2008 No. 3 overall pick Matt Ryan. Prior to his stint with the Eagles, he served as the offensive coordinator for the Green Bay Packers in 2006, leading an offense that featured QB Brett Favre, 1,000-yard rusher RB Ahman Green and 1,000-yard receiver WR Donald Driver. And before that, he was on Greg Knapp and Jim Mora's staff in Atlanta as the TE coach in 2004 before moving to the OL coach when he likely picked up the majority of his zone-blocking running scheme principles from the master, Alex Gibbs, who served a consultant with the team that season.
Jags joins a Tampa Bay squad that hasn't finished in the top half of the league in points scored since Tony Dungy's final season with the team in 2001. Perhaps even more amazing is that in the team's 32 years of existence, Tampa Bay has yet to finish higher than 10th in total offense. Assuming he doesn't chase any other head coaching jobs in the near future, Jagodzinski should be able to end both of those stretches, although with the youth movement going on in Tampa, changing those streaks around in 2009 is probably asking too much.
While the Bucs used their first-round pick on the player they hope is their QB for the foreseeable future, Jagodzinski has to hope that he can afford to keep Josh Freeman on the sideline - for a short while anyway - with their offseason signing of QB Byron Leftwich. While Freeman, Leftwich or fellow QB competitor Luke McCown do not profile anywhere close to kind of QBs Favre or Ryan do, the new OC has to like the athleticism he will have a chance to mold in the Kansas State product.
But no matter who wins the QB competition this summer for the Bucs, he should have a higher caliber of weapon to throw to than any other QB in recent Tampa Bay history. Health has always been a concern for offseason trade acquisition TE Kellen Winslow, but if he is right physically, he will likely return to his 80-catch ways of 2006 and 2007. WR Antonio Bryant also returns - this time with a franchise tag - after last season's improbable 83-catch, 1,248-yard campaign. Assuming at age 28 he is no longer dogged by youthful indiscretions, he should capably man one side of the formation. Free agent signee Derrick Ward is also a very able pass catcher out of the backfield, but questions emerge after that. Will current starter Michael Clayton ever return to his rookie form or will he just remain an above average run blocker? Does Maurice Stovall ever fulfill his potential? Or does 2009 seventh-round pick (and OTA sensation) Sammie Stroughter go from April afterthought to the club's third-best option in the passing game?
Part of the Bucs' aforementioned youth movement included the dismissal of the popular Warrick Dunn and adding a RB in Ward who is six years younger and 40 pounds heavier but plays much the same type of game. It is a bit ironic though that Ward left a crowded backfield for his chance to be the workhorse only to possibly have to fight for playing time again with two other backs - Earnest Graham and Cadillac Williams - although Ward's contract likely signals he will be the lead dog (HC Raheem Morris' term, not mine) in this backfield.
Verdict: No matter which way the QB battle ends up, I don't foresee Freeman, Leftwich or McCown making their way onto fantasy rosters as more than possible bye-week options. Ward should carry the most value among Tampa Bay runners and should have a pretty fair o-line to run behind, although they will be adapting to the zone-blocking scheme Jagodzinski will be installing. Ward should be starter-worthy in fantasy leagues, especially PPR, as a low-end No. 2 RB, assuming he gets the lion's share of the carries. Graham could be worth a roster spot as well as a reserve if in fact he shows himself as the most capable short-yardage (and thus, goal-line back) runner on the team. Winslow is the most likely player from the passing game to hold his current value as a talented TE is always a good fallback option for a QB learning a new offense. As things stand now, I expect Bryant to take the biggest hit although he shouldn't fall below the 60-catch, 900-yard mark, making him still very usable as a WR3 in three-WR, 12-team leagues.