Conference Championships
1/22/10
---
Whether you are still basking in the success you enjoyed in cruising to your fantasy league's title, still smarting over your teams' inability to close the deal in your fantasy postseason or just aren't ready to hang up your owner's hat quite yet, playoff fantasy football may be just the thing you need to end this season right.

I'll be the first to admit that playoff fantasy football doesn't appeal to me quite as much as the usual 16-week animal, but that doesn't mean I don't still enjoy it. And coming off my most profitable fantasy season yet, I'm looking to make a great season even better. For better or for worse, I want to share my experience with you (no matter which category mentioned in the first paragraph you may fall under) in hopes that some of you can end this season on a definite high note.

For the first time in my "fantasy career", I'll be taking part in multiple playoff leagues this year. I will compete in one free league with CBS Sportsline and two money leagues with Fuzzy's Fantasy Football. My goal over the next four weeks will be to help each of you through your decision-making process as you attempt to boost your bottom line.


Sportsline

Scoring

Offensive Statistics
All TDs = 6 points
Passing Yards - 1 point for every 25 yards
Rushing/Receiving Yards - 1 point for every 10 yards
Two-point conversion = 2 points
Interception - 2 points
Fumble Lost - 2 points
Field Goals 0-49 yards = 3 points; 50+ yards = 5 points
Extra Point = 1 point

Defensive/Special Teams Statistics
Touchdown = 6 points;
Safety = 2 points
Interception = 2 point
Fumble Recovery = 2 points
Sack = 1 point

Points Allowed
0-6 = 8 points
7-13 = 6 points
14-20 = 4 points
21-27 = 2 points
28+ = 0 points

Yards Allowed
0-49 = 12 points
50-99 = 10 points
100-149 = 8 points
150-199 = 6 points
200-249 = 4 points
250-299 = 2 points
300+ = 0 points

The Rules

Choose a starting lineup of eight NFL players. You will have 300 units (or salary cap dollars) to "spend" assembling your team. You will be able to change your lineup, without penalty, until the lineup setting deadline for the Wild Card Playoff Round. Once your lineup locks for the Wild Card Playoff Round, you will have eight lineup moves to make for the remainder of the postseason. You may use as many of the moves allotted in any round as you would like, however, you will not be able to exceed the eight moves allotted for the remainder of the postseason. In case there was any doubt, the number listed by each player is their "cap number".

What this means for you: Pick as many winners (team, not individual) as you can for your lineup this week. For the most part, it's not good strategy to use any more than three players from any one team simply because an upset or two can severely hamper your ability to make roster moves later. Of course, you are also trying to score the most points each week, so there is a delicate balance between the present and the future. Generally speaking, if you can get at least four players on your Wild Card week roster that you would be willing to keep on your roster all the way through to the Super Bowl, you'll probably be in good shape. Ideally, I'll need about three roster moves next week, two for the AFC and NFC Championship Games and the last three for the Super Bowl. But at least for this week, the goal is to get the highest-scoring lineup out there that the cap will allow and contemplate the future when this week's games are decided.

Position Requirements: 1 QB, 2 RB, 2 WR, 1 TE, 1 K, 1 Defense/Special Teams

Wild Card Weekend Results - 136 points
Divisional Round – 42 points

Before I start, a few words about the playoffs up to this point: Unpredictability is good for the NFL, good for the fans and especially good for TV ratings, but, unfortunately, the 2009 playoffs have produced one game for the ages and seven contests that have boggled the mind. This last weekend was especially perplexing. Let's take a quick look:

1) ARI-NO: It's become almost commonplace for teams and/or to say they need to "start fast" if they hope to win on the road in a hostile environment. For Arizona, it couldn't have started much better than a 70-yard run on the first offensive play of the game. From that point on, the Cardinals ran 14 more times for 31 yards...huh? Larry Fitzgerald had a mere four first-half targets, with half of those coming during the final two minutes of the half. Certainly, Jerheme Urban's first-quarter fumble contributed heavily to Arizona's early 14-7 deficit, but instead of the Cards building off their initial quick start, they pretty much showed none of the mental fortitude it took the week before to defeat Green Bay. If the coverages were confusing Kurt Warner - as the commentators suggested - why did Arizona not stick with the run a bit longer? It's not hard to understand why the Cards' pass defense got burned vs. Green Bay and New Orleans (injuries in the secondary), but it was hard to watch an Arizona offense - that had its way the week before against an above-average defense - show very little toughness six days later against a defense that is, at best, a ball-hawking unit that is merely average at stopping the run and pass.

2) BAL-IND: This was the one game that went about the way I expected it, although the point differential was a bit surprising. Teams that have struggled on defense for years would be wise to watch the Colts play. I know I have a high opinion of the eye for talent Indy GM Bill Polian has, but at some point, other teams have to wonder how the Colts are able to field a competent defense just about every year with four total starters selected in the first four rounds of the NFL draft. (Let it be known that you read it here first: the Colts do a great job of playing fundamental defense, staying on their feet and maintaining their fits vs. the run.) Certainly, Indianapolis will be known as an offensive team for as long as Peyton Manning is playing, but the truth of the matter is that his offense rarely needs to score more than 20 points to win a game.

3) DAL-MIN: Despite each team's propensity to explode on offense, I wasn't overly surprised that Minnesota's defensive line was able to get pressure on Tony Romo. The real shocker was the Dallas offensive line playing so poorly against a front four that didn't run too many stunts (or games, as some in the NFL call them) one week after facing an Eagles defense that was unable to get consistent pressure on Romo despite blitzing him with more regularity. As much as people will write this game up to the incredible homefield advantage Minnesota enjoys, the Cowboys simply got whipped up front - including three times by Ray Edwards. Jared Allen's one sack came when he was left one-on-one with TE Jason Witten while Chad Greenway and Jimmy Kennedy (three combined sacks between them in 2009) accounted for the other two sacks. Additionally, while Sidney Rice stayed healthy for the first time in his career in 2009 and displayed his incredible talent this year, it's tough to excuse any quality defense for allowing a 141-yard, three-TD performance to any single player. I'll give Brett Favre and Rice credit on the first TD pass - which could not have been a more perfect pass just over the shoulder of S Gerald Sensabaugh on a failed disguise of a Cover 2 - but how often are linebackers going to jump at a Favre pump fake when they have him in the open field? And after two scores and 16 games worth of game tape at your disposal, how does Rice draw single coverage once again for his third and final TD against Mike Jenkins?

4) NYJ-SD: This one was simple for me. While this game will probably be remembered as another postseason game in which Nate Kaeding couldn't deliver, the Chargers lost almost from the start as they rarely took the same deep shots that had served them so well during their 11-game winning streak. On several of the blitzes in which we were allowed a replay to see the coverage down the field, there were a handful of times where as many as three receivers were in single coverage. Now assuming that Darrelle Revis was guarding Vincent Jackson on those plays (tough to say as Revis was assigned to Malcom Floyd and Antonio Gates at various points of the contest), getting one-on-one coverage vs. Floyd down the field or Gates anywhere on the field is a plus-plus matchup for San Diego. Combine the lack of taking deep shots with the decision to onside kick after the Chargers narrowed the Jets' lead to 17-14 was what ended the Chargers' season. San Diego did well to hold on to one time-out in that situation, which made the decision to onside even more confusing. Kicking away vs. the "hands team" would have resulted in poor field position for the Jets and would have forced New York to kick on fourth down rather than going for it on the Chargers' side of the field. (In all honesty, I would have asked my kicker to pop it up - say to about the 25 or 35-yard line - in order to get the best of both worlds - a loose ball and modest field position.)

With all that said, the Saints and Colts would have likely won regardless as Arizona's injured defense and Baltimore's lackluster offense were going to cost each team at some point. But Dallas' sorry exhibition on Sunday was just another example that, a lot of times, a QB and offense is only as good as the offensive line blocking for them. In the case of the Chargers, it's hard to understand how a team with a squad of basketball-sized receivers who made a living on the deep ball in 2009 didn't bother to stretch the field - horizontally or vertically - with their play-calling in the team's most important game of the season.

Anyway, I had a pretty good idea my fantasy weekend was going to end poorly when Kurt Warner couldn't manage a TD against a middle-of-the-road defense, less than a week after scorching an above-average defense. What I could not have foreseen was losing seven of my eight players one week after losing just one, which will ultimately result in my fielding two empty spots on my roster this week and perhaps several more next week. However, I am fully to blame for this as I made unnecessary roster moves last week and didn't play the odds of the top seeds advancing. In this business, it is fun when you are right and dreadful when you are wrong, but I am required to approach both sides with the same amount of humility, so here goes nothing…


Quarterbacks
Drew Brees, vs ARI 86
Peyton Manning, vs BAL 82
Brett Favre, vs DAL 74
Mark Sanchez, @BAL 36

First Cuts: Manning, Sanchez
The Final Choices: Brees, Favre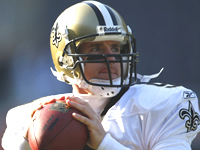 Drew Brees > Moore & Cutler.
The Call: Brees. Take a look at the point totals the Vikings' defense has allowed away from home over their last five road games: 27, 26, 30, 26 and 36. The competition? Pittsburgh, Green Bay, Arizona, Carolina and Chicago. While the first three are excusable due to the quality of offensive talent each of those teams have, the Vikings gave themselves next to no chance against the Panthers and Bears. Whether or not Minnesota benefits THAT much from the home crowd is a matter of some debate, but going 2-3 and surrendering nearly 30 points/game in the five aforementioned road games has me believing that another poor defensive performance may be on the horizon. Thus, I want the QB playing at home facing the secondary that allowed seven passing scores to the likes of Matt Moore and Jay Cutler the last time they left the state of Minnesota. I believe Favre is a bit riskier than Brees, if only because Adrian Peterson should see enough carries to expose the Saints' average run defense (more on that later). Manning and Sanchez are both weak picks this week in what should be a low-scoring game, meaning that either player may only give you one great fantasy performance instead of the two very solid games that Brees or Favre should give you.

Running Backs
Adrian Peterson, vs DAL 63
Thomas Jones, @SD 50
Joseph Addai, vs BAL 47
Pierre Thomas, vs ARI 37
Reggie Bush, vs ARI 27
Chester Taylor, vs DAL 19
Donald Brown, vs BAL 15
Shonn Greene, @SD 13
First Cuts: Jones, Thomas, Taylor, Brown
The Final Choices: (RB1) Addai (RB2) Greene, Peterson, Bush

The RB2 Call: Greene. I've been burned twice with the reports (or lack thereof) on Thomas Jones' knee, which is supposedly the reason why Greene was given a chance to shine now as opposed to, say, Week 14. To be fair, though, I thought Felix Jones - who was in this slot last week – and his team had a better chance to advance than Greene did. Regardless, Greene has shown what he can do with the feature-back role and, at this point, I'd be silly not to use him when he's a better bet to produce than Peterson (I didn't just say that, did I?). I can't say I blame HC Rex Ryan for going with the young buck at this point, but I always feel a bit betrayed as a fantasy owner when a player "realizes" his potential in the playoffs when I "realized" his potential even before the season began, but I digress. The fact of the matter is that in either 2010 or 2011, we will likely be talking about Greene in much the same way we talked about Michael Turner in 2008.
The RB1 Call: Addai. Unfortunately, my one holdover must stay on my roster by default as he was the only player to survive the divisional round carnage that struck my team. I knew the Colts were a poor running team, but when the worst rushing team in the league feels the need to go three-deep at RB, I'd be foolish to say that I wouldn't change this pick if I could. I'd really love to play Peterson instead - despite another sorry performance by his standards - against an average Saints run defense who will likely give up yet another big run early in the game. It is my opinion that in the NFL, most teams don't perform optimally unless they know they need to. Case in point: up until this season, the Vikings knew if they wanted to win, they would need to block well for Peterson. Since the 49ers game in Week 4 really marked Minnesota's transition from a running team to a passing team, the urgency to hold up in running game has gone way down while the pass protection has increased greatly. What this means for you this week is that while the 2008 version of AP would have gone off for 150 and two TDs this Sunday, his owners should be thrilled to get 100 total yards and one score this week from the 2009 edition. All that aside, let's remember that Peterson's "down year" is one in which he rushed for nearly 1,400 yards and leading the lead with 18 rushing TDs, so bear in mind that he isn't really struggling.

Wide Receivers
Reggie Wayne, vs BAL 43
Marques Colston, vs ARI 37
Sidney Rice, vs DAL 37
Robert Meachem, vs ARI 32
Percy Harvin, vs DAL 29
Austin Collie, vs BAL 26
Pierre Garcon, vs BAL 24
Jerricho Cotchery, @SD 23
Braylon Edwards, @SD 21
Devery Henderson, vs ARI 22
Bernard Berrian, vs DAL 19
First Cuts: Meachem, Harvin, Garcon, Cotchery, Edwards, Henderson, Berrian
The Final Choices: Wayne, Colston, Rice, Collie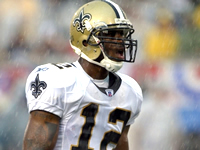 Marques Colston: Two games are better than one.
The WR2 Call: Colston. At this point, I want players who I believe are going to give me two more games instead of one. For the most part, I don't think the Vikings will take their show on the road and prevail in New Orleans, meaning I stand to fare better with a Saints' WR. Despite some disturbing inconsistencies late in the season, Colston is still the main target for Brees in the passing game. And frankly, if New Orleans can execute the same kind of game plan that enabled it to make Larry Fitzgerald a non-factor for most of last week's game, I don't see why Rice is going to explode. Getting back to Colston, I can't imagine the Saints' offensive line having the same issues (crowd noise, assignment errors) the Cowboys' OL did last week in Minnesota, so New Orleans' wideouts should have the necessary time to run their patterns or free themselves down the sidelines against the questionable DBs of the Vikings. I'm anticipating something along the lines of six catches for 80 yards, with 1-2 scores a definite possibility.
The WR1 Call: Wayne. I normally would not recommend a WR about to face Darrelle Revis for the next four quarters, but I'm angling for a Saints-Colts Super Bowl in which Wayne can make up for the production he doesn't give me this weekend (or at least that is the plan). In all honesty, if I thought any of the other available WRs could give me two decent games as opposed to one great one, I'd be inclined to use them instead of Wayne. Rice could be a strong one-week play, but I don't see how Minnesota changes its road stripes now after losing critical games away from home down the stretch against inferior opponents. Collie is the most likely player (other than Dallas Clark) to benefit from the Revis-Wayne showdown, so he could be a definite wild-card in CBS leagues. However, I just can't stomach the idea of plugging a rookie WR in my two-receiver lineup when I can't feel any degree of certainty as to whether he or Garcon will be the Colts' best WR this weekend.

Tight Ends
Dallas Clark, vs BAL 40
Visanthe Shiancoe, vs DAL 25
Jeremy Shockey, vs ARI 18
Dustin Keller, @SD 15
David Thomas, vs ARI 10
First Cuts: Shockey, Keller, Thomas
The Final Choices: Clark, Shiancoe

The Call: Clark. If I had to worry about the cap this week, Shiancoe may get my vote. But since I will be playing two empty spots the rest of the way, that's not going to be a problem. Unlike San Diego with Antonio Gates, Peyton Manning and the Colts aren't going to go a full-quarter-plus without throwing the ball to Clark. If it wasn't for the third quarter in which the Chargers completely forgot about their TE, Gates could have easily registered a 12-14 catch game for 150 or so yards. Don't expect a repeat of that "silent period" from Manning and Clark. Indianapolis won't be moving the ball up and down the field all that often, but it would be a shocker if Clark didn't post a pretty healthy stat line this week because the Jets simply don't have a good size or speed matchup for him. And because so many of the Colts' routes are less than 10 yards and Manning unloads the ball so quickly, New York's blitzes aren't likely to affect this offense near as much as they seem to destroy other teams. While many in the media will say the key to this game is how well and how efficient the Jets' offense plays keep-away from the Colts' offense and manages the clock, it is really all about Indy's ability to be efficient with its own ball-control passing game. Because the Colts are the league's worst rushing team, they have spent most of the season using Clark and Collie (and even Wayne sometimes) as an extension of the running game in order to possess the ball and keep the defense fresh. The running game's woes was a big reason why Clark joined Wayne in the 100-catch club this season and one has to expect that to continue until Indy starts running the ball better (which isn't likely to happen this season).

Kickers
Ryan Longwell, vs DAL 29
Jay Feely, @SD 26
Matt Stover, vs BAL 14
Garrett Hartley, vs ARI 8
First Cuts: Stover
The Final Choices: Feely, Stover, Hartley

The Call: Hartley (empty spot). I made the choice to go empty at K and DST as I am out of roster moves, but I would opt for the cheapest kicker if I had a move to make at this position. It just so happens he plays for the best offense in the league. But if the cap wasn't an issue and I was simply targeting the kicker most likely to put up a big game this week, I'd be tempted to go with Feely. While the Colts-Jets game should be low-scoring and no team should be too far ahead of the other, New York is going to bog down between the 10 and the 30 more often than not. And in case you haven't noticed, the 2009 Jets aren't the boldest or most imaginative offensive team. If New York is going to win or even remain competitive, Feely is going to need to hit on at least two field goals, if not more.

Defenses
Saints D/ST vs MIN 40
Jets D/ST NYJ @SD 26
Vikings D/ST MIN vs DAL 26
Colts D/ST IND vs BAL 24
First Cuts: Saints, Vikings
The Final Choices: Colts, Jets

The Call: Colts (empty spot). The New Orleans-Minnesota game may not approach the Cardinals-Packers game in terms of scoring, but it's a near certainty that it will eclipse Indianapolis-New York in terms of points scored. This leaves us with either the Colts or the Jets defense and I rarely ever put my fantasy defense up against Indy willingly. Manning just doesn't make many mistakes and his offense usually scores at least 20 points, meaning I would be counting on the Jets to either force a lot of fumbles or score on a return. Both are bad bets and I just can't fathom New York posting a lot of fantasy points on defense in this game or against the winner of Saints-Vikings. Thus, I feel the Colts are the best bet to post one respectable fantasy point total on defense of the four teams remaining.

Fuzzy's Playoff Leagues
(Two leagues)
Wild Card Weekend Results - 174 points (both leagues)
Divisional Round - 130 points ($25 team), 94 points ($50 team)

Fuzzy's playoff format is much more streamlined than Sportsline's. Fuzzy's uses traditional PPR scoring (all TDs worth six points) with no salary cap, no limit on roster moves between rounds and no yards allowed bonuses for the defenses. In short, your goal is to pick the highest-scoring lineup each week with no strings attached. The main difference outside of the ones I've already mentioned is that Fuzzy's leagues contain no more than 50 teams whereas Sportsline employs a one-man-against-the-world approach. As a result, 20% of the entrants into Fuzzy's playoff leagues will - at the very least - recoup their entry fee, with first through ninth place receiving a nice bonus for their troubles.
Position Requirements: 1 QB, 2 RB, 3 WR, 1 TE, 1 K, 1 Defense/Special Teams
(Because the players/matchups are same as they are above, I'll skip the step of mentioning each player again and get right to my choices.)
QB: Brees. As I've already stated a few times, I can't imagine the Colts-Jets game accounting for anything more than a 20-13 score, so my choice comes down to Brees and Favre. Favre's QB rating was 20 points lower on the road this season than it was at home, but that is far from the only reason I'm choosing Brees. Minnesota has scored 17 points or less in three of its last five road games. And this week, it will be Favre - not Brees - who will play the role of Tony Romo in terms of feeling the impact of his line being unable to hear his cadence or the line calls, which should serve the Saints' defense well when DC Gregg Williams sends one of his trademark blitzes. And believe me, if Williams was able to show Kurt Warner some unusual looks, he'll probably be able to confuse Favre on occasion as well. I will probably use Favre as my tiebreaker option this week simply because yards and points should be aplenty, but expect New Orleans to succeed this week where Dallas was unable to succeed last week - namely attacking the Vikings' average secondary. Unlike most QBs (like Romo), Brees does not wait for his receivers to separate, he "throws them open", as he is fond of saying. That trait should come in handy this week.
RB: Peterson and Greene/Bush. In my opinion, there are only three RBs worth consideration this week - and they aren't the same ones I would have predicted from these four teams last week. The idea of using a 10-touch RB like Bush almost sickens me, but he warrants consideration after the way he ran last week. As for Greene, I'm still a bit leery of him as Rex Ryan keeps referring to him as the "hot hand", a completely idiotic concept that is greatly overused in the NFL (I believe I covered my disdain for this during the regular season in detail). And then, there's Peterson, which isn't as much as a no-brainer pick as he used to be. However, a talented 20-plus carry back vs. an average run defense makes him a must play. Typically, Addai would be another easy pick, but Indy gets absolutely no push in the run game and I'm not exactly feeling all that optimistic about his ability to score or put up five catches for 40 yards vs. the Jets. I would have liked to use Pierre Thomas again, but he's a 50-50 bet at best to stay healthy long enough to contribute anymore.
WR: Colston, Rice and Collie/Harvin. Much like last week, I feel pretty good about two of my three choices. As for my WR3, I'm having a very difficult playing my gut feeling over an established fantasy player, but in this case, I believe I am justified. Obviously, Reggie Wayne is a WR1 almost every day of the week, that is, until he draws Darrelle Revis in coverage. Since the Jets' wideouts do not inspire confidence in me with their 40-rushes-per-game offensive approach, I'm forced to go elsewhere. Therefore, my $25 team will employ Collie as its WR3. We already know about Revis, and Lito Sheppard - even if he isn't playing his best football this season - should be good enough to hang with Garcon for most of the game. However, the Jets lack a quality third CB capable of consistently staying with Collie. While he's never a great bet for a score, I could easily see a 7-8 catch game for nearly 80 or so yards for the rookie.
In my mind – for this week anyway – Harvin is a bit more of a wild-card than Collie, and that was before the news that he missed practice on Thursday due to the return of his troublesome migraine headaches. Going forward, fantasy owners may have to treat the rookie like a poor man's version of Anquan Boldin – an immensely talented and physical WR who will have difficulty making it through a 16-game schedule, albeit for a much different reason. Back to this week's contest, I will assume he plays and, if he does, he may thrive where Steve Breaston and Early Doucet could not last week. While Rice will produce somewhat, he isn't going to come close to his monster game last week, allowing Harvin, Visanthe Shiancoe and Chester Taylor to all join in the fun. I just have a feeling Harvin will find the end zone this week, so if he can combine that with 20 rushing yards and four catches for 60 more yards, I'll be feeling pretty good about myself.
In the event Harvin cannot play, I'll likely turn my attention to Devery Henderson. Robert Meachem and Jeremy Shockey don't appear to be in great shape to start and/or finish Sunday's game, leaving the trio of David Thomas, Lance Moore and Henderson to pick up Colston's scraps. Opponents have enjoyed a great deal of success with the deep ball vs. Minnesota this year and Colston isn't always going to be the target on those throws. Furthermore, the CB trio of Cedric Griffin, Bennie Sapp and a less-than-100% Antoine Winfield isn't likely to keep the New Orleans' WRs in check very long. However, if there is any fantasy owner that shudders at the thought of using Henderson in an important fantasy game more than I do, I'd like to meet that person. In short, I'm hoping Harvin is active.
TE: Clark. Even though Keller has scored in each of the Jets' first two playoff games, he's a poor bet to outproduce Clark. The same goes for Shiancoe, who is rarely good for a high-catch, high-yardage day - even on the days he does catch a TD pass from Favre. I believe I have already made the case for Clark above and he's pretty much a lock for a double-digit fantasy point performance in PPR leagues.
K: Feely/Hartley. I covered this already in the Sportsline portion, but I expect a high percentage of the few scoring opportunities the Jets will get will stall just inside or just outside the red zone, meaning Feely should have a shot at 2-3 FG opportunities. As for Hartley, I'm projecting a healthy point total for the Saints, so hopefully he will get a long FG attempt or two to go along with 4-5 extra points.
D/ST: Colts. With Fuzzy's scoring system (as is the case in most non-Sportsline leagues), the majority of consistent fantasy points for defense/special teams units come from points allowed, sacks and turnovers. Sure, maybe the Saints get another return score from Bush or the Vikings get lucky with Harvin, but I'm not going to count on it. Despite their offensive success and low turnover total so far in the postseason, the best bet for a low point total and a few turnovers is still the Jets' offense. I'll even go so far as to say that I predict Robert Mathis to have a huge game in the sack department should the Colts jump out by 14 points at some point in the second half, as he is not a good matchup for Jets RT Damien Woody.

e-mail me with any questions/comments.