Wildcard Weekend
1/8/10
---
Whether you are still basking in the success you enjoyed in cruising to your fantasy league's title, still smarting over your teams' inability to close the deal in your fantasy postseason or just aren't ready to hang up your owner's hat quite yet, playoff fantasy football may be just the thing you need to end this season right.
I'll be the first to admit that playoff fantasy football doesn't appeal to me quite as much as the usual 16-week animal, but that doesn't mean I don't still enjoy it. And coming off my most profitable fantasy season yet, I'm looking to make a great season even better. For better or for worse, I want to share my experience with you (no matter which category mentioned in the first paragraph you may fall under) in hopes that some of you can end this season on a definite high note.
For the first time in my "fantasy career", I'll be taking part in multiple playoff leagues this year. I will compete in one free league with CBS Sportsline and two money leagues with Fuzzy's Fantasy Football. My goal over the next four weeks will be to help each of you through your decision-making process as you attempt to boost your bottom line.
Sportsline

Scoring

Offensive Statistics
All TDs = 6 points
Passing Yards - 1 point for every 25 yards
Rushing/Receiving Yards - 1 point for every 10 yards
Two-point conversion = 2 points
Interception - 2 points
Fumble Lost - 2 points
Field Goals 0-49 yards = 3 points; 50+ yards = 5 points
Extra Point = 1 point
Defensive/Special Teams Statistics
Touchdown = 6 points;
Safety = 2 points
Interception = 2 point
Fumble Recovery = 2 points
Sack = 1 point
Points Allowed
0-6 = 8 points
7-13 = 6 points
14-20 = 4 points
21-27 = 2 points
28+ = 0 points

Yards Allowed
0-49 = 12 points
50-99 = 10 points
100-149 = 8 points
150-199 = 6 points
200-249 = 4 points
250-299 = 2 points
300+ = 0 points
The Rules
Choose a starting lineup of eight NFL players. You will have 300 units (or salary cap dollars) to "spend" assembling your team. You will be able to change your lineup, without penalty, until the lineup setting deadline for the Wild Card Playoff Round. Once your lineup locks for the Wild Card Playoff Round, you will have eight lineup moves to make for the remainder of the postseason. You may use as many of the moves allotted in any round as you would like, however, you will not be able to exceed the eight moves allotted for the remainder of the postseason. In case there was any doubt, the number listed by each player is their "cap number".
What this means for you: Pick as many winners (team, not individual) as you can for your lineup this week. For the most part, it's not good strategy to use any more than three players from any one team simply because an upset or two can severely hamper your ability to make roster moves later. Of course, you are also trying to score the most points each week, so there is a delicate balance between the present and the future. Generally speaking, if you can get at least four players on your Wild Card week roster that you would be willing to keep on your roster all the way through to the Super Bowl, you'll probably be in good shape. Ideally, I'll need about three roster moves next week, two for the AFC and NFC Championship Games and the last three for the Super Bowl. But at least for this week, the goal is to get the highest-scoring lineup out there that the cap will allow and contemplate the future when this week's games are decided.
Position Requirements: 1 QB, 2 RB, 2 WR, 1 TE, 1 K, 1 Defense/Special Teams
Quarterbacks
Aaron Rodgers, @ARI 90
Tom Brady, vs BAL 76
Tony Romo, vs PHI 72
Donovan McNabb, @DAL 64
Kurt Warner, QB GB 63
Carson Palmer, vs NYJ 60
Joe Flacco, @NE 58
Mark Sanchez, @CIN 36
First cuts: Rodgers, Brady, McNabb, Palmer, Flacco, Sanchez
The final choices: Romo, Warner

The call: Warner. In this salary cap format, budgeting at certain positions is the name of the game. Right now, it wouldn't shock me if Aaron Rodgers is the unanimous QB1 in fantasy drafts in 2010. At the very least, he's done enough to join the elite at his position (Peyton Manning, Brady, Drew Brees). He is a scoring threat on the ground and through the air, he does a great job of limiting turnovers and he doesn't miss games, but his price tag is roughly 30% of my budget - a pretty sizeable chunk of change and too much for an owner who wants big scoring potential at more than 2-3 positions. Brady may have been a consideration, but the loss of Wes Welker pretty well scares me away. McNabb has one total TD in two games vs. the Cowboys this season and has been far from a yardage machine in those two meetings. You can forget the bottom three players on this list: the Bengals don't seem all that interested in using Palmer unless they need a fourth-quarter comeback, Flacco has thrown for less than 200 yards in six of his last 10 games and Sanchez may not even attempt 20 throws this weekend. So, in a fairly close call, I'll opt for Warner over Romo as I believe the Cardinals will have a harder time running the ball consistently vs. Green Bay than they have in recent weeks. I think Romo's ceiling this weekend is about 250 yards and two scores - totals which should be fairly easy to reach for Warner, with or without a hobbled Anquan Boldin. In this year's wide-open Super Bowl chase, I may be tempted to stick with Warner for as long as the Cardinals remain in the playoffs (to save on roster moves) because he's a great bet to be productive and he's going to be cheaper than Romo or any of the QBs on a bye this week.
Running Backs
Ray Rice, @NE 56
Thomas Jones, @CIN 50
Cedric Benson, vs NYJ 48
Ryan Grant, @ARI 47
Marion Barber, vs PHI 34
Beanie Wells, vs GB 33
Laurence Maroney, vs BAL 31
Tim Hightower, vs GB 28
LeSean McCoy, @DAL 28
Willis McGahee, @NE 26
Kevin Faulk, vs BAL 19
Felix Jones, vs PHI 19
Leonard Weaver, @DAL 17
Tashard Choice, vs PHI 16
Larry Johnson, NYJ 14
Sammy Morris, vs BAL 14
Brian Westbrook, @DAL 13
Shonn Greene, @CIN 13
First cuts: Benson, Maroney, Hightower, McCoy, McGahee, Bell, Faulk, Weaver, Choice, Brown, Johnson, Morris, Westbrook, Greene
The final choices: (RB1) Rice, Thomas Jones, Grant (RB2) Barber, Wells, Felix Jones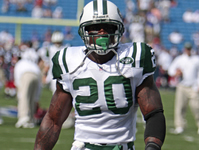 Jones: A lock for 20+ carries.
The RB2 call: Beanie Wells. Typically, during a normal 16-week fantasy season, I play the matchups and count on yards from my players and hope for TDs. In playoff leagues, we are often not lucky enough to have an every-down RB face a bottom-10 run defense. Therefore, it is fairly good strategy in playoff leagues to aim for backs that are good bets to score and hope for the best with yardage totals. Also, with the 300-unit salary cap, there's a fairly good chance that an owner in this kind of league setup will have to enter this week with at least one halfway risky option. In a non-PPR scoring system like this league is, I'll take that risk with a RB like Wells who plays in a top-notch offense which has allowed him to steal more and more carries lately while also getting a few cracks at the end zone from time to time. While Felix Jones has been getting more work leading up to the playoffs, his scoring opportunities come only when he breaks long runs, something I don't like to bet on happening all that often.
The RB1 call: Thomas Jones. As much as I like Rice, he has scored only once since Week 10 (vs. Detroit) and I don't benefit nearly as much in this league from his work in the passing game as I would in a PPR setup. So my choice comes down to two fairly similar fantasy RBs: Jones and Grant. Jones hasn't seen fewer than 19 touches since Leon Washington's injury while Grant's usage can be very inconsistent, often depending on the quality of the opponent's run defense.
Wide Receivers
Randy Moss, vs BAL 47
Miles Austin, vs PHI 45
DeSean Jackson, @DAL 44
Larry Fitzgerald, vs GB 43
Chad Ochocinco, vs NYJ 37
Derrick Mason, @NE 34
Greg Jennings, @ARI 33
Donald Driver, @ARI 32
Anquan Boldin, vs GB 30
Roy Williams, vs PHI 24
Jerricho Cotchery, @CIN 23
Jeremy Maclin, @DAL 23
Braylon Edwards, @CIN 21
Steve Breaston, vs GB 21
Laveranues Coles, vs NYJ 19
Jason Avant, @ DAL 18
Patrick Crayton, vs PHI 18
James Jones, @ARI 17
Andre Caldwell, vs NYJ 14
Mark Clayton, @NE 14
First cuts: Jackson, Ochocinco, Mason, Jennings, Driver, Boldin, Jones, Caldwell, Clayton, Williams, Cotchery, Maclin, Edwards, Coles, Avant, Crayton
The final choices: Moss, Austin, Fitzgerald, Breaston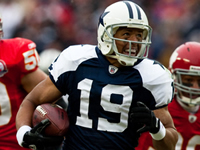 Austin: He catches the ball.
The WR2 call: Austin. What kind of year is it when a WR has five catches for 81 yards and a score through a quarter of the season in a reserve role only to use the next 12 games to end up with a salary cap number higher than Fitzgerald? Part of that answer lies in his recent target numbers (which look much like a six-week line Fitzgerald would post): 11, 12, 8, 13, 10 and 8. Unlike the starting WR opposite him (Williams), when Romo throws the ball in Austin's direction, the ball usually stays in his hands. The breakout WR's worst game over that time (catch and yardage-wise) was a six-reception, 71-yard performance vs. SD in Week 14. While it's safe to never bet against Boldin playing through an injury, that should be the very reason why owners should not choose him or Breaston this week. Long story short, a fantasy bargain like Breaston isn't a bargain if you don't know if he's going to start, keep his usual WR3 role or something in between.
The WR1 call: Fitzgerald. I was leaning in this direction even before I knew of Arizona's playoff matchup and felt even better about it after learning that Boldin would be somewhat limited - if he even plays at all. There are very few receivers who answer the bell as routinely as Fitzgerald and he's one of the few receivers in the league who has shown he can handle the extra defensive attention that often comes with Boldin's absence. The talk of the Ravens double-teaming Moss this week will get a lot of talk this week with the Pats minus Wes Welker, but that was going to happen anyway. I like Moss to be productive this week, but I expect New England to run a few more times and use Ben Watson, Julian Edelman and Ben Watson to help fill the sizeable void left by Welker's season-ending injury.
Tight Ends
Brent Celek, @DAL 32
Jason Witten, vs PHI 24
Todd Heap, @NE 22
Jermichael Finley, @ARI 20
Ben Watson, vs BAL 16
Dustin Keller, @CIN 15
First cuts: Heap, Watson, Keller
The final choices: Celek, Witten, Finley

The call: Finley. The cat is pretty much out of the bag on Aaron Rodgers' favorite red zone target. While he has been an absolute stud in PPR formats since his return from a knee injury in Week 11, he also been pretty solid in non-PPR leagues as well. From Weeks 13-16, Finley has finished each game with 70-80 yards receiving and, in Week 17, he chipped in one of his four TDs over the last five weeks in the Packers' blowout win vs. Arizona. It's funny, because opponents have to know by now that Rodgers will be looking for Finley to out-jump his defender in the end zone - they just can't do anything about it. He's much too big for any CB or S to defend and defenses are leery of putting a LB out wide, especially in the red zone. While Celek could easily match Finley's overall numbers this week, he's too pricey for my tastes and Witten just isn't scoring TDs with any regularity this year, mostly because of Miles Austin.
Kickers
David Akers, @DAL 34
Mason Crosby, @ARI 30
Stephen Gostkowski, vs BAL 28
Jay Feely, @CIN 26
Shayne Graham, vs NYJ 24
Neil Rackers, vs GB 20
Shaun Suisham, vs PHI 19

First cuts: Crosby, Gostkowski, Graham, Rackers, Cundiff
The final choices: Akers, Feely, Suisham

The call: Suisham. Akers always seems like a good pick as a fantasy kicker, but much like the rest of the Eagles' offense, his numbers haven't exactly been stellar vs. the Cowboys this year and I can't justify such a high price for a kicker anyway. I feel better about Feely than Suisham, but my budget doesn't allow for that luxury. Plus, I can't say with any degree of certainty that the Bengals-Jets game will be anything more than a 17-14 game anyway. Thus, I'll roll the dice on Suisham, who will benefit from kicking inside the Cowboys' fancy stadium and (most importantly) comes cheaper than the other viable options this week.
Defenses
Eagles @DAL 37
Packers @ARI 31
Cardinals vs GB 28
Ravens @NE 27
Jets @CIN 26
Bengals vs NYJ 26
Cowboys vs PHI 23
Patriots vs BAL 23
First cuts: Eagles, Cardinals, Ravens, Patriots
The final choices: Packers, Jets, Bengals, Cowboys

The call: Cowboys. Much like kickers, it's often a good idea in salary cap fantasy football leagues to take the most affordable option that has a good chance at success in order to leave yourself with as much room under the cap as possible to splurge on the most likely point producers at QB, RB and WR. In this case, any owner of the Cowboys' defense gets to benefit from the fact (cap-wise) that Dallas didn't put together a full season of the dominant defense it has shown recently. Following up an impressive effort in New Orleans in Week 15, the Cowboys have posted consecutive shutouts. I'm not going to predict another bagel in this rematch vs. the Eagles, but Dallas is playing arguably the best defense of any team still in the chase for the Super Bowl. The fact the 'Boys are tied with the Patriots as the lowest-priced defense in this league is just a bonus. As for the runners-up, Arizona is just too scary for me to chase the expensive Packers' defense and both the Jets and Bengals defenses have some key injuries that scare me a bit. Plus, with both teams running the ball so much, the likelihood that I'll benefit from some turnovers is pretty low.
Fuzzy's Playoff Leagues
Fuzzy's playoff format is much more streamlined than Sportsline's. Fuzzy's uses traditional PPR scoring (all TDs worth six points) with no salary cap, no limit on roster moves between rounds and no yards allowed bonuses for the defenses. In short, your goal is to pick the highest-scoring lineup each week with no strings attached. The main difference outside of the ones I've already mentioned is that Fuzzy's leagues contain no more than 50 teams whereas Sportsline employs a one-man-against-the-world approach. As a result, 20% of the entrants into Fuzzy's playoff leagues will - at the very least - recoup their entry fee, with first through ninth place receiving a nice bonus for their troubles.
Position Requirements: 1 QB, 2 RB, 3 WR, 1 TE, 1 K, 1 Defense/Special Teams
(Because the players/matchups are same as they are above, I'll skip the step of mentioning each player again and get right to my choices.)
QB: Rodgers. For all the reasons I mentioned above - he is a scoring threat on the ground and through the air, he does a great job of limiting turnovers and he doesn't miss any snaps - I'm going to go with the QB who pretty much performs regardless of the matchup. While Rodgers was held to 15 fantasy points or less in two of the last three weeks, both games came against opponents who could not stop the run. So even though I recognize that Arizona's run defense has slipped lately, it hasn't fallen to the depths of Chicago's and Seattle's run defense. Packers HC Mike McCarthy runs a QB-friendly offense and, quite honestly, every player eligible to catch a pass from Rodgers is a viable receiving threat. Without a salary cap to worry about in this league, I'll opt for 2009's top fantasy QB and expect roughly 275 passing yards, 30 rushing yards and three total TDs.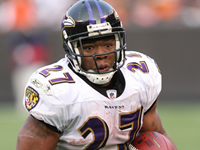 Rice: A no-brainer in a PPR format.
RBs: Rice and Thomas Jones. In this league (with no salary cap and PPR scoring), I'd be foolish not to pick Rice. In Baltimore's game vs. New England back in Week 4, Rice accounted for five catches and 152 total yards, numbers that I could see him approaching this weekend as Joe Flacco continues to fade from his early-season prominence. Jones, on the other hand, is a much tougher call. With only 10 catches on the season, the PPR scoring hurts his stock in this format. But this weekend, there just are not a lot of quality RB options, plus, it's hard to argue with the fact that Jones has seen at least 19 touches in every game since Leon Washington went down. Furthermore, Jones has posted only one single-digit fantasy point performance since Week 3. Ryan Grant has been just about as consistent, but he is not the center of the Packers' offense like Jones. Marion Barber has come on as of late, but he looks to be in a fairly equal committee with Felix Jones now. Cedric Benson should be rested, but doesn't score enough for my liking. Lastly, Beanie Wells doesn't inspire the same confidence in me that Doug does, especially when you consider the presence of Hightower and how quickly HC Ken Whisenhunt has pulled any one of his RBs after they have fumbled this season.
WRs: Fitzgerald, Austin and Moss. I'm going to let my explanations above do the talking for my first two selections, but the identity of my WR3 will take a bit more research. The decision ultimately comes down to Moss, Julian Edelman, Donald Driver and Steve Breaston. My first thought was Edelman, who many have likened as a Wes Welker clone. While that isn't exactly untrue, Tom Brady trusts Welker implicitly and that kind of trust doesn't happen overnight with a rookie WR who played QB in college. He's going to be a fine WR, but who do you think Brady will go to when it matters the most? Driver would be a wonderful, steady choice as well, but much like many other players, he just doesn't find the end zone enough for my liking. Breaston is a natural choice if Boldin is unable to go this week, but his second-half fade has weakened my faith in him, at least for the rest of this season. In the end, I obligated to go with Moss for a number of reasons: 1) he's always a threat for a huge game, 2) he's going to be Brady's favorite target the rest of the way and 3) Baltimore has been shredded by deep threats all season long, especially during the second half of the season.
TE: Finley. I am torn between my new favorite TE and another TE who I didn't rank near as high as my heart told me I should in the preseason, Brent Celek. Over the last three weeks, Celek and Finley are ranked 2-3 among TEs in scoring, respectively, while Finley has the advantage when the period of time is extended to five weeks. In the end, I'll lean toward the fact that Arizona is in the top 10 in regards to allowing the most points to opposing TEs and the fact that Finley is more of a matchup nightmare than Celek. This could go either way, but I'll put my chips on Finley this week.
K: Feely. After being Mr. Consistency prior to the Jets' bye week, Feely has been either way up or way down since then. Since Week 10 (according to Fuzzy's scoring), Feely has posted 11, 2, 6, 14, 17, 1, 8 and 13 fantasy points in succession. Of course, like most defensive teams that run the ball, the kicker is either going to suffer or benefit based on the offense's ability to punch it in when they enter the red zone. There's little chance the Jets put up another 37-point effort in Cincy this week, but it is a good bet they will stall on the Bengals' half of the field more often than they score touchdowns. Feely has a big leg, so unless the weather is horrible, he should be one of the better - if not the best - option this week at a highly unpredictable position.
D/ST: Cowboys. I explained my case for the Cowboys above, but the case for the Dallas defense gets stronger when you consider how much the Eagles will miss C Jamaal Jackson against Jay Ratliff, who has quickly become one of the best 3-4 NT in the league. Unlike most of his brethren, Ratliff disrupts offenses more with his quickness and pass rush than brute strength. When you consider that new C Nick Cole will probably need some help in blocking him, the chances that OLBs DeMarcus Ware and Anthony Spencer get some shots at McNabb are pretty high. I'm not expecting anything close to another shutout from Dallas' defense, but I'll be plenty happy with an effort somewhat close to the Cowboys' 20-16 win in Week 9 in which the Cowboys sacked McNabb three times and picked off two passes. Quite honestly, I envision a 17-10 type of game and with the way their defense is playing recently, I have a feeling the Cowboys will be the ones giving up the 10.

e-mail me with any questions/comments.