Early Observations - NFC




7/13/10



ARI | ATL | CAR | CHI | DAL | DET | GB | MIN | NO | NYG | PHI | STL | SF | SEA | TB | WAS | AFC

All of us know there is a lot of "fluff" that gets thrown around during the NFL offseason so beat writers will have something to write and editors will have something with which to fill space. With the proliferation of studio shows like Total Access and NFL Live running year-round, it gets harder to separate what we know from what we don't know because there is a good chance we've heard the same fluff repeated multiple times by different "experts".

However, if there is a small amount of truth to every lie - as the saying goes - there are some useful morsels of information that fantasy owners can take from the very people who "lie" to us in the media. Some of them get paid handsomely to analyze trends, stats, etc for us, but with many of these "experts", it is clear they are done for the day when their shift (or show) is over. And unfortunately, many of these folks take the easy way out and bow to the power of the popular opinion in the end anyway.

I want to let it be known my "Early Observations" contributions over the past two weeks are on the topics that I believe fantasy owners would want information on, in other words, actual news from the reporters covering the team since the offseason began. (The fact that it comes with my opinions attached is just a bonus.) Most fantasy football veterans are aware that about 75% of what comes out of a beat writer's mouth - or computer, as it were - is either hyperbole, opinion or both and it is usually questionable information at that. Thus, think of me - for this week anyway - as a filter, a conduit that can help each of you sort the fact from the fiction and allow you to get another fantasy owner's take on the information that has been presented to us over the last few months.

With this being a fantasy column and many of you either well into your draft preparation or about ready to start, it seemed like a good idea to stay on the offensive side of the ball for now – we'll tackle the defense next week. Without further delay, let's dive into the NFC.

Arizona
One of the bigger offseason storylines in the NFL this season is Matt Leinart and whether or not he can make the most of his second chance to make a first impression. Offseason reports have varied widely on his competition with ex-Browns QB Derek Anderson, with some outlets suggesting in early May that Leinart looked to be "in command" while another outlet reported in late May that "neither signal-caller was terribly impressive in mini-camp" back to Leinart had taken a "step forward" by early June. Considering the reports were less than a month apart, well, now you can see why I am not a big fan of blindly following some writer or a certain website just because they are an industry giant.

For his part, HC Ken Whisenhunt has been squarely in the corner of Leinart from the start, supporting his beleaguered QB in the media time and time again. QBs coach Chris Miller – one of the up-and-coming position coaches in the league – has adjusted the mechanics of both Leinart and Anderson, getting each QB to shorten their stride in an effort to improve their accuracy. No fantasy owner should expect the fantasy production Kurt Warner was able to manage in his last few years in Arizona from Leinart or Anderson anytime soon simply because this offense will be more balanced than any Whisenhunt-coached Cards' team has been up to this point. However, anyone who saw Anderson in Cleveland lately knows that Leinart will have to be borderline terrible to lose his starting job. And with the receiving crew Arizona has, it's not unthinkable that Leinart could be a strong matchup-QB for fantasy purposes this season.

It's very easy to take for granted that Steve Breaston is the natural selection to slide into Anquan Boldin's old flanker slot, but that could end up being a very bad assumption. Early Doucet has been diligent in his offseason workouts – dropping seven pounds in order to play at 205 – and is impressing every Cardinals' player or coach that is asked about him. Doucet may be setting the stage for the "third-year WR breakout" in part because he seems to be maturing in terms of his renewed focus and enjoyed the spoils that came along with a two-game playoff run (14 catches for 145 yards and two touchdowns after a disappointing 17-catch, 214-yard, 1-TD regular season). Perhaps the most exciting part of the new Doucet is what Larry Fitzgerald says about him in regards to his toughness, if not other parts of his game: "he reminds me of Q (Boldin's nickname)". Fitzgerald is going to be the WR1 in town for the foreseeable future, but Doucet was the player Arizona had its eye on to one day replace Boldin. It may not happen in 2010, but it appears right now there is every bit the chance the Cardinals decide Breaston is the WR2 as he is the WR3. Fantasy owners would be wise to reduce the near six-round gap in the ADP (9.1 to 14.11) between Breaston and Doucet now because this may be a closer call than many believe.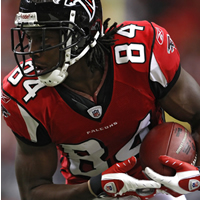 Roddy White: Having a fantabulous offseason.
Atlanta
Last year, I had two major reasons to dislike Michael Turner: 1) I did not like his 2009 schedule and the fact that he beat up on all the weak teams to get the majority of his numbers the previous year and 2) his 2008 workload suggested that a breakdown may be coming. The one very few of us saw coming – if any of us saw it – was his hush-hush weight gain that pushed him over 250 pounds last summer. While the "Curse of 370" is debatable to a certain degree – in football, players (especially running backs) are almost always putting themselves in position to be injured; some just beat the odds more often than others – the fact that Turner was carrying a few more pounds than his usual 244 could explain the lack of explosion "The Burner" showed in 2009. Along with the fact that HC Mike Smith feels that his RB is in "the best shape of his Falcons' career", the offensive line remains intact from a season ago – the same one that allowed Turner and Jason Snelling to rush for 4.9 and 4.3 YPC respectively last season vs. a fairly stout schedule. One-trick RBs (backs who only contribute in one area such as rushing, receiving or at the goal line) in fantasy are always a dicey proposition, but at the rate he scores, it is hard to say his scoring prowess doesn't make up for his inability to contribute in the passing game.
If any one player on the Falcons' roster wanted to rest on their laurels, it would be Roddy White. Granted, he wasn't the most consistent fantasy force last season, but his year-end fantasy point per game totals over the past three seasons have been remarkably consistent (14.7, 16.7, 16.7). So, it makes what I'm about to say even more impressive: according to OC Mike Mularkey, White has enjoyed "maybe one of the best offseasons as a WR since I (Mularkey) have been in the league". (Bear in mind that Mularkey has worked with the likes of Hines Ward and Eric Moulds, among others.) With many of the same faces in the same offense going into their third season together, the stage is being set for White to possibly crack the 90-catch barrier for the first time in his career. Last season proved Tony Gonzalez was a player that would benefit White but not undermine his overall fantasy value. As much as it limits the potential upside of the offense that Atlanta cannot upgrade from Michael Jenkins opposite White, the six-year veteran has been carrying the Falcons' passing game for years, so at 28 years of age and Gonzalez helping to take attention away from him, White appears poised for another top-10 fantasy season at his position.
Carolina
It's a bad deal when the one player that a team is expecting to carry its passing game goes down playing flag football, but such is the case for Steve Smith and the Panthers. Unfortunately, it's the same left arm he broke in Week 16 last season. So, whether Carolina wanted to or not, it must trot out what looks to be an uninspiring lot of supporting cast members to replace the 31-year-old veteran, who believes he will be back in time for the regular season opener after he was given a 10-week recovery window by doctors. In his stead, Kenneth Moore will man his spot while disappointing Dwayne Jarrett will face off against the talented rookie Brandon LaFell for the right to start opposite Smith. Another rookie, Armanti Edwards, will be given every chance to man the slot in three-wide packages. About the only thing Jarrett has going for him is that HC John Fox is well-known for his tendency to play the veteran over a rookie. Still, expect LaFell to be fantasy-relevant at some point this season and take command of the position. As for Smith, it's tough to hype a player missing so much preseason action, but his injury presents an excellent buy-low opportunity. Sure, the on-field bonding time with new QB Matt Moore would have been nice, but unfamiliarity did not seem to matter a great deal down the stretch in 2009. Beginning with Moore's first start in Week 13, Smith averaged 18.7 FPPG in PPR and 14 in non-PPR in their four games together, numbers in stark contrast with the 12.1 FPPG (PPR) and 7.6 (non-PPR) with Jake Delhomme as the starter.
Speaking of Moore, I believe he has a better grasp on the starting job than most people think. Rookie Jimmy Clausen has a definite leg up on most rookie QBs as he joins an offensive system just like the one he left at Notre Dame, but Moore is 6-2 overall as a starter in Carolina and is coming off a season-ending five-game stretch in 2009 in which he was the league's second-highest rated passer. Working further against the rookie is Fox's aforementioned penchant for playing veterans over rookies (sometimes to a fault, as was the case with Delhomme last season). Still, if Smith's interview on NFL Network's Total Access program last month can be taken at face value, he believes the Panthers now have two franchise QBs. While I won't go that far – and Carolina will be a running so long as Fox is the coach – I think there's a good chance Moore starts all year long barring injury and makes himself a player that could be started in a pinch in fantasy.
Chicago
Things were going to be interesting in "the Windy City" from the moment OC Mike Martz was hired – we just didn't know it was going to be THIS interesting. In one corner, we have the "firmly entrenched" split end Johnny Knox (the Torry Holt spot in Martz's offense). In another corner, there is the receiver Jay Cutler hasn't stopped praising since the end of last year, Devin Aromashodu. In yet another quarter, we have the people's champ in Devin Hester, who is slated to play flanker (the Isaac Bruce role of the offense) and the one receiver that actually looked like a WR1 for a prolonged stretch last season. And let's not forget Earl Bennett, one of last season's favorite sleeper candidates. Suffice it to say that a lot of reports have been coming out of Bears' camp this offseason, so much so that it is hard to follow who is going to be the focus of the offense this week or "the guy we need to get the ball to more" next week. Regardless of whether or not Aromashodu is actually named a starter, it should be noted that he is undoubtedly Cutler's favorite WR (at least in the media anyway). And we all know if a QB trusts one receiver more than any of the others, that receiver is likely the one to be the most consistent in fantasy. Furthermore, we don't have to go back too far to remember that talented slot WRs in Martz's scheme tend to do pretty well (Az Hakim, Mike Furrey, Shaun McDonald). Most likely, all three players will be very usable in fantasy for most of the season, if not all of it. Just don't be too surprised if you see Aromashodu at the top of the fantasy leaderboard when it comes to Bears' WRs in 2010.
While the addition of Chester Taylor was not a puzzling one, the decision to view him as a "second starter" is a bit more of a head-scratcher. It was clear early on that Forte was not right last season (weight gain along with a torn hamstring and an early-season MCL sprain) and his offensive line was atrocious last season, especially when it came to run-blocking. On the other hand, one certainly has to question what Taylor has left as he nears his age-31 season coming off a season in which he averaged a paltry 3.6 YPC behind a much better run-blocking line in Minnesota. As such, I eventually expect Chicago to realize Taylor will serve the team best in a complementary role, allowing Forte to recapture a bit of the appeal he lost in 2009. Taylor's presence will affect Forte's PPR value to be sure, but as time goes on, I imagine the incumbent will receive more and more of the work on the ground. As we know, that doesn't mean a lot in a Martz offense, but for as much as he was viewed as a disappointment last season, Forte only dropped to 12th in PPR and 18th in PPR, which still makes him a quality RB2 in fantasy. If all he does this year is become slightly more efficient with his touches – a distinct possibility if he is healthy – he's a fair bet to hold onto fantasy RB2 value all season long.
Dallas
There's no debate on whether or not Roy Williams has been a disappointment as a Cowboy – he has been. But are fantasy owners being too quick to dismiss him this season? Possibly. And that very possibility makes him potentially undervalued this year and also means rookie Dez Bryant is probably greatly overvalued. No one is going to question Bryant's potential or raw physical ability, but to completely dismiss Williams is foolish in my mind. While skill is obvious – most of the time – to coaches, if there is one thing that is stronger than that, it is that billionaire owners tend to refuse the notion they are wrong. Because Jerry Jones invested so much into Williams, he is going to get every chance to "earn" his contract and return the draft-pick investment Jones made into him. Therefore, this has all the makings of a 50-50 or 60-40 time-share, neither of which is good for either player's fantasy standing. And let's be real – however Williams vs. Bryant shakes out, the winner will be only the #3 option in the passing game.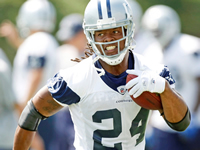 Barber vs. Jones: Two talented backs muddies the fantasy waters.
Moving from WRs to RBs, another hot topic in Texas is how the backfield work will be assigned to Marion Barber and Felix Jones. Both players have received the Jones' seal of approval as a starter, so this may actually be one position in Dallas that gets settled on the practice field and not in the front office. Interestingly enough, both players are attempting to look more like the other, with Jones adding muscle to his upper half (now up to 225 pounds) while Barber is dropping weight (reportedly down to 212). Regardless of all the enthusiasm surrounding the big-play ability of Jones, it should be remembered that he has been much too injury-prone in his short NFL career to be counted on for a huge workload on a weekly basis. I expect this situation to play out in much the same way as it was going at the end of last season, perhaps with the main difference being that Jones may start this time around. Otherwise, I expect Jones' workload ceiling to be roughly 16 carries with Barber still being the back of choice at the goal line and in the fourth quarter. In the best-case scenario, this backfield ends up enjoying the same level of production that Tennessee enjoyed with Chris Johnson and LenDale White in 2008. I see both players maintaining RB2 value throughout the season, with both players likely to perform right around their current ADP (5.03 for Jones; 6.11 for Barber).
Detroit
It's been said countless times that the NFL is a copycat league. In much the same respect, when coaches and GMs see a player they REALLY like on the playing field, they wonder what it would be like if their team had one of those players. In the case of rookie Jahvid Best, HC Jim Schwartz isn't all that insane for wanting to model his new prized RB after the example of Chris Johnson, who Schwartz coached against every day in practice in 2008 as the Titans' defensive coordinator. I have been on Best's bandwagon for some time, but with the weapons Detroit is starting to assemble in the passing game, Best is set to enjoy a lot of running room. Defenses simply will not be able to load the box with Calvin Johnson, Nate Burleson, Tony Scheffler and Brandon Pettigrew all distracting opposing defenses. The rookie's teammates – offensive and defensive – are already admiring the blur that Best creates when he puts his speed on display in practice. If Vincent Jackson and Marcus McNeill continue their holdout in Seattle, then it is Best who become the rookie that most fantasy owners should target in the early rounds, not Ryan Mathews. Much like Mathews, the former Cal product has a questionable run-blocking line to operate behind. But speed can be intoxicating for coaches and fans alike, so expect Detroit to get drunk on Best by the time the season starts. Assuming he can hold up for an entire NFL season, I would be stunned if Best doesn't outperform his current mid-fifth round ADP by at least a round, if not two or three.
When Detroit acquired Scheffler via trade for a fifth-round pick in April, it made sense that he would be considered merely insurance in case Pettigrew's recovery from ACL surgery did not go as planned. However, as we stand here in July, Detroit expects Pettigrew back on the field to start the season and has big plans for Scheffler in the base offense, either as another blocker in the run game (even though that is not his forte) or as a Dallas Clark-like threat in the passing game. Scheffler has the ability to contribute in the latter fashion, but the Lions will be hard-pressed to use Scheffler to that degree if they hope to center their offense around Johnson and Best while keeping Burleson and Pettigrew involved. Scheffler could flirt with TE1 status in fantasy this season and should finish in or around that neighborhood, but he isn't even on the radar ADP-wise right now, so feel free to snag him as a "high-upside" pick in the late rounds.
Green Bay
One of the more under-the-radar stories this offseason was the scopes Donald Driver had done to both knees in January. Fantasy owners have been calling for Driver's decline for what seems like years, but this time we may have enough reason to send him spiraling down our cheatsheets. For what it is worth, the coaching staff decided to rest him during OTAs, presumably because there was little reason to put the 35-year-old through the paces of an OTA when he obviously knows the offense and is trying to remain as healthy as possible. However, it is interesting to note that Driver's production fell drastically in the second half of last season for several reasons (his knees, Jermichael Finley's return from injury, better protection for Aaron Rodgers allowed him to take shots down the field with Greg Jennings among them), but have we seen the last of his productive days? On a normal run-of-the-mill offense, the answer would likely be "no", but Green Bay has been keeping James Jones and Jordy Nelson under wraps for a while now. Nelson, for one, appears to be sensing his opportunity. Don't overreact too much yet to Driver's situation quite yet, but early drafters may be forced to make a decision on him, in which case, I'd advise them to avoid Driver. For the rest of us, definitely keep an eye on Driver's ability to plant his foot and make cuts during the preseason, because that should tell us everything we need to know about his health at that point. Thus, it would be wise to spend a late-round pick on Jones or Nelson in deep leagues.
With boxing becoming a more popular method of offseason training for football players, it's not often newsworthy when a player does it anymore. That is, unless that player is Jermichael Finley – the same player who was dogged by questions about his work ethic and immaturity during his first two seasons in the league. In addition to working out with pro boxer Brian Vera early in the offseason, Finley accepted an invitation to Larry Fitzgerald's now-famous offseason camp – which stresses conditioning, attention to detail and time-management skills. It's also the same camp that Sidney Rice participated in last summer and later praised in helping him achieve his breakout 2009. What's more about Finley's "attitude adjustment" is that he is doing all this with tendinitis in his knee, the same one that sidelined during the middle of the 2009 season. It was going to take something special for an outsider to sneak into the elite fantasy TEs that includes the likes Antonio Gates, Jason Witten, Tony Gonzalez, Vernon Davis, Brent Celek and Dallas Clark, but given Finley's finish to last season, his commitment to excellence this offseason and his promotion to the starting lineup, it is hard to not like him as a dark-horse pick for the top TE in fantasy for the 2010 season.
Minnesota
Most of the time, Adrian Peterson is a RB to watch for all the right reasons. Unfortunately, in 2009, he did his best to keep both teams in the game at times. The unfortunate part of Peterson's year is that his fumbles overshadowed the fact he obliterated his previous career highs in TDs (18) and receptions (43). And to be fair, Peterson actually fumbled more in 2008 (nine, lost four) than he did last season (seven, six), but as Minnesota evolves into a complete offense, defenses are realizing the best way to stop the Vikings is to get into the head of Peterson. To that end, Peterson has started practicing with a sand-filled, 14-pound ball in hopes that the repetition of keeping the "heavy ball" tucked in will rub off on him when he takes the field. As much as the fumbling issue may continue to be a problem, the points lost by fantasy owners for those fumbles aren't worth losing the piece of mind that comes with putting AP in your lineup each and every week. I'm still deciding whether he is my #1 or #2 overall RB in fantasy, but Peterson's 2009 stat line may just be a tease for what he does in 2010. I expect roughly 1600 yards rushing this season while his TDs and receptions remain about the same as they were last season.
While AP owners are probably happy that Chester Taylor will no longer be around to steal his receptions, I would be quick to remind those same people that Minnesota has no shortage of players who can more than make up for the 700+ yards that Taylor accounted for in 2009. First and foremost, Percy Harvin will probably receive a sizable chunk of the 44 catches that Taylor leaves behind, with perhaps some limited work as a rusher mixed in. What Harvin doesn't take, Sidney Rice and Visanthe Shiancoe probably will. On the rushing end of it, rookie Toby Gerhart figures to absorb the 100 or so carries that Taylor was usually good for behind AP. In short, Peterson isn't going to take another 20-catch leap from 43 to 60+ catches one year after he went from 21 to 43 receptions.
New Orleans
Along with Donald Driver's knee scopes, perhaps the quietest surgery that occurred in the offseason to a potential starting WR in fantasy was performed on the toe of Robert Meachem. While HC Sean Payton is optimistic about his receiver's ability to return by training camp, Meachem himself doesn't sound so sure. Any serious fantasy football owner knows that every toe surgery sounds minor but, in reality, can linger and affect the way an athlete cuts and runs. With Drew Brees' penchant to throw the ball to the open WR rather than focus on 1-2 players on a given route, it is vital that Meachem is ready to go without restriction early in training camp. It's already enough that the Saints have introduced a new WR to the fantasy scene since the arrival of Brees and Payton (Meachem, 2009; Lance Moore, 2008; David Patten, 2007 and Marques Colston, 2006), so keep that in mind when deciding on the likelihood that Meachem carries over his spectacular second half into the 2010 season.

When the Saints invested a third-round pick on University of Miami (FL) TE Jimmy Graham in April's draft, most saw the selection as a pet project for Payton. After all, Graham played only one year of football for the Hurricanes (catching 17 balls for 213 yards and five TDs) after playing four years on the basketball team, where he was an accomplished shot blocker. But given the NFL's quest for the next Antonio Gates, New Orleans decided to invest in the potential of the 6-8, 260-pound athlete. Apparently, all is going well, because by the end of the OTA sessions, the talk was when, not if, Graham would overtake Jeremy Shockey. Obviously, Graham is not for the faint of heart or re-draft owners, but keeper and dynasty leaguers should prepare for the possibility that Graham supplants Shockey in 2011.
New York Giants
One season after Steve Smith became the first WR in Giants' history to catch 100 passes in a single season, it may be time to talk about him playing second-fiddle. Now before people get carried away (and by the looks of some of the early drafts I've seen, they are), Hakeem Nicks has two hurdles to overcome if he hopes to overtake Smith: 1) the "other" Steve Smith is Eli Manning's most trusted target and 2) Nicks is still raw as it relates to being a NFL receiver. Also consider the Giants will do everything in their power to run the ball like they did in from 2004-2008. With Smith being Manning's No. 1 target and a revitalized running game, Nicks' stat line could actually improve quite a bit and he'd still be considered a disappointment for those owners investing a fourth-round fantasy pick on him. There's no denying he will probably overtake Smith at some point, but I'm not sure this is the year. The earliest I'd consider the second-year WR is at his current 6.01 ADP, but not before the likes of players such as Hines Ward or Brent Celek, where he is going right now.
While I predict the demise of the Giants' passing game in fantasy circles, I suppose it is only fitting I announce the return of their running game. As I detailed above, New York's ground game has been a source of pride for some time, but 2009 saw the team do a complete 180-degree turn, something that occurred in part due to an injury-ravaged backfield and uncharacteristically poor line play. Brandon Jacobs dealt with a knee injury from Week 1 on last season and ran like it, often going down on first contact. Ahmad Bradshaw was hampered by injuries to his ankle and both feet and needed offseason surgery to correct those issues, returning to the practice field for the first time in the middle of June. In both cases, the duo showed they were able to play in pain, a big deal for a pair of backs who have yet to put together a single 16-game season between them since they became prominent figures in the team's running game plans. We'll probably have to wait until after the season has started before we know just how much the line was at fault for last year's collapse in the run game, but if Jacobs and Bradshaw can enter the season healthy, it's a pretty good bet that Jacobs will return to being a solid fantasy RB2 while Bradshaw flirts with top-end RB3 status.
Philadelphia
In the aftermath of the Donovan McNabb trade this offseason, many have questioned whether Kevin Kolb – and his two career starts – can fill the shoes of his predecessor. Here's what we know: despite HC Andy Reid's best efforts, McNabb was never going to be the consistent short-throwing strike machine that a West Coast offense disciple like Reid wants – Reid obviously believes Kolb is. Moreover, he inherits a supporting cast that features his roommate on the road – Brent Celek – along with two explosive WRs in DeSean Jackson and Jeremy Maclin. What is harder to discern is…who benefits most from Kolb? It's probably a given that Celek will enjoy as much, if not more, attention from Kolb as he got from McNabb, which is saying a lot. But will the shorter, more accurate arm of Kolb just lead to more catches, more opportunity or both for Jackson and Maclin? I believe Kolb's two starts (while subbing for an injured McNabb) reveal little about what he means for the future of his two wideouts. In Weeks 2-3 (Kolb's starts), the Eagles faced the Saints, who routed Philadelphia early on, forcing Kolb to play catch-up most of the second half. The next week, he faced the hapless Chiefs' defense. At that point of the season, Maclin was still a role player. In short, neither contest can really tell us a great deal about what we can expect from Kolb in a "normal" game.
At this very moment, I have a hard time believing Kolb will make Jackson any more productive than he was last season. In fact, with the slightly-built Maclin and Jackson now being asked to run shorter routes (including ones over the middle of the field), I could see both players becoming greater injury risks. Thus, I would not want to count on Jackson as a WR1 in fantasy, nor would I want to believe Maclin is ready to become anything more than a steady WR3.
While one Philadelphia institution was getting shipped out of town (McNabb), another one was asked to leave. The departure of Brian Westbrook was music to the ears of LeSean McCoy owners, who now believe the 22-year old will assume his mentor's role in the offense. As much as I liked the former Pitt Panther as a value pick last year, I don't like seeing his ADP being so high this season (4.02). While there is definitely some Westbrook in his game, McCoy still needs to show me he can handle the ball, pick up the blitz and run in short-yardage situations better before I put him too high on my board, even though OC Marty Mornhinweg sees a much different back this offseason. Mike Bell was brought in to take some of the pounding in short-yardage, rookie Charles Scott has impressed in OTAs and it seems foolish that Leonard Weaver would stay at FB full-time when he was the most productive RB at times for the Eagles in 2009.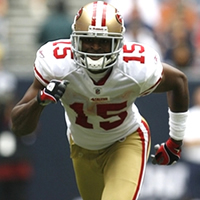 Michael Crabtree: On the verge of a 75-catch season.
San Francisco
If it didn't become apparent after opting to trade for Donovan McNabb or passing on Jimmy Clausen multiple times during the draft or the use of both first-round picks on offensive linemen, the Niners' brass believes Alex Smith is ready to fulfill the promise that made him the No. 1 overall pick in 2005. Without a doubt, he's going to be helped by a number of key factors: 1) he will play in the same offensive system in consecutive years for the first time as a pro, 2) the aforementioned upgrade on the offensive line will make the running game that much better AND give Smith more time and 3) he doesn't have to look over his shoulder at Shaun Hill anymore and perhaps, most importantly, 4) his supporting cast is among the best in the league, with everyone from Frank Gore and Josh Morgan to Michael Crabtree and Vernon Davis able to catch the ball and create a big play. OC Jimmy Raye plans on using more base sets this season – which is slightly discouraging given Smith's ability to operate effectively out of the shotgun – but it is the command and leadership that Smith is showing that has San Francisco players and coaches so excited about this season. Generally speaking, one of the biggest hurdles for any QB trying to establish himself is to grab the respect of his team in the huddle and it appears he has that now. Even though San Francisco expects to be a smash-mouth football team again, it's looking entirely possible Smith is a potential low-end weekly starter or very good QB2 in fantasy in 2010.
San Francisco wants to move Crabtree into the slot…don't worry, he'll remain at his old split end on non-passing downs and will also flanker as well when the team wants to do so. All this is being done in an effort to exploit matchups and make sure the defense cannot plan on the second-year WR remaining in the same spot play after play. Let's remember Crabtree did not practice with the team in minicamps (injury) or training camp or most of the first half of the season (holdout) and he still caught 48 passes for 625 yards in just 11 games. It's frightening to think what he is capable of with a full offseason of practice and digesting the playbook. With Gore and the running game capable of big things and Davis drawing coverage his way down the middle of the field, Crabtree could be on the verge of topping 70-80 catches and well over 1000 yards this season. He's a great WR2 fantasy pick in the early-to-middle fourth round of 12-team leagues and should be one of the better bets to meet and possibly exceed that tag as the season progresses.
Seattle
Despite the additions of T.J. Houshmandzadeh and Golden Tate over the past two offseasons, the Seahawks find themselves in a situation in which they will need to count on another player – already in-house – to be the primary receiver this fall. That player appears to be John Carlson, who was somewhat of a disappointment in 2009 despite finishing as a top-12 TE (or on the cusp) in most leagues. Much of his lackluster production stemmed from one of the worst offensive lines Seattle has fielded in years, which required Carlson to stay in and block on running and passing downs. With the additions of TEs Chris Baker and rookie Anthony McCoy, the Seahawks appear to be willing to go with a lot of two-TE packages in hopes to: 1) run the ball more effectively and 2) free Carlson up to run routes while Baker or McCoy stays in to protect Matt Hasselbeck. With Houshmandzadeh not a big-play threat and none of the other WRs a likely go-to WR in 2010, much of Hasselbeck's focus in clutch situations will shift to Carlson, who finished seventh in most PPR and non-PPR leagues as a rookie. Look for the third-year TE to easily surpass his 2008 numbers (55-627-5) this season.
Despite the solid job the Seahawks did in April's draft, it was going to be impossible for them to solve all of their problems over a three-day period with college kids. One area in which they rolled the dice with veterans was at RB in order to add to a roster that really only boasted Julius Jones and Justin Forsett. While Forsett showed his considerable ability in limited time in 2009, Jones continued to frustrate Seahawk fans and his fantasy owners. LenDale White, acquired in a draft-weekend trade from the Titans, was automatically assumed to be the lead horse in the RB race upon arrival, but his dismissal from the team in May changed all of that. Leon Washington was also acquired over draft weekend, but he can't be counted on fully until he can confidently go full-tilt in practice after suffering a compound leg fracture last season. Thus, it looks like the underwhelming Jones will have a fair shot at some decent playing time again, at least until Washington proves his health or Forsett convinces the new regime he can stand up to the punishment despite lacking ideal size. Even ex-Redskin Quinton Ganther is in on this mess, as HC Pete Carroll hinted to the Seattle Post-Intelligencer that he would be in the short-yardage mix. If you've concluded this is currently a mess of a backfield, you'd be right. My favorite for fantasy value out of the bunch is Forsett, but Washington has a great chance to lead a committee here if he is a go by Week 1 (assuming he gets the benefit of a full preseason).
St. Louis
It's no secret that Steven Jackson is the Rams' only fantasy property worth caring about as we enter drafting season. What is a bit more unknown is what his worth will be in fantasy, with the most pertinent question being: "Can his back hold up?" For those who haven't been following him too closely this offseason, Jackson underwent back surgery in early April to repair a herniated disc he suffered in late November 2009. As is the case with all back surgeries, there are no guarantees even though the prognosis was good and it is believed the "minor" surgery won't hamper his career in any way. Still, HC Steve Spagnuolo wasn't sure his stud RB was ready to run on solid ground as of early June, so caution is definitely advised.
The problem with being cautious with Jackson, however, is that he played through the injury and still performed admirably despite the fact that opponents knew he was the only weapon. The second year in OC Pat Shurmur's system only figures to help him and his supporting cast while No. 1 overall pick Sam Bradford almost has to play better than any of the QBs St. Louis trotted out onto the field last season (Marc Bulger, Keith Null, Kyle Boller – highest QB rating of the three was Bulger's 70.7). And let's definitely not overlook the fact his offensive line is better than average in the run game. Ideally, he'd be a RB2 in fantasy most years, but with the market so thin on actual every-down backs, Jackson has to be considered late in the first round. But in a year where they are already so many question marks besides elite players at their position (Jackson, Ronnie Brown, Steve Smith, Vincent Jackson, Wes Welker – just to name a few), Jackson is the riskiest considering the price a fantasy owner will need to pay for him.
Tampa Bay
Perhaps the best story in the Bucs' otherwise dreadful 2009 season was the resurgence (and continued health) of Cadillac Williams. In the fantasy world, this is a RB that has been left for dead a number of times since his captivating 1,000-yard rookie season in 2005. Does the Cadillac story add another feel-good chapter to the book this year? It definitely looks possible. Consider for a second that Williams finished 25th in PPR and 27th in non-PPR last season despite having to cede free-agent signee Derrick Ward an average of 10 touches per game. Add in the fact that he played on an offense that ran through the entire depth chart at QB and ran behind an offensive line that didn't play nearly as well as it had in previous years. Let's also not forget that Tampa Bay was one of the three teams that stupidly (let's call it what it is) fired the OC over a 10-day period just as the preseason was coming to an end. And let's not forget we haven't even discussed Williams' long injury history that even threatened his career at one point. While Williams has shown nothing but heart in his career, Ward continued to disappoint the coaching staff this spring by missing a few practices. All this is to say that as the Bucs enter their first full season with OC Greg Olson and Josh Freeman, Williams stands to be better this season than last because he's healthy, the team is somewhat stable and there is actually some reason to be optimistic about the passing game this fall. Yes, Williams remains a definite injury risk, but Ward is going to have to step up his practice habits if he wants to remain in a RBBC role.
While I fear using the word intriguing when it comes to a team that will almost be forced to start two rookies at WR, it is certainly interesting that second-rounder Arrelious Benn and fourth-rounder Mike Williams will likely be in the lineup Day 1 barring injury or a complete collapse in training camp. (To find out how I feel about each player, feel free to review my Rookie Impact article from two weeks ago.) Williams has apparently taken the early lead in the race for Freeman's attention due to Benn's ankle injury and a reported "better understanding of the playbook", but let's just say for now I have trouble believing that Williams is the type of player who has matured quickly from all his college incidents. Benn was one of the better run-after-catch WRs available in April's draft and that kind of skill usually endears a receiver to QB and coaching staff. I can see Williams enjoying a lofty YPC, but I expect Benn to be the more valuable WR in fantasy this simply because he will be the most trusted Bucs WR. If there is one receiver who may break up the Benn-Williams pairing in Week 1, it may be former Eagle Reggie Brown, who is said to be enjoying a fine offseason.
Washington
Accustomed to winning the offseason most of the years, owner Daniel Snyder's team hasn't spent nearly as much as it has in past offseasons to receive a lot of publicity this time around, be it good or bad. (Albert Haynesworth won't let us forget Washington, but a trade for Vincent Jackson would sure help Redskins' fans forget the ill will he has caused.) Instead, the Redskins' offseason has made some sense from a personnel standpoint at a relatively low cost, outside of assembling a collection of RBs that would have looked nice on a fantasy football roster in 2005 or 2006. The additions of OT Jammal Brown (via trade) and Trent Williams (first-round draft choice) gives Washington the bookend tackles it has lacked for years. As you may have assumed, this is going to help a few Redskins become more fantasy-relevant than they have been in the past. Chris Cooley is no stranger to TE1 status and it would not be shocking if he posted his best season to date in 2010 with Santana Moss the only WR on the team that can strike fear into a defense. But is it possible that Fred Davis could enjoy more run in fantasy than just half a season? In fact, the Redskins are "counting on it". The scenario isn't hard to imagine when Malcolm Kelly and Devin Thomas aren't stepping up in practice to take the WR2 role by the horns. I'm not suggesting that Davis be drafted as a possible TE1, but keep him on your watch list as a candidate for 30-40 catches if Kelly and Thomas continue to wallow in mediocrity. That kind of production may allow him to be useful as a bye-week fill-in or a high-upside TE candidate in the event Cooley goes down again this year.
After referencing the 2005-06 fantasy football all-star RB selections above, I would be remiss not to talk about them now. OC Kyle Shanahan seems comfortable with Clinton Portis as the third-down back. And apparently that is all we know, because in the Shanahan family tradition, it's not important to know who the RB1 is at this point of the season. But if we are to put any stock in who is running with the first team in June practices, Portis is for the most part but Larry Johnson is apparently the first option at the goal line. If this arrangement sticks, the old drill of not relying on a Shanahan RB will need to become habit once again. Because the Shanahans (dad and son) like running the ball and seem to trust Portis the most on third down, he has a shot at low-end RB2 value, although he shouldn't be counted for anything more than RB3 production. On the other hand, LJ should only be used to round out a fantasy owner's bench at this point. It's hard to imagine Willie Parker finding any value or even being on the team as the RB3 when that position is usually asked to play special teams (something injury-prone Ryan Torain has more experience at than Parker ever will). This isn't an avoid-at-all-costs backfield, but Washington RBs may have to wait a year or two before they will have the horses up front to post 5.0+ YPC like the running games Shanahan used to oversee in Denver.
Suggestions, comments, musings about the article or fantasy football in general? E-mail me.