Early Observations - AFC




7/6/10



BAL | BUF | CIN | CLE | DEN | HOU | IND | JAX | KC | MIA | NE | NYJ | OAK | PIT | SD | TEN | NFC

Back in the good old days, the NFL didn't exactly run year-round (or the media didn't cover it that way, which is really more of the truth). Likewise, competitive fantasy owners were able to take a break after the Super Bowl from their hobby, waiting until sometime after the NFL Draft to dive into some newsstand publication or a handful of popular websites to start getting geared up for the upcoming season.

Those days are gone now, or at least should be, if fantasy football represents a small portion of income each year for the owners who play in money leagues or for those folks who invest a few hours each week during the season setting their lineups, making sure their free agent and waiver wire pickups are the pieces needed to make a run for a fantasy title.

Unlike the NFL, which gets to take a short break before training camp starts in late July, now is the time for fantasy owners to move from the stage of formulating opinions on players to the stage of strengthening those opinions.

For example, does the trade for Brandon Marshall automatically skyrocket the stock of Chad Henne? Does Marshall resume his 100-catch ways in an offense that has recently been one of the best in the league at running the ball? What do possible holdouts to fantasy studs in San Diego and Tennessee mean for owners of Vincent Jackson and Chris Johnson? Who benefits if they actually follow through and sit out the majority of the season?

Over the next two weeks, this column will provide one fantasy owner's opinions as to what took place in each team's offseason workouts (OTAs and mini-camps) and what it could mean for all fantasy owners come draft time. Much to my own dismay, I will focus mostly on the offensive side of the ball in this two-part series because after this offseason workout two-parter is over, I will come back with my ever-popular "Projecting Defensive Effectiveness" article which will focus entirely on each team's defense. Feel free to visit last year's article, which I use to set the baseline for the heart of my offseason preparation: schedule analysis.

This week, though, we'll take a look at what to keep an eye on in the AFC:

Baltimore
Even after making a name for himself in 2009 – which began last spring and summer when he was tearing up OTAs and mini-camp – Ray Rice is at it again, even drawing the praise of his HC John Harbaugh according to the Carroll County Times, "You couldn't have a better offseason that what Ray Rice is having." Despite the team's acquisition of Anquan Boldin this spring, don't look for Rice to suddenly lose his appeal as a receiver since OC Cam Cameron always seems to make sure his RBs are getting the ball in the passing game. In fact, with Boldin being able to attract more attention in the passing game and block better in the running game than Mark Clayton ever could, it wouldn't be surprising to see Rice see his touchdown total go from last year's 8 to 10-12. Willis McGahee will likely return to his goal-line vulture role, but a solid case can be made for Rice going anywhere from picks 1-4 in PPR and non-PPR drafts.

Speaking of Boldin, his presence along with Derrick Mason and a healthy Todd Heap should send Joe Flacco into fantasy QB1 territory in 2010. In March, Flacco trained with a pitching coach from the University of South Carolina in hopes to improve arm strength and accuracy. However, the best news for his future fantasy owners – besides the improved supporting cast – is that Cameron has announced plans to significantly increase the Ravens' passing game packages this season. Cameron attributed Flacco's late-season drop-off in 2009 to a number of injuries, including ones to the hip and quads. Considering how quickly he fell from every-week starter to bench material in fantasy leagues last season, it's hard to not believe Cameron's assessment that his QB was in a great deal of pain for most of the second half of the season.

Buffalo
It probably goes without saying the Bills enter this season in disarray. There is probably no better example of that assessment than at RB, where Buffalo spent a first-round pick on C.J. Spiller at the one position where they were actually pretty well set. Whether or not GM Buddy Nix was stocking the shelves to protect himself against the unpredictable mind of Marshawn Lynch, the selection basically robbed Buffalo of any chance of getting significant value for the troubled veteran back in a trade. Recent reports suggest he can be had for a fourth-round pick, but it figures to be a no-win situation either way. Either Lynch stays and causes trouble in the locker room or he gets traded for much less than what he is potentially worth to a team like the Seahawks that could use his services.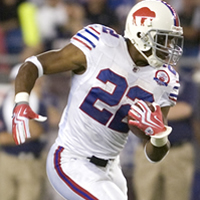 Fred Jackson: The biggest loser?
From a fantasy perspective, Fred Jackson is the biggest loser – and we haven't even discussed the offensive line he'll be running behind – with Spiller probably stealing about two-thirds of Jackson's 46 receptions from last season. Of course, there is always the chance that Jackson maintains his 2009 catch total and Spiller adds 50+ of his own on swing passes and screens because Buffalo's line figures to be among the worst in league (not to mention that Lee Evans will face constant double teams and the rest of the Bills' WRs are far from starter-material). I'm an optimistic guy, but I cannot see any way in which the 2010 edition of the Buffalo Bills fields a competitive offense.
When Lee Evans entered the league in 2004, he probably figured after his rookie year that he was embarking on a rather successful playing career after posting a 48-843-9 line that season with Drew Bledsoe at QB. Here we are six years later with Evans a 29-year-old grizzled veteran and he hasn't come close to enjoying the same mediocre QB play that got Bledsoe banished from Buffalo in favor of J.P. Losman. Now, Evans is facing a season with perhaps no complementary threat at WR, a line that probably can't hold up long enough to allow him to use his deep speed and a plethora of QBs who probably couldn't get the ball to him down the field consistently even if the line does hold up on a given play. All this is to say is that Evans may be in for another highly unpredictable season like 2009 (44-612-7) and low-end WR3 status in fantasy.
Cincinnati
Last week, I spoke about the pitfalls of counting on too much from a rookie TE, especially in fantasy. However, I cannot recall a TE prospect since Kellen Winslow Jr. came out of the draft in 2004 that I have felt this strongly about a rookie TE's chances of succeeding right away on the pro level. QB Carson Palmer seems to agree, telling the team's website in early June that "the sky's the limit for him" and that he has "the natural physical tools and ability to do anything in this league". Despite missing his entire senior season due to a knee injury, Jermaine Gresham could very well emerge as a top-end TE2 candidate in fantasy as early as this season. If everything materializes like they want, the Bengals could quickly become a three-WR, one-TE base offense in which fellow rookie Jordan Shipley becomes the first-down conversion machine, Antonio Bryant and Chad Ochocinco make defenses pay for trying to stop Cedric Benson and Gresham abuses the poor LB or S that is forced to cover the 6-5, 261-pound man-child.
It wouldn't be right to mention Palmer's supporting cast without mentioning him, right? In this what-have-you-done-for-me-lately world we live in now, it's easy to forget that Palmer was on pace for 3,664 yards, 28 TDs and 14 INTs after eight games in 2009. Strangely, nary a whisper was made about his elbow. Then, without much of a warning, he went for 1,262-7-6 in the second half and rumors about his elbow injury flaring up were rampant. ESPN's John Clayton suggested in this column that it is clear that Palmer suffered more in the second half of the season due to his supporting cast than anything else. While he has some work to do again to prove he is an elite QB, I highly doubt you will find many football people that want to face a healthy Palmer WITH legitimate weapons at each skill position. I currently have him rated as the 13th-best QB (or as the top backup option in 12-team leagues), but I can easily envision a scenario in which Palmer becomes a top-eight QB option in 2010.
Cleveland
The Browns don't figure to generate a lot of buzz in most 12-team fantasy leagues this season, but one player who may be a market-mover may be rookie second-round pick RB Montario Hardesty. Fantasy owners do not need to be reminded what can happen when the right part of the schedule meets up with a commitment to a single back and the running game (i.e. Jerome Harrison, Weeks 15-17 last season). I'll get into true schedule analysis down the road, but this season's slate doesn't figure to end like 2009, although Weeks 11-14 see the Browns face off against potential weak run defenses such as the Jags, Panthers and Bills. With Harrison likely locked into the pass-catching part of this offense, Hardesty probably doesn't stand to be all that sought after in PPR leagues. However, his powerful running style should complement the Browns' underrated offensive line that spurred Harrison's second-half surge as well as the one last stellar season Jamal Lewis could muster. Tony Grossi of the Cleveland Plain Dealer seems pretty convinced no veteran will step up to the point of challenging the rookie for the lead role, plus the fact that Cleveland traded up to acquire Hardesty is a pretty clear signal to the team by the new front office that the ex-Volunteer was an extraordinary value or fit a definite team need.
While Mohamed Massaquoi may garner some late-round sleeper consideration in fantasy drafts, the biggest wild-card on the team (if not the entire league) will once again be do-everything Joshua Cribbs. It remains unclear just how much Brian Robiskie has improved from his poor rookie season – he has reportedly impressed this offseason – and how much rookie Carlton Mitchell will contribute immediately, but Cribbs could and should be used in a manner similar to the way I expect the Chiefs to use rookie Dexter McCluster, that is, as an ace return man who could catch 40+ balls and occasionally line up in the backfield, sometimes reprising his "Wildcat" role from last season. Cribbs is a must-have in leagues that reward return yards, but he could actually have mixed-league PPR and non-PPR value if Robiskie and Mitchell are not able to step up right away.
Denver
Eddie Royal was a rookie revelation in 2008. However, all that did was set his 2009 owners up for a disappointment of epic proportions when his receptions fell from 91 to 37 and his yardage dropped from 980 to 345. If there was a bright side, it was that he more than doubled his punt return yardage from his rookie season and scored a kick-return and punt-return TD in Year Two. Apparently, though, HC Josh McDaniels likes Royal as the full-time returner for the time being, so anyone anticipating Royal returning to fantasy prominence in non-return leagues may want to direct their affection more towards Jabar Gaffney or rookie Demaryius Thomas. According to the team's official website, Royal is working mostly out of the slot, where Brandon Stokley spends the majority of his time. The other downer: McDaniels' willingness to use a committee approach to replace Brandon Marshall. Considering Marshall is no longer is in Denver, it is probably fair to assume the Broncos' 341 total team receptions from a season ago will go down significantly. Thus, it would seem as if McDaniels would be plenty happy seeing two WRs with approximately 50 catches each (Thomas and Gaffney?) with a handful of WRs (Royal and Stokley?) – and perhaps TE Daniel Graham - in the 40-catch range, while the remaining catches are split between RBs Knowshon Moreno and Correll Buckhalter. In short, there looks to be very little starter-worthy material in the passing game from a fantasy prospective in Denver.
McDaniels will also likely force rookie QB Tim Tebow into action at various points each game as well, likely sapping whatever fantasy QB2 potential Kyle Orton had left after the departure of Marshall. This all does lead somewhere positive, I believe, and that would be the RB position. Year Two of the McDaniels regime figures to suit Moreno's power-running talents better than last season's mix of using zone-blocking linemen in a power-rushing scheme. But his biggest jump should come in the passing game, where he is drawing raves for his improvement in both pass blocking and after the catch. Buckhalter will remain a slight drain to his overall value, but look for Moreno to start fulfilling his promise in 2010 with a running scheme (and personnel) suited more to his talents. Without a dominant WR to move the chains, I could easily see Moreno doubling last season's 28 receptions, making him a PPR dynamo.
Houston
Since bursting onto the scene during the 2006 preseason, Jacoby Jones has done little more than take up space on the fantasy waiver wire returning kicks and punts. But, at the end of the last season, we may have gotten a glimpse of what he is capable of as a WR. With Owen Daniels out for the season and the Texans searching for a quality second option behind Andre Johnson (along with a playoff spot), Jones stepped up with two notable fantasy performances in Weeks 16 and 17 with TDs in both games. Whether or not the end of Houston's season served as a springboard for Jones as a full-time WR or not will be a question answered in a few months, but HC Gary Kubiak sounds like a happy camper when it comes to Jones' newfound focus and maturity. Talent has never been a question for Jones, so the fact he is never too far from Johnson's side and impressing the coach with his intangibles nowadays is a good thing. With Daniels unlikely to be 100% for most – if not all – of this season as he recovers from another knee surgery, the Texans will need Jones living up to his potential in order to meet last year's lofty team passing marks.
Speaking of Daniels' recovery from his ACL surgery, this season figures to be interesting in regards to what TE will be the one to step up to fill in the void for the healthy version of Daniels. Kubiak believes TE James Casey has enjoyed as good of an offseason as anybody. Perhaps just as impressive, the coach believes the TE's mental aptitude is every bit as good as his physical talent. Kubiak is even talking about getting Casey some reps at FB down the road, so even with Daniels on the team, the second-year athletic marvel is eventually going to force his way onto the field.
Indianapolis
With Anthony Gonzalez seemingly unable to set foot on a football field anymore, the potential for a playing-time crisis opposite Reggie Wayne seems moot for the time being. HC Jim Caldwell seems quite pleased with the continued progress of youngsters Pierre Garcon and Austin Collie. As a rule, possession WRs tend to be a bit more predictable and consistent in fantasy than big-play WRs simply because their opportunities are more predictable and consistent. Garcon will probably be the more sought-after player in fantasy because of his flashy postseason contributions and that he is the likely starter. But the fact of the matter is that Collie nearly matched Garcon's overall numbers in the playoffs and bested him during the regular season. At this point of the summer, I expect that trend to continue, making Collie the slightly better fantasy player again in 2010.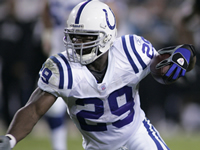 Addai: The clear starter but Donald Brown is nipping at his heels.
It's been said that effectiveness can sometimes outweigh the numbers. In 2009, that axiom was certainly true for Joseph Addai as he posted an abysmal 4.3 yards/touch, made worse by the fact that he had 51 catches for an offense that scares the living daylights out of most defensive coordinators because of their potent passing game. (To put that yds/touch figure in prospective, Matt Forte averaged 4.4 with numerous lower-body injuries running behind a horrible offensive line.) However, Addai was saved from fantasy purgatory because he found the end zone 13 times. Whether that all remains the case one year later is entirely up to Donald Brown, who looks to rebound from a disappointing end to a season that had so much promise early on. Prior to a shoulder injury that knocked him out early in Week 7, Brown was showing explosiveness in the running and passing game that Addai was not and looked to be pushing for a bigger share of the workload in the Colts' backfield. Barring injury in 2010, don't be surprised if Brown cuts into Addai's touches significantly. Caldwell feels his second-year back is "more of a power back", which could translate into goal-line work at the very least. Addai is the clear starter here, but just keep Brown in mind as a later-round value pick that could have significant impact later in the season.
Jacksonville
Mike Sims-Walker displayed WR1 ability – real and fantasy – in the first half of 2009 before tailing off badly because of calf and knee issues in the second half. Still, he is the Jaguars' best WR and locked into one starting job when healthy going into a contract year (although that has less significance than usual given the unsure status of the league past this season). The other starting WR job is said to be open, but I'd be very surprised if Mike Thomas doesn't beat out fellow second-year WR Jarrett Dillard, ex-Charger Kassim Osgood and the ever-disappointing Troy Williamson for the job. The winner of this battle could be an important figure in fantasy as OC Dirk Koetter has hinted he wants to throw the ball more often this season. Torry Holt's 51 receptions from 2009 have to go somewhere and it is a good bet they will get spread mostly between Sims-Walker, TE Zach Miller and Thomas – who surprisingly had 48 catches one year ago.
It should be a very interesting 2010 for Maurice Jones-Drew and his owners. First, the man some call "Pocket Hercules" underwent Lasik surgery in the offseason, but told ESPN in May that his vision only hindered him before on long passes. Either way, perfect vision is better than the 70-40 vision doctors told him he had prior to the surgery. Secondly, the Jags' offensive line should only get better after placing both of their top picks – LT Eugene Monroe and RT Eben Britton – in the fire right away last season. The addition of G Justin Smiley should solidify the interior run blocking, push the capable Uche Nwaneri to C (removing injury-prone Brad Meester) or both. The experience gained by the two young tackles and talent acquired inside should only serve to make MJD a more explosive runner. It's unlikely that Jacksonville will back off Jones-Drew too much (312 rushes in 2009) in the run game and it's a pretty good bet that if the Jags pass more, he'll have a fair shot at eclipsing his 53 receptions from 2009. With David Garrard reportedly having a great offseason and a better offensive line blocking for him, Jones-Drew could possibly match or even exceed last year's fantasy numbers.
Kansas City
The biggest question in fantasy circles coming out of Kansas City seems to be the affect that Thomas Jones will have on the overall value of Jamaal Charles in 2010. It's a fair debate, but the deck is stacked against Jones, to say the least. Jones, who will turn 32 in August, has carried the ball more times than anyone in the NFL since 2006. Despite keeping his body in phenomenal shape from year to year and running behind one of the best run-blocking offensive lines in the league, Jones managed a pedestrian 4.2 YPC last season. While that is a serviceable number, the chances he can do that behind the Chiefs' line are next to none.
To their credit, HC Todd Haley and GM Scott Pioli have made acquiring "seasoned" players a priority to serve as an example for their young talent and Jones is just the kind of player coaches and front office personnel want around the future of the franchise. And I believe that is exactly what will end up happening as Charles puts his career 5.7 YPC on the table this season. I think the Chiefs will be very mindful of not stretching the 5-11, 199-pound Charles too thin, but I'd be stunned if he isn't in the 250-carry, 55-catch neighborhood in 2010. If you throw out the 51 rush attempts QBs Matt Cassel and Tyler Thigpen had in 2009, Kansas City ran the ball 387 times. If I am handicapping Charles correctly, that should leave Jones in the 125-carry area, with some of that work probably coming in short-yardage and goal-line situations. But I think it will become apparent soon enough that Charles will demand at least a 2:1 workload split.
While I consider myself to be a member of the Dexter McCluster fan club, the odds are getting worse by the week that he'll emerge as a Rookie of the Year candidate that I thought he had the potential for right after the draft. While he has the versatility to be used in just about any offensive package, McCluster may end up splitting snaps in the slot with Jerheme Urban behind Chris Chambers and Dwayne Bowe. At this point, it is safe to assume that Urban - a Haley protégé – will play a lot this season because he showed he was more than capable the few times he had a chance to play in Arizona, some of which came when his new coach was the Cards' OC.
Miami
It wasn't so long ago the Dolphins possessed the ability to support two fantasy RB1s (last year actually for a time). With Ronnie Brown recovering from a Lisfranc fracture, Ricky Williams turning 33 in May and the team's acquisition of Brandon Marshall leading to a more balanced offensive approach, the question is not only whether the team can still support two RBs for fantasy purposes, but if it can even provide one. And if it can – which RB will it be: Brown or Williams? My answer right now would be no, rather the Dolphins will feature two fantasy RB2s. Unfortunately, Brown has become an annual injury risk while Williams sparkled for most of 2009 until wearing down late in the season after taking over the feature-back role once Brown was lost for the season. The most likely scenario – if Brown is 100% by Week 1 – will be the same time-share that so greatly benefited both players last season, albeit with a slight reduction in the 31.5 touches/game the combo shared in Weeks 1-10.
With the addition of Marshall, how much does that benefit Chad Henne? First of all, the Dolphins are going to throw more often down the field. Henne posted a very uninspiring 12 FPPG last season, but boosted that average up to 15.7 over the final five weeks of 2009 – good for 18th in fantasy over that time. With Marshall in town, that average should be his starting point for 2010, with the potential for so much more. As we stand here in July, I have him ranked 16th among fantasy QBs, but I will acknowledge that he will likely move up as the regular season nears. As for Marshall, I really can't see another 100-catch season in 2010. With his hip surgeries piling up, facing Darrelle Revis and Nnamdi Asomugha a total of three times this year and the coaching staff's likely preference to ride the running game in the most important moments of the season, Marshall may have the odds stacked against him in that regard. Over the past two years, 18- and 21-catch games have helped to push his season total over 100. Although another record-breaking single-game performance is always possible from Marshall, expect something more in the 85-90 catch neighborhood this season.
New England
In an offseason in which Wes Welker has done nothing but produce optimism for his recovery from ACL and shoulder surgeries, it was only a matter of time before someone rained on his parade. It's possible that Welker avoids the PUP (Physically Unable to Perform) list and can play Week 1, but it is the return of his elite quickness that will take more time than he has left to recover. As many fantasy pundits have already suggested, Julian Edelman stands to benefit the most and probably deserves a fourth- or fifth-round grade in PPR. He's not Welker, but he's a fine fill-in and figures to be used in much the same manner. A Welker-like 100-catch season is highly unlikely as Welker probably will be activated off the PUP list (if he even goes on it), but it's not as unthinkable as it might seem if Welker does experience some kind of setback between now and the start of the season.
Staying on the WR-coming-back-from-an-ACL-injury theme, don't be surprised if Brandon Tate – who sat out most of last season to come back from the knee injury that cut short his college career – beats out Sam Aiken, David Patten and Torry Holt for the WR3 job (assuming Welker misses the start of the season). For what it is worth, I expect his toughest competition to come from rookie Taylor Price, who enjoyed a meteoric rise up draft charts after impressing with his size and speed as well as attention to route running in pre-draft workouts. Price will be hard to keep off the field, but I expect the rookie to start out behind Tate initially as Ohio (his alma mater) held its graduation on June 11, subjecting Price to a rule that barred him from any offseason team work (except three days of mini-camps) until June 12. It may seem meaningless to knock a player for a late graduation, but missing most of the "install" days that take place during OTAs only makes it more likely that Tate will emerge as the WR3 initially. It only helps he has the backing of Tom Brady. However, Price is probably the better bet long-term and should be able to fill the Jabar Gaffney role (circa 2007??) in this offense by the start of next season, if not by the mid-point of this season.
New York Jets
For what seems like the umpteenth time, I seem to be in the minority when it comes to LaDainian Tomlinson. ESPN New York's Rich Cimini reports LT did nothing in OTAs or mini-camps (the ones open to the media) to suggest, "Wow, he's back!" There within lies the problem…first off, no one should expect a return to greatness for a RB that has logged over 3,400 regular season touches in the NFL. Secondly, Cimini is working solely off the practices he was able to watch. Furthermore, he suggests that LT's tank is just about empty even though RB coach Anthony Lynn told him one day earlier that he compares the Shonn Greene-LT backfield to the Thomas Jones-Leon Washington combo from 2009. I'll believe a RB coach over a beat writer or local correspondent any day of the week and given Greene's inability to catch the football, it's a safe bet Tomlinson is in line for the same 12 touches/game that Washington was averaging prior to his injury, making him a fair RB3 in 12-team leagues. I'm not suggesting that he is a must-have in fantasy – because he's not – but to write him off is ridiculous right now. He's the only feature-back option the Jets have behind the very physical Greene and will be running behind the best run-blocking line he's seen in 3-4 years.
One offseason after making a push towards then-Browns WR Braylon Edwards and one season after being accused of tampering with then-unsigned rookie Michael Crabtree, the Jets are seemingly overflowing with receiving options for QB Mark Sanchez. So much so, in fact, that Edwards may be a non-factor by midseason. It appears safe to plug Jerricho Cotchery into one starting spot (and slot duty when the team goes three-wide), but does Edwards have any shot in holding off Santonio Holmes once he returns from suspension? Assuming Edwards doesn't revisit 2007, I doubt he can. This leaves Edwards as a possible WR3 that would only see time on the outside in three-WR sets when Cotchery moves inside in those formations. It's an interesting dilemma for fantasy owners for multiple reasons: 1) What happens if Edwards does revisit 2007 and makes himself impossible to replace in the four games Holmes will sit out? 2) Does Brad Smith get removed completely from the picture after showing well in spot duty in the playoffs? 3) What does it all mean for TE Dustin Keller when Cotchery, Edwards and Holmes are all in uniform? It sure appeared Sanchez was on the same page with Keller in the playoffs, so I'd imagine his numbers will hold steady – if not improve slightly – while the other receivers will see their numbers dip.
Oakland
With any luck, Oakland will not be a fantasy black hole in 2010. First off, Jason Campbell gives the Raiders their first legitimate signal-caller since Kerry Collins posted a top 10 finish among fantasy QBs in 2005. Obviously, Campbell needs weapons to have any shot at a meaningful season. We already know about Zach Miller – who should emerge as a fantasy force this season – but could a second-year WR be stepping up to stretch the field for him? If we are to believe the buzz coming from the Bay Area, Darrius Heyward-Bey may be the reason that Campbell may enjoy immediate success as a Raider. Let's remember that OTA success does not always carry over into the regular season, but hearing anything positive about DHB is a step in the right direction. The linked article above states that Heyward-Bey and HC Tom Cable agree that Campbell is zeroing in on DHB during drills and the WR has been dominating practice for the majority of the offseason. While it is important to note he isn't doing this in pads or in meaningful games yet and that elite speed doesn't necessarily guarantee any amount of real or fantasy production, DHB may be ready to strike a bit of fear into defenses in 2010 with a respectable QB, OC (Hue Jackson) and the fact that he may be ready for the responsibility.
One of the more annoying RBBCs in the NFL recently was the Raiders' three-headed committee. Gone now is one of the coaching staff's favorite players, Justin Fargas, leaving behind the much-maligned 2008 first-rounder Darren McFadden and the highly-talented Michael Bush. While I maintain that Oakland has yet to use McFadden in the fashion should be used, the truth is he hasn't stayed healthy long enough and, when he has been healthy, he hasn't shown anything close to the ability he displayed in college. He has been tackled too easily and failed to be the big-play threat he was drafted to be. However, blame for the disappointing career of McFadden (to this point) still falls more on the Raiders for their misuse of him. Where McFadden has failed as a runner, Bush has thrived. Yet again, though, Oakland somehow failed to recognize its third back on the depth chart the past two seasons was actually its most productive runner. Without Fargas to fall back this year, the Raiders will be forced to turn to their two best RBs – which is a good thing. Asking for a Ronnie Brown-Ricky Williams workload split is probably asking too much, but a Pierre Thomas-Reggie Bush comparision seems about right. Thomas typically finds himself in the 15 to 18-touch/game range while Bush is in the 10-12 neighborhood with a trick play usually in the gameplan. Assuming both RBs stay healthy, I could easily foresee Bush emerging as a solid RB2 in 12-team leagues while McFadden is probably a borderline RB2 in PPR leagues and RB3 in non-PPR.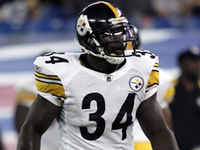 Rashard Mendehall: Many obstacles to overcome.
Pittsburgh
Last year, Rashard Mendenhall only needed to overcome an ineffective Willie Parker to climb atop the Steelers' depth chart and establish himself as a top-notch fantasy RB. Now the undisputed RB1 in Pittsburgh in 2010, he may have to contend with more than just defenses focused on stopping him with Ben Roethlisberger likely out the first six games of the season. Sixth-round draft pick Jonathan Dwyer is not your typical late-round selection and will be in the mix for short-yardage and goal-line duties right away, as will Isaac "Red Zone" Redman, who became a preseason sensation for his ability to produce in short-yardage and goal-line situations in 2009. Why the competition for such a firmly-entrenched starter? Well, the Steelers were tied for 21st in the NFL last season in offense inside the opponents' 20-yard line — they managed touchdowns just 48.2 percent of the time — even though they were seventh in the league in total offense, which led them to conclude the power-running game was at fault. It's a virtual certainty that Pittsburgh will run the ball more than 44.4% of the time it did in 2009, especially minus Big Ben temporarily and Santonio Holmes permanently. Training camp and the preseason figure to identify whether or not Mendenhall will be a top-10 RB lock in fantasy or just another runner who gets pulled inside the five-yard line. My best guess says he does secure goal-line work, but he will certainly have his work cut out for him.
In recent years, Pittsburgh has been able to make its third receiver relevant in fantasy. In 2008, Nate Washington recorded a 40-631-3 line before moving on to Tennessee. Rookie Mike Wallace did him one better, posting a 39-756-6 line as one of Roethlisberger's favorite weapons. As Wallace now moves into the starting lineup to replace Holmes, who should we keep an eye on now? Consider Emmanuel Sanders, a third-round rookie out of June Jones' run-and-shoot offense in SMU. Like Wallace, Sanders is small but incredibly fast and a player who will create big plays downfield. Sanders is a pretty good bet to return punts right away, but it is not impossible to think he could nudge out Antwaan Randle El and Arnaz Battle for the WR3 job. Bear in mind that he is an end-of-draft deep sleeper at best in fantasy drafts, especially considering the apparent change in offensive philosophy and Big Ben's long absence, but keep tabs on him as he could surprise.
San Diego
Every season, potential holdouts add another challenge to the art of projecting numbers for fantasy owners. Nowhere is this more of a concern right now than it is in San Diego, where WR Vincent Jackson and LT Marcus McNeill appear to be serious about making a statement in hopes to secure a long-term contract. It goes without saying that the Chargers don't stand much of a chance in making another serious playoff run without these players, but it throws a huge monkey-wrench into the plans of fantasy owners who are counting on any player from this offense – be it Philip Rivers, Ryan Mathews, Antonio Gates or even Darren Sproles. Rivers stands to lose the most without his WR1 AND blind-side protector, but Gates would be forced to battle double teams almost on a constant basis. For Mathews, running left would be difficult without McNeill and running right will be difficult if that side of the line doesn't improve substantially over last year's porous performance. Sproles, Malcom Floyd, Josh Reed and Legedu Naanee would be the players most likely to benefit from the possible holdouts in fantasy, but at this point, I don't think owners should be hoping for this scenario to play out.
Assuming both sides make nice and the unhappy duo of Jackson and McNeill return to Chargers' camp at some point during the preseason, what can we realistically expect from Mathews? Sure, diehard fantasy leaguers have already processed HC Norv Turner's prediction of 250 carries and 40 catches, but with Sproles locked into the third-down back role, that latter number seems two times higher than it should be. There have also been reports of the rookie being the trigger man in a limited "Wildcat" role, but shouldn't we remember that Naanee has been ticketed for that role for a couple years now…how often has Turner used it in a game?
I don't think anyone is doubting that Mathews will soon be a better RB than the departed LaDainian Tomlinson is (if he's not already) at this point of his career, but let's say that Turner's projected 290-touch prediction is accurate, even if it is more in the 270-carry, 20-catch neighborhood. For him to be a top 10-12 RB in PPR, he would likely need to average 4.2 YPC – a number the Chargers haven't hit since 2006 as a team – nearly a full yard/carry more than LT did last season (3.3) to approach the number of yards he would probably need to finish in the top 10 in the league in rushing yards. Since his numbers as a receiver figure to be limited initially (let's use 8.0 YPC for a total of 160 yards), he would then need to match LT's 12 TDs from a season ago to exceed the 218.7 fantasy points (the average point total of the 12th-ranked RB in fantasy over the last three seasons). Now, I don't need to remind you that I am one of Mathews' biggest fans, but expecting a rookie to easily top 1,000 rushing yards and 10 TDs behind a highly questionable run-blocking line is a recipe for disappointment.
Tennessee
With all the attention getting paid to Chris Johnson's situation, Javon Ringer is getting a chance to fill his spot until he returns (if he does). The second-year RB from Michigan State figured to be a lot more involved than he was his rookie season – eight carries – after LenDale White was traded, but a lengthy holdout from Johnson only increases the likelihood that Ringer will be pressed into service due to injury – be it because Johnson's workload from last season catches up to him or his inability to report to camp in "football shape" as he trains away from the team. It's important to note that Johnson was already a long shot to come close to matching last season to begin with after losing two above-average run blockers in TE Alge Crumpler and C Kevin Mawae, but any prolonged absence greatly increases the chances Ringer or undrafted rookie RBs LaGarrette Blount or Stafon Johnson will be pressed into action. Ringer is the clear handcuff right now, but it would not be surprising if the team opted to use Blount or Johnson (the USC rookie) at the goal line in such a scenario. In the end, Johnson would be foolish for holding out past August 10 because that is the date when players must report to training camp or forfeit a year toward free agency (because of the rules surrounding this uncapped year), not to mention the fines he'll likely incur from the team. In other words, expect him to be disgruntled all season long, but not filthy rich.
From a football standpoint, Tennessee is not a good place to be right now. Pushing the Chris Johnson holdout talk aside for a bit, there is the business of the league figuring out how long Vince Young will be punished (or if they should suspend) him for the assault charges brought against him from the infamous Dallas strip club incident in June. Then, there is the less-publicized fall of Kenny Britt down the Titans' depth chart due to showing up to OTAs out of shape. Given his status as a first-round pick in the 2009 draft, Britt will probably be out of HC Jeff Fisher's doghouse before long, but more interesting is whether or not he'll have a shot at supplanting starters Nate Washington or Justin Gage anytime soon. Jeff Fisher said Britt's climb back up the depth chart is about consistency and time. There's actually no guarantee an unfocused Britt will even hold off 2010 third-round Damian Williams. It's all likely a moot point in the end in fantasy because Tennessee doesn't exactly figure to air it out with Young anyway, but in the event the QB can't keep his nose clean off the field, then the Titans could conceivably have two WRs capable of being WR3s in fantasy with Kerry Collins at QB.

Suggestions, comments, musings about the article or fantasy football in general? E-mail me.