Preseason Schedule Analysis




7/25/11



A head start. An advantage over the competition. A leg-up on your league-mates. Whatever expression you want to use, fantasy owners want it. In some cases, it doesn't matter if they get it one minute before everyone else does, so long as they do.

Most fantasy analysts that are considered industry "experts" make their living – however modest – by identifying trends, interpreting information and reaching conclusions more quickly than "average" people do. Quite often, "experts" are counted upon to set the fantasy table – if you will – with projections, analysis and rankings that allow those who do not have the time or expertise to do all the legwork themselves.

Whether I am considered an "expert" or not is inconsequential, I believe it is my responsibility as a trusted fantasy football analyst to provide detailed analysis whenever possible. Sometimes, that means making observations based on trends and, other times, it means doing my best at predicting the future based on somewhat limited information. This offseason is one of those times for the latter. Never before have we entered late July with so much player movement yet to be determined. While the draft proceedings went off without a hitch in April, there are roughly 400-500 free agents that either need to find different teams or re-sign with their old employer. Then, there are the countless undrafted free agents that will have limited time in training camp to make an impression on their new team. And finally, there are several players who are likely to be traded that need to find a new landing spot as well.

This week, I will try to help each of you get a small head start on your competition by attempting to handicap the potential free agent and trade market from a fantasy perspective. While this exercise will probably lead to more wrong predictions than right ones, I believe it serves a very worthwhile purpose: helping readers formulate opinions on players before they actually move. This offseason is going to be unlike any one fantasy owners have ever known since we will have no OTAs or mini-camp to collect information from nor will we have the benefit of an entire summer to reach conclusions on an old face in a new place. In short, the 2011 season figures to reward the prepared owner and punish the unprepared owners even more than usual.

Because restricted free agents are a slippery slope and often do not change teams, I will stick to unrestricted free agents and players that can reasonably expect to be traded once transactions are allowed. It should be noted that in the "teams that should be interested" portions of this article, I am attempting to be somewhat realistic in the teams that a free agent would actually consider. For example, Carolina has a desperate need for a WR like Santonio Holmes, but the likelihood that he will choose to sign with the Panthers is pretty small. Something else to keep in mind as you read this article: it is being widely reported that each team will be required to hit a salary "floor" at roughly 99% of the projected cap of $123 M (actual $120 M cap with $3 M of credits as reported by NFL Network). That means some teams that are projected to have a lot of cap room – Cincinnati and Tampa Bay are two of several – will be required to spend up to somewhere between $118.8-121.7 M and be major players in the free agent market. One final note: late Sunday night (July 24), Drew Brees sent an e-mail to his teammates that stated the reported three-day window each team was supposed to have to sign its own free agents does not exist. If that happens, free agency will be a true feeding frenzy unlike anything we have ever seen.

From most impact to least, players are listed in order of projected fantasy impact in 2011, assuming my prediction for where they sign is correct. "Interested" teams are listed in alphabetical order.

Ahmad Bradshaw, RB
Teams that should be interested: Cincinnati, Denver, Indianapolis, Miami, NY Giants

Predicted final destination and fantasy impact: Giants. Bradshaw should be the second domino to fall on the RB market – assuming the Giants don't re-sign him during the now-in-question three-day window that teams will have to negotiate with their own free agents – but if he somehow is allowed on the market, expect the Giants to match any offer. With that said, the Broncos could definitely be in play should DeAngelo Williams elect to stay with Carolina. Three years younger than the 28-year-old Williams, Bradshaw may actually be a more coveted option for Denver. The Dolphins could scrap their plan to add a scatback like Darren Sproles and instead find a big-play complement for Daniel Thomas; however, I tend to believe that will not happen. Admittedly, two of the teams above (Colts, Bengals) are extreme longshots (neither team has much history spending big dollars early in free agency) but it isn't out of the realm of possibility that Indianapolis passes on re-signing Joseph Addai and decides to bring a young big-play element into its backfield alongside rookie Delone Carter – the RB the team hopes will help address its short-yardage woes. The Bengals are a slightly lesser longshot, but with Cedric Benson's most recent arrest, one would hope Cincinnati considers other backfield options (although if it does, I expect a cheaper talent like Jason Snelling or restricted free agent Michael Bush). Because it has been so long since the Bengals possessed a big-play threat in the backfield, perhaps they would trust a player like Bradshaw – someone who has produced while playing in pain. If Bradshaw does remain in New York as many expect – and it will be tough with the Giants' salary cap situation – he should start coming off the board in the early part of the third round at the latest in 12-team leagues.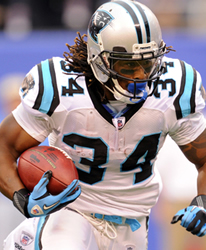 Williams: It will be a two-horse race between the Broncos and Panthers.
DeAngelo Williams, RB
Teams that should be interested: Carolina, Denver, Miami

Predicted final destination and fantasy impact: Denver. Ultimately, this should end up being a two-horse race between the Broncos and Panthers, unless a darkhorse candidate like Cincinnati (highly doubtful) or Washington (intriguing but still doubtful) wants to drive up the price. Prior to the draft, there appeared to be some mutual interest with the Dolphins, but after their selection of Daniel Thomas, it seems unlikely the team will pursue anything more than a third-down scatback type who can return kicks. Therefore, it should come down to D-Will returning to Carolina – which has Jonathan Stewart and Mike Goodson, two younger and slightly more durable options – and Denver – which would mean Williams would play for the only NFL head coach he has ever known in John Fox. Despite a fine second-half showing in 2010, Knowshon Moreno isn't considered a workhorse-type RB and wouldn't be able to handle all the carries in the run-heavy offense Fox wants to run anyway. (It should be noted that Fox's teams have never run the ball less than 422 times in a season in his nine seasons as a HC. And over the last six seasons, Carolina's lead back averaged 225 carries per season while the "complementary" RB received an average of 158 per season – an average percentage split of roughly 59:41 between his team's top two RBs. What this all means is that Moreno's stock doesn't plummet – even if it does drop a bit – while Williams moves from a dominant run-blocking line in Carolina (when healthy) to a rebuilding one in Denver. Thus, the net result in fantasy is that both Williams and Moreno would see their draft stock fall, with Williams' durability and lesser offensive line probably making him more of a third-round selection in 12-team leagues while Moreno's own injury issues and fewer touches should make him more of a consideration in the sixth-round area.
Santonio Holmes, WR
Teams that should be interested: Chicago, NY Jets, St. Louis, Washington

Predicted final destination and fantasy impact: Jets. As the youngest proven WR in this class, it would come as little surprise if Holmes ends up as the highest-paid one of the bunch. As much as Chicago and St. Louis could use someone of Holmes' talents, one would think the only way either team will land him is if Holmes prefers to take his time in signing, which is doubtful since the dollars will be flying fast in the first few days of free agency. This leaves with the Jets and Redskins, two deep-pocketed teams with a history of spending money on free agents. Because the Jets have repeatedly stated that Holmes is their top priority, expect them to match any offer Washington can come up with, even if that means New York has to let WRs Braylon Edwards and Brad Smith sign elsewhere. And even if the Redskins do outbid the Jets, it's doubtful that it will be by such a significant margin that Holmes will leave a Super Bowl-contending team for one that is still finding itself in Year Two of the Mike Shanahan-Bruce Allen regime. Holmes would represent a rock-solid choice in the fourth round of fantasy drafts if he remains in New York.
Steve Smith, WR (Carolina)
Teams that should be interested: Chicago, New England, San Diego, St. Louis

Predicted final destination and fantasy impact: Chicago. While much of the talk during the offseason has Smith linked to the Chargers, he doesn't strike me as their kind of receiver. Don't get me wrong, his explosiveness would be a welcome addition in San Diego and help make Antonio Gates' job even easier. But San Diego has favored bigger receivers of late and I can't foresee A.J. Smith dealing a second-day pick for a 32-year-old wideout with a fairly big salary number. St. Louis represents an interesting possibility as the need and chance to play for a better team are both present with the Rams, but something tells me St. Louis is going in a different direction (more on that later). I included New England among the list of interested teams simply because the Pats always seems to have more than enough second-day draft picks to make a move. Acquiring Smith shouldn't require much more than a third-round selection and his presence in Foxboro would make Tom Brady that much more dangerous. The best fit in my mind, however, is Chicago. OC Mike Martz's offense is based on deep-in routes, explosiveness and precise route-running ability with enough toughness to take the hit over the middle from the safety. Few receivers fit that description much better than Smith, who would move Johnny Knox into a more comfortable WR2 role on the team while allowing Earl Bennett to serve as the third receiver. Wherever Smith does end up, he is unlikely to return to rekindle his 80-catch days of yesteryear, but another 1,000 yard, eight-TD season in a Martz offense is entirely possible. Landing in Chicago would probably revitalize Smith's draft stock and make him a bargain in the early-to-mid part of Round 5.
Jason Snelling, RB
Teams that should be interested: Atlanta, Cincinnati, Miami, St. Louis

Predicted final destination and fantasy impact: Cincinnati. In limited duty with the Falcons, Snelling has essentially done what Michael Turner did in San Diego before he landed in Atlanta – produce in a big way. It probably comes as little surprise then that Snelling wants a bigger role as he enters his age-28 season. Unfortunately, it is doubtful the Falcons can offer him that after selecting Jacquizz Rodgers in April's draft to protect themselves for Snelling's possible departure. So, despite his love for his current employer, he may have a better shot for more playing time somewhere else. Fortunately, one team has a need for someone with his size and talents – the Bengals. With Cincinnati wanting to run the ball with a big, physical RB in new OC Jay Gruden's West Coast offense, I see Snelling as more of a complete back than Cedric Benson with none of the headaches. Consider for a minute that Snelling's 44 receptions as a third-down back from a season ago are 16 more than Benson has caught in any season, including the last two-plus as the Bengals' featured back. To me, this is an easy choice for Cincinnati; the question is will they see it the same way? On one hand, Snelling presents a pass-catching option with a lot of tread left on his tires in a short-passing offense that requires its running backs to be good receivers. On the other hand is Benson, a limited power back with significant off-field concerns that is about the same age as Snelling and has 1,008 more touches in the NFL. Snelling is no superstar, but he is steady and versatile – qualities the Bengals need in the worst way. Because Cincinnati has a tendency to lean on one runner, Snelling could emerge as one of the biggest winners in free agency and fantasy if this happens. If this all comes to fruition (and I know it is a lot to ask the Bengals to turn the page from Benson), then Snelling becomes a very solid RB2 in fantasy who could easily command an early-fifth round selection at worst in 12-team leagues.
Santana Moss, WR
Teams that should be interested: Chicago, Jacksonville, Minnesota, St. Louis, Washington

Predicted final destination and fantasy impact: Washington. It probably seems odd that I would suggest Chicago would chase a 32-year-old receiver in Smith who would require draft-pick compensation as opposed to another 32-year-old receiver who does not requires one in Moss. But I think the very reason the Bears will try to land Smith before Moss is that Smith has two years remaining on his contract at $7 M and $7.75 M in 2011 and 2012, respectively. There's no way Chicago (or any other team) will land Moss with a two-year offer, so Smith really should be the hotter commodity because there is less risk he will get "old" before the end of his contract. Since neither Jacksonville or St. Louis strike me as a team willing to take a chance on Smith, that leaves us with Minnesota – which seems like a poor bet right now to retain Rice – and a return to the Redskins. CSN Washington reported in early July the Redskins could end up with somewhere between $10-28 M of salary cap room, assuming they can find trading partners for Donovan McNabb and Albert Haynesworth and release a few other veterans. GM Bruce Allen and HC Mike Shanahan restrained themselves in free agency last season, but have given every indication they have been preparing for an aggressive offseason this time around. That aggressiveness will likely manifest itself at receiver and on the offensive line first, with additional free-agent help coming on the defensive line. The team is also likely to add a veteran QB to come closer to the aforementioned $28 M of cap room than the $10 M figure. If Moss returns to Washington as I believe he will, he should continue to be the PPR dynamo he has been for most of his career. And with rookie Leonard Hankerson joining Chris Cooley and Anthony Armstrong, Moss may not be asked to carry the passing game each and every week anymore. Even with John Beck under center, Moss should be considered a low-end fantasy WR2 and should come off the board in the late-fifth or early-sixth round.
Joseph Addai, RB
Teams that should be interested: Cincinnati, Indianapolis, Washington

Predicted final destination and fantasy impact: Indianapolis. In all honesty, there are very few teams that have a need for a running back with Addai's talents. That's really not a knock on his ability as much as it is a realistic assessment of what he is – a wonderful RB in all facets of the passing game with decent ability as a runner when he is healthy. And to say that his skill set is valued more in Indy than it is anywhere else is a definite understatement, particularly with Peyton Manning coming off his second neck surgery in as many years. The Bengals should really be in the market for a RB not named Cedric Benson and the Redskins may have some interest as they head into the 2011 season with rookie Roy Helu and injury-prone Ryan Torain. In the end, though, a return to the Colts makes the most sense for both parties. In Indy, Addai may see his fantasy appeal drop a bit from where it has been in previous years since the Colts added a rookie RB in Delone Carter who they hope will be their answer to their short-yardage woes. But even if Addai's new ceiling is around six TDs, he is too involved in the passing game to drop lower than a very serviceable RB2 in fantasy. He's well worth a sixth-round selection in 12-team leagues should he last that long in PPR drafts this summer.
Zach Miller, TE
Teams that should be interested: Oakland

Predicted final destination and fantasy impact: Oakland. If Miller escapes Oakland, it will be a huge upset. The Raiders placed a first- and third-round tender on him in March before the lockout became official – a clear sign that Al Davis has no intention to let him get away. With Miller the focal point of the passing game, the Raiders showing some signs of life in 2010 and the team's history of overpaying to keep its own players, staying in Oakland may not be a bad option for the TE. Miller should be considered a strong sixth-round choice in 12-team PPR leagues this summer.
Kevin Kolb, QB
Teams that should be interested: Arizona, Seattle, Washington

Predicted final destination and fantasy impact: Arizona. For months, the only "near-guarantee" once the lockout was lifted has been the identity of Kolb's new team, the Cardinals. In fact, the only debate for months has been if Arizona would sacrifice multiple draft picks or a player and draft pick in order to secure the player the Cardinals must feel is their long-term successor to Kurt Warner. The problem is that while Kolb is the youngest QB (26) with a decent track record that is rumored to be available, he's not the youngest QB with the best track record that can be had. (That distinction, in my mind, belongs to 28-year-old Kyle Orton, who just happens to be good friends with Arizona institution Larry Fitzgerald and is supposedly available for a third-round pick whereas Kolb is likely to require a second-round pick and a veteran player in return.) Be that as it may, I'm not in the business of telling or convincing team owners and GM's what they do with their resources or franchises (yet). In Arizona, Kolb would not see much of a drop-off in offensive skill-position talent, but the Cardinals need to add some quality offensive linemen if they plan on keeping Kolb around for the long term. (In three of his five starts last season, Kolb was sacked three, four and six times – with the three-sack game happening in about a half of football before the Packers knocked him out for good.) As for the other teams that should be interested, I can only see the Seahawks staying in the race long enough to drive up the price on their division rivals while the Redskins showed in April's draft they plan on being more judicious with their draft picks than in years past. As a Cardinal, Kolb's fantasy status would be a difficult one to call, due mostly the offensive line woes. His upside isn't as great as another injury-risk QB like Detroit's Matthew Stafford, but he should be one of the better fantasy QB2 options available assuming Arizona takes some steps to improve its line.
Kyle Orton, QB
Teams that should be interested: Arizona, Miami, Seattle, Tennessee, Washington

Predicted final destination and fantasy impact: Miami. Of the QBs expected to be available (and thus, on this list) I feel Orton is probably the best bet to succeed long-term. In four full years as a NFL starter, one could argue that a single year each with Brandon Marshall and a late-blooming Brandon Lloyd are the best receivers Orton has played with, so it is possible that we only caught a glimpse of what he can do in a wide-open passing offense with any kind of threat at receiver. With that said, it is only a matter of time before Denver decides to hand the starting job to Tim Tebow permanently. According to a recent Denver Post article, the Broncos are going to be roughly $9 M over the cap at the start of free agency. It just so happens that Orton's "cap hit" is $8.879 M, so it seems like a logical place to start for a team that wants to be active in free agency. Therefore, the question isn't if Orton will get traded or released, but when and where he will end up. As I stated above with Kolb, I believe he is the better choice for Arizona. However, if the Cards do what just about no one expects them to do and use Kolb and Orton as leverage against each other (and ultimately taking the cheaper option in Orton), then Denver may be forced to accept a third- or fourth-round pick in return. One team that may just pay that price could be Miami - a team that has a player Orton is already familiar with in Marshall. Many of the Dolphins' personnel people who have supported Chad Henne are no longer with the team, so the Dolphins would be wise to bring in a proven QB to push Henne, if not overtake him. And if Orton does join Miami, his fantasy stock would remain fairly high with a supporting cast that includes Marshall, Davone Bess, rookie RB Daniel Thomas and a scatback RB like Reggie Bush or Darren Sproles. Therefore, in such a situation, Orton would be a solid QB2 choice in fantasy this season.
Sidney Rice, WR
Teams that should be interested: Carolina, Chicago, Jacksonville, Minnesota, Oakland, San Diego, Seattle, St. Louis, Tennessee, Washington

Predicted final destination and fantasy impact: Carolina. From the time Rice reportedly last spoke to Vikings HC Leslie Frazier back in April, it became clear he wanted to test the open market and was willing to go to the highest bidder. As a player entering his age-25 season, Rice will have no shortage of suitors looking for a big receiver (6-4, 202) that can create at least one big play per game, so it's a good bet Rice will attempt to break the bank with this contract – a description that would seem to eliminate teams like the Jags, Rams and Titans. Seattle makes some sense since Rice could fit in well opposite Mike Williams (not to mention HC Pete Carroll likes big receivers), but the feel just isn't quite right there either. I also wonder about the fit in Chicago since the one big receiver the Bears just had who could get downfield (Devin Aromashodu) did not appeal to OC Mike Martz and is the same kind of player Rice is, albeit less talented. I could also see a scenario in which San Diego and Minnesota brokered a sign-and-trade deal, swapping Vincent Jackson for Rice in a deal that would get the former away from GM A.J. Smith while the latter would fit the Chargers' profile of supersized WRs who can create big plays (admittedly a longshot). In the end, I expect Washington, Minnesota and Carolina – which according to one estimate may be as much as $70 M under the new proposed salary cap – to drive up the price on each other to land the youngest impact free-agent receiver on the market. And if that ends up happening, I suspect Rice will chase the money – not to mention the team that has the most-talented QB with the highest ceiling– and replace Steve Smith as the big-play receiver in Carolina. Yes, his injury history may lead to a slightly smaller contract than some expect, but the Panthers will have the room to offer Rice the most guaranteed money if they choose to do so. With a rookie QB in Minnesota (Christian Ponder) and Carolina (Cam Newton) as well as an unproven veteran (John Beck) in Washington, Rice's fantasy value will take a hit regardless, at least from its 2009 zenith. He has a shot at low-end WR2 status in all three locales, assuming good health, although his best shot at reaching that status would be as a Redskin. However, if he signs with the Panthers, fantasy owners should view him as a top-end WR3 at best, considering his new supporting cast and lack of durability.
Randy Moss, WR
Teams that should be interested: NY Jets

Predicted final destination and fantasy impact: Jets. As it was made quite clear during the middle of the 2010 season, teams were leery of adding Moss back then. And he justified those fears by producing next to nothing as a Titan. So despite the fact that Moss should be a relative bargain on the free agent market, Moss and his agent may be waiting by the phone for a while despite the latter's claim that his client is in "freakish shape". Perhaps the only team that will kick his tires will be "the other New York team" since it is highly probable the Jets will be looking for someone with big-play ability that should come relatively cheap to replace Braylon Edwards. (And what fun would that be, Moss playing for the archrival of the team he professed his love for just last season?) For fantasy purposes, Moss would have pretty decent upside and could be a steal as a late-round pick, at least until we find out whether or not his agent was lying to us about Moss' conditioning. But in the instance that Moss is re-committed, his fantasy floor would be Edwards' production in 2010 and his ceiling is, well, as high as Moss wants it to be.
Reggie Bush, RB
Teams that should be interested: Miami, New Orleans, St. Louis

Predicted final destination and fantasy impact: St. Louis. There is little doubt that Bush and his $11.8 M salary in 2011 will not both return to the Saints. But could he return at half that price? Considering the Saints have nearly 30 free agents, there's a pretty good chance the answer is no. It hasn't helped this projection that Bush has both confirmed he wants to return to New Orleans and told the national media (on NFL Network) that he will not accept a paycut to return to the Saints. So which is it? The smart money is that if Bush isn't amenable to a quick restructure, so he will be set free in hopes they can bring him back. But one has to wonder if a reduced role will appeal enough to the 26-year-old when teams like the Dolphins and Rams should be able to guarantee him at least 10-12 touches per game and should have the cap room to pay him more than New Orleans. St. Louis makes the most sense of the two because it isn't a stretch to see OC Josh McDaniels use Bush in a Kevin Faulk- or Correll Buckhalter-type of role to reduce Steven Jackson's workload. Furthermore, adding Bush to the passing game would make the absence of a true WR1 less of an issue since he would command most of the defense's attention while he is on the field. Bush could also see that Jackson is nearing that magical 2,000-carry career mark when RBs tend to start trending downward and smell an opportunity to carve out a 50-50 split by 2012. That likelihood doesn't figure to happen in Miami, New Orleans or Philadelphia (another rumored destination), so I'll send Bush to the Rams after believing he would agree to a restructured deal with the Saints initially. In St. Louis, Bush would have some RB4 value in PPR leagues, although his non-PPR stock would probably plummet to later-round status in most regular-sized leagues.
Cedric Benson, RB
Teams that should be interested: Cincinnati, Denver, St. Louis, Washington

Predicted final destination and fantasy impact: Washington. I'll admit it; it would be a pretty big upset if the Bengals don't take back their lovable criminal. But in the off-chance they do come to their senses and sign Snelling instead, there is going to be a pretty limited market for a RB going into his age-29 season that sports a career 3.7 YPC. The most likely suitor would probably be the Broncos – if they miss out on both DeAngelo Williams and Ahmad Bradshaw – so they could have a veteran NFL runner that could share the load with Knowshon Moreno. However, I do expect Denver to land one of the best RBs in this free agent class, meaning it could go down to the Rams (who I expect will land a well-rounded third-down back instead of a limited power back) and the Redskins. Despite the fact Washington should enter camp with rookie Roy Helu and Ryan Torain fighting for the top spot, neither player is a great bet to stay healthy all season long. However, the best reason for Benson to end up in Washington is because he has already proven his ability to adequately run behind a zone-blocking line. Cincinnati is by far the best place for Benson's fantasy stock, but if there is another place that could give him a chance to prove me wrong, it might be Washington since he would definitely be in line for a good chunk of the backfield work. As a Bengal, Benson warrants late-fourth to early-fifth round consideration in both PPR and non-PPR leagues while his stock drops roughly 2-3 rounds should he be forced to share touches with Helu and Torain in the nation's capital.
Chad Ochocinco, WR
Teams that should be interested: Chicago, New England

Predicted final destination and fantasy impact: New England. In team owner Mike Brown's world, it is pretty cut and dried: a player is not going to force his way out of town and if a player has "invisible" value to the common man, it doesn't mean he still can't be useful to Brown. The first part of that statement applies to both Carson Palmer and Ochocinco while the second part impacts only "85". Try as he might over the years, Ocho hasn't been able to talk or act his way out of town, even when trading him would have been the best thing for the team. Now, with the emergence of Jerome Simpson and the selection of A.J. Green in April's draft, Ocho's career as a Bengal is almost certainly coming to a close. No team will likely trade for him, but Brown isn't going to release him right away either since keeping him around for a while should enhance the team's position in contract negotiations with Green. In short, expect most of the potential market for Ocho's services to be dried up by the time he becomes an ex-Bengal. As luck would have it, that last part makes him a good fit for the Patriots as HC Bill Belichick has long had an odd fascination with him. The one team I can see competing with New England is Chicago since Ochocinco's speed and explosion at 33 years of age can still play in a Mike Martz offense, but I tend to believe the Bears will not wait until his release to fill their need for a WR1. In fantasy, Ocho would probably merit high-upside WR4 consideration initially with the Pats, with a possibility for WR2 value should he beat out Deion Branch for a starting job.
Malcom Floyd, WR
Teams that should be interested: Carolina, Miami, Jacksonville, St. Louis, San Diego

Predicted final destination and fantasy impact: San Diego. Floyd is just the kind of mid-priced, big-play receiver that teams like the Jags and Rams could be interested in. And if the Panthers and Dolphins each want to take a dip into a more reasonably-priced option than the bigger names I have listed for them above, Floyd could be headed there as well. But I highly doubt the Chargers will let it go that far since Floyd is a pretty good bet to re-sign with the team. Not only does Floyd already play a prominent role in a great offense, he may also get a chance to move up the proverbial food chain should the acrimony between GM A.J. Smith and Vincent Jackson continue through next season. With Jackson likely to return under the franchise tag, however, Floyd should be considered a WR3 again for fantasy purposes since he will be third in the pecking order behind Antonio Gates and Jackson.
James Jones, WR
Teams that should be interested: Carolina, Cleveland, Minnesota, San Diego, Seattle

Predicted final destination and fantasy impact: Minnesota. San Diego could test the waters if it cannot re-sign Malcom Floyd and Seattle may be interested in Jones as a complement to Mike Williams, but both teams figure to be longshots at best. The Panthers are a good bet to land one top free agent receiver and maybe two with their projected cap room and the likely departure of Steve Smith, so Carolina could be a player in the Jones' sweepstakes if it wants to be. (And how much better would the Panthers be already in 2011 if they were able to start Rice and Jones at WR instead of Brandon LaFell and David Gettis?) But in the end, I think Jones stays in the NFC North. If a division rival can kill two birds with one stone in free agency, they will take the opportunity to do so more times than not. While the whole "team steals player from division rival" angle is a bit overrated in my mind – especially in this case since Green Bay doesn't mind letting Jones go – he could serve as an instant upgrade to Bernard Berrian in Minnesota. As just about any Green Bay fan can attest, Jones' proclivity to dropping passes is troublesome and is the main reason he isn't likely to return to the Packers. But his big-play ability is undeniable and his experience in HC Mike McCarthy's West Coast offense should carry over fairly well to Bill Musgrave's offense in Minnesota if the Vikes are unable to hold on to Sidney Rice. As a Viking, Jones would make a decent WR4 option in fantasy that could be drafted in the later rounds.
Braylon Edwards, WR
Teams that should be interested: Carolina, Chicago, Miami, Minnesota, San Diego, Seattle

Predicted final destination and fantasy impact: Miami. In finding a logical landing spot for Edwards, a few things need to be considered. At 28, Edwards is likely seeking his final big NFL payday, so a team with some cap room is a prerequisite. Secondly, if he is to leave the Jets, Edwards will want to play for a team that is perhaps one or two players away from making a deep playoff run. Last but not least, his new team needs to be in the market for a deep threat receiver. I'll admit, this is one fit I have my doubts about and things could really get dicey on South Beach with Brandon Marshall and Edwards together, but Miami should have the cap room and talent necessary to recruit him. It also bears mentioning that new Dolphins OC Brian Daboll has a bit of experience with Edwards from their short time together in Cleveland, although that connection could also be the very reason the receiver would have no interest in Miami. (Edwards was traded early in Daboll's first year with Cleveland.) Either way, the No. 3 overall pick in the 2005 draft would also represent a significant upgrade over Brian Hartline and give Chad Henne (or Kyle Orton, as I have projected above) a multitude of weapons for the first time in either quarterback's career. A move to Miami would not be the greatest thing for Edwards' fantasy stock in all likelihood since Marshall would be the clear top option and Davone Bess is one of the best short-yardage and third-down options in the league. Thus, Edwards would start out the season as little more than a fantasy WR4 on a team that will look to establish the run game in and game out.
Ronnie Brown, RB
Teams that should be interested: Baltimore, Cincinnati, Denver, Miami, Philadelphia, Tampa Bay

Predicted final destination and fantasy impact: Baltimore. Despite the number of teams listed above, Brown is quite likely to receive interest on the secondary market, that is, the wave of free agents that sign after most of the money has been spent. Miami is included since it is possible he could return to the Dolphins, but the team would have to miss out on every one of the younger, more explosive options first. Cincinnati could be appealing to Brown since the Bengals would have an opening for a bellcow RB if they cut the cord on Cedric Benson while Denver could offer significant touches in its backfield alongside Knowshon Moreno. Philadelphia may also have moderate interest later on in free agency since Brown would offer the Eagles a physical runner in short-yardage situations, similar to what Leonard Weaver provided in 2009. Tampa Bay would meet Brown's requirements of playing in a warm-weather city and occupying a role in which he would get to show off his receiving talents more than he has in recent years. However, the team I would expect to emerge from this pack would probably be considered a darkhorse pick – the Ravens. In an offseason in which I expect many players to sign deals in which they are reunited with familiar faces, Brown may see Baltimore as an opportunity to play the Willis McGahee role for a Super Bowl-contending team. It would also give him a chance to work with OC Cam Cameron, the same play-caller that helped Brown turn into a fantasy beast for the first half of the 2007 season before he was lost for the final nine games due to injury. If he does bolt for the Ravens, Brown would warrant low-end RB4 or high-end RB5 consideration in the later rounds as an inconsistent fantasy player who could explode for multi-TD games 2-3 times a season.
Matt Hasselbeck, QB
Teams that should be interested: Arizona, Seattle, Tennessee, Washington

Predicted final destination and fantasy impact: Tennessee. Very few teams are ever in the market for a free-agent QB who knows he is headed toward retirement in a year or two. With that said, there is always some interest in a player – no matter his age – that can still produce. It sounds funny to say, but Hasselbeck is probably the perfect fit for the Titans in that he is good enough to "tutor" rookie Jake Locker yet possesses just the right combination of age (will turn 36 during the season) and brittleness (hasn't play 16 games in a season since 2007) that the Titans will likely have the opportunity to turn things over to its rookie multiple times in 2011. Hasselbeck is also a good fit in Washington because he is mobile enough and has plenty of experience in a West Coast offense like the Redskins run. Arizona is also a reasonable destination, but at this point, I believe Philadelphia (Kolb) and Denver (Orton) would have to be unreasonable in their trade discussions with the Cardinals, so Hasselbeck is probably Arizona's third choice. A return to Seattle is still possible, but he has already turned down a one-year, $7 M offer from the team, perhaps believing he can land a two-year deal with Tennessee instead. And there is plenty of reason to believe the Titans are Hasselbeck's first choice – three members of the team's front office (GM Mike Reinfeldt, Vice President of Player Personnel Ruston Webster and Director of Pro Personnel Lake Dawson) all have ties to Hasselbeck as does new OC Chris Palmer. And let's not forget that Locker – a University of Washington graduate – worked out with the longtime Seattle QB prior to the draft and has a "working relationship" with the rookie, according to NFL Network's Jason LaConfora. With Tennessee, Hasselbeck has the look of a solid QB2 in 12-team leagues, especially considering he'll be working in the same backfield as Chris Johnson and two other players (Kenny Britt and Jared Cook) who possess more game-breaking talent than anyone Seattle has employed in recent years.
Darren Sproles, RB
Teams that should be interested: Miami, St. Louis

Predicted final destination and fantasy impact: Miami. All offseason, there has been one consistent theme in regards to their backfield situation: get a pass-catching RB who can break the big play at any point of the game. When the team traded up for Kansas State's Daniel Thomas in April, it increased the likelihood that Miami would pursue a scatback in free agency as opposed to hoping for DeAngelo Williams or Ahmad Bradshaw. Fortunately for the Dolphins, no team fits all the aforementioned prerequisites better than Sproles – who is likely done in San Diego following the emergence of Mike Tolbert, the presence of second-year runner Ryan Mathews and selection of Jordan Todman in the draft. Certainly, I expect the Rams to show a high degree of interest, but they don't strike me as a team that will nab Sproles when the player they need is a capable three-down reserve. In Miami, Sproles' PPR value would make him worthy of a late-round pick. In leagues that reward kick and punt returns, he would enjoy the same kind of value he possessed in San Diego. However, in non-PPR, he may go undrafted in most regular-sized leagues.
Mike Sims-Walker, WR
Teams that should be interested: Carolina, Cleveland, Miami, Seattle, Tennessee

Predicted final destination and fantasy impact: Seattle. If there is one sure way for a player with an injury history to ensure he will receive lukewarm interest on the free agent market, it is to talk his way out of town. While few will question the talent that allowed MSW to come out of nowhere to produce a 63-869-7 line in 2009, he may find it difficult to generate heavy interest from receiver-needy teams since he is basically seen around the league as an inconsistent me-first player who isn't the greatest bet to stay healthy. Thus, I doubt a first-year coach will want to deal with Sims-Walker, so eliminate the Browns, Panthers and Titans from the mix. MSW has publicly campaigned to join his college teammate Brandon Marshall in Miami, but one has to wonder about such a reunion when there have been reports that some Dolphins' executives are already questioning the decision to trade for Marshall. Therefore, the one remaining landing spot is in the Pacific Northwest where Sims-Walker may see a chance to rebuild his image in much the same way HC Pete Carroll restored Mike Williams' reputation last season. MSW possesses good enough size (6-2, 214) to fit in OC Darrell Bevell's offense and the Seahawks probably can offer him the best opportunity to be a team's top receiver in 2011. As for his fantasy value, one would think that Williams and Sims-Walker would cancel each other out in fantasy, thereby hurting each other's big-game potential. In such a situation, owners should view him both as high-end reserves in three-WR leagues in the later rounds.
Plaxico Burress, WR
Teams that should be interested: Carolina, Miami, Philadelphia, St. Louis

Predicted final destination and fantasy impact: St. Louis. Burress' free agency should be focused on one team – the Rams. With his selection of Demaryius Thomas in the 2010 NFL draft as the Broncos' HC, new OC Josh McDaniels proved his offense isn't just for "average-sized" receivers. While the Rams boosted their WR corps with Austin Pettis and Greg Salas in April's draft, they still lack a potential WR1 who commands attention in the red zone. Burress also figures to come cheaper than most of the receivers that should be available and is a known quantity to HC Steve Spagnuolo, who was the Giants' DC for two of the four seasons the former was in New York. Carolina could have scant interest, but I tend to believe the Panthers will try to focus on playmakers who are about to hit their prime, not a player entering his age-34 season that may or may not have a year or two of decent productivity left. Philly has been rumored as a possible Burress landing spot all offseason and makes some sense as a red-zone specialist, but the Eagles are four-deep at WR with DeSean Jackson, Jeremy Maclin, Jason Avant and Riley Cooper. Miami is a reasonable destination as well since as he could potentially serve as a bigger big-play threat than Brian Hartline. But for all the reasons discussed earlier, St. Louis should be where he signs. Burress' fantasy potential with the Rams in 2011 is fair, but expectations need to be kept low for any player who has been away from the field as long as he has. Thus, he warrants a late-round fantasy pick at best in most regular-sized leagues.
Steve Breaston, WR
Teams that should be interested: Arizona, Carolina, Kansas City

Predicted final destination and fantasy impact: Arizona. First things first, any team that makes a run at Breaston will need to be convinced his right knee can hold up for the long haul since it's entirely possible that injury contributed greatly to Andre Roberts' rise in playing time down the stretch. No team would likely have a better feel for Breaston's knee than the Cardinals, who owe it to their new QB and Larry Fitzgerald to provide them with as many weapons as possible. Kansas City makes a ton of sense since the Chiefs could use another capable WR in the event that rookie Jonathan Baldwin is not ready to contribute right away. Even if Baldwin hits the ground running, putting Breaston in the slot with Dwayne Bowe and Baldwin on the outside would make for a talented receiver trio for QB Matt Cassel. Considering the injury risk, his best bet would likely be to sign a short-term deal with Arizona and prove himself all over again this season, something that should be much easier to do with a capable QB under center in 2011. Breaston has WR3 potential, but he ranks low on this list because his knee sounds as if it is still an issue as we stand here in late July. Whether he is a Chief or a Cardinal this season, he should probably be considered a WR4 at best in fantasy.
Vince Young, QB
Teams that should be interested: Miami, Oakland, Seattle, Washington

Predicted final destination and fantasy impact: Washington. One of the more interesting players that will be available at some point is Young, who remains property of the Titans despite the fact just about everyone knows they are moving on at the QB position. Make no mistake, Tennessee will release him. From Young's perspective, he is a proven winner in this league (career 30-17 record) who was showing signs of developing into a capable passer in Tennessee. But his warts are well-known: he hasn't dealt with adversity well since becoming a pro and his lack of work ethic is reportedly "legendary". However, we have seen time and again that coaches will almost always give superior talents with character red flags more chances than they probably deserve. Two of the teams on the list above have reputations for bringing such players onto their rosters (Oakland, Washington) while the two other teams (Miami, Seattle) almost have to be interested in someone to challenge their likely starters. Be that as it may, I expect the Raiders to show their support for Jason Campbell by not pursuing starting-caliber options at QB while I doubt Seattle views Young as a great fit for new OC Darrell Bevell's offense. This process of elimination leaves us with Miami and Washington. Certainly, Miami is a good fit in that the Dolphins will be a run-heavy team again this season, but one has to wonder how long Young will keep his nose clean down by South Beach. While Young would probably win a camp competition with Chad Henne, the former Michigan QB is talented enough to threaten Young should he struggle at any point during the season. Conversely, I don't think many folks outside of Mike Shanahan believe John Beck is the answer in Washington. Young is hardly a prototypical West Coast QB, but the Shanahans (Mike and Kyle) like to roll their QB out much more than most coaches do. As we know, few QBs run as well as Young. VY has always viewed himself as a starter and will very likely choose a team that will give him the easiest path to the top of the depth chart. Washington is probably the best fit for Young for fantasy purposes as well since any QB that starts for Shanahan deserves our attention. Therefore, he deserves mid-to-low QB2 consideration in the late rounds.
Donovan McNabb, QB
Teams that should be interested: Cincinnati, Cleveland, Minnesota, Miami, Seattle

Predicted final destination and fantasy impact: Cleveland. It has been a swift fall from grace for a QB who, just two seasons ago, was leading one of the more explosive offensive attacks in the NFL. But as a QB heading into his age-35 season that is due a $10 M offseason bonus, McNabb will soon be looking for another team. Several teams could make compelling cases to extend an offer to McNabb once he is a free agent – which may not be until late August or September – because they each run a version of the West Coast offense now (all of the aforementioned teams except Miami). McNabb has been heavily rumored to be a Viking for most of this offseason, but Minnesota appears more interested in throwing rookie Christian Ponder into the fire rather than having him holding a clipboard. And, perhaps more importantly, the Vikes probably don't want an accomplished veteran delaying Ponder's rise into the starting lineup, which makes a low-upside QB like Bruce Gradkowski a better fit. Seattle makes a ton of sense in that McNabb should have an easy enough time beating out Charlie Whitehurst, but the Seahawks will not wait until a week or two before the season for him. Likewise, Cincinnati could make a strong argument to start him Week 1 ahead of Andy Dalton, lending experience to what is an incredibly talented but very young set of QBs, WRs and TEs in the Queen City. However, I expect the Bengals to go another way and pursue Gradkowski as well. Therefore, in a theme I expect to play out quite often this offseason because of the time lost due to the lockout, a player will sign with a team that has a familiar face or two on the sideline. In Cleveland, HC Pat Shurmur was McNabb's QB coach from 1999-2008. Jake Delhomme is almost guaranteed to leave and join HC John Fox in Denver, Seneca Wallace is no better than a career backup and Colt McCoy has yet to prove he can stay healthy. The fit in Cleveland would be an interesting one to be sure, but McNabb's fantasy prospects in such a scenario would be as a low-end QB2 at best in 12-team league.
Cadillac Williams, RB
Teams that should be interested: St. Louis, Tampa Bay

Predicted final destination and fantasy impact: Tampa Bay. Williams should be a good test case for the new "salary floor" that is being instituted in the new CBA this season, at least from the Bucs' perspective. Why? Tampa Bay is projected to have nearly $60 M to spend in signing its own and other teams' free agents this season, so since it will be forced to spend most of that money, the team may decide to pay the players it already knows. Bringing Williams back also makes sense because LeGarrette Blount isn't exactly trusted in the different aspects of the passing game quite yet. It also doesn't hurt that Caddy is a noted team leader and was considered the most efficient third-down RB in the league, according to Football Outsiders' DVOA (Defense-adjusted Value Over Average) metric. So, after sending him to St. Louis initially in my projections, the Bucs may just end up deciding to stay with the familiar at RB and spending their wealth under the cap on the back seven of their defense instead. Returning to Tampa would mean Williams should keep the same kind of fantasy value he enjoyed during the second half of last season, with the biggest feather in his hat being that he would be a mandatory handcuff for Blount and be in line for more touches if the young stud is forced to miss time at any point.

Steve Smith, WR (Giants)
Teams that should be interested: Carolina, Kansas City, NY Giants

Predicted final destination and fantasy impact: Giants. Without going into a great deal of detail, Smith is a good bet to start the season on the PUP list, which makes it extremely likely that he will sign a short-term, incentive-laden deal with his current team. If there is one team that will make it interesting, though, it could be the Panthers, who may see signing Smith as a risk worth taking. Combining Smith with another talented free agent (such as Sidney Rice) would go a long way in correcting one of the worst receiving situations in the league right now in Carolina. But, in the end, I would say there is a 95% chance Smith returns to New York, where he will make an interesting late-round sleeper.
Tarvaris Jackson, QB
Teams that should be interested: Miami, Seattle, Washington

Predicted final destination and fantasy impact: Seattle. Jackson should be able to rest easy for the first few days of the free-agent frenzy. That comment is not really meant to be a knock on Jackson's ability; it's more that he will be lower on the list than most of the aforementioned signal-callers on just about every QB-needy team's list. In other words, I suspect he will be the fallback option for a team who doesn't want to trade a pick or a player and missed out on their first few choices at the position. Jackson, who owns a 10-10 record as a starter, believes in his ability to regain QB1 status with his new team, so it is a smart bet that he will choose a team that gives him a realistic shot at doing so. I believe each of the three teams listed above make some degree of sense for him, but I can't imagine Jackson beating out Chad Henne or even John Beck with virtually no offseason to learn a new playbook. Fortunately, his former OC in Minnesota (Bevell) is the new play-caller for the Seahawks, meaning he would actually have a leg up on his competition with Charlie Whitehurst to be the starter. If it plays out that way, the fantasy impact would be negligible. Jackson's running ability would make him a decent spot start in highly favorable matchups, but assuming he beats out Whitehurst, he's probably best left undrafted in all but the deepest of fantasy leagues.

Suggestions, comments, musings about the article or fantasy football in general? E-mail me.
---
Doug Orth has written for FF Today since 2006, appeared in USA Today's Fantasy Football Preview magazine in each of the last two seasons and served as a weekly fantasy football analyst for 106.7 The Fan in Washington, D.C. this past season. He is also a member of the Fantasy Sports Writers Association. You can also follow him on Twitter.