After September ends each season, fantasy owners tend to question what is real and what is a mirage. Once October draws to a close (only four games later), we have moved past the midpoint of the fantasy regular season and are under pressure to make all of the right decisions in order to get through November and survive what is usually a challenging December. I know we all want our hobbies to be exciting and profitable, but it seems a little rushed…don't you think?

Generally speaking, savvy owners use the first half of the fantasy season to acquire assets to prepare for the rigors of the middle of the season. Building depth serves multiple purposes – not the least which involves helping us survive bye weeks and injuries initially and gives us valuable trade chips afterwards.

Assuming you did at least a fair job of building depth in the draft and continued to stockpile assets over the first two months of the season, there is absolutely no harm in unloading your war chest in order to get your hands on the properties you desire the most. (In fact, that is the recommended approach as far as I'm concerned.) Quite often, I have little to no depth left after pulling a trade or two in my leagues because I am mostly concerned with eliminating as many question marks from my regular starting lineup as possible.

Highly-respected former GM Bill Polian (who now works for ESPN) recently cited an eight-year study he and his team conducted while he was with the Indianapolis Colts that found that injuries typically increase each week until about Week 9, at which point they begin to plateau. While I'm not going to claim this revelation confirms what I thought all along, I will say that I have noticed over the years that the frequency of "injury weeks" seems to decrease once we reach the midpoint of the season. In my opinion, Polian's study further supports my methodology when it comes to building fantasy teams: 1) draft well; 2) work the waiver wire religiously in order to acquire as many valuable assets as possible (as if you owned a real team and wanted to sell it at the highest price possible); 3) trade the "extra" parts once the majority of bye weeks have passed in order to build a starting lineup that needs very little tweaking from week to week and 4) go right back to working the waiver wire in order to rebuild your bench.

I'm not going to pretend I created this approach and that it is the only way to win a fantasy title, but I do believe in my ability to find a diamond or two in the second half of the season – especially when some of the owners begin to check out after Week 10 or so. (It happens in high-stakes leagues more than you'd think.) With the trade deadline already expired in some leagues and drawing near in others, it becomes even more important to beat owners to the punch for potential second-half standouts because the waiver wire is the only way to acquire them.

Two weeks ago, I discussed 10 players that were likely flying well under the radar and unlikely to be owned in all but the deepest leagues. This week, I want to shift my focus to the players that are only slightly under the radar and perhaps on the cusp of being owned due to recent performances and/or promotions. The difference between the two is that while "From Out of Nowhere" basically identified longshots, this article will try to spotlight players that have a shot to go from relative anonymity to consistent second-half contributors. The guidelines will be rather simple: quarterbacks and tight ends must currently be ranked outside the top 20 in fantasy points. As for running backs and wide receivers, players cannot be ranked inside the top 40. I'll also include kickers and defenses at the end because there are some rather obvious options available in too many leagues that I believe will be critical in helping teams reach (and excel in) the postseason.

Quarterbacks

Case Keenum, Houston (IND, ARI, OAK, JAC, NE, JAC, IND, DEN) – For all of the Texans' struggles in 2013, they are still averaging 4.5 yards per carry and 127.7 yards per game on the ground. In other words, if Houston can ever consistently get into games in which it doesn't trail by two scores midway through the second quarter, the play-action passing attack should have a little bite to it. Enter Keenum, who did enough (read: took care of the ball) in his NFL debut to warrant a second start and quite possibly more. The Texans will rarely ask their quarterback to do more than manage the offense for as long as Arian Foster and Ben Tate are running well, but it is hard to ignore that Keenum made both Andre Johnson and DeAndre Hopkins more relevant in one week (with 25 throws no less) against a tough Kansas City defense than they had been as a combo for most of the season. The Patriots (Week 13) represent the only truly difficult matchup for opposing fantasy quarterbacks and even that is in some question because it doesn't take into account all of New England's recent injuries on defense. Otherwise, only the Colts (14th) and Raiders (16th) rank in the top half in terms of fantasy points allowed to opposing quarterbacks the rest of the way. Keenum is probably the least likely of the three quarterbacks on this list to carry his fantasy teams the rest of the way, but his remaining schedule and supporting cast should pretty much ensure his floor is actually fairly high.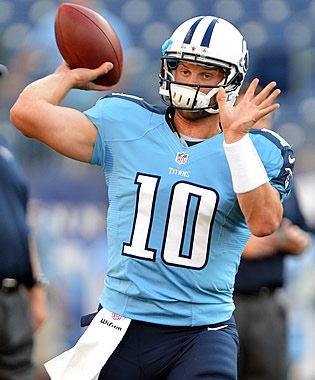 Jake Locker: The ideal QB2 for your fantasy team.
Jake Locker, Tennessee (STL, JAC, IND, OAK, IND, DEN, ARI, JAC) – One look at the Titans' remaining opponents should be all any owner needs to start scooping up players off Tennessee's roster. Were it not for his two-week absence because of a hip injury, Locker would not qualify for this list – so I won't spend a great deal of time trumpeting his cause because most owners already have a handle on his production to this point. There's no question Locker was helped out by garbage-time numbers in his last game against the 49ers, but he was already beginning to justify the team's faith in him prior to his injury layoff. He's completing 61.8% of his passes, sports an 8:1 TD-to-INT ratio and contributes enough rushing yards each week to rival the production of any non-elite fantasy quarterback. Further consider that Locker's most difficult matchup going forward is this week's game against the Rams. Locker isn't durable enough nor has he done enough to earn the long-term trust yet of fantasy owners, but I'm not sure there are many other quarterbacks – besides the obvious every-week starters every owner wants on their team – I'd rather have on my bench going forward than Locker.
Carson Palmer, Arizona (HOU, JAC, IND, PHI, STL, TEN, SEA) – The first-year Cardinals quarterback has been a disappointment to this point of the season. He's thrown at least one interception in every game and has a 10:14 TD-to-INT ratio. Worse yet, he snapped a five-game streak of throwing at least two interceptions when he was limited to 18 attempts in Arizona's blowout win over Atlanta in Week 8. That's the bad…here's the good: after his Week 9 bye, Palmer has a realistic chance at finishing the fantasy regular season strong with home games against the two toughest defenses he will see (Texans and Colts) and road games against two rather lackluster pass defenses (Jaguars and Eagles) leading up to the fantasy playoffs. More importantly, however, is that Larry Fitzgerald should be the healthiest he has been since Week 1 when the team comes out of it bye week. The absence of a healthy Fitzgerald cannot be overstated when it comes to judging Palmer as a quarterback this season, especially because Arizona possesses such a porous offensive line. A healthy Fitzgerald – along with the emergence of rookie RB Andre Ellington – should begin to open things up more for a player like Michael Floyd, who has been a serviceable starter at best in most formats. Arizona is coming off a stretch in which four of its last six opponents were among the eight stingiest defenses against opposing fantasy quarterbacks. Over the next five games, however, only the Texans rank among the top 12.
Running Backs
Montee Ball / C.J. Anderson, Denver (SD, KC, NE, KC, TEN, SD, HOU) – Most fantasy owners already know enough about Ball and have smartly kept a roster spot reserved for him. His name is included here simply as a reminder to make sure he isn't available in your league(s); Denver has publicly stated it wants to reduce Knowshon Moreno's workload in order to preserve him for a late-season/playoff run. To that end, Ball saw a season-high 30 snaps (compared to Moreno's 38) in Week 8. The bigger story here is the undrafted rookie free agent Anderson, who I identified as a preseason standout before he suffered a severely sprained right MCL in the team's first exhibition game. Anderson wasn't promoted from the practice squad; he was on the 53-man roster the entire time and leapfrogged Ronnie Hillman on the depth chart the moment he was ready, which speaks volumes about how strongly the Broncos feel about him. Moreno hasn't been the most durable player over his five-year career and is receiving the bulk of playing time in the Broncos' backfield because of his ability to contribute as a blocker and receiver in the passing game. Anderson is more solidly built than Moreno and proved to be capable in the passing game at the University of California, so it is not unthinkable that Anderson continues to work his way up the depth chart and becomes the lead back in the event of a Moreno injury.
Andre Brown, New York Giants (OAK, GBP, DAL, WAS, SD, SEA, DET) – It's hard to include Brown on this list for three reasons: 1) given his durability issues, he is difficult to rely on even when he does return (which appears to be Week 10); 2) the Giants' offensive line is in bad shape and the only thing that figures to change that is the offseason; and 3) he should already be owned in most leagues. With that said, New York has relied much more heavily on the running game since its loss to Chicago in Week 6, finding at least 26 carries (and 28 touches) for its running backs in each of the last three games. Depending on the format, the Giants have been able to make Brandon Jacobs and Peyton Hillis viable flex plays over that span. Brown has been practicing the last three weeks and will likely be eased in to the rotation against Oakland, but he's obviously a strong candidate for 20 touches on a weekly basis thereafter for as long as his body will allow it. At this point, it seems unlikely David Wilson will return anytime soon, further clearing the way for Brown. There are a handful of difficult matchups ahead for Brown, but volume, goal-line prowess and his ability to contribute in the passing game should allow him to be a consistent source of fantasy points down the stretch.
Shonn Greene, Tennessee (STL, JAC, IND, OAK, IND, DEN, ARI, JAC) – Greene appeared in my column two weeks ago and it pains me that because of injuries and bye weeks, he has made it onto only two of my five redraft teams. There's a good chance he'll be the most-added player in fantasy before long. Owners have been quick to suggest Chris Johnson gets less than what is blocked and doesn't have "it" anymore, but the truth is the Titans really haven't done a good job accentuating his strengths as a runner and receiver since the late OC Mike Heimerdinger ran the offense. Johnson also just completed a stretch in which he faced four of the five stingiest defenses for opposing fantasy running backs. Whether that last nugget factors into the minds of the coaching staff going forward remains to be seen, but the current scheme is a better fit for a power runner like Greene and the upcoming schedule is about as easy as the pre-bye schedule was hard. Titans beat writer Jim Wyatt tweeted Wednesday that HC Mike Munchak said Greene "should be in the 15-carry range moving forward if all goes well", which indicates the coach either anticipates about at least 30 carries from his backfield each week or that Johnson will be a 8-to-12 carry-per-game back going forward that will play on passing downs while Greene gets all the goal-line work. For a team as committed to the run as Tennessee is and with the lack of offensive firepower a number of its upcoming opponents have, the Titans should have little problem keeping their backs busy.
Jonathan Stewart, Carolina (ATL, SF, NE, MIA, TB, NO, NYJ, NO) – Like Brown and Ball, Stewart should have been scooped up in the leagues in which he was available about a month ago, so I'm not going to spend a lot of time on the Panthers' most talented runner here. However, the fact he is available in any deep leagues when he is so close to a return to the field is rather unbelievable. His fantasy upside is obviously limited by the fact the Panthers have multiple goal-line options and backs worthy of receiving 15 touches per week. Despite the Panthers' defensive resurgence, DeAngelo Williams hasn't exactly taken the lead-back role by the horns and seen his touches decline each of the past three weeks while Mike Tolbert has become a bigger part of the offense. It remains to be seen if Stewart will simply steal touches from his two backfield mates or emerge as the top option, but essentially the same decision makers (minus former OC Rob Chudzinski) reached the conclusion about this time last season that Stewart was going to take on a more featured role in the offense. It is highly doubtful he can become anything more than a useful flex in 2013, but a healthy Stewart should be able to do more than Williams (who ranks 21st in non-PPR scoring and 25th in PPR) has thus far with his touches and make Williams somewhat irrelevant in short order.
Note: I declined to include New England RB Shane Vereen on this list. I did this for a number of reasons: 1) he has already returned to practice; 2) he is eligible to play in Week 11 and 3) he is a back capable of top-25 numbers (especially in PPR leagues) that should not have been dropped in as many leagues as he was in the first place.
Wide Receivers
LaVon Brazill, Indianapolis (HOU, STL, TEN, ARI, TEN, CIN, HOU, KC) – Give the Colts credit: there doesn't seem to be a lot of chatter from the organization about who will step up in the wake of Reggie Wayne's season-ending injury. T.Y. Hilton is an obvious candidate, but he was already seeing about as many targets as Wayne was (36-34) over the last month. Darrius Heyward-Bey has 21 targets over that same time frame, but managed only eight catches on those opportunities, so it seems somewhat unrealistic to expect him to be the man now. And there is TE Coby Fleener, who has been something of an inconsistent player at best despite playing over 76% of his team's snaps. As a result, it would seem the biggest fantasy beneficiary of Wayne's injury has yet to be mentioned. Griff Whalen is a solid possession receiver who QB Andrew Luck knows he can trust from their days together at Stanford, but he doesn't bring the same kind of explosiveness to the table that Brazill does. The 2012 sixth-round draft choice is the most likely choice to fill Hilton's old role and could actually emerge as the starter if he shows well early on and the Colts choose to not overexpose the undersized Hilton. However, the odds are that Brazill simply becomes "the new Hilton" and assumes a similar level of inconsistent fantasy production as a Colts' new situational deep threat.
Michael Crabtree, San Francisco (CAR, NO, WAS, STL, SEA, TB, ATL) – Along with a torn patellar tendon, I'm not sure there is an injury more devastating to a running back or receiver than a torn Achilles'. That little nugget (along with the limits of modern medicine) figure to get stretched when it comes to Crabtree, who has reportedly hit all of his recovery timelines thus far and is track for a Week 12 return. We are all well aware of what a healthy Crabtree can do with Colin Kaepernick, but to what degree can he help the Niners at any point this season? The odds are against him that he'll approach even 80% of his 2012 form or explosiveness, but I'd be more than willing to use up an IR spot while he proves me wrong. I think the case can even be made for him in 12-team leagues with deep benches and no IR spot because of the upside (as opposed to a WR4 or WR5 already on your roster). Picking up players over the second half of the season is as much about upside as it is anything else in most leagues, with the one exception being the addition of a handcuff at the running back position that is pressed into service when the starter goes down. The Niners and Seahawks figure to battle for the NFC West (and likely home-field advantage) all the way until the end of the season, so San Francisco won't likely be using players like Crabtree as a decoy if it knows it can earn a bye.
Ted Ginn Jr., Carolina (ATL, SF, NE, MIA, TB, NO, NYJ, NO) – Plenty of NFL players are fast, but there are only a handful of players that possess special on-field speed. Three receivers that come immediately to mind when I think about that kind of speed are: T.Y. Hilton, Markus Wheaton and Ginn. Not surprisingly, Ginn has essentially carved out the same kind of role that Hilton had prior to Reggie Wayne's injury, he's just been more consistent from a fantasy perspective. He's also scored more fantasy points than teammate Brandon LaFell despite playing about half the snaps (404-215). Carolina doesn't appear to be in any hurry to adjust his playing time despite the fact he is producing at such a high clip, but Ginn has scored double-digit fantasy points (PPR) in four of his last six games, so more playing time may not be necessary. At the very least, Ginn warrants a bench spot in most leagues since he has outscored the likes of fantasy disappointments Dwayne Bowe and Marques Colston. The Panthers will require his big-play ability against the Niners, Patriots and Saints in the coming weeks, so don't hesitate to stash him; he looks much better as a receiver now than he ever has.
Dexter McCluster, Kansas City (BUF, DEN, SD, DEN, WAS, OAK, IND) – The idea of adding – much less counting on – a Chiefs' receiver this season almost repulses me. Even if we subscribe to the theory that Dwayne Bowe has lost a step and no longer threatens a defense, he is still a big receiver that should be racking up a lot of catches on a team that throws the ball short as often as it does. However, QB Alex Smith is averaging 36 pass attempts per game and not all of them can go to Jamaal Charles. At the halfway point of the season, McCluster has three fewer catches and six fewer targets than Bowe despite 163 fewer snaps, which suggests the Chiefs want the ball in his hands when he is in the game. McCluster has strung together back-to-back solid fantasy efforts and probably fits the team's offensive attack better than Bowe or Donnie Avery. It is hard to recommend McCluster because he has durability issues and plays in such a conservative offense, but the last two weeks suggest either HC Andy Reid or Smith believe he is the best bet to create a big play. Even with its stout defense, Kansas City is going to need to score a bit more and open things up in the coming weeks, so McCluster's Week 7 and Week 8 lines may happen with a bit more regularity going forward.
Robert Woods, Buffalo (KC, PIT, NYJ, ATL, TB, JAC, MIA) – The rookie has become a bit of a forgotten man thanks to the rash of injuries to Bills' quarterbacks, but it was only a little over a month ago that he was a fairly steady point-producer in PPR leagues. Assuming QB E.J. Manuel makes his return no later than Week 11, Woods has a great chance at revisiting that same level of production against a fairly soft schedule. The four-game stretch that starts with the Jets and ends with the Jaguars features three teams that rank in the top half of the league in terms of fantasy points allowed to receivers. Thanks to the Bills' devotion to the run game and the presence of Steve Johnson, Woods isn't going to draw shadow coverage or be the player that opposing defensive coordinators will build their scheme around every week either. Woods is as good of a route-runner as a rookie as we've seen in a while, so the chances he'll get open and register 4-5 catches per game are pretty high.
Note: Let's not forget Nate Burleson, who is reportedly on track for a Week 10 return after he reminded all of us that it is not safe to drive and eat pizza at the same time. There's a very good chance he can and will step right back into fantasy WR3 production in Detroit's pass-heavy offense, so owners – especially those in PPR formats – would be wise to grab him this week if possible.
Tight Ends
Ladarius Green, San Diego (WAS, DEN, MIA, KC, CIN, NYG, DEN, OAK) – I'm fairly convinced of two things as it relates to the Chargers' tight ends: 1) Antonio Gates will get hurt at some point and 2) Green will explode onto the fantasy scene if/when it happens. Green's current skill set is a better fit for a vertical-based offense (the one he was drafted for under former HC Norv Turner) and the current offense is a better fit for the aging Gates, who relies on his veteran savvy more now than raw athleticism. Be that as it may, the braintrust (HC Mike McCoy and OC Ken Whisenhunt) has shown an ability to adapt to their personnel. If Gates is forced to miss time, we should be able to count on McCoy and Whisenhunt to dial up a few more downfield passing plays to take advantage of Green's athleticism. Of all the tight ends I regularly see on the waiver wire, I'm not sure one has more upside than Green.
Tim Wright, Tampa Bay (SEA, MIA, ATL, DET, CAR, BUF, SF, STL) – At this point, it must seem as though I am smitten with Wright. That's not exactly true. After all, he didn't get his first catch in Week 8 against Carolina until right before halftime and didn't see his third target until the fourth quarter. He did, however, finish with eight targets and scored a late touchdown. As much as I hate to acknowledge it at times, fantasy points are earned whether players gain yards or score touchdowns in a closely-contested game or in garbage time. And since the Bucs appear destined for a lot more garbage time over the final nine games of the season, there's really no reason that owners shouldn't be able to count on it from players such as Mike Glennon, Vincent Jackson and Wright. The other variable that should lock Wright into second-fiddle status behind Jackson is the season-ending injury to Mike Williams, who has become known mainly as a red-zone receiver. Whether that title is fair or not is a debate for another time, but it seems unlikely that Tiquan Underwood is going to steal any looks from Wright. Wright has an average of six targets since Glennon took over in Week 4 (6, 3, 9 and 8 are his weekly totals), so owners should be able to count on garbage-time numbers from him on a fairly regular basis over the final half of the season.
Kickers
Adam Vinatieri, Indianapolis (HOU, STL, TEN, ARI, TEN, CIN, HOU, KC) – Many people seem to be under the impression that kickers are essentially replaceable at any time of the year. I won a game in my most important league last week by 0.3 points in part because I replaced Blair Walsh a couple of weeks ago with Mason Crosby, who is averaging more points than any kicker in fantasy right now. Kickers are inconsistent for a number of reasons, but if a certain kicker is scoring about 10 fantasy points per game at this point of the season – and consistently landing in double digits – the odds are good he will continue to score at that level going forward. Vinatieri is one such kicker and has posted double-figure fantasy totals in each of his last five games. His field-goal opportunities (which is what we care about most from kickers) are more than likely to increase now since Reggie Wayne's absence figures to reduce the amount of success the Colts have in the red zone. Vinatieri may not be the player that determines whether a fantasy team wins or loses each week, but I'd rather have his 10.7-point average working for my team than Walsh, who is injured and averaging 7.7 for a team with little to no direction on offense.
Defenses/Special Teams
Arizona Cardinals (HOU, JAC, IND, PHI, STL, TEN) – The Cardinals were the last defense to make Cam Newton look bad. They were also the same defense that got embarrassed by the Seahawks and the 49ers over the last two weeks. They also did a fine job keeping the Detroit Lions in check earlier in the season and humiliated the Atlanta Falcons last week. Thus, I'm led to believe that teams that can get physical with Arizona can have their way against them, but there aren't many of those teams left on the Cardinals' schedule. Houston and St. Louis and potentially Philadelphia are (or could be) starting a backup quarterback, Indianapolis will need to replace Reggie Wayne and Jacksonville scares no one. At worst, it appears the Colts and Titans will present the stiffest challenges to Arizona's defense. Considering the Cardinals have forced at least two turnovers in three of their last four games and collected 16 sacks over that same span, they should be a more than respectable option the rest of the way.
Buffalo Bills (KC, PIT, NYJ, ATL, TB, JAC) – This remaining schedule speaks for itself and also serves as a reminder why owners should pursue Fred Jackson and C.J. Spiller if at all possible. Once the Bills get by the Chiefs this week, there really isn't an opponent that seems all that likely to explode against Buffalo. In fact, the Atlanta-Tampa Bay-Jacksonville stretch during the fantasy playoffs may be the easiest of any team. The Bills played most of this first half of this season against better competition without CB Stephon Gilmore and S Jairus Byrd, so there's reason to believe a defense that is on pace to record 52 sacks and 30 turnovers is going to improve those numbers with better personnel and against a weaker set of opponents.
New Orleans Saints (NYJ, DAL, SF, ATL, SEA, CAR, STL, CAR) – If Buffalo's pace sounded good to you, check out the track the Saints are on: 55 sacks and 34 takeaways. New Orleans is still a bit weak against the run, but the Saints are always a good bet to get their opponent to play catch-up thanks to their dynamic offense – which often leads to forced throws. Although New Orleans' second-half slate figures to be a bit more challenging than its first-half schedule was, a few of the Saints' tough outs are at home (Dallas, San Francisco and one of the two Carolina games). And when New Orleans plays at home, the defense typically plays at another level. As a result, consider the Saints as a pretty solid option this week and next as well as in Week 12 versus the Falcons and again in Week 15 against the Rams.
Tennessee Titans (STL, JAC, IND, OAK, IND, DEN, ARI) – The Titans have struggled against the run, but consider the teams it faced in the first half that can run the ball: Houston, Kansas City, Seattle and San Francisco. There's not a lot of those teams lining up to play Tennessee in the second half of the season, which plays right into the hands of a Titans' defense that wants to run the ball, limit the number of possessions each game and plays good pass defense. This week, Tennessee faces a Rams team that could be without Zac Stacy and is starting Kellen Clemens at quarterback. We all know the deal with Jacksonville by now, the Colts lost Reggie Wayne and Arizona – in all-important Week 16 – has a sieve for an offensive line. Barring an elite option like Kansas City or Seattle, I might be willing to ride the Titans' defense the rest of the way as long as I could find a quality option for Week 15 to avoid Denver. Somewhat surprisingly, Tennessee is a top-five fantasy defense despite a difficult first-half schedule and available in a number of leagues. Make sure that last part changes by the end of this week or else some other owner will likely be using the Titans against you in the fantasy playoffs.

Suggestions, comments, about the article or fantasy football in general? E-mail me or follow me on Twitter.

---
Doug Orth has written for FF Today since 2006 and appeared in USA Today's Fantasy Football Preview magazine in 2010 and 2011. He is also the host of USA Today's hour-long, pre-kickoff fantasy football internet chat every Sunday. Doug regularly appears as a fantasy football analyst on Sirius XM's "Fantasy Drive" and for 106.7 The Fan (WJFK – Washington, D.C). He is also a member of the Fantasy Sports Writers Association.