The best-laid plans on draft day often give way to moments of desperation around midseason. Fantasy owners that came away from the draft with three quality options at running back and wide receiver typically find themselves scrambling for healthy bodies by Week 7. During the course of this frantic period, which typically lends itself to believing in players you knew you didn't want anywhere near your team a month or two ago. For example, I was convinced entering the season I would not add a New York Jet to any of my rosters this season. It took a little over a month before I broke that "rule".

One thing is for certain every year in most competitive leagues: the fantasy season will take us in so many different directions that it is very possible you may not recognize the team you drafted by the time the season comes to an end. For the unlucky few, adversity strikes in a multitude of different ways: consistently running into opponent's "big weeks", encountering countless injuries and/or parading through what seems like a never-ending stretch of ill-timed bye weeks.

I have long maintained it is an owner's ability to navigate these troubled waters that distinguishes fantasy playoff teams from the ones that miss out on the postseason. Part of steering that ship through the 13-16 week season involves adding players to your roster that are essentially sight-unseen properties. Last season, David Wilson was a disappointing rookie stapled to the New York Giants' bench because of an early fumbling problem. Similarly, Cecil Shorts was strictly a deep-ball specialist connected with Blaine Gabbert with a knack for scoring touchdowns.

One of the best parts of scouting is uncovering talent first and seeing the potential in something or someone when others cannot. One of my favorite parts about doing what I do is being able to evaluate a virtual unknown player's ability I see on TV (or NFL Game Rewind) and make fairly concrete determinations based on it. Predicting a breakout based on limited information is usually incredibly difficult, but not impossible. Making my job more challenging are all the off-field obstacles that tend to slow down a player's rags-to-riches story. As much as we want sports to be about the best players will play, coaches (as well as scouts and general managers on the pro level) hate to admit their initial evaluation of a player was wrong. Other times, a player simply isn't ready to burst on the scene when we want him to, dealing with some personal issue we don't know about or simply too immature to deal with the pressures of the job. There are a multitude of reasons for not realizing one's potential; all we can hope is that our players recognize they are professionals and bring their A-game to the field each and every week.

Either way, part of the formula to winning fantasy championships every season is to identify the supposed nameless wonders who are contributing virtually nothing at the moment but are primed for the opportunity to be second-half standouts with a little luck. Some of the players below are known quantities that have been shoved to the wayside because of injury or some other reason, but my goal this week is to remind – or introduce, in some cases – players to you that probably are likely not on rosters (and if they are, they are dirt cheap). While there are several more players we could discuss in a column such as this one, I identified 10 players I believe can either get help you through the bye weeks or injuries, become regular starters before the end of the season and/or serve as a solid player for your dynasty team.

To give you some perspective on how deep some of my more leagues are, I'll give you an example from the league I consider to be my most important: 48 of the 52 top-scoring backs and 50 of the top-scoring 51 receivers are owned. (At running back, the free agents are Chris Ogbonnaya, Ahmad Bradshaw, Mike Tolbert and James Starks. At receiver, the lone free agent of the bunch is Julio Jones.) The recommendations below are for owners in very deep 12-team (or larger) leagues with fairly deep benches. While there is a good chance some of the players below are owned in your league, I'm quite confident all of them are not.

The Names You Should Already Know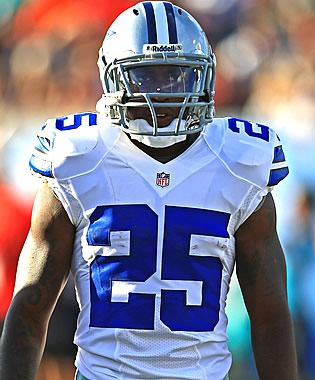 Dunbar is the best fantasy backup to DeMarco Murray.
Lance Dunbar, RB Dallas – Dunbar may not qualify as one of the top five handcuffs in fantasy football, but I would argue the owner of DeMarco Murray in every league should have him on his roster. Rookie Joseph Randle appears to be in line to start Week 7 and will generate the most interest from fantasy owners, but Dunbar is the better fantasy back of the two and a player the coaches love. Randle was drafted this April in large part because Cowboys owner Jerry Jones believed he "mirrored" Murray, but the main reason he fell in the draft was because he lacked big-play ability. Dunbar has the explosiveness Randle lacks but lacks the ideal size, which probably means the two will share snaps when both are healthy and Murray is not. With that said, I would expect Dallas to go with a very pass-heavy approach with Murray out and the defense beat up. That favors the second-year back, who Tony Romo trusts as a receiver. The one caveat: hamstring injuries are unpredictable and there's no guarantee Dunbar beats Murray back on the field.
Shonn Greene, RB Tennessee – While I can understand why Greene is available in every one of my redraft leagues, it doesn't mean he should be. The natural argument will be if someone as explosive as Chris Johnson isn't getting yards behind the Titans' offensive line, why would a plodder like Greene? It's a fair point, but when you combine the loss of QB Jake Locker with a long stretch of difficult run defenses, it is not as if Johnson has "lost it". I firmly believe Johnson will begin to "awaken" a bit this week before putting together a solid second half of the season, but his upside will be limited by the fact he will not see goal-line carries. Enter Greene, who the Titans wanted to use in that role while also giving Johnson a break every third series or so. So while I believe Johnson offers some second-half low-end RB2 appeal, that doesn't mean the coaching staff will continue feeding him the ball at the rate they have been with a healthy Greene around. Johnson has never been particularly good at breaking tackles (which is definitely the case again this year) and the team refuses to use him in the same fashion the late OC Mike Heimerdinger did during his best seasons. Unlike last year, Tennessee has the defense necessary to stick with the run for as long as it wants and that dedication to the rushing attack will begin to pay off as the Titans stop playing the Jets, Chiefs and Seahawks (their last three opponents) and start playing the Rams, Jaguars and Colts (their next three foes after the Week 8 bye). As Tennessee begins to impose its will on defenses over the second half of the season, Johnson and Greene should have a fair amount of scoring opportunities. Relying on short-yardage touchdowns is not a recipe for fantasy success, but the Titans' plan all along was to use Greene like LenDale White during the days of "Smash-and-Dash". I feel confident that Greene will see enough work to be a decent – if not strong – flex option upon his return, which could happen as soon as this week.
Chris Ogbonnaya, RB Cleveland – Wait, what…isn't Willis McGahee the new unquestioned back for the Browns? Well, yes and no. McGahee carries the ground game for the most part, which is just great when Cleveland's defense has everything under control. However, it should be noted that McGahee has played 29 or fewer snaps in two of the last three weeks while Ogbonnaya has seen at least 40 in two of his last three games. The reason: part of it is his ability to contribute as a receiver and familiarity with the passing game, which figures to play a key role in his ability to be a borderline flex play over the next month or so – at least in PPR formats. For various reasons, Ogbonnaya could be a regular target as Cleveland faces the Packers, Chiefs, Ravens, Bengals and Steelers over its next five contests. Even in its weakened state, the Green Bay offense should score against Cleveland while the Browns' AFC North rivals can all stop the run. It is conceivable that McGahee isn't seeing a lot of time when the Browns pass (47 passing-play snaps in his first four games in Cleveland versus Ogbonnaya's 171 such snaps in six contests, per Pro Football Focus) and that the 27-year-old hybrid tailback/fullback could be more valuable than the ex-Bronco and Bill.
Cordarrelle Patterson, WR Minnesota – Somewhere in the mess of the season the Vikings have created for themselves, the first-round rookie has been forgotten or ignored. (You already know about my disdain for OC Bill Musgrave if you are a regular reader of this column, so the fact Minnesota isn't maximizing its potential on offense should come as little surprise.) Few will argue that Jerome Simpson is a NFL-quality receiver, but his best role is that of a situational deep threat; Patterson is a big receiver who excels in space. (Does that sound like someone the Vikings used to have?) Per Pro Football Focus, Patterson has played a total of 63 snaps this season (or less than half the number of Jarius Wright, for some perspective) and seen fewer than 20 snaps in every game. At some point that is going to change; if not because Minnesota continues to lose and wants to get its youngsters some more playing time, perhaps it will be because Musgrave has been given his walking papers or Greg Jennings gets hurt. When that day comes, owners will want Patterson on their roster. However, my recommendation is not strictly based on what should happen on the depth chart, it is in part because new starting QB Josh Freeman is more of a downfield thrower (and overall better quarterback) than either Christian Ponder or Matt Cassel. Is Freeman a significant upgrade? Probably, but I'm not sure that we'll be able to see how much better he is than his predecessors until he gets a handful of starts and digests the playbook over the next month or so. So, with an upgrade at quarterback and the hopeful realization (and based on Musgrave's track record, hopeful is the correct word choice) that a big-play all-purpose threat like Patterson has to play at least half of his team's snaps, I suggest owners pick him up and stash him. It may take a while longer, but his upside is higher than just about any other receiver that is readily available in redraft leagues.
The Names You Likely Just Became Familiar With Recently
Jarrett Boykin, WR Green Bay – The immediate reaction is that he'll be a one-week pickup with little-to-no upside when James Jones returns (if he even misses a game) while Jermichael Finley sees more time in the slot. I'm not so sure he doesn't become a semi-permanent fixture with a solid game against Cleveland this week, which is certainly possible given how easily Kris Durham posted an eight-catch-game last week against the Browns (mostly against the cornerback opposite Joe Haden, Buster Skrine). Boykin isn't a candidate to fill in for Randall Cobb in the slot, but if the undrafted free agent rewards Aaron Rodgers' preseason confidence in him with a strong performance in Week 7, then Green Bay may choose to leave Jones and Boykin on the outside and ask Nelson to take on some of Cobb's slot duties.
Kris Durham, WR Detroit – Like Boykin, Durham is hardly an overwhelming talent. In fact, there's little question Ryan Broyles is the superior option opposite Calvin Johnson, but the snap count would seem to suggest there are some trust issues – either with Broyles' knee or with the receiver himself. Durham has played 197 of a possible 211 snaps over the last three weeks while Broyles has seen 120 over that same time (per Pro Football Focus). Despite athletic limitations, there are several reasons to buy Durham going forward: 1) as a former college teammate of Matthew Stafford, there is history and obvious rapport between the two; 2) as a member of a pass-happy offense receiving starter's snaps opposite Calvin Johnson, he will never be a focal point of the defensive gameplan; and 3) Nate Burleson is still a few weeks away from returning and Broyles is already seeing fewer snaps than Durham even though Broyles is "healthy". Also, keep in mind that Burleson and Broyles are best utilized as slot receivers, meaning the 6-6, 216-pound Durham has staying power as long as he continues to "win his matchups" and maintains his reliability as Stafford suggested in the linked article. Barring a long-term injury to Johnson, last week's 8-83-0 line will go down as one of Durham's finer performances. With that said, his size and Detroit's pass-happy offense mean he could regularly step into the production Burleson enjoyed before his injury.
The Names You Might Forget As Quickly As You See Them
Michael Cox, RB NY Giants – HC Tom Coughlin has repeatedly stated that his 2013 seventh-round draft choice is not ready, but Cox remains perhaps my favorite dynasty-league stash. (I spent $15 of my $100 budget this week to get him in my 12-team, 24-man roster experts' dynasty league.) I'll get into the reasons for why I value him so highly in dynasty in just a second, but there could actually be a hint of redraft appeal here as well. ESPN New York reported earlier this week that Cox was told by the coaches he would play this week against the Minnesota Vikings. Usually, that kind of "report" doesn't mean much, at least until we consider the fact David Wilson will probably miss at least a month and the Giants don't have any player that knows the offense beyond 31-year-old Brandon Jacobs. Coughlin stated, "There are some things that I think right now we feel good about (and) other things not so [good]," in regards to Cox, which suggests he is more than ready as a runner (as he showed in the preseason) and not as much as a blocker. There is no doubt in my mind he brings more to the table than Jacobs, so he'll need to prove he isn't a liability in pass protection in order to warrant any kind of serious fantasy value this season. Regarding his dynasty appeal, Andre Brown can come back in Week 10, but has shown an inability to stay healthy throughout and is on a one-year contract. Assuming he somehow last the rest of 2013, Jacobs is unlikely to return as well. Peyton Hillis is even more of a stopgap option than Jacobs is. At 6-1, 214 pounds, Cox has the size to work in tandem with Wilson and take on the role that Brown was supposed to fill this season for a team that prides itself on running the ball.
Khiry Robinson, RB New Orleans – The cat is already out of the bag a little bit on one of several players I highlighted during the preseason (scroll to the bottom of the linked page). There are a few reasons why Robinson is a risky proposition, with Mark Ingram's pending return and the Saints' committee backfield among them. Like Cox above, I have little question about Robinson's ability as a runner and believe he is a solid long-term prospect. Although he is not quite as violent or explosive as Chris Ivory, he is a smarter runner with better balance; I also believe his long-term real and fantasy upside is higher than either Ingram's or Ivory's. As I stated in the introduction, I'm fairly certain Robinson will be the new Ivory in New Orleans based on the front office's desire to give Ingram every chance to succeed, but that doesn't mean the former first-rounder is the better player. I actually believe that Robinson and Travaris Cadet are more than capable of becoming the Saints' primary backfield components in 2015 when Ingram, Pierre Thomas and Darren Sproles will all become free agents. New Orleans will almost certainly add another running back or two to the mix between now and then, but the future of its backfield is in good hands regardless.
Mike Brown, WR Jacksonville – Of all the players listed, this is probably the lowest-upside recommendation with a very small window to be productive in 2013. Having said that, it is hard to believe Cecil Shorts will play – much less be productive – when he is having trouble raising his arm above his head. Shorts was diagnosed with a sprained sternoclavicular joint that he suffered early in Week 6, which is the same injury that sidelined Ben Roethlisberger for three weeks last season. Brown is hardly the talent Shorts is, but he was another player I identified during the preseason as a player that impressed me. Brown showed good hands in Week 6 in relief of an in an injured Shorts and an ability to find the soft spots in zone coverage, which is sometimes half the battle with young receivers. Justin Blackmon is going to draw some serious attention following his huge performance against the Broncos, so Brown will be a regular target for any games Shorts may be forced to miss. Brown is at best a fringe option in 14- and 16-team leagues at the moment, but he could easily work his way into 12-team league consideration if Shorts is slow to heal.
Tim Wright, TE Tampa Bay – Bucs OC Mike Sullivan has called his new undrafted 6-4, 220-pound rookie out of Rutgers "a slow receiver, but a dynamic tight end". And that's exactly how it looks over his last two games; the Bucs are giving him about one "shot" play per game and hitting him with a bunch of underneath patterns. Better yet, his success is sustainable because Tampa Bay does not possess a quality third receiver and he is regularly drawing a linebacker in coverage. As most would expect of someone of his size, he is rarely on the field on run plays (26 of his 127 snaps have come as a run blocker, per Pro Football Focus), so it is best to think of him as a part-time player who will play about half of his team's snaps. While most owners will probably start putting out waiver claims this week hoping to catch lightning in a bottle after a seven-catch, 91-yard performance, I've seen enough after two games to believe he is the rare unearthed gem that could become a regular fantasy starter in short order. He has caught 12 of his 15 targets over the last two weeks and has no legitimate competition for his role. He has exploitable matchups in each of the next two weeks (Atlanta and Carolina) and four of the next five (Miami and Atlanta) after a difficult stop at Seattle in Week 9.

Suggestions, comments, about the article or fantasy football in general? E-mail me or follow me on Twitter.

---
Doug Orth has written for FF Today since 2006 and appeared in USA Today's Fantasy Football Preview magazine in 2010 and 2011. He is also the host of USA Today's hour-long, pre-kickoff fantasy football internet chat every Sunday. Doug regularly appears as a fantasy football analyst on Sirius XM's "Fantasy Drive" and for 106.7 The Fan (WJFK – Washington, D.C). He is also a member of the Fantasy Sports Writers Association.