Whether you are still basking in the success you enjoyed in cruising to your fantasy league's title, still smarting over your teams' inability to close the deal or not quite ready to hang up your owner's hat quite yet, playoff fantasy football may be just the thing you need to end this season right.

I'll be the first to admit that playoff fantasy football doesn't appeal to me quite as much as the usual 16-week marathon, but that doesn't mean I don't still enjoy it. And coming off yet another profitable fantasy season, I'm looking to make a great season even better. In addition to owning one NFL.com team, I will be taking part in several money leagues with Fuzzy's Fantasy Football. My goal over the next four weeks will be to help each of you through your decision-making process as you attempt to boost your bottom line.



NFL.com



For a complete rundown of how players will score fantasy points for your team, click on the "Official Rules" link on the NFL.com entry page. However, much of the content immediately below is included on the "How to Play" page, so what I provide here should be more than enough to follow along easily.

The object of the game is to pick the players you think will perform best in their playoff matchup. Select one QB, two RBs, two WRs, one TE, one K and one D/ST. You will earn fantasy points based on their on-field performance during their game, and if your player's team wins, you will have the option to carry that player over to the next round, where he will earn a bonus point modifier to his score.

For example, if you pick Aaron Rodgers in the Wild Card round and the Packers win, you can carry him over to the Divisional Round, and earn two times (2x) the points he earns in his divisional round game. If Green Bay wins again, you can carry Rodgers into the Conference Championship round for 3x the points and, if the Packers make the Super Bowl, you can earn 4x the points. In addition, a user can select a player/defense in the Wild Card round even if their team has a bye into the Divisional Round. In this case, the user would not earn any points for the Wild Card round, but would then be eligible to earn 2x points in the Divisional round, since the player was on the team's roster for two weekly scoring periods. Further bonus point modifiers would also apply as long as that player's team continues to advance in the NFL Playoffs.

NFL.com Scoring System
Offense Statistic (QB, RB, WR, TE, K)
Fantasy Points
Rushing or Receiving Touchdown:
6 fantasy points
Passing Touchdown:
4 fantasy points
Field Goal 0-49 yards:
3 fantasy points
Field Goal 50+ yards:
5 fantasy points
Passing, Rushing or Receiving Two-Point Conversion:
2 fantasy points
Rushing or Receiving:
1 fantasy point per 10 yards
Passing:
1 fantasy point per 25 yards
Extra Point:
1 fantasy point
Defense/Special Teams (D/ST)
Punt Returned Touchdown:
6 fantasy points
Kickoff Returned Touchdown:
6 fantasy points
Fumble Returned Touchdown:
6 fantasy points
Interception Returned Touchdown:
6 fantasy points
Allowing 0 Points:
10 fantasy points
Allowing 2-6 Points:
7 fantasy points
Allowing 7-13 Points:
4 fantasy points
Allowing 14-17 Points:
1 fantasy points
Allowing 18-21 Points:
0 fantasy points
Allowing 22-27 Points:
-1 fantasy points
Allowing 28-34 Points:
-4 fantasy points
Allowing 35-45 Points:
-7 fantasy points
Allowing 46+ Points:
-10 fantasy points
Team Win:
5 fantasy points
Interception:
2 fantasy points
Fumble Recovery:
2 fantasy points
Safety:
2 fantasy points
Sack:
1 fantasy points

Before we get into the picks, let's briefly review the rules and how we may use them to our advantage: 1) passing TDs are worth four points, so passing yards are valued more highly here than in the Fuzzy's leagues I'll discuss later; 2) all field goals under 50 yards are worth three points, which means we are more concerned about volume of field goals than distance – unless we can find a kicker who regularly converts from 50+; 3) this is a non-PPR format, which obviously favors the big-play threats; and 4) team wins are worth five points, so picking a "winning" defense is worth almost a touchdown and could be worth as much as 3.5 TDs if you pick a defense from this week and that team ends up winning the Super Bowl.

Given the bonus point modifier mentioned above, I could understand an owner making the decision to pass on selecting a defense this week and electing to get twice as many points from a potentially great defense such as the Seahawks or Panthers in the Divisional Round. (I'm not saying I would do that, but it is a strategy to consider.)

I'll say this once and only once so I don't have to repeat myself. This week, it is advantageous to do choose players who (in order): 1) we think will play four games and/or 2) will likely be in the Super Bowl, even if they don't have the best matchups this week or on a bye. This game has a lot to do with playing the multipliers, picking the bracket correctly and anticipating what players will do in the Super Bowl if they get there. So before we get to the players, I think it makes sense to break down how I believe the playoffs will play out first.

AFC - Wildcard: Chiefs over Colts, Bengals over Chargers
NFC - Wildcard: Eagles over Saints, Niners over Packers

AFC - Divisional: Broncos over Chiefs, Patriots over Bengals
NFC - Divisional: Niners over Seahawks, Panthers over Eagles

AFC – Conference Championship: Broncos over Patriots
NFC - Conference Championship: Niners over Panthers

Super Bowl: Niners vs. Broncos

One other nugget: at RB and WR, I won't evaluate every option for obvious reasons. I'll simply reveal my final few choices and take it from there. Now let's get to my picks and my rationale for each position:

Quarterbacks

Nick Foles/Aaron Rodgers/Colin Kaepernick/Drew Brees/Andy Dalton/Andrew Luck/Alex Smith/Philip Rivers

On bye: Peyton Manning/Tom Brady/Russell Wilson/Cam Newton

As my predictions above suggest, I would not put much faith in Smith, Luck, Rivers, Brees or Rodgers. Of that bunch, I think Rivers has the best chance of playing at least two games. And of the wildcard weekend contests, I have the least faith in my Chiefs-Colts game prediction. So with that information out of the way, here's why I don't like the aforementioned quarterbacks in this competition. Luck and Rodgers are very good quarterbacks covering up for porous defenses; a team can only get by so long in the postseason with that combination. Smith is a bit more than the caretaker he is made out to be, but he doesn't possess the kind of upside of some of the other players that will receive more consideration below. Dalton and the Bengals have been amazing at home, but Cincinnati won't have the luxury of playing all of its games in Paul Brown Stadium. If the Chargers were playing either the Chiefs or Colts, I would push them through and give Rivers more consideration. I'm not even going to pretend to understand why the Saints are such a different team at home than on the road. Either way, the Eagles represent one of the worst opponents they could have drawn in the opening round because they run the ball so well, so Brees is eliminated. Without Rob Gronkowski around, it's hard to have much faith in Brady ending up as the best fantasy quarterback in this playoff run. If history suggested that both top seeds were going to make it through, I would be tempted to carry Wilson into the next round because I have that much respect for him. However, possible matchups against the Niners and Panthers make it extremely unlikely he will be a great option. Furthermore, I doubt this is the rare year that both top seeds will meet in the Super Bowl.

As a result, the following options remain: Foles, Kaepernick, Manning and Newton. Perhaps if I felt stronger about my Eagles-Panthers prediction in the divisional round, I would consider either Foles or Newton as my top option (particularly Foles since he and Kaepernick are the only quarterbacks remaining that I think can potentially give me four "full" games of production. Ultimately, I think Carolina and Philadelphia's secondaries are flawed and that will end up getting each one knocked out before the Super Bowl. As a result, we are left with the quarterbacks I believe will make the Super Bowl in Kaepernick and Manning.

The call: Peyton Manning. It would seem that Kaepernick is a no-brainer choice here because he will play four games according to my predictions, but the potential of shredding the weaker defenses of Green Bay (this week) and Denver (potentially in the Super Bowl) does not erase the likelihood of a couple of duds against possible matchups in Seattle and Carolina. I'd much rather take the chance that Manning will have his way against Cincinnati's beat-up secondary, New England's injury-ravaged defense and either San Francisco or Seattle on a neutral field.

Running Backs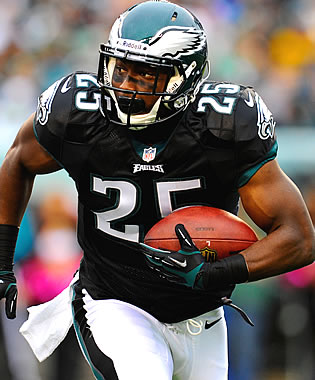 McCoy's best game in the playoffs might be his first.
LeSean McCoy/Eddie Lacy/Frank Gore/Pierre Thomas/Darren Sproles/Giovani Bernard/BenJarvus Green-Ellis/Trent Richardson/Donald Brown/Jamaal Charles/Ryan Mathews/Danny Woodhead
On bye: Knowshon Moreno/Montee Ball/Stevan Ridley/Shane Vereen/LeGarrette Blount/ Marshawn Lynch/DeAngelo Williams
The first wave of cuts will include Lacy, Thomas, Sproles, Bernard, Green-Ellis, Richardson, Brown, Mathews, Woodhead, Ball, Ridley, Vereen, Blount and Williams. Ultimately, none of the cuts were hard to make either due to the fact this is a standard-scoring format, the likelihood any of them will play more than two games or both. I'm going to table McCoy for now because I can definitely see a scenario in which the league's leading rusher plays three games, which means he could he more valuable with his 1x, 2x and 3x multipliers than someone like Gore who could get to 4x.
I'll cut the cord on Charles at this point simply because I think we've seen that while Kansas City is close to Denver, it cannot quite go punch for punch with the Broncos' offense. As a result, I'm not willing to buy the Chiefs playing more than two games.) Gore is an obvious candidate given that I think he could play four games, but I'm going out on enough of a limb predicting a Niners win in Seattle that I'd just as soon avoid using any San Francisco players in this competition if it at all possible. Lynch makes a ton of sense as someone who could reward me with 2x, 3x and 4x multipliers because of his ability to produce against just about any defense. Moreno also is a very good choice since the reason Denver wanted to sprinkle in Ball during the second half of the season was so it could ride the five-year veteran harder in the playoffs. In the end, I think a divisional round game between the Niners and Seahawks is a toss-up, meaning I'd just as soon avoid both Lynch and Gore until the conference championship.
The call: Knowshon Moreno and LeSean McCoy. I doubt this will be the last time I'll mention how flawed each team in this playoff field is this season. The Broncos are arguably a less well-rounded team than they were last season, yet I don't see a team on the AFC side that can make a strong case to win in Denver (again, in some cases) as they are currently constructed. With that said, I'll opt for the potential 2x, 3x and 4x opportunities I should get from Moreno as the Broncos attempt to balance their offense as much as possible in the cold-weather games they will likely play the rest of the season. As for McCoy, I expect him to rip apart the Saints. Ideally, I could load up on 3x and 4x players this week and not look back, but I like the idea of getting a huge first week out of McCoy and riding him out until the Eagles lose while I see what happens with the Niners and Seahawks. I'm comfortable that likely matchups of the Niners and Panthers (for Lynch) and Seahawks and Panthers (for Gore) aren't going to yield a ton of fantasy points for either player, so why not ride McCoy until I see how the first two weeks shake out? In the event the Eagles can get through to the conference championship, I'll take McCoy's 3x against any defense and shift over to the NFC representative in the Super Bowl if/when the Eagles lose.
Wide Receivers

DeSean Jackson/Riley Cooper/Randall Cobb/James Jones/Jordy Nelson/Jarrett Boykin/Michael Crabtree/Anquan Boldin/Marques Colston/Kenny Stills/A.J. Green/Marvin Jones/TY Hilton/Da'Rick Rogers/LaVon Brazill/Griff Whalen/Dwayne Bowe/Donnie Avery/Dexter McCluster/Keenan Allen/Eddie Royal
On bye: Demaryius Thomas/Eric Decker/Wes Welker/Julian Edelman/Danny Amendola/Aaron Dobson/Kenbrell Thompkins/Percy Harvin/Golden Tate/Doug Baldwin/Steve Smith/Brandon LaFell/Ted Ginn
Rather than listing each player by name, I will not consider any of the receivers playing this week for various reasons. With the Eagles' receivers, it is all about likely future matchups. As far as the wideouts of the Packers, Saints, Bengals, Colts, Chiefs and Chargers are concerned, I don't like their chances of playing more than two games. The Niners' pass-catchers are the hardest to cut, but I find it difficult to predict which one will enjoy a better three- or four-game run (and it isn't as if the Niners' passing attack is so dynamic that it will overcome the likes of Seattle and Carolina anyway).
Of the remaining players, only Denver has an elite-level passing game with good/great receivers and a quarterback that can keep most (if not all) of them involved enough to make them worth using each week. Edelman would obviously be a much stronger option in PPR scoring while Welker's recent run with concussions is more risk than I'd like to assume. Although Harvin is likely going to be on the field this postseason, I can't buy him or any of the Seattle receivers until the Super Bowl, if even then. I can pretty much say the same thing about the Panthers' pass-catchers, as only TE Greg Olsen appears to be a viable fantasy option now.
The call: Demaryius Thomas and Eric Decker. Obviously, this contest is a fantasy-based game, so it only makes sense to go with the combination of players that: a) are capable of posting huge stat lines any given week; b) play in dynamic passing attacks and c) have the ability to make it to the Super Bowl. As you can tell, there aren't too many receivers available that satisfy all of those requirements. If the regular season is any indication, Manning will pepper a different receiver each week with the most targets. Thomas has been pretty consistent since Manning arrived and is generally able to enjoy a double-digit fantasy performance every week – even with a small yardage total – because he finds the end zone so often. Decker obviously runs a little bit more hot-and-cold than Thomas, but his "blowup" potential in any given week is pretty tempting in a multiplier format. Rather than trying to predict which player between Decker and Thomas will be the man each week, I can reduce my risk by using both and hope both receivers can reward me with at least one 2-3 touchdown day over their three-game postseason run.
Tight Ends

Brent Celek/Zach Ertz/Andrew Quarless/Vernon Davis/Jimmy Graham/Jermaine Gresham /Tyler Eifert/Coby Fleener/Anthony Fasano/Antonio Gates
On bye: Julius Thomas/ Jacob Tamme/ Michael Hoomanawanui/Zach Miller/Greg Olsen
The first round of cuts this time includes every one of the tight ends playing this week (except Davis and Graham), Tamme, Hoomanawanui and Miller. With elite tight ends available, it doesn't make a lot of sense to roll the dice on any of the others. I could get into more detail, but it really boils down to that in the end.
Very quickly, we have trimmed the pool of realistic options down to Graham, Davis and Thomas. As fantasy's best tight end, Graham has to be given consideration simply because he could easily explode for 100 yards and two touchdowns against any opponent. However, his likely one-and-out postseason trip doesn't make it tempting enough to lock him in here. Davis' appeal is pretty obvious when one takes a look at his recent postseason history: 22 catches, 546 yards and five touchdowns in five games. Fantasy consistency has eluded him with Kaepernick as his quarterback for the most part, but he is on a stretch where he has caught scoring passes in six of his last seven games (including five in a row at one point). Thomas is probably the best three-game bet of the bunch simply because he appears to be the player Manning trusts the most in the red zone, which speaks volumes.
The call: Vernon Davis. For an elite tight end, Thomas' yardage numbers have been relatively pedestrian since about Week 6. Thomas also cannot play more than three games and isn't helped in this format by his relatively high reception total. Davis offers more big-play ability, the potential for more games and more in the way of postseason production. It's probably the most difficult call I'll make this week because I could easily be convinced to roll with Thomas, but I'll opt for some balance here with Davis.
Kickers

Alex Henery/Mason Crosby/Phil Dawson/Shayne Graham/Mike Nugent/Adam Vinatieri/Ryan Succop/Nick Novak
On bye: Matt Prater/Stephen Gostkowski/Steven Hauschka/Graham Gano
Kickers and defense/special teams units require slightly different thinking, although the goal is still the same – find the player/unit that will play the most games and live with peaks and valleys that come along with those positions. As a result, I'm letting Henery, Crosby, Graham, Nugent, Vinatieri, Succop, Novak, Gostkowski and Gano sit.
This leaves us with Hauschka, Dawson and Prater. This format does not differentiate between kick distances as much as Fuzzy's below, but Prater's 50-yard field goals in the thin air of Colorado could give him a slight edge here. Hauschka and Prater can play a maximum of three games while Dawson can play four. Prater is also more likely to be kicking extra points since his offense is so proficient and Denver's declining defense may force the Broncos to go for touchdowns more often than field goals. On the other hand, Hauschka and Dawson are more likely to kick chip-shot field goals since their coaches believe in their defenses' ability to shut down the opponent.
The call: Matt Prater. Up until about Week 16, I was convinced that I my NFL.com playoff team would be loaded with Broncos and Seahawks…let's hope my eyes haven't deceived me the last two weeks. Staying true to my word above about trying to avoid as many Niners as possible for the first week or two, I'm going to roll with Prater since I believe the Broncos have the best shot of all the teams to end up in the Super Bowl. I had Dawson in my lineup right up until I submitted this story, but I chose Prater in the end because my belief in the Broncos is stronger than the Niners.
Defense/Special Teams

Eagles/Packers/Niners/Saints/Bengals/Colts/Chiefs/Chargers
On bye: Patriots/Broncos/Seahawks/Panthers
Let's cut to the chase: I have no faith in the Packers' defense, the Saints' ability to defend any opponent on the road or the Colts' defense in general. I also believe the better NFC teams will eventually expose Philadelphia's secondary and that Cincinnati's weakened back four will also lead to its demise. San Diego played much better defense down the stretch than it did to start the season, but the Bengals' ability to score points at home scares me away from the Chargers' defense. The Broncos and Patriots have both been hit hard by injuries, making them poor picks as well.
Thus, we are left with the Niners, Chiefs, Seahawks and Panthers. In the event Kansas City gets by Indianapolis this week (which is no lock), it will likely face Denver again – a recipe for disaster as far as fantasy defenses are concerned. Choosing between San Francisco, Seattle and Carolina for defenses is no easy chore and a strong argument could be made for any of them.
The call: Niners. It appears I'm going pretty much all in on Denver with a hint of San Francisco after all. Once again, my stance is locking up the potential 4x option now and hoping for the best. Assuming the Niners get past the Packers as I predict they will, they could be in line for a couple of defense-dominated battles with Seattle and Carolina. Defense is unpredictable enough that I'm not going to be too upset if I have to switch to Seattle in two weeks because it is entirely possible the net result of my choice will cost me 5-10 points at the most.

Fearless predictions for my selected team:
Manning: bye
Moreno: bye
McCoy: 140 rushing yards, two rushing TDs, 25 receiving yards (28 fantasy points)
Thomas: bye
Decker: bye
Davis: 75 receiving yards, one receiving TD (13 points)
Prater: bye
Niners DST: 24 PA, three sacks, two turnovers and a team win (12 points)

Projected Total: 53 fantasy points


Fuzzy's
Many of the scoring parameters used above apply here as well, with the key differences being that Fuzzy's uses PPR scoring and there are no bonus-point modifiers or team-win points. Kickers get four points for field goals between 40-49 yards and six points for 60+ conversions while all TDs are worth six points. Your goal is to pick the highest-scoring lineup each week with no strings attached. Additionally, each owner is asked to select a tiebreaker every week which will be used to break any ties following the Super Bowl. Fuzzy's leagues contain no more than 50 teams in a league whereas most other major sites employ a one-man-against-the-world approach. As a result, 20% of the entrants into Fuzzy's playoff leagues will - at the very least - recoup their entry fee, with first through ninth place receiving a nice return on investment for their troubles. Follow this link for a complete list of the rules.

Position Requirements: 1 QB, 2 RB, 3 WR, 1 TE, 1 K, 1 Defense/Special Teams

Since I will be playing with several teams with Fuzzy's this season, I'll simply list my teams below and present a brief overview on my overall thought process. (There is a chance I'll add a fifth team, so don't be surprised to see an additional column below next week.) Depending on how strongly I feel about matchups in a given week, I may use the same lineup in more than one league. My best advice: do not try to "make your move" in Week 1. The time to separate from the pack is later in the competition, not now.

Fuzzy Portfolio
Team 1
Team 2
Team 3
Team 4
QB
Foles
Kaepernick
Foles
Kaepernick
RB
Charles
Charles
Charles
Charles
RB
McCoy
McCoy
McCoy
McCoy
WR
Green
Green
Green
Green
WR
Nelson
Nelson
Nelson
Nelson
WR
Colston
Allen
Allen
Colston
TE
Graham
Graham
Davis
Davis
K
Dawson
Henery
Vinatieri
Dawson
DST
Bengals
Bengals
Bengals
Bengals
Tie
Kaepernick
Foles
Kaepernick
Foles
My main goals going into the competition this season are to: a) play the studs first, b) play the matchups second and c) not to be so bold with my picks that I find myself in a 50-point hole next week. All too often since winning my league in my first year of this contest, I have valued the matchup too heavily (or put too much weight into the regular-season head-to-head meeting) and it has cost me. Most offensive coordinators arenít going to go down in the playoffs without making sure they have exhausted every avenue in order to get their best player the ball. In short, Iím not going to predict this is the week that McCoy gets hurt or that Green Bay sells out to stop Colin Kaepernick.
In this week-to-week competition, Iím going to use the Saints-Eagles game as my foundation for fantasy points this week at a number of my positions. I donít often consult Vegas when it comes to my decisions, but the over/under of 53.5 is nearly a touchdown higher than every other game this weekend and a reasonable gauge for the kind of game I expect it to be (even if I think the estimate is a bit conservative). Typically, Iíd jump at the chance to take Brees against the Philadelphia pass defense, but it appears this edition of the Saints is a completely different animal on the road than it is at home. (As a point of reference, Breesí highest-scoring road game was 23.5 in this scoring system.) New Orleansí defense isnít exactly a sieve, but Iíd like to think that if quarterbacks like Kellen Clemens and Mike Glennon can score 18.8 fantasy points against New Orleans over the final quarter of the season, Foles should be able to get into the mid-to-high 20s with more plays and better personnel. Iím very tempted to roll with Kaepernick in at least one league simply because Green Bay hasnít found a way to stop him yet and donít seem overly likely to do it now with a bunch of injuries, including one to Clay Matthews (thumb) that will keep him out of this game. It wouldnít surprise me in the least if Rodgers is able to put up a big fantasy line (300+ yards, two touchdowns), but heíll be hard-pressed to do anything more against San Franciscoís defense.
Every so often, making fantasy choices can be as easy as taking the top two scorers at the position and hoping for the best. With apologies to Lacy (matchup), Bernard (playing time) and the two San Diego running backs (again, playing time), it doesnít make a lot of sense to start anyone else besides the leagueís leading rusher and the fantasyís best back against two less-than-scary defenses in the Saints and Colts, respectively. I could easily make the case that Pierre Thomas and Darren Sproles are worthy of consideration given in this PPR format how often they are used in the screen game (against what I believe will be a blitz-heavy gameplan by the Eagles), but itís going to be a tough sell to use either one of two part-time backs over two full-time ones. Iíd also just as soon not try to predict this will be the week where the Bengals give Bernard 20+ touches either.
As is typically the case, the owners that enjoy the most success in the first week of the postseason will be those that make the right calls at the three receiver spots. Iím tempted to use Hilton, but tend to believe the Chiefs will do everything in their power to make sure he isnít the reason the Colts beat them. Jackson has been a solid choice for most of the season and would seem to be one here given the Saintsí road woes, but heíll likely draw emerging CB Keenan Lewis most of the game Ė leaving Riley Cooper as the likely top fantasy receiver for the Eagles. I hate to bank solely on Colstonís ability to be a second-half-of-the-season standout, but heís at it once again and poses a huge size mismatch for the Eagles when he moves into the slot. It is entirely possible Colston and Jimmy Graham take turns dominating drives Saturday. Green scored at least 11 points in all but one game this season and he could easily exceed the 5-83-1 line he posted in San Diego on Dec. 1. (I suspect Bengals-Chargers will not be another 17-10 game this time around nor do I believe Marvin Jones will steal multiple touchdowns from Green in a game during the postseason.)
Allen has been so good at finding the end zone that Iím almost obligated to play him in half of my leagues. It is pretty clear that Rodgersí trust in Nelson wasnít hurt by the quarterbackís seven-game absence. Nelson has been PPR gold in just about every game Rodgers finished this season. As captivating as Cobbís two-score return was last week, Iím going to wait another week (at least, and that assumes the Packers can beat the Niners) to see if he plays more than half of Green Bayís snaps.
With Matthews unable to play for Green Bay, Davis is a good bet to run more pass patterns than usual. Combined with his recent history against the Packers and Green Bayís struggles against athletic tight ends, Davis could enjoy a 100-yard, 1-3 score effort if San Francisco really wants to exploit the matchup. As I alluded to earlier with Colston, Graham should be set up for a good day if the offense can find a way to cobble together a Superdome-quality offensive performance on the road. If Brees throws for two scores (which sounds about right given his track record away from home in 2013), Graham is an awfully good bet to snag at least one of them.
As is the case anytime I play fantasy football, I favor strong-legged kicker playing in good weather (or a dome) in an offense that either struggles in the red zone or doesnít mind settling for field goals because the coach has enough confidence in his defense. Unfortunately, there is only one good weather/dome game this weekend and Iím not all that keen on Succop (given the Chiefsí last game against the Colts) or Vinatieri (extremely up-and-down fantasy scorer this season, even for a kicker). Still, Vinatieri is about the best bet for a huge fantasy day, so Iíll probably try to steal a few points with him in one league. For the most part, however, Iíll go for the strong-legged kicker on the defensive-oriented team on at least half of my teams (Dawson). Because points are likely to be plentiful in Philly, I may wrestle with using Henery on at least one team in hopes he can put up four extra points and two long field goals.
I donít have a ton of faith in any of the D/ST options this week, but the Bengalsí defense has been pretty special at Paul Brown Stadium for most of the season, albeit against mostly questionable competition. And in cases such as this one, Iíd prefer the second-highest scoring available defense at home over the top-scoring unit on the road (Chiefs) that could have a pair of limited pass rushers against a Coltsí team that handled it a few weeks ago.

Suggestions, comments, about the article or fantasy football in general? E-mail me or follow me on Twitter.

---
Doug Orth has written for FF Today since 2006 and appeared in USA Today's Fantasy Football Preview magazine in 2010 and 2011. He is also the host of USA Today's hour-long, pre-kickoff fantasy football internet chat every Sunday. Doug regularly appears as a fantasy football analyst on Sirius XM's "Fantasy Drive" and for 106.7 The Fan (WJFK – Washington, D.C). He is also a member of the Fantasy Sports Writers Association.