If there is a "Dirty Dozen", then a "Delicious Dozen" must exist as well.

Thanks to the FF Points Allowed tool on FF Today, it isn't all that difficult to identify which defenses perform well against certain positions. After all, if a defense performs well against Colin Kaepernick, it is logical to believe it will also perform well against Russell Wilson. That's not to suggest Wilson and Kaepernick are the same, but they are similar – as are their teams' offensive philosophies. Running backs aren't all that much different, because the position relies on 10 other players on his side of the ball to do their jobs and stopping the run for a defense is often an 11-man chore.

In a team game, the receiver vs. cornerback battle is often as individual as it gets at the skill positions. Without getting into too much of a philosophical discussion about how individual it is, we can generally assume that a defense will remain either a team that uses a "shadow" cornerback or opts to "play sides" and not change its method during the course of a game. Receivers tend to move all around the formation and many of the top receivers nowadays spend time in the slot, so the most any analyst can say with any certainty is that a certain receiver should see a lot of a certain receiver in coverage based on where he tends to line up.

I have often said owners make the most lineup mistakes at receiver because there is more mystery surrounding the receiver vs. cornerback battle than any other fantasy position. In an effort to eliminate some of that mystery, last week's "Dirty Dozen" took a look at the 12 cornerbacks we don't want our receivers to meet at any point of the season, especially now. This week, it is time to focus in on those matchups that should have us salivating just in time for the fantasy playoffs.

While the receiver position will probably always remain the most difficult fantasy position to predict from week to week, we do have some tools at our disposal to evaluate just how difficult their upcoming matchups are. Although Pro Football Focus has many stats that can help us to make informed decisions about what receiver vs. cornerback matchups we should target, I prefer to use the NFL QB rating against a defender (in this case, a cornerback) as an easy-to-understand tool to help discern what receivers could be in for a big day. Below is a list of the 12 cornerbacks that have played at least 60% of their team's snaps and struggled for most of 2014.

Note: In most cases, the projected wide receiver-cornerback matchups are based on the side where each player has lined up the most this season and are obviously variable (as noted above) since offenses tend to move their receivers around the formation, send them in motion or use them in bunch sets in order to get help them gain early separation or avoid jams at the line of scrimmage.

When applicable and/or relevant, I noted how the receivers fared against the cornerback in the previous meeting this season. As I also stated last week, I added "to date" to give each of you a sense of how proficient the cornerback has been at his job (or not proficient in this case).

1. David Amerson, Washington (NFL QB Rating – 133.2)

Analysis: Amerson set the college football world abuzz in 2011 when he intercepted 12 passes as a 6-1 sophomore cornerback at North Carolina State, showing the size and ball-hawking skills that NFL teams covet. It has seemingly been all downhill since, however, as he has performed at a below-average level or worse in all but two games this season at RCB. How bad is it? Four of Andrew Luck's five touchdowns last week came in Amerson's coverage (one to Coby Fleener, one to T.Y. Hilton and two to rookie Donte Moncrief).

To date: 48 catches on 65 targets for 605 yards and six touchdowns

Week 14: Kenny Britt, St. Louis
Week 15: Reuben Randle, NY Giants
(Randle went 5-7-52-0 against Amerson in Week 4)
Week 16: Riley Cooper, Philadelphia
(Cooper went 3-4-27-0 against Amerson in Week 3)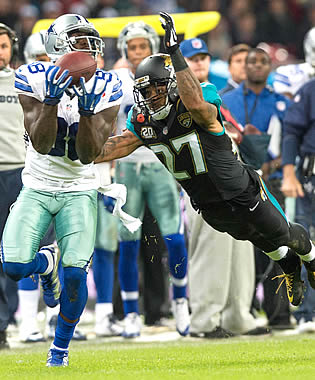 Dwayne Gratz is a DB to target down the stretch.
2. Dwayne Gratz, Jacksonville (NFL QB Rating – 123.8)
Analysis: The second-year pro, who was taken six picks ahead of slightly more-heralded University of Connecticut teammate Blidi-Wreh Wilson (Tennessee) in the 2013 draft, drew some initial comparisons to Carlos Rogers from some members of the Jaguars' coaching staff and had a decent rookie season considering the state of Jacksonville's defense for most of last year. This season has been a different story as the LCB has earned his two lowest grades in the last three weeks, giving up a score to Dez Bryant in Week 10 before surrendering six scoreless catches on eight targets for 75 yards to four different players in last week's win over the Giants.
To date: 32 catches on 50 targets for 500 yards and four touchdowns
Week 14: Andre Johnson, Houston
Week 15: Steve Smith, Baltimore
Week 16: Nate Washington, Tennessee
3. Stephon Gilmore, Buffalo (NFL QB Rating – 117.3)
Analysis: Gilmore was one of the best corners down the stretch last season – posting a 36.1 QB rating against over the final four games of last season – and was one of the reasons why I was so high on the Bills' defense early in the season. Buffalo's RCB has actually come on strong in the second half of this season, suggesting his earlier play was likely a product of his offseason hip surgery or his early-season groin injury. He has earned a positive grade in each of the Bills' last five games and opponents have seemingly taken notice since he has been targeted somewhat infrequently over that stretch. Last week, he saw more of Josh Gordon than any other Browns' receiver and limited him to four catches and 42 yards on five targets.
To date: 39 catches on 53 targets for 485 yards and five touchdowns
Week 14: Emmanuel Sanders, Denver
Week 15: Randall Cobb/Davante Adams, Green Bay
Week 16: Andre Holmes, Oakland
4. Brandon Carr, Dallas (NFL QB Rating – 115.9)
Analysis: For those that don't know "America's team" all that well, RCB and slot corner Orlando Scandrick is having a better year in Dallas and the player that most offenses seem to fear most. LCB Carr has earned poor grades from PFF in five of the last six games (sans Week 10 in London versus Jacksonville) and had a day to forget on Thanksgiving against Jeremy Maclin (four catches on six targets for 80 yards). One week earlier, he was the defensive back in coverage that gave up Odell Beckham Jr.'s breathtaking highlight-reel catch after interfering with the rookie. Two games prior to that, he yielded a touchdown to Arizona's Jaron Brown.
To date: 39 catches on 65 targets for 422 yards and four touchdowns
Week 14: Brandon Marshall, Chicago
Week 15: Jeremy Maclin, Philadelphia
Week 16: T.Y. Hilton, Indianapolis
5. Lardarius Webb, Baltimore (NFL QB Rating – 115.8)
Analysis: Some of the players that appear on this list are here due to the fact they are playing with or through injuries. For the 29-year-old LCB – once one of the top slot corners in the game – he could be fighting through a back problem. He hasn't consistently delivered poor performances so much as he is still paying for giving up seven receptions on 12 targets for 105 yards and a touchdown during Ben Roethlisberger's second six-TD game in Week 9. Regardless of the fact that has only yielded two touchdowns, the 72.2-percent completion rate is awfully high and one of the big reasons why Baltimore is a defense owners should target in regards to quarterbacks and receivers. The loss of Jimmy Smith to a season-ending injury basically took away any consistent safety help the Ravens could give to a less-than-100-percent Webb, so don't look for him to make a sudden turnaround the rest of the season.
To date: 39 catches on 54 targets for 534 yards and two touchdowns
Week 14: Brian Hartline, Miami
(Mike Wallace started at RWR for most of the first half of the year before the emergence of Jarvis Landry, which may or may not be a coincidence)
Week 15: Allen Hurns, Jacksonville
Week 16: Andre Johnson, Houston
6. Janoris Jenkins, St. Louis (NFL QB Rating – 114.5)
Analysis: Perhaps Jenkins would not be on this list were it not for two long touchdowns he surrendered (an 80-yarder to Brandon Lloyd when Jenkins inexplicably bit on a double move near the end of the first half) and Emmanuel Sanders' 42-yard grab that accounted for the Broncos' only score in Week 11). Outside of those two games, the Rams' RCB has graded out poorly only one other time in pass coverage. With that said, the third-year pro is still a bit of a gambler – as the touchdown to Lloyd illustrated – and thus can be exploited in coverage, so his presence on this list isn't by mistake. Jenkins is likely always going to be a bit hit-or-miss in coverage, although his tendency to take risks in coverage usually pays off more often when the Rams' pass rush is working as well as it is right now.
To date: 38 catches on 55 targets for 524 yards and five touchdowns
Week 14: DeSean Jackson, Washington
Week 15: Michael Floyd/Larry Fitzgerald/John Brown, Arizona
(Brown was the only receiver to receive two targets against Jenkins in Week 10)
Week 16: Reuben Randle, NY Giants
7. Patrick Peterson, Arizona (NFL QB Rating – 113.7)
Analysis: First and foremost, cornerbacks anywhere close to this list should not be talking about how they are going to shut down any player, especially elite receivers like Julio Jones. With that said, any corner as naturally talented as Peterson, who will shadow receivers from time to time, is usually going to go through stretches where he believes his talent will compensate for any shortcomings he has in technique and that vulnerability is being exploited this season. Need proof? Here are Peterson's last six game logs against the receiver/tight end that was targeted the most in his coverage (catches-targets-yards-touchdowns):
Jeremy Maclin - 5-5-69-1
Dez Bryant – 2-6-15-1
Chris Givens – 1-3-5-0 (INT)
Calvin Johnson – 5-10-59-0
Cooper Helfet – 1-1-20-1
Julio Jones – 8-8-171-1
To date: 44 catches on 72 targets for 609 yards and eight touchdowns
Week 14: Dwayne Bowe, Kansas City
Week 15: Chris Givens, St. Louis
(Peterson has played more LCB than RCB this year, so using that as our reference point, he could see more Tavon Austin/Stedman Bailey this time around)
Week 16: Jermaine Kearse, Seattle
(Amazingly, the only player to receive more than one target in any defender's coverage in the Week 12 meeting was Marshawn Lynch, who was targeted twice against LB Larry Foote)
8. Alterraun Verner, Tampa Bay (NFL QB Rating – 113.6)
Analysis: The Bucs' choice to replace Darrelle Revis, Verner has been fairly steady at home and largely hit-or-miss on the road (two of Verner's highest-graded have come on the road as have two of his lowest-graded ones). Since the NFL season only gives players eight home and road games, it is really difficult to determine if that is a trend to keep an eye out for, but is noteworthy at the very least. While teammate Johnthan Banks has moved up to fifth in NFL Rating against, LCB Verner has the rare distinction of being a player that has graded out as a top-10 cornerback – mostly due to his excellence in the run game – and someone that has struggled at his most important job (in coverage).
To date: 41 catches on 61 targets for 613 yards and five touchdowns
Week 14: Golden Tate, Detroit
(Calvin Johnson and Golden Tate have swapped RWR and LWR since Megatron's return, but Banks' size makes him a much better defender for Johnson than Verner)
Week 15: Jerricho Cotchery, Carolina
Week 16: Jordy Nelson, Green Bay
9. Darrin Walls, NY Jets (NFL QB Rating – 112.7)
Analysis: The Jets' struggles stopping opposing passing games was easy to forecast in the summer, but whatever chance they had at fielding an average pass defense pretty much evaporated when New York released Dmitri Patterson and lost Dee Milliner to injury. At present, they have converted safety Antonio Allen and undrafted free agent LCB Walls manning the starting spots. Walls also missed two games before the Jets' Week 11 bye, so it is entirely possible he is still working his way back from that.
To date: 39 catches on 61 targets for 620 yards and four touchdowns
Week 14: Charles Johnson, Minnesota
Week 15: Nate Washington, Tennessee
Week 16: Julian Edelman, New England
10. Blidi-Wreh Wilson, Tennessee (NFL QB Rating – 112.3)
Analysis: The 2014 season hasn't been good to Wilson, who sat out Week 5 with a concussion and missed Week 12 with a back ailment. When he has played, the RCB has consistently been burned (DeAndre Hopkins caught all five of his targets for 163 yards and a score in his coverage last week, accounting for one of the lowest grades I have seen on PFF recently). Ironically, his previous game – against Pittsburgh on Monday Night Football – was his best performance and the first time he received something other than a poor or average grade from PFF for his work in pass coverage this season. To underscore just how poor his coverage has been, look no further than the 15.6 YPC he is allowing.
To date: 45 catches on 75 targets for 703 yards and six touchdowns
Week 14: Reuben Randle, NY Giants
Week 15: Eric Decker, NY Jets
Week 16: Cecil Shorts, Jacksonville
11. Robert Alford, Atlanta (NFL QB Rating – 111.6)
Analysis: Perhaps the defense's answer to Matt Ryan, RCB Alford has been average to slightly above-average at home and consistently poor on the road. He has been sidelined since early in Week 11, however, after breaking his wrist, leaving Robert McClain to get torched on a more regular basis than Alford was. The second-year pro is scheduled to return to the lineup in the next week or two, but owners can rest easy since neither McClain nor Alford are enjoying much success due in large part to the mediocre Falcons' pass rush.

To date: 32 catches on 52 targets for 547 yards and six touchdowns
Week 14: Randall Cobb/Davante Adams, Green Bay
Week 15: Markus Wheaton, Pittsburgh
Week 16: Nick Toon/Kenny Stills, New Orleans
12. Bashaud Breeland, Washington (NFL QB Rating – 108.9)
Analysis: It shouldn't be overly surprising that a team that features a stout run defense and an aggressive defensive coordinator with pathetic safety play would have two cornerbacks on this list. For what it is worth, most of Breeland's poor play came in the first six games of the season as he has only earned a negative grade in pass coverage once since. His highest grade came in Washington's MNF upset of Dallas in Week 8, so there's still plenty of hope for the fourth-round rookie to continue making the progress he has over the last two months. Based on his recent play, the LCB is on the brink in terms of whether or not owners should be targeting him in their fantasy matchups.
To date: 42 catches on 65 targets for 607 yards and four touchdowns
Week 14: Tavon Austin/Stedman Bailey, St. Louis
Week 15: Odell Beckham, NY Giants
Week 16: Jeremy Maclin, Philadelphia
(Maclin actually did most of his damage in Week 3 in S Brandon Meriweather's coverage: 4-5-93-1)
Cornerbacks skipped due to release:
3. Antoine Cason, Carolina
The rest of the bottom 20:
13. Tramon Williams, Green Bay (NFL QB Rating – 104.7)
14. Bradley Roby, Denver (NFL QB Rating – 104.5)
15. Captain Munnerlyn, Minnesota (NFL QB Rating – 103.6)
16. Tim Jennings, Chicago (NFL QB Rating – 101.0)
17. Keenan Lewis, New Orleans (NFL QB Rating – 98.8)
18. Cortland Finnegan, Miami (NFL QB Rating – 97.8)
19. Tarell Brown, Oakland (NFL QB Rating – 97.5)
20. Cary Williams, Philadelphia (NFL QB Rating – 96.3)

Suggestions, comments, about the article or fantasy football in general? E-mail me or follow me on Twitter.

---
Doug Orth has written for FF Today since 2006 and has been featured in USA Today's Fantasy Football Preview magazine since 2010. He has hosted USA Today's hour-long, pre-kickoff fantasy football internet chat every Sunday over the past two seasons and appears as a guest analyst before and during the season on Sirius XM's "Fantasy Drive" as well as 106.7 The Fan (WJFK – Washington, D.C). Doug is also a member of the Fantasy Sports Writers Association.