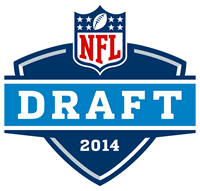 4.03 ATL - RB Devonta Freeman



An interesting pick by a team that needs to think about the future beyond Steven Jackson. Judging him just by a height-weight standpoint, Freeman would seem to be a bit too small to be anything more than a scatback, but he is a pretty compact runner with an all-around game in the Shane Vereen mold. It is unlikely he will ever be asked to carry the load simply because Florida State did not ask him to do so either, but his game is good enough to kick Jacquizz Rodgers out of the second spot in the Falcons' RB depth chart. He should emerge fairly quickly as Jackson's handcuff and needs to be considered as mid-to-late second-round rookie pick in dynasty leagues.



4.13 NYG - RB Andre Williams



A 2,000-yard rusher that is a bit of a walking dichotomy in that he has natural running skills, but is far from natural as a receiver out of the backfield (zero catches in 2013). In other words, he is the embodiment of a two-down back at this stage. With that said, Williams is a very good runner for a Giants team that desperately wants to get back to being more of a balanced offense. Along with Rashad Jennings, New York is adding bodies to the backfield one year after being forced to start Peyton Hillis for a short spell. Williams is off the redraft radar for now, but could eventually emerge as a starter if David Wilson were to suffer a setback from his neck injury or Jennings begins to show his age, meaning he has a shot at late-second round value in rookie drafts.



4.15 NYJ - WR Shaq Evans



Eleven picks after taking the leap on a slot receiver/returner in Jalen Saunders that has no shot at becoming a long-term starter opposite Eric Decker, the Jets take the player they hope will put some heat on the disappointing Stephen Hill. The problem is, Evans is mostly a possession receiver that doesn't really give New York a much different dimension than Decker. At this point, it looks as if Decker, Hill and Jeremy Kerley will remain atop the depth chart for 2014, meaning Evans is probably no more than a fourth-round rookie draft pick in dynasty leagues.



4.17 CHI - RB Ka'Deem Carey



While Carey is not exactly a Matt Forte clone, he is in a lot of ways the perfect backup to Chicago's entrenched starting running back. Carey lacks great speed and dropped in the draft in part because he doesn't do anything exceptionally well, but has a great deal of production on his resume. The nation's leading rusher in 2012 should become Forte's handcuff immediately - making him a solid late-round choice in redraft leagues - and probably warrants a late-first round/early-second round pick in rookie drafts based on the likelihood that he will become the starter when Forte begins to slow down - likely in 2-3 years.



4.18 PIT - WR Martavis Bryant



While the Jets are selecting receivers that are unlikely to challenge for starting spots anytime soon or give them something different than what they have, the Steelers get a player in Bryant that is a first- or second-round field-stretching talent in the fourth round. He is only available because of immaturity issues, the fear that he is a one-year wonder and has somewhat inconsistent hands. Bryant has a lot of growing up to do - on and off the field - but he should immediately contribute as a downfield threat and might give the Steelers a bigger red-zone threat (6-4, 210) at receiver, which has a pair of smaller players in Antonio Brown and Markus Wheaton as the likely starters at the moment. In redraft leagues, Bryant's upside is in Jerricho Cotchery's 2013 old role. Regarding his dynasty value, the Clemson alum warrants consideration in the late-second or early-third round of rookie drafts.



4.20 ARI - QB Logan Thomas



Perhaps the most athletically gifted quarterback in this draft class, Thomas offers prototypical size and a big arm to a team and coach in Bruce Arians that loves to go downfield. The problem is that several teams have openly questioned whether or not he should try to move to tight end because he has put together so much bad tape after tearing Michigan apart as a sophomore. Thomas is going to get at least one year (and maybe two) to develop under Carson Palmer and will have a noted quarterback guru in Arians molding him, so there is significant long-term upside with him. He offers no redraft value because he is not close to being ready to start for a NFL team, but he warrants consideration in the third round of rookie drafts as a poor man's Cam Newton when Palmer begins to show serious signs of decline - likely in 2015 or 2016. The big positive here is that Thomas probably landed in the best possible spot for his long-term prospects.



4.35 HOU - QB Tom Savage



Perhaps the most interesting pick of this round, Savage joins a team in Houston that has a glaring need at quarterback and was really fortunate to have a moldable player like the Pittsburgh signal-caller still available. The interesting part of this selection is the incredible buzz that Savage generated as a player that was creeping into first-round consideration by the end of the process, the amount of surrounding talent he will have at his disposal and a coach renowned for his ability to develop quarterbacks in Bill O'Brien. Savage spent time at three colleges during his career before impressing NFL brass with his size, maturity, intelligence and ability to consistently make NFL throws despite lackluster play from his tackles for most of his final college season. Savage will probably spend most of 2014 behind Ryan Fitzpatrick, although he has enough talent to overtake the bearded gunslinger before the end of the season if he takes quickly to O'Brien's teaching. In dynasty, Savage probably slots in as the second- or third-ranked quarterback option behind Johnny Manziel and Teddy Bridgewater.



Suggestions, comments, about the article or fantasy football in general? E-mail me or follow me on Twitter.

---
Doug Orth has written for FF Today since 2006 and appeared in USA Today's Fantasy Football Preview magazine in 2010 and 2011. He is also the host of USA Today's hour-long, pre-kickoff fantasy football internet chat every Sunday. Doug regularly appears as a fantasy football analyst on Sirius XM's "Fantasy Drive" and for 106.7 The Fan (WJFK – Washington, D.C). He is also a member of the Fantasy Sports Writers Association.