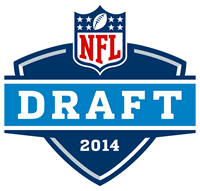 6.02 TEN - QB Zach Mettenberger



Mettenberger generated some hype during the draft process as a big, strong-armed quarterback that can make all the throws from the pocket. Unfortunately, even though he made a very fast return from a late-season ACL injury, he has a bit of a slow delivery, is every bit as slow as a runner and has a history of questionable off-field choices. Even with all those negatives working against him, Metttenberger probably lands in the one spot where he can make a legitimate push for a starting job by 2015 with the uncertain status of Jake Locker heading into his contract year. Unless Locker does the somewhat unthinkable and forces the Titans to offer him a long-term deal, Mettenberger appears to be the odds-on favorite to be the Titans' starter next season with a wealth of young weapons like Kendall Wright, Justin Hunter and Bishop Sankey to play with long-term and deserves a third-round rookie pick as a result.



6.10 WAS - RB Lache Seastrunk



Seastrunk is the type of player that looks like a first-rounder when he runs because he is so explosive, but lacks much in the way of passing-game chops, which is a problem for a 5-9, 200-pound back. In short, he is a complementary back without a complementary-back game. Because he is a big play waiting to happen, he's almost certainly going to get a bit of run with Washington, although he faces long odds of every grabbing a substantial role with Alfred Morris firmly entrenched as the starter and Roy Helu easily the better all-purpose back. As such, Seastrunk will probably be stuck in a special team role for the foreseeable future.



6.25 SD - RB Marion Grice



Proving that three backs arenít enough, San Diego brings in Arizona State's all-purpose threat. Grice lacks explosiveness, but is extremely versatile and has some potential upside as a long-term NFL backup. However, he may struggle to make the Chargers' final 2014 roster behind Ryan Mathews, Danny Woodhead and free-agent signee Donald Brown. Assuming he sticks (which he should), San Diego will likely let either Mathews or Woodhead walk in 2015 (when both will be free agents) and slide Grice into a third-back role. Where Grice becomes a possibility is for dynasty leagues if Woodhead departs because Grice could then become the pass-catching complement to either Mathews or Brown in 2015.



6.28 CAR - RB Tyler Gaffney



Despite glaring holes at receiver and on the offensive line, Carolina apparently still cannot help itself when it comes to drafting running backs. Gaffney is a bigger back that showed well at the NFL Combine, but he appeared to be little more than a grinder on a team that will have to suffer a wealth of injuries ahead of him to even consider making him active for game day this season. With DeAngelo Williams, Jonathan Stewart and Mike Tolbert firmly entrenched in the first three spots of the rotation, the Panthers wasted a pick on a player that could have been at least moderately productive as a short-yardage/goal-line option on another team.



6.37 NYJ - QB Tahj Boyd



Most of the third-day quarterback picks have been ideal or interesting fits and this one qualifies as the latter. With Michael Vick coming in to New York on a one-year contract, Boyd is the most Vick-like quarterback left and essentially becomes Geno Smith's competition in 2015. While it is possible the Jets may put in some kind of specialty package in for Boyd as some point, it should be said that Boyd is a better runner than quarterback at this point despite his gaudy college numbers. Unless he is able to recapture some of his 2012 form and build from that (as opposed to some of his 2013 efforts), Boyd doesn't belong on the redraft or dynasty radar despite the fact that owners may trumpet his cause as a productive college quarterback.



7.07 JAX - RB Storm Johnson



One of my favorite remaining available backs, Johnson joins Central Florida teammate Blake Bortles in Jacksonville. Johnson is no threat to Toby Gerhart's starting job anytime soon, but he's a bigger back with more elusiveness than he looks like he should have. Ball security has been an issue, but Johnson - like Gerhart - contributes more in the passing game than one might initially expect. Johnson has more than enough talent to overtake Jordan Todman and probably even Denard Robinson and has an outside shot at being a lead (or maybe even a featured) back in Jacksonville down the road. He's off the redraft radar, but offers significant dynasty value and warrants a late-second round choice in rookie leagues.



7.21 GB - WR Jeff Janis



Unlike the first two receivers they drafted, the Packers go with a size-speed project in Janis, marking the second straight year Green Bay went the D-2/D-3 route with a seventh-round receiver in hopes of discovering a hidden gem (Charles Johnson, Grand Valley State). At 6-3, 220 with 4.4 speed, Janis will almost certainly spend a year on the practice squad. Janis impressed some folks at the Senior Bowl, so it isn't as if he was completely under the radar. Stash Janis' name away for dynasty purposes as any receiver who works his way into the top four receiver spots of Green Bay's offense has fantasy upside, even if it may not be realized until 2015 or 2016.



Suggestions, comments, about the article or fantasy football in general? E-mail me or follow me on Twitter.

---
Doug Orth has written for FF Today since 2006 and appeared in USA Today's Fantasy Football Preview magazine in 2010 and 2011. He is also the host of USA Today's hour-long, pre-kickoff fantasy football internet chat every Sunday. Doug regularly appears as a fantasy football analyst on Sirius XM's "Fantasy Drive" and for 106.7 The Fan (WJFK – Washington, D.C). He is also a member of the Fantasy Sports Writers Association.