As I enter my sixth year of writing this postseason column, I hope I have helped some of you along the way supplement your regular-season fantasy prize winnings. None of us are getting any younger and there are a few places I know where I could spend a bit of prize money, so I'm pretty focused on finishing in the money again this postseason.

I'll be the first to admit that playoff fantasy football doesn't appeal to me quite as much as the usual 16-week marathon, but that doesn't mean I don't still enjoy it. I'm fairly certain I'll indulge in a couple of daily fantasy competitions starting this weekend as well, but won't finalize those plans for another couple of days. At any rate, I will continue sharing my thoughts on my NFL.com Playoff Challenge and money leagues with Fuzzy's Fantasy Football as I have over the past few years. My goal over the next four weeks will be to help each of you through your decision-making process as you attempt to boost your bottom line.



NFL.com



For a complete rundown of how players will score fantasy points for your team, click on the "Rules & Prizing" link on the NFL.com entry page. However, much of the content immediately below is included on the "How to Play" page, so what I provide here should be more than enough to follow along easily.

The object of the game is to pick the players you think will perform best in their playoff matchup. Select one QB, two RBs, two WRs, one TE, one K and one D/ST. You will earn fantasy points based on their on-field performance during their game, and if your player's team wins, you will have the option to carry that player over to the next round, where he will earn a bonus point modifier to his score.

For example, if you pick Tony Romo in the Wild Card round and the Cowboys win, you can carry him over to the Divisional Round, and earn two times (2x) the points he earns in his divisional round game. If Dallas wins again, you can carry Romo into the Conference Championship round for 3x the points and, if the Cowboys make the Super Bowl, you can earn 4x the points. In addition, a user can select a player/defense in the Wild Card round even if their team has a bye into the Divisional Round. In this case, the user would not earn any points for the Wild Card round, but be eligible to earn 2x points in the Divisional round, since the player was on the team's roster for two weekly scoring periods. Further bonus point modifiers would also apply as long as that player's team continues to advance in the NFL Playoffs.


NFL.com Scoring System
Offense Statistic (QB, RB, WR, TE, K)
Fantasy Points
Rushing or Receiving Touchdown:
6 fantasy points
Passing Touchdown:
4 fantasy points
Field Goal 0-49 yards:
3 fantasy points
Field Goal 50+ yards:
5 fantasy points
Passing, Rushing or Receiving Two-Point Conversion:
2 fantasy points
Rushing or Receiving:
1 fantasy point per 10 yards
Passing:
1 fantasy point per 25 yards
Extra Point:
1 fantasy point
Defense/Special Teams (D/ST)
Punt Returned Touchdown:
6 fantasy points
Kickoff Returned Touchdown:
6 fantasy points
Fumble Returned Touchdown:
6 fantasy points
Interception Returned Touchdown:
6 fantasy points
Allowing 0 Points:
10 fantasy points
Allowing 2-6 Points:
7 fantasy points
Allowing 7-13 Points:
4 fantasy points
Allowing 14-17 Points:
1 fantasy points
Allowing 18-21 Points:
0 fantasy points
Allowing 22-27 Points:
-1 fantasy points
Allowing 28-34 Points:
-4 fantasy points
Allowing 35-45 Points:
-7 fantasy points
Allowing 46+ Points:
-10 fantasy points
Team Win:
5 fantasy points
Interception:
2 fantasy points
Fumble Recovery:
2 fantasy points
Safety:
2 fantasy points
Sack:
1 fantasy points

Before we get into the picks, let's briefly review the rules and how we may use them to our advantage: 1) passing TDs are worth four points, so passing yards are valued more highly here than in the Fuzzy's leagues I'll discuss later; 2) all field goals under 50 yards are worth three points, which means we are more concerned about volume of field goals than distance – unless we can find a kicker who regularly converts from 50-plus; 3) this is a non-PPR format, which obviously favors the big-play threats; and 4) team wins are worth five points, so picking a "winning" defense is worth almost a touchdown and could be worth as much as 3.5 TDs if you pick a defense from this week and that team ends up winning the Super Bowl.

I'll say this once and only once so I don't have to repeat myself. This week, it is advantageous to do choose players who we think will (in order): 1) play four games and/or 2) likely be in the Super Bowl, even if they don't have the best matchups this week or are on a bye. This game has a lot to do with playing the multipliers, picking the bracket correctly and anticipating what players will do in the Super Bowl if they get there. So before we get to the players, I think it makes sense to break down how I believe the playoffs will play out first.


AFC - Wildcard: Ravens over Steelers, Colts over Bengals
NFC - Wildcard: Cowboys over Lions, Panthers over Cardinals

AFC - Divisional: Patriots over Ravens, Broncos over Colts
NFC - Divisional: Seahawks over Panthers, Cowboys over Packers

AFC – Conference Championship: Patriots over Broncos
NFC - Conference Championship: Seahawks over Cowboys

Super Bowl: Patriots vs. Seahawks

One other nugget: at RB and WR, I won't evaluate every option for obvious reasons. I'll simply reveal my final few choices and take it from there. Now let's get to my picks and my rationale for each position:

Quarterbacks

Tony Romo/Cam Newton/Drew Stanton/Ryan Lindley/Matthew Stafford/Ben Roethlisberger/Andrew Luck/Andy Dalton/Joe Flacco

On bye: Tom Brady/Peyton Manning/Russell Wilson/Aaron Rodgers

Collectively, there isn't much too like about the quarterbacks that will be playing this weekend, perhaps outside of Romo. Newton will probably have a two-game ceiling (likely Arizona and Seattle, no less) with the inconsistent Kelvin Benjamin as his top target. Stanton and Lindley are perhaps the two least desirable quarterback options I have seen in the entire time I have been doing this postseason column. Stafford was able to cut down on his mistakes this year (career-low – for a full season anyway – 12 interceptions), but if the combination of his uneven play for most of the year – even after Calvin Johnson returned – plus Detroit's likely quick playoff exit means I won't be counting on him here. Roethlisberger and Luck are interesting from the standpoint that both could easily play multiple games and be forced into pass-heavy game plans for different reasons, but I don't think either team will be around long enough to make it worth sacrificing potential 3x and 4x qualifiers. Dalton is about as inspired of a choice in my mind as Stanton or Lindley. While I have Flacco ticketed for two games, I can't imagine he'll be ripping the Steelers and Patriots for two games of 300-plus yards and two-plus touchdowns.

So carrying over Romo from above, I'll move forward with him and the four bye-week quarterbacks. I think as the league's only undefeated road team – including a win in Seattle – that Dallas is the only team capable of making a Super Bowl run from the eight that are playing this weekend. Ultimately, I think it is too much to expect Dallas to win at both Green Bay and Seattle, so I'll keep Romo off this team. Perhaps Manning is feeling his age or maybe Denver is saving him for the playoffs. I simply choose to believe the Broncos are playing to their strengths (run-blocking) and hiding their weaknesses (pass-blocking). A strong running game is probably the only way Denver is going to have a chance to win at New England and/or defeat a team like Seattle in the Super Bowl, although I don't think the Broncos will make it that far, making Manning a no-go. Rodgers is almost always a good pick in any fantasy format, but the combination of his lower-body injuries this season and the distinct chance that his season could end in or before Seattle isn't worth gambling on in my opinion.

The call: Russell Wilson. With a solid chance of 2x, 3x and even 4x qualifiers as quarterbacks of teams with incredible home-field advantages, Brady and Wilson should receive the bulk of consideration. I could make a strong case for either player, but will side with Wilson giving the standard scoring of four points per passing touchdown, which gives him a bit of an edge over Brady in my mind. Outside of Marshawn Lynch and/or the defense putting together a dominant performance, the Seahawks rely heavily on Wilson's ability to create. Although his overall passing numbers are average at best, owners who pick Wilson for this contest are doing so because he has rushed for 849 yards and six touchdowns this season and generally can only get shut down in fantasy by his own team. With potential games against Carolina, Dallas/Green Bay and probably New England, Wilson is probably going to be needed to put a lot of his team's offense on his shoulders (or legs).


Running Backs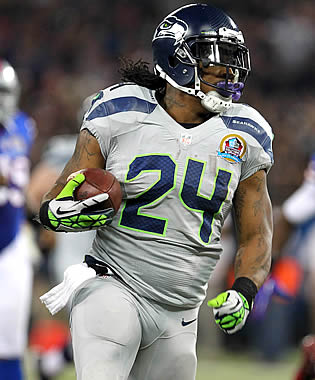 Lynch, Anderson and Murray are your best bets at RB.
Le'Veon Bell/Josh Harris/Ben Tate/Dri Archer/Dan Herron/Trent Richardson/Jeremy Hill/Giovani Bernard/Justin Forsett/Bernard Pierce/DeMarco Murray/Joseph Randle/Jonathan Stewart/DeAngelo Williams/Kerwynn Williams/Stepfan Taylor/Joique Bell/Reggie Bush
On bye: Shane Vereen/LeGarrette Blount/Jonas Gray/Brandon Bolden/C.J. Anderson/Ronnie Hillman/Marshawn Lynch/Robert Turbin/Eddie Lacy/James Starks.
The signing of Tate pretty much confirms Bell will miss Saturday with a knee injury suffered in Week 17, which severely cripples the Steelers' chances of defeating the Ravens and limits any chance Pittsburgh's running backs had of being productive in this fantasy contest. The Colts' offensive machine has seemingly been leaking oil for over a month and it doesn't seem like the team wants to lean too heavily on Richardson or Herron, making both players poor plays. The Bengals' recent commitment to Hill bodes well for his future, but Cincinnati's playoff stay is unlikely to last past this weekend. Although Forsett gashed Cleveland's porous run defense in Week 17, his play has dropped off in recent weeks. The loss of Pro Football Focus' top-rated right tackle, Rick Wagner, also does not help his chances at long-term playoff success. While Pittsburgh is a winnable matchup for Forsett, Baltimore is unlikely to play more than two games.
Murray is an intriguing call for many of the same reasons Romo is, so he'll move onto the next stage. Stewart is like Forsett in the sense that he seems like a good bet for more than one game, but a NFC Championship Game run is unlikely since Carolina will likely visit Seattle next weekend if it wins. I can't imagine a situation in which I would be forced to use any Arizona offensive player this postseason and Detroit is highly likely to be a one-and-done team.
The problem with the Patriots working their way into the Super Bowl – at least in regards to this contest – is that it is really anybody's guess as to whether Gray or Blount will get the big-back carries when they are trying to pound teams into submission. Hillman got a bigger-than-expected workload in Week 17, but the odds are pretty high that Denver was trying to preserve Anderson for the playoffs after riding him pretty hard in the second half of the season. It seems highly unlikely we could be seeing the end of Lynch's career, but it is possible and selecting him in this format is a bit risky considering how often he seems to be battling back or other health issues lately. If I could forecast a likely scenario in which Rodgers is completely healthy in three weeks and felt better about the Packers beating the Cowboys in the divisional round and the Seahawks in the conference championship, I might be inclined to pick Lacy. However, I believe Lacy won't play more than two games, with one of them coming in Seattle.
The call: Marshawn Lynch and C.J. Anderson. As far as I'm concerned, there are three legitimate candidates for two spots: Lynch, Anderson and Murray. Even though I referred to Lynch's "risk" above, I have more confidence that he will play in the Super Bowl than any other running back. With 70 yards rushing and a touchdown serving as his likely weekly floor, that will mean a lot if he blows up on Feb. 1. I don't want any of my backs facing Seattle until the Super Bowl if it all possible, but I want him to be healthy and have a clear path to at least 15-18 touches. Since that description doesn't fit any Dallas or New England backs, I'll settle on Anderson, who could end up being the reason the Broncos are able to solve their issues in Foxboro and should be in line for a big game against the Colts next week if everything works out like I have predicted above.

Wide Receivers

Antonio Brown/Martavis Bryant/Markus Wheaton/T.Y. Hilton/Reggie Wayne/Donte Moncrief/Hakeem Nicks/A.J. Green/Mohamed Sanu/Torrey Smith/Steve Smith/Dez Bryant/Terrance Williams/Cole Beasley/Kelvin Benjamin/Jerricho Cotchery/Larry Fitzgerald/Michael Floyd/John Brown/Calvin Johnson/Golden Tate
On bye: Julian Edelman/Brandon LaFell/Danny Amendola/Demaryius Thomas/Emmanuel Sanders/Wes Welker/Doug Baldwin/Jermaine Kearse/Paul Richardson/Jordy Nelson/Randall Cobb/Davante Adams/Jarrett Boykin
Rather than listing each player by name, I will not consider any of the receivers playing this week for various reasons. I'm not going to play receivers that share snaps, meaning the Steelers' receivers not named Antonio Brown are out of the running. The same can be said for the Colts' receivers not named Hilton, while an injured Green eliminates the one Bengal that is worth considering. Torrey Smith has a small amount of appeal, but I can't stand the thought of counting on a receiver attached to Flacco in this format. I also have no interest in any receivers outside of Bryant and Benjamin for the Cowboys and Panthers, respectively, due to a lack of scoring potential and volume in this non-PPR format. I'm pretty sure I wouldn't start a Cardinals' receiver this year even if Arizona was promised four games. As for Detroit, I have sincere doubts about the Lions' ability to make it past this weekend.
Even after eliminating all the players I did in the paragraph above, there are a plethora of great starting options for owners, which we'll get into more in the Fuzzy's section. Strong cases could be made for receivers like Brown, Hilton, Benjamin, Bryant and Johnson, each of whom could be capable of two or, in some cases, three-game runs that will be nothing short of awesome since all of them are their team's best receiver and could easily meet one of the following criteria: 1) score multiple touchdowns in any game against any opponent, 2) post 100 receiving yards with relative ease or 3) both.
The Patriots' receivers are worth strong consideration simply because they should qualify for the 4x qualifier if New England continues its home dominance. Thomas should probably get the nod over Sanders among Broncos' wideouts simply because Manning almost always makes sure his top receiver is involved (Thomas failed to collect fewer than nine targets twice all season). Welker hasn't been a factor all season and it seems unlikely that any Seahawk receiver will be consistent enough over the next month to justify a spot in this fantasy lineup. The Packers obviously have the weapons, but Rodgers' health and the distinct possibility that Green Bay could be a one-and-done team is enough for me to avoid Nelson, Cobb, Adams and Boykin.
The call: Demaryius Thomas and Dez Bryant. I'll admit, I'm probably going to waver on the second spot until kickoff on Saturday. For now, I'm rolling with a player I consider a strong two-game bet (and thus, 2x and 3x qualifiers) in Thomas and a potential wild-card bet for 3x and possibly 4x production in Bryant. I'm torn between the Patriots' receivers – Edelman and LaFell – and can easily see a situation in which they sabotage each other's fantasy production throughout the postseason. To be competitive in this kind of competition, I'm going to need to go against the grain and it makes sense to do so here with Bryant, who is as good of candidate as any player to enjoy a Larry Fitzgerald-like (circa post-2008 season) playoff explosion. While plenty of owners will start Bryant this week, they probably won't do so with a lineup loaded with Seahawks. I understand I am guaranteeing myself at least two lineup changes with this decision, but I have to ask myself if I'd rather have potential 3x production of Anderson and Bryant or 4x production of some combination of Seahawks and Patriots. Even if Seattle and New England make the Super Bowl, I'm willing to be it will be relatively low-scoring, further reducing my risk by "settling" for Bryant.

Tight Ends

Heath Miller/Dwayne Allen/Coby Fleener/Jermaine Gresham/Owen Daniels/Jason Witten/Greg Olsen/John Carlson/Eric Ebron
On bye: Rob Gronkowski/Julius Thomas/Luke Willson/Tony Moeaki/Andrew Quarless/Richard Rodgers
I'm going to make this real easy. At this position in this playoff challenge, there is Gronkowski and everyone else. Olsen and Witten are probably the best, albeit much weaker, bets to challenge Gronk in this format because it is not outside the realm of possibility that Carolina or Dallas could win in Seattle (the Cowboys have done it already), meaning Olsen or Witten could be three- or four-game options. Outside of those three players, the only other legitimate choice is Thomas, although rolling the dice on him would require a huge leap of faith that he'll be his pre-injury self after this week's bye.

The call: Rob Gronkowski. As of my Thursday morning deadline, 28 percent of NFL.com Playoff Challenge owners have Gronkowski as their starting tight end, which tells me only about a quarter of the people playing this game truly understand how to play it or are betting against the Patriots winning two home games. Could Gronk go for 90 yards and two scores next week against the Ravens (assuming that is who they play)? He easily could, which means whatever other tight end an owner chooses essentially has to have that production this week in order to justify not waiting a week for Gronkowski. As a result, I'll be more than happy to ride Gronkowski as far as he'll take me in this challenge.
Kickers

Shaun Suisham/Adam Vinatieri/Mike Nugent/Justin Tucker/Dan Bailey/Graham Gano/Chandler Catanzaro/Matt Prater
On bye: Stephen Gostkowski/Connor Barth/Steven Hauschka/Mason Crosby
Kickers and defense/special teams units require slightly different thinking, although the goal is still the same – find the player/unit that will play the most games and live with peaks and valleys that come along with those positions. As a result, I'm letting Suisham, Vinatieri, Nugent, Tucker, Gano, Catanzaro and Prater sit.
This leaves us with Gostkowski, Barth, Hauschka, Crosby and Bailey. This format does not differentiate between kick distances as much as Fuzzy's below, although 50-yard field goals are worth five points in both. Much as is the case with Gronkowski, it seems like a good bet to take the top scorer at a fantasy position that plays for the top-seeded team in his conference and roll the dice with him. A fine alternative would be Barth, who has been the top-scoring kicker in fantasy since joining Denver prior to Week 13. The 50-50 nature of the Cowboys-Packers game and the same unsure feeling I have about a potential Seattle-Dallas or Seattle-Green Bay showdown makes me want to avoid the other three kicker options.
The call: Stephen Gostkowski. While New England's 16-game home winning streak (and 35-game unbeaten streak against AFC foes) came to an end in a Week 17 loss to Buffalo, the setback came against a Patriots' team that rested pretty much any skill position player that is going to see action in the postseason. New England is the odds-on favorite to represent the AFC in the Super Bowl and, given that likelihood, the smart choice is to roll with fantasy's top regular-season kicker and hope it carries over into the playoffs.

Defense/Special Teams

Cowboys/Panthers/Cardinals/Lions/Steelers/Colts/Bengals/Ravens
On bye: Patriots/Broncos/Seahawks/Packers
As a whole, I think owners have better defensive/special teams units to pick from this year as opposed to last season. With that said, the Panthers are about the only team I would consider from the bunch that is playing this week, but likely upcoming games against Seattle and Green Bay or Dallas don't figure to be a recipe for fantasy success.
A strong case can be made to start and ride any of the four teams on a bye this week because each of them has a good or great defense. The problem is that all four teams are among the bottom six teams in the league in terms of allowing fantasy points to opposing defenses, meaning it is nearly pointless to play potential matchups after this weekend. New England overachieved and can be beaten on the ground, although its pass defense is among the best in the league. Denver's defense had some head-scratching moments against a difficult schedule this season, but still largely underperformed in fantasy in my opinion. If Rodgers was guaranteed to stay healthy this postseason and Green Bay had secured home field, I'd be very tempted to use the Packers as my fantasy defense. As it is, I'm not sure they'll last past next weekend. In hindsight, the Seahawks face one of the easiest second-half schedules in recent memory, although that shouldn't take away from the fact they yielded no more than seven points in five of their last six contests.
The call: Seahawks. Assuming Dallas beats Detroit, Seattle will face the Arizona-Carolina winner. Neither team is an offensive powerhouse and will be traveling to the Pacific Northwest. Likely matchups against either Green Bay or Dallas probably won't be high-scoring games for the defense, but I'll take the promise of one really solid 2x and two average 3x and 4x efforts over three or four average or below-average 1x or 2x performances.

Fearless predictions for my selected team:
Wilson: bye
Lynch: bye
Anderson: bye
Thomas: bye
Bryant: 110 receiving yards, two receiving touchdowns (23 fantasy points)
Gronkowski: bye
Gostokowski: bye
Seahawks DST: bye

Projected Total: 23 fantasy points

Fuzzy's
Many of the scoring parameters used above apply here as well, with the key differences being that Fuzzy's uses PPR scoring and there are no bonus-point modifiers or team-win points. Kickers get four points for field goals between 40-49 yards and six points for 60+ conversions while all TDs are worth six points. (Here is a link to the scoring.) Your goal is to pick the highest-scoring lineup each week with no strings attached. Additionally, each owner is asked to select a tiebreaker every week which will be used to break any ties following the Super Bowl. Fuzzy's leagues contain no more than 50 teams in a league whereas most other major sites employ a one-man-against-the-world approach. As a result, 20% of the entrants into Fuzzy's playoff leagues will - at the very least - recoup their entry fee, with first through ninth place receiving a nice return on investment for their troubles.

Position Requirements: 1 QB, 2 RB, 3 WR, 1 TE, 1 K, 1 Defense/Special Teams

Since I will be playing with several teams with Fuzzy's this season, I'll simply list my teams below and present a brief overview on my overall thought process. Depending on how strongly I feel about matchups in a given week, I may use the same lineup in more than one league. My best advice: do not try to "make your move" in Week 1. The time to separate from the pack is later in the competition, not now.


Fuzzy Portfolio
Team 1
Team 2
Team 3
Team 4
QB
Roethlisberger
Roethlisberger
Luck
Roethlisberger
RB
Hill
Hill
Hill
Hill
RB
Murray
Murray
Murray
Murray
WR
Brown
Brown
Brown
Brown
WR
Dez Bryant
Dez Bryant
Dez Bryant
Dez Bryant
WR
Johnson
Johnson
Johnson
T.Y. Hilton
TE
Olsen
Olsen
Olsen
Olsen
K
Suisham
Vinatieri
Bailey
Suisham
DST
Panthers
Panthers
Panthers
Panthers
Tie
Luck
Luck
Roethlisberger
Luck
My main goals going into the competition this season are to: a) play the studs first, b) play the matchups second and c) not to be so bold with my picks that I find myself in a 50-point hole next week. All too often since winning the most expensive league I entered in my first year of this contest, I have valued the matchup too heavily (or put too much weight into the regular-season head-to-head meeting) and it has cost me. Most offensive coordinators aren't going to go down in the playoffs without making sure they have exhausted every avenue in order to get their best player the ball.
In this week-to-week competition, there are three quarterbacks I wouldn't mind using (Roethlisberger, Luck and Romo) and two that I really believe are set up for fantasy success: Roethlisberger and Luck. Volume is certainly one factor since Roethlisberger will likely be without Le'Veon Bell, which could actually force Pittsburgh to throw the ball 40-plus times against a Baltimore secondary that probably doesn't have a prayer stopping Antonio Brown. Luck has actually had to carry the Colts' offense for most of the season, but the Bengals finished the regular season as the third-toughest defense against opposing fantasy quarterbacks and allowed only three TD throws in one game this season. Given the fact that Indianapolis' offense hasn't been firing on all cylinders for a while now, it doesn't seem smart to put a lot of faith into Luck. As for Romo, I think he'll do a fine job getting the ball to Bryant. However, Detroit was only slightly more kind to fantasy quarterbacks that Cincinnati in the regular season. The Cowboys are also a run-oriented offense these days and probably aren't going to change that approach behind their stellar offensive line this week just because the Lions are coming to town.
If the Bengals have any hope of advancing past this weekend (especially if Green is forced to miss the game with a concussion), it will be because Hill – and Giovani Bernard, to a lesser extent – carried them there. Teams that have been able to commit to a punishing ground game have typically been very successful against the Colts and there really isn't any reason why the Bengals won't do so here. The second choice is a bit trickier – if only because there is still some question about the health of some of the top options – but I feel pretty comfortable the Cowboys will saddle up Murray for another 20-plus carries this week if they were willing to do so in Week 16 – the week after he suffered his broken finger – and Week 17 – when he was really only chasing a team record and could have rested. The only other serious considerations for me would be a healthy Le'Veon Bell (highly unlikely), Joique Bell and Forsett.
I'm going to assume that most owners are going to ride the Brown bandwagon until the wheels fall off, which probably isn't going to happen this week. In PPR formats, Brown has scored in double digits in every game in each of the last two seasons and has only been held under 20 fantasy points five times this year. Without a healthy Le'Veon Bell and Baltimore's injury-ravaged secondary, another 25-30 point game might be in Brown's future. Although he isn't seeing nearly as many targets as Brown, Dez Bryant has also been remarkably consistent – two 9.5-point games are his only single-digit fantasy performances of the year – and dominant (he scored multiple touchdowns in four of his final seven contests). Detroit's pass rush may require Jason Witten to stay in a bit more often than he normally would, leaving Bryant as the primary passing-game option more often than not. The third receiver is not a unanimous selection, although he very well could be by this weekend. Calvin Johnson should see a fair amount of burnable CB Brandon Carr, although I'm not sure matchups matter all that often for a healthy Megatron. The only reason I might roll with Hilton in a league is because Stafford looked as awful as he did in Week 17.
It would probably a complete and utter shock if either Olsen or Witten isn't the top play at tight end this week. Yes, Coby Fleener has enjoyed a pair of two-score games over the last five weeks, but he might have to start fighting Allen for red-zone looks against sooner than later. Additionally, he hasn't been overly consistent and doesn't have the easiest of matchups either. Given how likely Pittsburgh is to throw the ball 40-plus times this week, Miller could be a sneaky play, although he could just as easily be asked to stay in and protect while the receivers have their way against the Ravens' overmatched cornerbacks. Ultimately, the decision for me comes down to Olsen and Witten. For Olsen, he faces a Cardinals' defense that stops the run – likely eliminating Jonathan Stewart from fantasy consideration – and coughed up more production to the tight end spot than Olsen actually produced himself (85-1,085-8 versus 84-1,008-6). For Witten, he could be asked to block more than usual against a defense that ranks in the middle of the pack in terms of giving up fantasy points to the position. Advantage: Olsen.

At kicker, I will most likely be choosing between four options: Suisham, Vinatieri, Tucker and Bailey. Suisham has kicked multiple field goals in seven straight games and Pittsburgh will probably be without its bellcow running back, which suggests the Steelers could struggle in the red zone. Vinatieri missed exactly one kick all year long (30-31 FG, 50-50 XP), so he should be money any time he gets a chance. I like Tucker's huge leg, but Heinz Field is infamous for being tough on kickers attempting long field goals. Bailey is much like Vinatieri in terms of accuracy, although Dallas hasn't been giving him many field-goal opportunities of late.
There is one starting D/ST option that stands out far ahead of the rest this week: the Panthers. Putting aside the fact that Carolina scored eight, 10, seven and 31 fantasy points in Fuzzy' s scoring over the last four weeks, Arizona has yet to score more than 17 points since Carson Palmer was lost for the season in Week 10. The Panthers' secondary has made incredible strides since turning to rookie Bene Benwikere and Josh Norman as the full-time corners and Carolina just got done throttling a much better offensive team on their home field for the NFC South title (the Atlanta Falcons). Fantasy football rarely ever seems to play out like it should, but playing the matchup in this case is the most logical move to make at a highly unpredictable fantasy position.

Suggestions, comments, about the article or fantasy football in general? E-mail me or follow me on Twitter.

---
Doug Orth has written for FF Today since 2006 and appeared in USA Today's Fantasy Football Preview magazine in 2010 and 2011. He is also the host of USA Today's hour-long, pre-kickoff fantasy football internet chat every Sunday. Doug regularly appears as a fantasy football analyst on Sirius XM's "Fantasy Drive" and for 106.7 The Fan (WJFK – Washington, D.C). He is also a member of the Fantasy Sports Writers Association.