Editor's note:

Predict the top ten picks of the NFL Draft for a chance to win FFToday prizes. Our annual NFL Draft Contest is free to join. The top 20 finishers will reap the rewards. Enter Now.

As we begin the countdown to the NFL Draft starting on April 30, I will spend anywhere from 4-8 hours to break down the strengths and weaknesses of at least the top 15 offensive skill-position prospects available in this draft.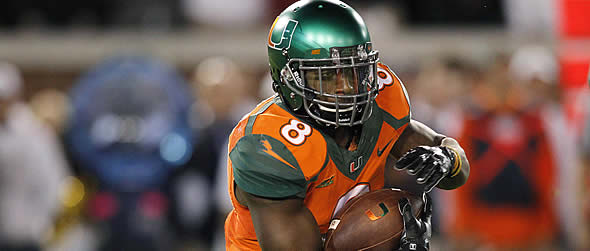 Duke Johnson will be a matchup nightmare against just about any linebacker in the open field.




Vitals


College: Miami (Fla.)
Height/Weight: 5'9"/207
Hands: 9 1/4"



Important NFL Combine Numbers


40-Yard Dash: 4.54
Vertical Jump: 33.5"
Broad Jump: 10'1"
20-Yard Shuttle: 4.16 (pro day)
3-Cone: 6.88 (pro day)



Background

(College Stats)
Johnson's family was forced to live out of their mother's car for a short time when he was a child and he lost his father to ALS in 2008. A five-star recruit and the No. 1 rated running back prospect according to some recruiting services in the class of 2012, Johnson proved why he deserved those accolades that fall when he rushed a freshman program-record 947 yards and 10 touchdowns en route to becoming the first player in school history to win both the ACC Rookie of the Year and Offensive Rookie of the Year awards. Included in his dynamic debut season was a school-record 368 all-purpose yards (214 return yards) in a loss to Virginia. Johnson began to catch the eye of the country in 2013, running for 920 yards through 8 ½ games before suffering a season-ending ankle injury against Florida State. Despite missing his team's final five games, he was still selected second-team All-ACC. Johnson put it all together in his final year, running for 1,652 yards and 10 touchdowns in 2014 to earn All-ACC honors. He needed only three years to become the school's all-time leading rusher (3,519), career all-purpose yardage leader (5,526) and also owns the Hurricanes' record for career yards per carry (6.69).

NFL Player Comp(s): Young Chris Johnson/Shane Vereen

Best Scheme Fit: Zone-running scheme (especially one that utilizes a lot of outside zone runs).

Strengths
Creative downhill runner that does a good job at deciding when to make something out of nothing and when to take what the defense is giving him; willing to run up the middle and fights for every yard.

Plants his foot and explodes; not only shows a knack for feeling the first crease on the first level, but usually immediately locates the crease at the second level as well.

Excellent lateral agility and changes direction without losing momentum, frequently making the first man miss; has the ability to accelerate immediately after stringing moves together.

Plays faster than his time speed (leads draft class in highest percentage of 10-plus yard runs – 18.7 percent – and led the nation with 67 scrimmage plays of 10-plus yards in 2014).

Creates natural separation as a receiver due to quickness and speed and has lined up all over the field; has reliable hands, transitions quickly after the catch and adjusts well to poorly-thrown balls.

Delivers a stiff arm with either hand that is surprising powerful for a back of his size.

Weaknesses
Lacks the power at this point to be considered a true three-down back, doesn't break many tackles and gets tripped up a bit too easily; did improve in these areas in 2014, however.

Despite good vision (and the ability to anticipate contact well on outside runs/at second level), he can rush things occasionally in between the tackles.

Shows willingness and recognition skills in pass protection, but lack of size and technique makes him below-average in this area.

Durability is a minor question (history of migraines, left a 2013 game after taking a knee to the head, 2013 season-ending ankle injury).

Improved ball security in 2014 (three fumbles in 280 touches after losing three in 149 offensive touches in 2013), but could stand to improve in this area.

Bottom Line
Johnson has drawn comparisons to LeSean McCoy and, to be honest, they may not end up being far off if the Hurricanes' all-time leading rusher manages to add more muscle and ultimately proves to be durable. (I'm not going in that direction with my comparison because McCoy is in a class of his own among today's backs when it comes to start/stop ability.) There is no question in my mind that Johnson will be a dynamic weapon in the passing game right away in the NFL as he will be a matchup nightmare against just about any linebacker in the open field. I also think he is as good of a bet as any running back in this class to at least live up to his draft position (assuming mid-to-late second round). However, whereas I believe Nebraska's Ameer Abdullah – a similar-style back with similar height/weight measurements – has a chance to be a featured back at some point early in his NFL career because he is put together so well, I wonder about Johnson's ability to do the same because I fear he is a bit too slight at the moment. However, all we are talking about here is the ability to handle a full workload right away (it is entirely possible that Johnson continues to add power and muscle this offseason just as he did last offseason). While I think he has feature-back potential at some point down the road, I believe it would be ideal for Johnson if lands with a team that uses him in a Giovani Bernard-like role (150-plus carries, 50-plus catches) initially.
---
Doug Orth has written for FF Today since 2006 and appeared in USA Today's Fantasy Football Preview magazine in 2010 and 2011. He is also the host of USA Today's hour-long, pre-kickoff fantasy football internet chat every Sunday. Doug regularly appears as a fantasy football analyst on Sirius XM's "Fantasy Drive" and for 106.7 The Fan (WJFK – Washington, D.C). He is also a member of the Fantasy Sports Writers Association. E-mail Doug or follow him on Twitter.