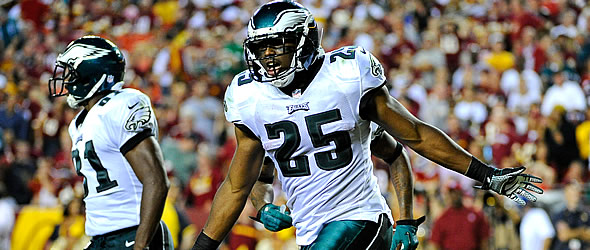 LeSean McCoy should have no trouble getting opportunties under Rex Ryan and OC Greg Roman.


Regardless of whether or not it was another clear illustration of the personnel power he now possesses, a move made to clear up cap room or a way to keep all his former (Oregon) Ducks in a row, there is no debate Philadelphia Eagles HC Chip Kelly sent shockwaves through the NFL last week when he agreed to trade RB LeSean McCoy to the Buffalo Bills for LB Kiko Alonso.

McCoy, whose cap number was going to approach $12 M had he stayed in Philadelphia, admitted to NFL Network's LaDainian Tomlinson before the trade that he did not expect to remain an Eagle in 2015 since he felt Kelly phased him out to some degree last year. There is no question "Shady" saw his role reduced somewhat in 2014, as Darren Sproles stole some of his work on passing downs while Chris Polk started to emerge as the part-time goal-line option in the second half of the season. Early reports suggested the six-year veteran – one season removed from leading the league in rushing – was none too happy about getting dealt and even initially considered sitting out training camp as a result.

Cooler heads prevailed, however, as McCoy reportedly agreed to a new five-year contract for $40 M – including $26.5 M guaranteed – to remain one of the highest-paid runners in the league.

As far as Philadelphia is concerned, Kelly has taken just over two years to essentially clear out the cupboard of high-flying talent the Eagles collected near the end of the Andy Reid era – cutting DeSean Jackson last year, allowing Jeremy Maclin to flee in free agency (reportedly to Kansas City) and trading McCoy – while only getting a talented linebacker coming off ACL surgery in return. To be fair, Alonso's upside approaches that of Carolina Panthers MLB Luke Kuechly, so fans should not pretend the Eagles got the short end of this trade.

Fantasy Impact

Running backs tend to break down around 2,000 career carries and/or the age of 30. Including the postseason, the 26-year-old McCoy (27 in July) is at 1,499 rushing attempts (and 1,808 touches) entering the 2015 season. Amid all the discussion that has taken place regarding this trade, few have bothered to take the time to notice that "Shady" may only have about two more high-production years left in his body, particularly since so much of his game relies on quickness and lateral agility. With that said, Buffalo didn't make this trade to win in the long-term, but rather because the team's window to compete for something more than second place in the AFC East is probably over the next two years.

With new OC Greg Roman and HC Rex Ryan calling the shots and Matt Cassel the likely starter at quarterback, the Bills will run the ball and rely on their stout defense as much as possible. As a result, getting touches should not be an issue for McCoy. With only 34-year-old Fred Jackson, special teamer Anthony Dixon and Bryce Brown serving as his likely backups, the two-time All-Pro could easily exceed his career high of 314 carries in his first season in Buffalo. However, if Roman has any hopes of giving him a chance of playing out his contract, he'll take advantage of Shady as a receiver more that Kelly did while allowing Jackson and/or Dixon to absorb a fair amount of the between-the-tackles carries.

The most immediate concern for McCoy's immediate fantasy prospects is the state of the Bills' offensive line, which played about as poorly as the injury-ravaged Eagles' front five did last year. To that end, Buffalo has already signed G Richie Incognito and will probably invest a few more resources into the offensive line throughout the offseason. Assuming those upgrades are made and 2014 rookies like T Seantrel Henderson, T Cyrus Kouandjio and G Cyril Richardson all take the next step in their development, it isn't out of the question the ex-Eagle could approach his career 4.6 YPC in his first year in Buffalo. Given the investment the Bills just made in him, McCoy remains locked into the fantasy RB1 discussion as one of about five backs that remain good bets to top 300 carries.

The Eagles remain a work in progress – they reportedly have a deal in place to sign former Seattle Seahawks CB Byron Maxwell in free agency and had one to secure ex-San Francisco 49ers RB Frank Gore before he changed his mind –and will continue reshaping themselves as Kelly sees fit, with the expectation being that the innovative coach's offense will experience little-to-no drop-off with fewer established playmakers than it had in his first two years. The upside? Acquiring assets like Alonso (turns 25 in August) and Maxwell should go a long way into shoring up his defense – a unit that has lacked the talent to be consistently good during the Kelly era. One thing is for sure though: if Alonso is completely healthy by the start of the 2015 season, Philadelphia should be much better defending the pass. Maxwell is more than capable of holding his own and Brandon Boykin has emerged as one of the league's top slot corners. Alonso was exceptional against the pass as a rookie in 2013, grading out as the best inside linebacker in coverage according to Pro Football Focus.

Assuming Philadelphia lands another veteran runner that can execute the between-the-tackle carries Kelly wants from his new back, owners shouldn't be surprised if that new player can muster a 1,000-yard season behind the Eagles' vaunted offensive line, assuming it can stay healthy this year. This veteran runner to be determined should top out around 225-250 carries while Polk absorbs the remaining 60-plus carries McCoy is leaving behind. Sproles' role figures to be mostly unchanged; he has generally topped out around 100-120 offensive touches throughout his career.

---
Doug Orth has written for FF Today since 2006 and appeared in USA Today's Fantasy Football Preview magazine in 2010 and 2011. He is also the host of USA Today's hour-long, pre-kickoff fantasy football internet chat every Sunday. Doug regularly appears as a fantasy football analyst on Sirius XM's "Fantasy Drive" and for 106.7 The Fan (WJFK – Washington, D.C). He is also a member of the Fantasy Sports Writers Association. E-mail Doug or follow him on Twitter.