As I have for the past six-plus years, I will continue sharing my thoughts on my NFL.com Playoff Challenge entry and playoff money leagues with Fuzzy's Fantasy Football as we head into the second week of postseason odyssey. Let's get right to it:



NFL.com



For a complete rundown of how players will score fantasy points for your team, click on the "Rules & Prizing" link on the NFL.com entry page. Much of the content immediately below is included on the "How to Play" page, although the information I provide below should be more than enough to follow along easily.

NFL.com Playoff Challenge scoring system



The requirements: one QB, two RBs, two WRs, one TE, one K and one D/ST. You will earn fantasy points based on their on-field performance during their game, and if your player's team wins, you will have the option to carry that player over to the next round, where he will earn a bonus point modifier to his score (which will be referred to as 2x, 3x and 4x from here on out).

For example, if you pick Aaron Rodgers in the Wild Card round and the Packers win, you can carry him over to the Divisional Round, and earn two times (2x) the points he earns in his divisional round game. If Green Bay wins again, you can carry Rodgers into the Conference Championship round for 3x the points and, if the Packers make the Super Bowl, you can earn 4x the points. In addition, a user can select a player/defense in the Wild Card round even if their team has a bye into the Divisional Round. In this case, the user would not earn any points for the Wild Card round, but be eligible to earn 2x points in the Divisional round, since the player was on the teamís roster for two weekly scoring periods. Further bonus point modifiers would also apply as long as that playerís team continues to advance in the NFL Playoffs.

Before we get into the picks, let's briefly review the rules and how we may use them to our advantage: 1) passing TDs are worth four points, so passing yards are valued more highly here than in the Fuzzy's leagues I'll discuss later; 2) all field goals under 50 yards are worth three points, which means we are more concerned about volume of field goals than distance – unless we can find a kicker who regularly converts from 50-plus (DraftKings does not use kickers); 3) this is a non-PPR format, which obviously favors the big-play threats (both Fuzzy's and DraftKings are PPR); and 4) team wins are worth five points, so picking a "winning" defense is worth almost a touchdown.

I left open the possibility that I could fall flat on my face in the first of this four-part series with my "contrarian prediction" of Arizona and Kansas City and that is exactly what happened. For the third straight year, both No. 1 seeds made it to the Super Bowl (yawn). What's worse is that I didn't even see much of a payoff for my faith in the Cardinals as David Johnson's 54-point effort in the Conference Championship round accounted for over half of my team's points. Be that as it may, the strategy to win this challenge remains the same: predict the Super Bowl entrants and nail as many of the key fantasy players from those teams as possible. (For me, there is always next year … right?)

Quarterbacks

Cam Newton/Peyton Manning

The call: Cam Newton. One of my several early playoff predictions that did come true was Newton likely emerging as the top scorer in the field. What I doubt anyone could have anticipated was Carolina jumping out to a combined 55-7 advantage at halftime against arguably the two "hottest" teams in the league. (Yet another reason why I don't buy into the concept of "hot" teams, only confident teams.) Manning has the edge in terms of weapons and probably has a better chance of outscoring Newton in fantasy than most people believe, but Newton is the play here simply because he is truly a threat to score fantasy points on almost every offensive play and his offense is geared toward making it happen. Manning's ability to perform well in fantasy this weekend will rely heavily on factors outside of his control, such as whether or not Denver's offensive line is getting any push in the running game against Carolina's front four or if the Broncos' defense is doing a reasonable job of containing Newton and the Panthers' running game.

Running Backs

Jonathan Stewart/C.J. Anderson/Ronnie Hillman

The call: Jonathan Stewart and C.J. Anderson. In Denver's dream scenario, the Broncos jump ahead early and get about 150 yards rushing and two touchdowns combined from Anderson and Hillman. That scenario, along with any one that includes Hillman breaking off a 50- or 60-yard scoring run or Mike Tolbert converting a pair of short TD runs, are about the only ones in which Stewart and Anderson won't be the smartest plays at this position. Stewart has received 19 carries in each of the Panthers' two playoff games and is a reasonable bet to reach that mark again. Hillman is averaging two yards per carry this postseason on 27 attempts and has once again proven why he should be a complementary back. Anderson, who is averaging 4.6 YPC, has produced 72 yards rushing in each of his two postseason outings and is the preferred choice over Hillman in the passing game.

Wide Receivers

Ted Ginn/Corey Brown/Devin Funchess/Demaryius Thomas/Emmanuel Sanders

The call: Demaryius Thomas and Emmanuel Sanders. In a game where it appears the Panthers have a distinct advantage in a number of areas, their receivers versus the Broncos' secondary is a matchup where Denver clearly has the edge. After watching Ginn beat Arizona CB Patrick Peterson a time or two last week and understanding his primary matchup this weekend might come against Broncos CB Bradley Roby, I'll give him the clear nod over any other Carolina receiver since Brown and Funchess figure to see plenty of Aqib Talib and Chris Harris Jr. if/when the Panthers go three-wide.

The general consensus would seem to be that Carolina CB Josh Norman will shadow Thomas, but Thomas has been doing a fine job of shutting himself down lately while Sanders has easily been Denver's most threatening wideout. As such, Norman could end up shadowing Sanders or (in what is a much more likely scenario) just stay at his left cornerback spot. Thomas and Sanders each see a fair amount of action in the slot anyway (Norman does not leave outside receivers), so a case can be made to start both Denver receivers. It may end up being a smart play if the Broncos are forced to play catch-up as many believe they will have to on Super Sunday.

Tight Ends

Greg Olsen/Owen Daniels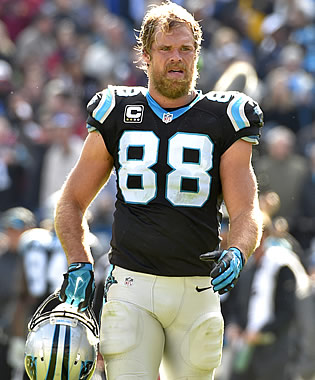 Greg Olsen: There's no reason to be contrarian at TE.
The call: Greg Olsen. I'm still having trouble coming to grips on how athletic New England Patriots LB Jamie Collins could get beat by Daniels twice for touchdowns (once on what appear to be a miscommunication, the other one a fade route), but that is something that is very unlikely to happen against Carolina's standout linebackers. Both of Denver's safeties figure to enter the Super Bowl at less than 100 percent and the Broncos' cornerbacks have a clear advantage over the Panthers' receivers, making Olsen an overwhelming favorite to have a big game.
Kickers

Brandon McManus/Graham Gano
The call: Graham Gano.
Defense/Special Teams

Broncos/Panthers
The call: Panthers. This game has all the makings of being a low-scoring Super Bowl. Turnover margin always plays a big role in deciding what team wins each week and that should especially be the case on Sunday. Much like he has since his triumphant return in Week 17, I expect Manning to make all the right pre-snap calls and play a mostly clean game. The Panthers' defensive line holds a clear edge over the Broncos' offensive line and could easily force Manning to throw against seven defenders all day long, which could lead to a high-sack total and a mistake or two. I don't think either D/ST pick is a bad one this week, but the above logic makes Carolina a slightly better option in my opinion.
Fuzzy's
With DraftKings bowing out for the Super Bowl, we are left with only the traditional playoff pick-your-studs leagues that are wrapping up this weekend.
Below you will find my position-by-position projections. Because I went into detail above and there is only one game this week, I will simply lay out the projections and add any notes where I feel necessary.
Key for quarterbacks, running backs, receivers and tight ends:
P Yds - Passing Yards
P TD - Passing Touchdowns
INT - Interceptions
Ru Yds - Rushing Yards
Ru TD - Rushing Touchdowns
Rec Yds - Receiving Yards
Rec TD - Receiving Touchdowns
Rec - Receptions
Quarterbacks
Player
Fuzzy's Pt Total
P Yds
P TD
INT
Ru Yds
Ru TD
Cam Newton
23.0
225
1
2
60
1
Peyton Manning
13.0
225
0
1
5
0

For years, analysts have often suggested Manning versus the opposing team's defensive coordinator is the key matchup. On Sunday, the defining matchup figures to be Newton versus Broncos DC Wade Phillips. Does Phillips continue to play press-man and trust his front seven (occasionally with safety help) to contain Newton and Stewart? Carolina did not see 3-4 fronts all that often this season and certainly didn't go up against ones with the pass-rush ability or cornerback play of the Broncos. The Panthers have more of a margin for error in this game than the Broncos, but this is a contest in which Newton can't try to do everything himself (something he hasn't done yet or been forced to do this postseason). Denver's press-man tendencies have resulted in a lot of rushing yards for quarterbacks this season, so there should be plenty of opportunity for Newton to run. In order for the Broncos to prevail, it is crucial Manning play error-free football. Carolina has made a living off turnovers in the playoffs and seemingly converted every miscue into points.


If Denver HC Gary Kubiak continues to lean more on Anderson than Hillman in the Super Bowl (something he appeared to do in the AFC title game), then the Broncos' chances of winning this game will be much greater. In fact, I'll venture a guess and say that if Denver pulls the upset, the MVP will either go to Anderson or a Broncos' defensive player. This much I am sure of: the Denver running game must thrive if the Broncos are going to win. Carolina has rushed for at least 100 yards in 31 consecutive games and a good bet to extend that streak here, if only because Newton should do at least half of the work. Stewart may not be the team's top choice at the goal line, but he puts enough fear into the defense to make the read-option a smart call just about every time OC Mike Shula dials it up. Stewart is a near-lock for 15-plus touches barring injury, which makes him more of a sure bet than any other running back in this game (even if Anderson possesses more upside).


The top-scoring offense in the league hasn't fared well in the Super Bowl recently (four of the last five teams to hold that distinction and make the Super Bowl have lost), perhaps giving Denver supporters a bit of hope since the Panthers paced the NFL with 500 points. With that said, I don't expect much in the way of aerial fireworks in Super Bowl 50. The Panthers have the kind of speed at receiver to hit a big play or two, but betting against Talib, Harris and Roby is typically a mistake. Even though Newton is improving as a passer, he still lacks pinpoint accuracy and could struggle to post big passing numbers. Manning has obviously seen his better days, which makes the Broncos' talent advantage at receiver over Carolina's secondary less of a factor. If I was to pick one player from this group (not including Sanders and Thomas) to have a surprisingly big impact, it would be Funchess. For that to happen, however, he will probably need to see more than a third of his team's snaps - something that has rarely happened during his rookie year.


In fantasy, it can often be a good idea to be contrarian. Betting on any of the Broncos' tight ends over Olsen doesn't figure to be one of those times.



Key for kickers and defense/special teams units:




XP -

Extra point


FG -

Field goal


PA -

Points allowed


TO -

Total turnovers


TD -

Defensive/return touchdowns




Defense / Special Teams
Player
Fuzzy's Pt Total
PA
Sk
TO
TD
Broncos
14.0
20
3
2
1
Panthers
9.0
19
4
2
0




Super Bowl Prediction:

Panthers 20, Broncos 19

The over/under in the 44-45 range (depending on the site) and Vegas has Carolina as 5.5-point favorites. While the Panthers could certainly win this one going away, I don't think the Broncos' defense is getting near enough credit and, as such, I think the game will go under and fail to satisfy the heavy pull toward Carolina. While there is plenty of sentiment to win (another) one for Peyton, I honestly hope this game forces the league to confront any one of its several on-field issues - the "catch rule" would be a good place to start - so a low-scoring Super Bowl contest that is decided in the final minutes or seconds by a controversy might be just the push the NFL needs to address an issue that will reportedly not be discussed or corrected this offseason.

Make no mistake about it: Denver could easily win this game if it does not commit a turnover. It also would not surprise me if a kicker or defensive player took home MVP honors because I don't expect many touchdowns to be scored and can see a lot of drives stalling in or around the red zone. It will be important for the Broncos to stem the tide early and make sure the Panthers don't ambush them like Carolina has Seattle and Arizona thus far. If Denver can get out of the first quarter with a lead or in a tie game, Super Bowl 50 should be a good one.



---
Doug Orth has written for FF Today since 2006 and been featured in USA Today's Fantasy Football Preview magazine since 2010. He hosted USA Today's hour-long, pre-kickoff fantasy football internet chat every Sunday in 2012-13 and appears as a guest analyst on a number of national sports radio shows, including Sirius XM's "Fantasy Drive". Doug is also a member of the Fantasy Sports Writers Association.