When deciding whether or not to accept/offer dynasty trades last year, I looked at the (likely) available talent in this year's draft and decided to trade away all of my rookie draft picks in my most important league.

The result? I acquired Rob Gronkowski and C.J. Spiller in two separate trades. (In the interest of full disclosure, there were three other players involved, although Jimmy Graham is the only one still on a roster).

There is no way I would support trading an entire rookie draft away under normal circumstances. The rookie draft is the lifeblood to building a strong dynasty team, but I figured with no more than potentially two or three difference-making running backs coming out and the host of impact receivers that left school prior to the 2014 and 2015 drafts, I was willing to take the risk and I'm happy I did.

The reason I'm sharing this story is simple: I wasn't overly excited about the potential for this draft class then, and I'm not brimming with confidence about it now.

Having said that, every draft class will have some impact performers. My pessimism had/has to do with depth; the question then (and now) is whether the number of impact performers in this class - as it is every year - will be closer to five or 10. Iím betting on the former.

Nevertheless, just because a draft class lacks depth doesn't mean we get to ignore it in fantasy. Most people would have you believe the 2016 NFL Rookie of the Year has already been decided and everybody else is playing for second place. It's a good bet half of the players on this list will fail to impress. However, that's not really the point. A disappointing player can be cut but finding a young stud can lead to a fantasy title. That's one of the most important parts of my job - finding the studs before others do.

In my opinion, this class has two players that should be considered immediate fantasy starters and roughly 10-15 who will ebb and flow for the majority of the season.

Note: The rankings below are for the 2016 season only and are ranked in order of likelihood of fantasy impact. (For example, quarterbacks like Jared Goff may accrue more fantasy points given the nature of their position, but the chances of them impacting a fantasy team are slimmer than say, a potential fantasy WR3 in a three-WR league, because the receiver may become an every-week fantasy starter.) The RB3/WR4-type designations I make are what I expect that rookie to be in PPR formats this season.

Rookies that just missed the cut:

Jared Goff, QB Los Angeles - It's hard to remember the last time a quarterback picked No. 1 overall went to an offense so devoid of offensive weapons. Making matters worse, the Rams are a team that we can pretty much count on to run the ball and play defense. Furthermore, quarterback is such a deep position in fantasy now, which is one of the main reasons Carson Wentz and Paxton Lynch will not be on the list below either.

Devontae Booker, RB Denver - Let's not discount the possibility the Broncos use a 1A/1B backfield like they did last year. If that happens, it seems perfectly reasonable to think Booker will complement C.J. Anderson this year instead of Ronnie Hillman. But can he overtake Anderson? I suppose it is possible if he gets off to another slow start, but let's remember the veteran is getting paid like a NFL running back now instead of an undrafted free agent.

C.J. Prosise, RB Seattle - If I had chosen to make this a longer list, Prosise would have been among the next two or three players on it. Earlier this year, the Notre Dame alum mentioned Theo Riddick as someone he modeled his game after. Prosise has more upside than that in my opinion, but the Seahawks are probably going to lean on Thomas Rawls on early downs and use the rookie like Detroit used Riddick last year. The problem? Seattle doesn't pass nearly as often and fully intends on leaning on the run more often this season than it did during the second half of 2015. I fully expect Prosise to be used in the same kind of way Fred Jackson was last year, but with a twist: he'll line up in or motion into the slot and be used to create mismatches. I just don't think he's going to get enough opportunities on a regular basis in order to be relevant in fantasy every week.

Kenyan Drake, RB Miami - Easily the most dynamic runner in the Dolphins' backfield, Drake probably has no shot at feature-back duties given his injury history at Alabama. In the likely event Arian Foster eventually signs with Miami, the rookie may also have his projected third-down role taken from him as well. With that said, expect him to hit the big play just enough times to get owners to bite on his five or so touches per week.

Jordan Howard, RB Chicago - Truth be told, Howard should probably be on this list below. He has a great shot of sharing early-down carries with Jeremy Langford at some point and thrives where Langford falls short (yards after contact). The reason Howard didn't make the list is due to his injury history and running style, which is both his strength and his weakness. The 230-pound Indiana product embraces contact and consistently punishes defenders in the hole, making him a great candidate to steal short-yardage/goal-line work from Langford. That style led to five missed games in three college seasons - including four last year - and is unlikely to change in the NFL, where defenders are bigger and faster.

Marshaun Coprich, RB NY Giants - There's a decent chance some readers may not have heard of Coprich prior to the release of my dynasty rankings last week. If forced to make a pick about what player will be this year's Rawls, give me this Illinois State Redbird. I'll be absolutely stunned if he fails to make the Giants' roster because I have no question he is the most talented runner they have in camp. At the same time, I also understand undrafted free agents don't always get a fair shake when it comes to roster battles, so it will be up to this FCS superstar to make it an easy decision for Big Blue. At that point, it will be about beating out (or at least sharing snaps with) fifth-rounder Paul Perkins. A committee is the most likely scenario, but if New York wants to lean on one back, I believe Coprich is the one Giant most equipped to be the featured back.

And now, the top 12 rookies for 2016:

12. Laquon Treadwell, WR Minnesota

2016 Projected Role: Complementary player; No. 2 receiver behind Stefon Diggs in a passing game that will play second fiddle to an Adrian Peterson-led rushing attack.

Why he will live up to this ranking and perhaps exceed it: On a team that has a generational talent at running back and a quarterback that struggles with the deep ball, Treadwell's ability to be a difference-maker as a blocker and win in the short and intermediate areas of the field is going to play well and get him on the field immediately. Furthermore, he is going to be a difficult matchup for the majority of NFL corners at 6-2 and 221 pounds; he plays to that size and understands how to make it work for him. Despite his well-documented lack of speed (4.63 at his pro day), Treadwell can win on occasion on deep balls because he has great field presence, adjusts well to poorly thrown balls and has a knack for creating late separation. Perhaps most importantly for the immediate success of Ole Miss' leading all-time receiver, Minnesota doesn't offer much in the way of competition for a starting spot opposite Diggs. Jarius Wright is primarily a slot receiver, Cordarrelle Patterson has proven to be little more than a return man and Charles Johnson disappointed in his one shot as the main man.

Why he wonít: Casual observers often get too wrapped up in size and speed at the receiver position. With that said, there are several reasons general managers want their wideouts to run at least 4.6. Among other factors, it reduces the already-slim margin of error for the quarterback and the failure rate of those receivers that don't meet that standard is incredibly high. While Treadwell breaks his fair share of tackles and is well above-average after the catch, it is also reasonable to wonder just how great he can be as a NFL receiver when he averaged 11.8 YPC during his college career. (Even though the Rebels feature him on screens quite often, that is still a low number for a first-round receiver prospect.) Even though Treadwell should be considered a near-lock to be a Week 1 starter, another factor working against him is the conservative nature of the Vikings' offense. That approach is unlikely to change as long as Peterson remains half-man, half-cyborg and Minnesota's defense is able to play up to the standard it established late last season. There is also the issue of Bridgewater, who is being held back somewhat by this offense. Regardless, most would agree he is more of a dart-thrower than long-range missile launcher.

2016 Fantasy Assessment: The Vikings were a playoff team last season without much of a passing game, so the odds are stacked against Treadwell to be the reason why Minnesota changes its run-heavy approach. As such, his Year 1 fantasy contributions figure to depend greatly on whether or not he can nudge out TE Kyle Rudolph as the main option in the red zone on the few occasions OC Norv Turner allows Bridgewater to throw in that area of the field. It wouldn't be terribly surprising for Treadwell to finish 2016 with 6-8 touchdown catches, but top out at 40 receptions. In other words, volume isn't going to be his friend. That fact alone is going to make it hard for owners to trust him as anything more than a Hail Mary play in favorable matchups. At a fantasy position that has a wealth of players capable of 60-plus catches and six or more touchdowns, it is going to be hard for Treadwell to be much more than a low-end WR4 this season.

Fearless early-June prediction (15 starts): 41 receptions for 495 yards and six TDs

11. Josh Doctson, WR Washington

2016 Projected Role: Complementary player; eventual No. 2 receiver behind DeSean Jackson, although it could easily become a 1A/1B situation before long.

Why he will live up to this ranking and perhaps exceed it: When the head coach comes out after the draft and compares you somewhat favorably to A.J. Green, you're probably going to see the field a lot and get the benefit of the doubt when it comes to working through typical rookie growing pains. Doctson was arguably the best receiver prospect available in April's draft and enters a situation in Washington in which he won't be needed to be "the man" right away, although it is possible he could grow into that role by the end of the season. At 6-2 and 202 pounds with a 41-inch vertical jump, TCU's all-time leader in touchdown catches gives the Redskins a receiver it doesn't have - a taller wideout that can play "above the rim" and a big target besides TE Jordan Reed that defenses must account for in the red zone.

Why he wonít: It is hard to throw a ton of fantasy support behind a player that should, for all intents and purposes, begin the season as the third receiver (and fourth option overall) after working out of a pure spread offense in college. Jackson and Pierre Garcon may not be the best receiving duo in the NFL and in the final year of their contracts, but each one is still good enough to hold down a starting job all season if Doctson doesn't prove to be a quick study or takes an eventual promotion for granted. Even if we assume he becomes the top receiver in Washington by November or December, it seems far-fetched the rookie will also move past Reed as Kirk Cousins' top target. And, of course, it might be a bit premature to assume that Cousins proves to be the long-term answer at quarterback and not one of the many players who fell flat on their face the season after emerging as second-half stars.

2016 Fantasy Assessment: Some of the most difficult young players to project each year are the players that should become starters. Talent doesn't always win the day right away and some coaches find axes to grind (unbeknownst to the media or fantasy owners until it is too late), often to drive home a point to the rookie. And even if the young buck's promotion is virtually guaranteed, it is not as if the coach has a set date in mind. In other words, it is one thing to say Doctson will overtake Garcon and/or Jackson at some point this season, but when? If it happens in Week 6, there is still time for owners to use him and turn around a poor start to the season. If it happens in Week 10, maybe not so much. In other words, it is risky business for fantasy owners to count on something to happen just because it should happen. Doctson is a good bet to start some games this year simply because Jackson is a good bet to miss at least one or two due to injury, while Garcon isn't the same playmaker he was when he first arrived in Washington during Robert Griffin III's memorable rookie year in 2012. The assumption I just made is about as far as I think any owner should go with Doctson, and it is entirely possible - based on the fact the Redskins kept both Jackson and Garcon despite their huge cap hits - that Washington simply decides to take its time with the rookie. There is WR3 upside here in 2016 if everything falls into place for Doctson, but it is going to be hard for me to consider him much more than a low-end WR4 until something changes.

Fearless early-June prediction (four starts): 43 receptions for 550 yards and five TDs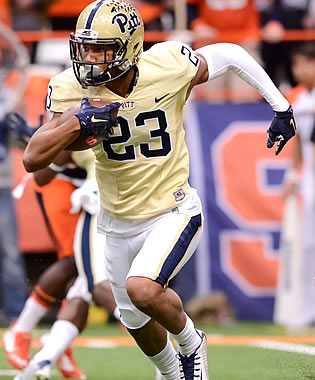 The loss of Marvin Jones creates opportunity for Boyd.
10. Tyler Boyd, WR Cincinnati
2016 Projected Role: Complementary player; No. 2 receiver (assuming he can beat out Brandon LaFell in camp) behind A.J. Green and No. 3 option behind TE Tyler Eifert.
Why he will live up to this ranking and perhaps exceed it: Regardless of how spread-happy the college game has become in recent years, it's no easy feat to break school receiving records at the same institution of higher learning that Larry Fitzgerald attended, so give the Bengals' latest second-round pick his due. Boyd probably didn't wow the majority of fans who watched him on a weekly basis at Pittsburgh, but the combination of his advanced route-running skills and reliable hands should help him produce right out of the gate. He works the middle of the field well and should see substantial time in the slot right away, which is a big deal considering most defenses will be spending most of their resources containing Green and Eifert. Marvin Jones and Mohamed Sanu departed via free agency, leaving LaFell as the only real obstacle stopping Boyd from being named a Week 1 starter. Boyd also possesses exceptional body control and some of the most dependable hands from this most recent draft class, two qualities that should allow him to be a solid option in the red zone in the NFL.
Why he wonít: Even with the departure of Jones and Sanu, the Bengals don't lack for quality receiving options. Green and Eifert could easily command 250 targets between themselves, while Giovani Bernard will probably take another 70 for himself. At least entering this season, those three have to be considered the players new OC Ken Zampese will manufacture touches for in just about every game. Of course, all this also assumes Boyd beats out LaFell in camp, which may be a likelihood but is far from a certainty. Speaking of Zampese, how will his offense vary from the one former OC Hue Jackson ran in his short stay in the Queen City? (Let's not forget that Ken is the son of longtime NFL assistant Ernie Zampese, who was in charge of the Dallas Cowboys' offense during the heyday of "The Triplets".) If the new offense mirrors Jackson's in how it deploys its weapons at certain positions, then it is noteworthy that Sanu, whose slot role Boyd is projected to occupy, was targeted only 49 times (33 catches) a season ago.
2016 Fantasy Assessment: Boyd is just the kind of receiver most fantasy owners with a stud wideout should want as the complementary receiver. In other words, he is good enough to consistently beat his man but not so dynamic that he'll start stealing a significant number of targets from the team's top passing-game option(s) on a regular basis. On the plus side for the rookie, LaFell shouldn't present much of a roadblock for him to become a starter in relatively short order. If he wins that battle, he will step into a role in an offense that allowed Jones to catch 65 passes in his lone season with Jackson as his play-caller. Boyd will soon become a better wideout than Jones in my opinion - if he's not already there - so the question then becomes how quickly the Bengals want to trust him as Green's sidekick, and not just as a slot receiver. Ultimately, I expect the rookie to be a steady fantasy contributor who regularly finishes with 3-5 receptions and finds the end zone more often in 2016 than Jones did last year (four scores). If my comments above are mostly correct, then Boyd should be a very solid WR4 in 12-team leagues.
Fearless early-June prediction (16 starts): 47 receptions for 565 yards and four TDs
9. DeAndre Washington, RB Oakland
2016 Projected Role: Complementary player; change-of-pace (COP) and not strictly a third-down back behind Latavius Murray.
Why he will live up to this ranking and perhaps exceed it: Washington isn't exactly imposing at 5-8 and 204 pounds, but that didn't stop him from running up the middle with a fair amount of success during his college days at Texas Tech. However, as one might expect, the fifth-rounder excels mostly in space and is the rare college back that has already proven he is a capable receiver (124 catches for 1,091 yards and four touchdowns during his college career). It's probably not out of the realm of possibility OC Bill Musgrave lets the former Red Raider shift out of the backfield on occasion and run some routes out of the slot. It will be those qualities that should allow him to complement Murray and not necessarily step on the early-down toes of the Raiders' first 1,000-yard rusher since Darren McFadden in 2010. Washington also doesn't have a lot in the way of competition for backup duties either, as Roy Helu Jr. didn't exactly make a great first impression in Oakland and Taiwan Jones has really never been able to make headway as a pro runner or evolve into anything more than a core special teamer. Last and certainly not least, Murray's durability remains a big question mark even after playing in all 16 games last season.
Why he wonít: The usual suspects for a college running back, especially a somewhat undersized Day 3 pick: Can Washington hold up as a pass blocker well enough to be anything more than a "mismatch guy"? Toughness and competitiveness are not issues for Washington, so ultimately his ability to earn the lion's share of passing-down reps will come down to his ability to master the technique of blocking in a pro-style offense (and not the spread). And despite his willingness to run inside at Texas Tech, doing so at his size at the pro level is a different animal. (It is also fair to wonder just how often Oakland will let him do it.) Washington's fumble percentage (1.8) as a senior is on the high end for any running back prospect and was twice as high as his career mark (0.9), so those ball security issues will need to be addressed before he has any realistic shot at stealing substantial playing time from Murray.
2016 Fantasy Assessment: Dubbed a "complete back" by the man who drafted him (GM Reggie McKenzie), there is little doubt Washington is going to contribute in some meaningful way as a rookie. The question becomes whether he simply absorbs all of Helu and Jones' carries/receptions from a season ago (49) and steals roughly 10-15 percent of Murray's 307 touches OR forces his way into a near-even split workload. The former is the most likely outcome despite McKenzie's praise, if only because Murray is more equipped to handle a heavier workload. It should also be noted Oakland had several opportunities to draft backs like Derrick Henry, who went one pick after the Raiders chose DE Jihad Ward in the second round, Kenneth Dixon or Devontae Booker, if replacing Murray was the goal - as some have suggested. Washington should be the clear handcuff in this backfield, and that fact alone makes him worthy of a late-round pick behind what could become one of the better offensive lines in the NFL. Although Murray's owners will ultimately value him more than other owners, Washington should be a serviceable RB4 in most 12-team PPR leagues.
Fearless early-June prediction (two starts): 88 carries for 405 yards and three TDs; 32 receptions for 280 yards and two TDs
8. Michael Thomas, WR New Orleans
2016 Projected Role: Complementary player; clear No. 3 (and primary "big-slot) receiver behind Brandin Cooks and Willie Snead who should emerge - along with free-agent TE Coby Fleener - as the team's top red-zone threats.
Why he will live up to this ranking and perhaps exceed it: Thomas brings size (6-3, 212) to a wide receiver corps that lacks it, so it isn't difficult to see what the Saints are hoping for here: Marques Colston was released in the offseason, so they need Thomas to give them what their all-time leading receiver did in his prime - a mismatch wideout that can play the "big slot" role and someone Drew Brees can trust to come down with the ball in high-traffic situations, especially near the goal line. Brees is one of about a handful of current NFL quarterbacks who has the ability to raise the level of his receivers (average to good, good to great, etc.) and HC Sean Payton remains one of the game's most aggressive play-callers, so average quarterback play and conservative scheme - two of the biggest roadblocks for talented young receivers trying to make their mark early - will not be excuses for this Ohio State product. Thomas also doesn't figure to face much in the way of competition to be the Saints' third receiver; although New Orleans has praised Brandon Coleman since the end of last season. Still, it is unlikely the club would have spent a second-round pick on Thomas if it knew it had a keeper in Coleman.
Why he wonít: Despite the fact that the Buckeyes have become a college football powerhouse (and NFL talent hotbed) once again under HC Urban Meyer, their spread offensive attack doesn't do much in terms of helping receivers hone their craft before turning pro. Many of Thomas' current shortcomings as a prospect are areas that require him to get "coached up" (coming out of press, playing through contact, working back to the quarterback when he gets flushed out of the pocket, etc.) or techniques that he may have already mastered if he had been exposed to a full route tree. The rookie's statistical upside - at least in terms of catch volume - is also going to be somewhat limited because Cooks and Snead will probably account for somewhere around 225-250 targets between themselves, while Fleener easily tops 100. Mark Ingram and C.J. Spiller figure to get their share as well, so it shouldn't come as a shock if Brees' reputation for spreading it around ends up putting a bit of a ceiling on Thomas' final numbers.
2016 Fantasy Assessment: Thomas is capable of big things in this offense, especially since Brees and Payton are the men in charge of running it. There isn't a great deal of competition for the role the Saints have envisioned for him either. That's the good news. The bad news is Thomas faces long odds of climbing past Cooks, Snead or Fleener to become something more than a red-zone beast as a rookie. If he were a more finished product, maybe I would be more optimistic. There is little doubt in my mind his addition is going to help the offense as a whole, but expecting much more than the numbers Colston posted last year (45 catches on 67 targets) is probably asking too much, especially since Coleman will probably steal some snaps from him. As such, Keyshawn Johnson's nephew will likely be a bit of a hit-or-miss WR4 for fantasy purposes, capable of 80 yards and two scores one week and 30-40 yard games over the next 2-3 contests.
Fearless early-June prediction (six starts): 46 receptions for 605 yards and six TDs
7. Wendell Smallwood, RB Philadelphia
2016 Projected Role: Complementary player; change-of-pace (COP) back to begin the season, with a solid chance at splitting touches with injury-prone Ryan Mathews before the end of the season.
Why he will live up to this ranking and perhaps exceed it: If real estate is mostly about location, location, location, then perhaps the tagline for most NFL running backs should be "situation, situation, situation". Mathews will turn 29 this October and has a well-documented injury history, while Darren Sproles will turn 33 later this month and may not fit in new HC Doug Pederson's offense. As many fantasy owners already know, it also helps when a back is handpicked by the new regime and not a holdover from the previous one. Interestingly, the 208-pound reigning Big 12 rushing champion is a nice mix of the two veterans as well, blending Mathews' willingness to run in between the tackles with Sproles' ability to make plays in the passing game. It is also worth mentioning that Smallwood and Mathews are the only players that weigh over 200 pounds of the 3-4 backs likely to make the Opening Day roster.
Why he wonít: Mathews hasn't received the credit that he deserved throughout his career - mostly due to injury - and only got the positive pub he did last season when most realized he was a better fit for Chip Kelly's running attack than DeMarco Murray. He is still the best back in Philly, even after the subtraction of Murray and addition of Smallwood. So, any projection as to how the rookie is going to perform for fantasy owners probably needs to begin with how long those same folks think it will take for Matthews to suffer a multi-week injury. Smallwood is surprisingly much more physical than elusive, which may not work as nearly as well for him at the NFL level as it did in college.
2016 Fantasy Assessment: Early reports out of Philadelphia have been glowing in regards to Smallwood, but it seems hard to believe the rookie will vault pass Matthews in training camp, unless it is willing to acknowledge 2016 will be a rebuilding year (which seems highly unlikely). The most realistic scenario in which the West Virginia alum gets substantial early playing time - outside of third-down and COP duties - involves Matthews suffering an early injury and/or Sproles getting completely phased out of the offense. Perhaps the most appealing thing about Smallwood's fantasy prospects this season is that he only needs one of two those likely scenarios to play out in order to achieve some degree of fantasy value. Predicting if/when Matthews gets hurt and if/when Sproles' offensive role will be minimized is another story entirely. However, that doesn't mean Smallwood isn't worth owning until something happens to one of the veterans - far from it. As the only other "big back" on the roster, Smallwood would probably assume early-down/goal-line duties if/when Matthews is sidelined, if only because there isn't another realistic option in the backfield to take over those roles. Similarly, if Philadelphia wants to cut Sproles or deal him for a conditional late-round pick at some point, then the rookie would be a more-than-serviceable option to take over the veteran's pass-catching duties. Smallwood should be considered a low-end RB3/flex option for now, but it wouldn't take a lot going in his favor to creep into low-end RB2 territory.
Fearless early-June prediction (three starts): 114 carries for 500 yards and three TDs; 28 receptions for 250 yards and one TD

6. Derrick Henry, RB Tennessee
2016 Projected Role: Possible building block; will likely start the season as the clear backup to DeMarco Murray, but could quickly emerge as the lead back by the second half of the season.
Why he will live up to this ranking and perhaps exceed it: Who else but a 6-3, 247-pound Heisman Trophy winner would a coach want to serve as the centerpiece of an "exotic smash-mouth" offense? The Titans are making it very clear they want to be the bully of the AFC South, so why not find the freakiest big back to come out of college in years to drive home that point? It almost goes without saying that Henry should be the clear short-yardage and goal-line back for Tennessee, not to mention get the call whenever Murray needs a rest. In addition to the Titans' newfound commitment to running the rock, Tennessee now features three first-round talents on the offensive line, so one would have to think the Titans will - at some point - consistently be able to control the line of scrimmage. Marcus Mariota may have been hurt a couple of times last season, but his athleticism and running ability is yet another feather in the hat of Henry in that defenses must account for the quarterback on every running play. A small but perhaps underrated positive is the presence of FB Jalston Fowler, who is no stranger to blocking for Henry from their days together at Alabama.
Why he wonít: Per Football Outsiders' 2015 offensive line metrics, the Titans ranked last in power success (essentially successful short-yardage runs on third or fourth down), 20th in stuffed percentage (times a back was tackled at or behind the line of scrimmage), 31st in open-field rank (percentage of 10-plus yard runs by a back) and 26th in second-level yards (percentage of 5-10 yard runs by a back). In other words, Tennessee's front five was pretty bad last year with two first-rounders playing the majority of the team's games, so perhaps spending another first on RT Jack Conklin isn't necessarily going to fix that problem. Murray may be injury-prone and coming off a poor year in Philadelphia, but Henry taking his job outright is far from a given. The Titans' most recent second-round pick probably will not steal much time from Murray on passing downs either, nor can he necessarily rely on volume alone in 2016. (Tennessee made very few improvements to a defense that finished near the bottom in several key defensive categories.)
2016 Fantasy Assessment: GM Jon Robinson reportedly called Murray moments after selecting Henry and assured the veteran he would be the primary back. If the offensive line plays up to its talent level and/or reminds us of the 2014 Dallas Cowboys' front five, then perhaps Murray will remain the clear lead back all season long. However, it doesn't take much to imagine a scenario in which Henry becomes the lead runner in this backfield, particularly if the line keeps the rookie clean in the backfield (allowing him to turn his shoulders) and doesn't allow quick interior pressure (where his power is minimized and his lack of elusiveness is exposed). Tennessee would probably like this situation to play out in such a way that Murray logs most of the meaningful snaps in both the passing game and running game, whereas Henry serves as the four-minute/short-yardage/goal-line back. Will it play out that way? I doubt it. If the line plays as poorly as it did last year, Murray probably isn't going to lose much time and his superiority in the passing game will be highlighted. If the run-blocking is above-average, then coaches will probably fall in love with how many defenders Henry will punish on a weekly basis. The possibility of Henry assuming control of this backfield at some point this season is strong enough to consider him a RB3/flex option, although I certainly have my doubts he will return that kind of value. His potential production is going to rely heavily on volume and touchdowns - since he doesn't offer much in the passing game yet - and I'm not sure he's guaranteed to top Murray in either area.
Fearless early-June prediction (four starts): 155 carries for 645 yards and five TDs; 13 receptions for 70 yards and zero TDs
5. Paul Perkins, RB NY Giants
2016 Projected Role: Complementary player; likely to start out in a committee with Rashad Jennings, with a fair chance to pass him on the depth chart early in the season.
Why he will live up to this ranking and perhaps exceed it: Once upon a time, the Giants had Earth, Wind & Fire (Brandon Jacobs, Derrick Ward and Ahmad Bradshaw, respectively). Now, they might as well have Peter, Paul & Mary (my apologies to the younger generation who wonder why I'm referencing music groups before you and I were born). Before the draft, the backfield consisted of 31-year-old Jennings, a scatback in Shane Vereen they struggled to use properly last year, Orleans Darkwa and Andre Williams). If ever there was a depth chart that could (and needed to) be cracked, it might be this one. Among other things, Jennings and Vereen haven't really proven to be all that durable, while Williams' 3.2 YPC through two seasons provides all the information owners need to know about what he has brought to the table so far. Darkwa may have been the best of the group last year, but he had his own injury issues and seemed to get pulled quicker than the others. Perkins isnít a special talent by any stretch, but much like Kenneth Dixon above, he is a feisty competitor that seems to get the most of what he does have and a student of the game. Perkins is also very good in just about every aspect of the passing game (80 career receptions), a more-than-willing and capable blocker and values the ball (career 0.7 fumble percentage). Also like Dixon, the UCLA alum has the rare ability of knowing exactly when he should put his shoulder down to power through a tackler and when he needs to create in the open field (this tweet tells the story). Some analysts have likened him to Devonta Freeman, which may be a very apt comparison.
Why he wonít: A skeptic might say Perkins brings to the table what New York already has plenty of in its backfield - an average talent not suited to carry the load. Only the latter part of that statement might be true, but the fact that it is a question could put a bit of a ceiling on his rookie-year impact. In a backfield with 231-pound Jennings and 220-pound Williams (down from 230 a season ago), it seems highly unlikely new HC Ben McAdoo will opt to turn to the 208-pound rookie near the goal line. Perkins also figures to lose plenty of snaps in the passing game - an area in which he excels - to Vereen, who was brought in last season specifically to handle those chores. Last but not least, the biggest threat to every player in the Giants' backfield - in my opinion - is Coprich. The undrafted free agent is not guaranteed to make the roster (as is the case with most UDFAs) and is almost exactly the same size as Perkins, but I think it will become clear to the Giants' brass pretty quickly that Perkins and Coprich are the best fits in McAdoo's system. If this scenario plays out like I think it could and both rookies are evaluated on a level playing field, Coprich boasts more big-play ability and natural talent in my opinion.
2016 Fantasy Assessment: Let's be clear about one thing: Perkins is not a savior by any stretch of the imagination; he's merely a much better option than what New York had at its disposal last year. The Giants' backfield could play out in any number of ways, most of which involve Perkins being involved in a soul-sucking committee. Obviously, I'm choosing to be a bit more optimistic with his ranking here. Perkins is clearly the best all-around back (again, excluding Coprich) that is a near-lock or better for a roster spot, and it is completely reasonable to predict Jennings will get hurt at some point and/or Williams will be released. If either of those likely things happen, then Perkins could be on his way to big things as a rookie. Coprich is a real obstacle to the fifth-round pick's ability to live up to this ranking and could ultimately be the player that should have been listed here, but the good news for Perkins is that Coprich should be the only major obstacle he has to overcome. Given the Giants' reliance on the short passing game and up-tempo attack, Perkins should have a RB3 floor so long as he becomes the lead back.
Fearless early-June prediction (XX starts): 150 carries for 655 yards and four TDs; 28 receptions for 240 yards and one TD
4. Kenneth Dixon, RB Baltimore
2016 Projected Role: Eventual building block; Justin Forsett's eventual successor, although he could easily find himself in a committee with Forsett and Javorius Allen most of his rookie season.
Why he will live up to this ranking and perhaps exceed it: Dixon doesn't exactly leap off the tape because he is some kind of genetic marvel, but few college backs in recent memory - certainly Day 3 picks anyway - enter the league with so few weaknesses. College football's second all-time leading touchdown producer is a superb fit for today's game in that he is as much of a threat in the passing game (88 career receptions for 972 yards for a gaudy 11 YPC and 15 touchdowns in addition to excelling as a blocker) as he is in the running game. Even if he doesn't land the starting job immediately, he is versatile enough in the passing game to run routes out of the slot - a very uncommon quality for rookie backs. The 5-10, 215-pounder also stands out in three other key areas: 1) his football intelligence and competitive drive are off the charts and obvious to even the average NFL fan, 2) he runs angry and maximizes almost every run and 3) he has proven he can be a three-down back - all characteristics that are sure to catch the eye of HC John Harbaugh. Even better for Dixon's future - immediate and long-term - is the Ravens' commitment to the running game and how often OC Marc Trestman prefers to lean on one back.
Why he wonít: Perhaps more than any other player on this list, Dixon has legitimate competition in order to become a lead back in Baltimore, much less the featured back. Forsett may be nearing the end and may not be the prototype at his position, but he's the incumbent that really hasn't done anything to lose his job. Allen is an average talent, but he is a very capable back in his own right in the passing game. Although he will create his fair share of big plays due to his sheer determination and elusiveness, ball security (1.6 career fumble percentage) is a concern. Forsett led the league in 20-plus yard runs in 2014, which brings up perhaps the one shortcoming that made Dixon a Day 3 pick in the first place - the lack of long speed.
2016 Fantasy Assessment: Thurman Thomas was the NFL comp I used in my draft profiles and one I don't intend to back down from anytime soon; Dixon has an old-school feel to him Ö and that's a good thing. In another era, Dixon's domination at his level of competition - similar to the path Marshall Faulk took at San Diego State - would have been valued much more than it is 2016. Trestman has made a lot of running backs very happy over the years because they "got it" in the passing game (Eric Metcalf, Derek Loville, Terry Kirby, Michael Pittman, Charlie Garner and Matt Forte, etc.), so Dixon is set up for fantasy success if he is able to beat out the aging Forsett and middling talent that is Allen in training camp. The reason Dixon is ranked this low is because it is nearly impossible to predict when Dixon will ascend to the top of the depth chart or even if he will do so this season. As such, the Louisiana Tech product needs to be viewed as a RB4 with huge (think top 10) upside.
Fearless early-June prediction (seven starts): 170 carries for 780 yards and six TDs; 31 receptions for 280 yards and two TDs
3. Corey Coleman, WR Cleveland
2016 Projected Role: Building block; lead receiver (assuming Josh Gordon isn't surprisingly reinstated by the league before the season) and No. 2 option in the passing game behind TE Gary Barnidge.
Why he will live up to this ranking and perhaps exceed it: Coleman may need a lot of refinement when it comes to being a complete receiver, but he is an electric playmaker and probably what Cleveland needs on offense more than anything right now (excluding a franchise quarterback or the second coming of Jerry Rice). Last year's Biletnikoff Award winner doesn't require a rifle-armed quarterback; he's more than capable of lining up all over the field and that is exactly how I expect him to be used. If Robert Griffin III is able to recapture some semblance of his rookie form, then the sky is the limit for this Percy Harvin clone (just as it was for Pierre Garcon in 2012). Coleman should be able to get behind all but the fastest cornerbacks in the NFL and probably does his best work in the deep passing game. Also working in the favor of the No. 15 overall pick: He's a virtual lock to start and be the team's go-to option right away. Despite his size (5-10, 194), which is a bit uncommon for a lead receiver in today's game, Coleman uses his 40 1/2-inch vertical jump and aggressiveness to win more 50/50 balls than most smaller receivers - traits that will also serve him well on fade and/or fade-stop routes near the goal line.
Why he wonít: Like most of today's college receivers, Coleman comes from a pure spread offense and faces a steep learning curve when it comes to digesting a NFL playbook and the nuances of becoming a good route-runner. To that end, the Dallas native ran mostly four different kinds of routes (9-routes, hitches, slants and tunnel screens), so expecting him to consistently run a 12-yard out at 12 yards - and not 10 - or not occasionally rounding out his routes as a rookie is probably asking too much. His career drop percentage (6.6) is about twice as high as talent evaluators like to see in prospects. (To be fair to the kid, however, he was targeted on nearly 40 percent of the Bears' pass plays in Baylor's up-tempo attack last season, so fatigue could have contributed to some of those drops throughout his time at Waco.) Coleman's sidekick at receiver - at least early on - figures to be Andrew Hawkins, Taylor Gabriel or any one of the four other rookie receivers the Browns drafted after him. In short, if Coleman shows he can defeat man coverage in any given week, defensive coordinators probably won't think twice about giving their cornerback safety help over the top.
2016 Fantasy Assessment: Ah, the age-old question: Is it better for a receiver to have virtually no competition for targets and be the focus of the defense's attention, or is it better for him to play off another top receiver and operate a bit under the radar? I have zero doubt new HC Hue Jackson has a pretty clear vision on how he plans to use Coleman. Much like Harvin, the rookie is an explosive and movable chess piece that can create big plays on plays behind or at the line of scrimmage just as often as he can down the field. If the Browns end up being the glorified expansion team most observers say they will, then they will trail by multiple scores in the majority of their games and probably match or exceed the 609 pass attempts they had in 2015. If that happens, Barnidge and Coleman could easily combine for 250-plus targets. Even if the pair splits those targets right down the middle and Coleman has a catch rate around 50 percent (which is poor), he'll still finish with over 60 receptions. Add that number to the couple dozen carries he'll likely see on reverses or runs out of the backfield, and there is potential for steady WR3 production.
Fearless early-June prediction (16 starts): 22 carries for 120 yards and one TD; 57 receptions for 775 yards and four TDs
2. Sterling Shepard, WR NY Giants
2016 Projected Role: Building block; clear No.2 receiver ahead of Victor Cruz and behind Odell Beckham Jr.
Why he will live up to this ranking and perhaps exceed it: A few rookies every year find their ideal landing spot and, this year, the top two players on this list found theirs. Perhaps in an effort to emulate the Green Bay Packers' offense that he brought over with him to New York, new HC Ben McAdoo likely found his Randall Cobb in Shepard, who should see the majority of his snaps in the slot and quickly emerge as Eli Manning's most trusted option on just about any play in which the defense commits too much help and attention Beckham's way. Like Cobb, the former Oklahoma standout should be a frequent target in the red-zone despite his size (5-10, 194), due in large part to his 41-inch vertical jump, route-running chops and reliable hands. While a healthy Cruz would almost certainly force Shepard in the Rueben Randle role in this offense, we all know there is no guarantee the 29-year-old will ever return to the form he flashed prior to his torn patellar tendon two seasons ago. If it is assumed Cruz is out of the picture in terms of being a legitimate starter and that anything he gives this team production-wise is a bonus, then Shepard faces almost no competition for targets behind OBJ.
Why he wonít: Short of Cruz rediscovering the form and health that made him a fantasy stalwart in 2011 and 2012, there really isn't much that should keep Shepard from becoming an every-week fantasy starter. An argument could be made that OBJ will receive even more red-zone love from Manning since he has a viable threat opposite him now, but there should be plenty of volume in this offense to keep Beckham entrenched as a top-three receiver and allow Shepard to approach 70 catches.
2016 Fantasy Assessment: If Shepard falls short of being an every-week WR3 this season, he'll likely have no one to blame but himself. There's really no telling what the slot position in McAdoo's offense can do since Cruz's brief pre-injury run in 2014 came mostly when Beckham missed the first four games of his pro career with a hamstring injury. It is worth noting Randle finished with 71 catches (on 127 targets) two seasons ago and 57 receptions (on 90 targets) last year and was considered a complete disappointment. I only mention Randle and his catch/target numbers here because I want to set what I believe is Shepard's floor in McAdoo's offense, if only because the rookie will spend more time in the slot than Randle ever did and should be much more efficient with his opportunities. Consider Shepard a quality WR3 option in PPR formats with WR2 upside; a top-20 finish at his position should not be ruled out.
Fearless early-June prediction (16 starts): 72 receptions for 885 yards and five TDs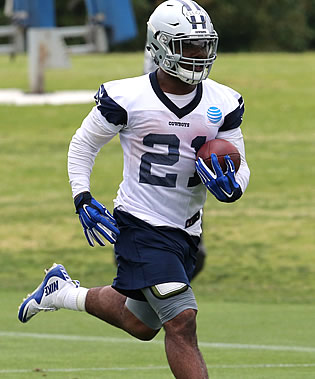 Fantasy owners are down right giddy over Elliott.
1. Ezekiel Elliott, RB Dallas
2016 Projected Role: Building block; could begin season ceding a few passing-down snaps to Darren McFadden and/or Alfred Morris, but should be the featured back for the majority of the season.
Why he will live up to this ranking and perhaps exceed it: Elliott may lack the obvious talent of Adrian Peterson or Todd Gurley, but he probably enters this league as a top 5-10 talent at his position. Pair that with perhaps the best offensive line in the game today and there is a reason fantasy owners are so giddy. He is equal parts powerful and explosive, capable of taking it all the way on any play. The fact the Cowboys were willing to invest the fourth overall pick of the draft into a running back is about as strong of a statement as an organization can make that it intends on letting him carry the load early and often. Ohio State didn't ask Elliott to catch the ball out of the backfield that often and doesn't use an expanded route tree at any position, but he's certainly a capable receiver. Furthermore, the 2015 Big Ten MVP has been called by some the best blocking back in draft history. Elliott fumbled only four times (losing three) in 650 offensive touches throughout his career and is a very good short-yardage runner. Put it all together, and there is no situation (early-down, third-down, goal-line, two-minute, four-minute, etc.) in which Elliott needs to leave the field. While McFadden proved he still had some life in his legs last year and Morris has three 1,000-yard rushing seasons on his resume, neither player figures to threaten Elliott's job once Dallas decides the rookie is ready to be "the man".
Why he wonít: Injury, suspension or perhaps a desire from the coaching staff to make the rookie "earn" his job. In short, something unforeseen. The Cowboys do have two proven veteran backs in McFadden and Morris, so Dallas could play the "tough-love" card if it wanted to or feels he needs to learn a lesson. With that said, there really isn't any legitimate reason to believe Elliott will struggle to win the starting job or anything in his history to suggest he will need a wakeup call.
2016 Fantasy Assessment: Outside of maybe Kansas City's Larry Johnson in 2003 (and even that is questionable since Willis McGahee was considered a better prospect prior to tearing his ACL), I cannot recall the last time the consensus top rookie running back joined a team with such a decorated and/or highly regarded offensive line. (The closest I could find was Eric Dickerson running behind three Pro Bowlers and/or Hall of Famers in 1983.) Even then, the Rams didn't have a receiver like Dez Bryant or a quarterback nearly as good as Tony Romo to make defenses respect the passing attack. The point is Elliott has such an enviable situation in Dallas that it would be a small upset if he doesn't become only the seventh rookie runner in NFL history to run for 1,500 yards. Will the Cowboys give him the requisite 300-plus carries he will likely need to make it happen or will they spend the first month easing him into the pro game? The commitment to running the ball is obvious, so volume won't be a problem either. Elliott should be considered a first-round talent in redraft leagues and be one of the top-five backs off the board, if not top three.
Fearless early-June prediction (15 starts): 315 carries for 1,435 yards and 11 TDs; 34 receptions for 265 yards and one TD

---
Doug Orth has written for FF Today since 2006 and been featured in USA Today's Fantasy Football Preview magazine since 2010. He hosted USA Today's hour-long, pre-kickoff fantasy football internet chat every Sunday in 2012-13 and appears as a guest analyst on a number of national sports radio shows, including Sirius XM's "Fantasy Drive". Doug is also a member of the Fantasy Sports Writers Association.