It's a bit of a running personal joke that I haven't selected higher than fourth in any money-league draft in at least four years. (If memory serves, I was essentially gifted the No. 1 overall pick in a draft in 2013 after one of the leagues I signed up for didn't have fill up by draft time, so the site administrator asked me if I would be willing to play in this other league.) I do remember using the pick to select Adrian Peterson, but the point is since that draft, I have entered more than 30 money leagues (more on that in just a bit) and been unable to pick inside the top 25 percent of the first round each time.

This year, I decided to take part in 15 money leagues, although six of them are best-ball MFL25s which do not require weekly management and all but three do not allow trading. Even with that many entries, I drafted fourth twice and no higher than sixth in any of the others. So, one might conclude I have some of the worst "random" luck known to man, or I am seriously "due" for a market correction in the near future.

I share this story because I wanted to pair up David Johnson and Kareem Hunt on at least one team this year and remember what it was like to have a LaDainian Tomlinson-like force in my lineup each week paired with a RB2 I really believed in. I knew the injury risk Johnson was - I laid out the case why I didn't think he would be the top fantasy running back in 2017 in my Bold Predictions piece last week - but I didn't care. As far as I was concerned, 80 percent of what Johnson gave owners last year was going to be good enough for me.

Fast forward one week later - I did all of my money drafts last week - and thousands of owners are already facing the decision as to whether or not they should cut Johnson. (How quickly things change in this little hobby of ours.) So was my aforementioned "luck" ultimately good or bad? Only time will tell, as we have a long road to travel before we can make such determinations. One thing I do know is that my draft-slot "luck" continued to put me in a good spot to continually land Hunt in the second round of most of my drafts. Almost comically, I finished as the high scorer in six of my aforementioned leagues this past week and No. 2 in two others. I'm not about to claim victory or anything of the sort. (It's not like I drafted T.J. Houshmandzadeh after all.) I greatly benefited from the effort from one rookie running back whose performance shattered even the wildest of expectations for a debut against a defending Super Bowl champion. If Hunt can avoid injury, first and foremost, and come anywhere close to posting half of his 45.6 PPR points on a semi-regular basis, I will have received more from him than I could probably have imagined.

Is there a moral to this story? Maybe something along the lines of "count your blessings" (that you didn't land the No. 1 overall pick) or "don't be afraid to take your shot if you see an opportunity" (if you felt the same way about Hunt as I did), but I really only led off with this story because I think it does a decent job of encapsulating Week 1 while illustrating how quickly things change in fantasy football.

***************

Hall-of-Fame quarterback Steve Young suggested a few years ago that September is really just an extension of the preseason, in part because of the new CBA limiting contact in practice and in part due to extreme caution coaches use during exhibition play, limiting the exposure of their key players as much as possible in order to get them to Week 1. As a result, coaches usually don't know what they have until October, which means many in the fantasy community are grasping at straws in hopes they can find a trend or clinging to a belief in a player (and/or his talent) they may have spent the offseason promoting until then. Young's assertion may not be true in every case, but I believe it is correct more often than not.

Because it seems foolish to get into a sell-high, buy-low discussion or attempt to spot which trends may hold (and which ones may not) after one week or action, I'm going to spend this week sharing some of the more notable observations I made from Week 1. Maybe somewhere along the way, I'll provide some useful fantasy insights. Let's find out together:

1) It is way too early to believe the New England Patriots aren't who we thought they were.

The Patriots' offensive philosophy for years has been about controlling the middle of the field. That is most easily accomplished with physical freaks at tight end and receivers with enough intelligence and quickness to get open quickly. For at least one half, the Kansas City Chiefs had perhaps the best cover safety in the game (Eric Berry) plastered to Rob Gronkowski, who nearly hauled in a touchdown anyway on what would have been a spectacular diving grab. (Why Gronk became an afterthought following Berry's Achilles' injury still befuddles me.)

Meanwhile, an offense still coping with a season-ending injury to Julian Edelman started out fast and was picking up steam with Danny Amendola in his place before the latter suffered yet another injury. So, forgive Tom Brady if he needs just a little time to adjust to his ever-changing supporting cast. James White led all New England running backs with 43 offensive snaps (three more than Hunt, believe it or not), but it is fair to wonder how much of that had to do with the Patriots trailing for most the fourth quarter and how much of it had to do with the amount of time Mike Gillislee (24 snaps) missed during the preseason. Rex Burkhead got the start but recorded only 10 snaps while Dion Lewis tallied six. Since White is basically a less explosive but more durable version of Lewis, it is probably safe to say the latter is going to be difficult to use in fantasy until White is sidelined. Otherwise, the patented New England RBBC figures to remain in place for the foreseeable future.

Sixteen of Hunt's 17 runs in the opener went up the middle or to the right side, suggesting the Chiefs either REALLY believe in the right side of their offensive line or wanted to expose a weakness they believe exists on the left side of the Patriots' defensive line. For the moment, I'm going with the latter. Hunt also did the bulk of his damage on the ground (76 yards) in the fourth quarter, which was most likely a byproduct of New England losing LB Dont'a Hightower in the previous period. If anything, Week 1 provided some idea on how important Hightower is to the defense. Even future Hall-of-Fame coaches like Bill Belichick need time to develop depth, and if there was one area in which the Patriots don't have quality depth yet, it might be behind Hightower.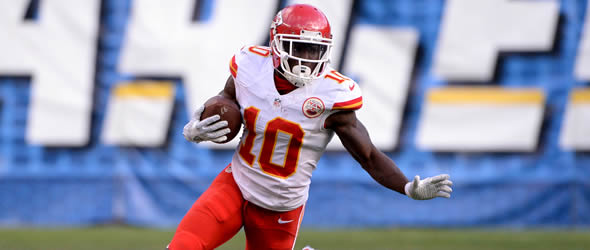 9 touches in Week 1 suggest Hill may become one of the more consistent fantasy WRs this year.
2) The Chiefs are going to make Tyreek Hill a No. 1 receiver whether you like it or not.
Hill will likely enjoy a nice five-to-seven year run as one of the premier deep threats in the game, although it helps when a team blows its coverage and lets him stroll into the end zone for the last 25 yards of his 75-yard touchdown catch. Getting back on point, a receiver generally needs seven targets to have a chance to be a consistent WR1, although possessing some of the best deep speed in the league blurs that line a bit. At any rate, Hill saw eight targets in Week 1 and carried the ball two more times. Perhaps the best part of his usage against the Patriots was his TD catch was his only true deep route, although he nearly hauled in a contested 20-yard throw early in the fourth quarter. HC Andy Reid also did a fine job of making sure defenders were not able to get their hands on him right after the snap, occasionally lining him up and backfield or stacking him behind another receiver to give him a free release. By my count, at least four of his routes were run inside 10 yards, which should be encouraging for his owners considering his reputation as a "speed guy." With only Travis Kelce and Hunt pushing him for targets and the occasional rushing attempt thrown in, Hill may actually end up becoming one of the more consistent fantasy receivers this year, as opposed to a hit-or-miss player like so many other "deep threats" before him.
3) Detroit appears ready to stick with the run and the legend of Kenny Golladay continues to grow.
Prior to Week 1, Ameer Abdullah attempted as many as 15 runs only once in his career. Despite trailing for most of the game against the Arizona Cardinals and not having much success against their solid front seven, he topped that mark in the opener as the Lions finished with 27 rushing attempts. More tough running weeks are ahead (Giants, Falcons, Vikings and Panthers are the next four opponents on their schedule), but this kind of commitment to the rushing attack (and specifically Abdullah) bodes well for everyone in Detroit's offense. The downside is OC Jim Bob Cooter seems set on sticking with Theo Riddick on passing downs (expected) and using Dwayne Washington near the goal line (expected as well, but still frustrating). Either way, 27 rushing attempts for an offense that averaged a shade under 22 in 2016 can be considered progress, and Abdullah is enough of a big-play threat that he should be able to break loose for a handful for touchdowns. His ceiling is obviously capped by the roles his teammates are keeping at the moment, but his 18 touches versus Arizona were a career high and fall in line with the preseason speculation coming out of Detroit that he would receive plenty of work.
Golladay was targeted on seven of his 44 (out of 73) offensive snaps against the Cardinals, which is not a bad ratio considering he was supposed to share time with T.J. Jones (18 snaps) as the No. 3 receiver. He was having a pretty blah day until he beat Justin Bethel on a 10-yard corner route early in the fourth and made a spectacular 45-yard diving grab in Bethel's coverage a little over five minutes later. As many suspected, Golladay appears poised to take over Anquan Boldin's role in the offense, with the added benefit of being able to stretch the defense in a way the veteran could not in 2016. The rookie was also targeted on a failed two-point attempt, providing more than enough evidence that Stafford has either been instructed to make him a primary read in the red zone or he has simply opted for the physical mismatch he often provides in those situations.
4) At least for one week, Nelson Agholor was a bit of a deep threat and a central part of the Philadelphia Eagles' offensive game plan.
Agholor was targeted eight times against the Washington Redskins, two of which were downfield routes. Let's face it: his first catch (the 58-yard touchdown) was a broken play. Before we dismiss it completely, however, it is notable he was the deep receiver on the pattern and moved further downfield as the play unfolded over the course of 10 to 15 seconds. He was also the target on another deep throw late in the first half. Perhaps most encouragingly, HC Doug Pederson attempted to scheme him open for a touchdown to begin the second quarter using reverse action, and it took an incredibly heady and savvy play by Washington S D.J. Swearinger to prevent him from walking into the end zone. Based solely on his usage in this contest, it is not unthinkable he can be at least the same kind of fantasy-viable threat Jordan Matthews was out of the slot in his first three seasons. If there was a downside to his Week 1 showing, it might have been the fact he received only two targets in the second half.
5) Cleveland Browns HC Hue Jackson wasn't kidding about committing to the run, but we have to wonder whether or not that includes Duke Johnson.
True to the vow he made this offseason, Jackson stuck to the run in Week 1 despite getting only 57 yards on 25 attempts from his rushing attack. Isaiah Crowell handled 17 of the carries, scored on a two-point conversion and finished with 19 touches, which is about as heavy of workload as an owner can ask for anymore from a running back, especially one usually available in the middle part of the third round in most 12-team drafts. Crowell's long run was six yards and, as discouraging as a 33-yard rushing effort was for his fantasy owners, the workload is highly encouraging. Owners may need to be patient for one more week (the Baltimore Ravens await in Week 2), but 16-18 carries per week against the Colts, Bengals and Jets over the following three weeks would seem to be a solid launching point for a 1,000-yard season.
While Crowell was handling 68 percent of the carries in Week 1, Johnson played 50 snaps and did not see a single rushing attempt. As it turns out, Johnson played exclusively in the slot. Jackson told reporters on Monday that Johnson is not "strictly" a wide receiver now, and that his Week 1 usage was strictly game-plan related. It is an interesting take, especially considering Jackson and his offensive staff found three carries for rookie Matt Dayes. Time will most likely tell us the Ravens will have an even stouter run defense than the Steelers, so one has to wonder if Johnson will see any time in the backfield in Week 2 either before the schedule lightens up. More than likely, Jackson will get around to giving Johnson some work in the backfield in the coming weeks, as it serves no purpose to have the scatback attend the meetings for the running backs and receivers if he has truly transitioned into strictly a slot receiver. Owners have to hope Johnson will eventually carve out a role similar to the one Riddick has in Detroit.
6) As much as it appeared Derrick Henry was sharing time with DeMarco Murray, he wasn't.
All too often as owners, our eyes (or maybe our hearts) deceive us. Murray enjoyed a 12-6 advantage in carries over Henry, caught both of his targets (Henry had none) and recorded a 47-18 edge in offensive snaps. If there was a shred of good news for Henry's fantasy owners, it might be he saw the ball on exactly one-third of his snaps, whereas Murray finished at 29.8 percent. Perhaps the snap difference shrinks in the near future, but HC Mike Mularkey's history says it probably won't. What did appear different from last year was how early Henry entered the game.
With that said, the Titans appeared to have little interest in establishing the run in Week 1 against the Oakland Raiders. (In case you were wondering, Tennessee only trailed by more than one score for just over seven minutes prior to the Raiders' final field goal with 1:09 remaining.) To that end, Marcus Mariota threw 41 passes, which is tied for the third-most attempts he's had in the NFL. Worse yet, Tennessee's offensive line looked nothing like the dominant unit it was last season, continuing a theme that was consistent throughout the preseason as well. Given how strong their next opponent (the Jaguars) were against the pass in Week 1 and most of last season, Week 2 would be a good time for the Titans to return to their "exotic smash-mouth" ways. Jacksonville is unlikely to put much separation between itself and most of its opponents this season, and Tennessee obviously boasts more offensive weapons than Houston brought to the table in the opener.
7) Austin Hooper is a reminder that it is sometimes better to be lucky than good in fantasy.
Hooper saw exactly two targets in Week 1, the first of which was a complete coverage bust that ended with him scoring an 88-yard touchdown early in the fourth quarter and the second was a 40-yard catch-and-run on a drag route during which Chicago Bears defensive backs were powerless to stop him. That's it. (OK, that's not completely accurate. A defensive holding wiped out another short catch.) That's all it took for Hooper to be a DFS darling and/or make his regular fantasy owners extremely happy. With that said, it's hard for any owner to get overly thrilled about two targets, no matter how productive they are/were. It should be noted the Bears were among the best the defending tight ends last season, so perhaps owners can come out of this game feeling good about Hooper being able to make the best out of his limited opportunities. It's also worth pointing out Atlanta ran a total of 53 offensive plays (Chicago finished with 59), so neither team was providing much in the way of volume.
8) Although Danny Woodhead may be sidelined, Javorius Allen may not be the answer to the question you thought you were asking.
The question being: who picks up the workload Woodhead leaves behind? The answer (or at least the name I'm about to say) may surprise you, in part because he's played a whopping 12 games in four NFL seasons and in part because he can't seem to stay healthy. The answer also didn't come from reviewing game film either, but rather a comment QB Joe Flacco made about him after the Ravens' shutout win over the Bengals. His suggestion: slot WR Michael Campanaro. And it makes sense. Not only is Campanaro a shifty receiver, but he would also be an absolute mismatch against most linebackers and be in his comfort zone as a short-range target for Flacco. For what little it is worth, the 5-9, 191-pounder played running back in high school before starring as a receiver at Wake Forest. And think about it for a bit: the coaching staff and/or front office obviously loves Campanaro, who they have kept around for a long time despite limited production and availability.
Even if Flacco's suggestion proves to be prophetic, Campanaro wouldn't be expected to take on all the same roles Woodhead figured to have (primarily red zone and passing downs), but even if all Campanaro does is absorb most of the passing-game role Woodhead leaves behind, it will be enough to put him on the radar in deeper PPR leagues. It is admittedly something of a longshot, but one for owners in deeper leagues to consider taking. Given Baltimore has so few weapons in the short passing game and doesn't figure to score many points on a weekly basis, Campanaro could remain pretty busy in negative-script games in which the Ravens' defense alone isn't enough. Plugging Campanaro into Woodhead's role so everyone else can stay in their comfort zone makes a lot of sense.

---
Doug Orth has written for FF Today since 2006 and been featured in USA Today's Fantasy Football Preview magazine since 2010. He hosted USA Today's hour-long, pre-kickoff fantasy football internet chat every Sunday in 2012-13 and appears as a guest analyst on a number of national sports radio shows, including Sirius XM's "Fantasy Drive". Doug is also a member of the Fantasy Sports Writers Association.