The NFL trade deadline is often more pomp than circumstance. More bark than bite. More sizzle and less steak. There was a time the league wasn't that way, but the great train robbery at the 1989 trade deadline orchestrated by then-new HC Jimmy Johnson and a brash new owner named Jerry Jones seemed to, at the very least, serve as a cautionary tale for front offices in regards to the importance of draft picks and asset allocation.

For those who may not have been around quite yet or had yet to develop a love for football, "The Trade" (as it known by many nowadays) laid it out like so:

The Minnesota Vikings received: RB Herschel Walker, a 1990 third-round pick (TE Mike Jones), a 1990 fifth-round pick (WR Reggie Thornton), a 1990 10th round pick (WR Pat Newman) and a 1991 third-round pick (WR Jake Reed).

The Dallas Cowboys received: LB Jesse Solomon, LB David Howard, CB Issiac Holt, RB Darrin Nelson, DE Alec Stewart, Minnesota's 1990 first-, second- and sixth-round picks, Minnesota's 1991 first- and second-round picks, Minnesota's second- and third-round pick and Minnesota's 1993 first-round pick. (The last five selections were conditional.)

For the sake of time and space, follow this link to see/recall how the rest of the trade played out.

Walker made the Pro Bowl in the two years prior to the trade in an era where running backs were considered essential, so the logic of the trade for a Vikings' team that believed it was one player away from a Super Bowl run made some sense. However, the execution of the deal, well, stunk. Then-GM Mike Lynn did what no front office executive should do - let the terms of the deal be dictated to you. Johnson made it clear at least one other team (the Cleveland Browns were reportedly the team) was interesting in acquiring Walker, and he was ultimately successful in driving up the price to a point where Walker would have needed to replicate himself two or three times in order to fill all the holes the trade ended up creating.

As a result of the massive influx of draft picks the Cowboys received from this trade (which obviously led to even more deals), Dallas landed players such as Hall-of-Fame RB Emmitt Smith, five-time Pro Bowl S Darren Woodson, DT Russell Maryland and CB Kevin Smith. With their own No. 1 overall pick from earlier that year (QB Troy Aikman) already on the roster, the Cowboys quickly turned their fortunes around from a team that went 1-15 in Johnson's first season to a team that won three of four Super Bowl during the early-to-mid 90s.

In the 23 years following that trade, the willingness for general managers to pull off deals at the deadline dropped off precipitously, as only 32 "deadline deals" were made from 1990-2013 - few of which involved impact players or players in their prime. The most lopsided of the bunch over that time may have been one of the last, as the Oakland Raiders traded their 2012 first-round pick and a 2013 conditional second-round pick to the Cincinnati Bengals for then-disgruntled holdout quarterback Carson Palmer. The Marshawn Lynch deal from the Buffalo Bills to Seattle Seahawks in 2010 was one of the most impactful for the team acquiring the veteran player instead of the draft picks.

While this week didn't see a deal beat "The Trade" in terms of shock value (what could?), it was probably the closest thing the NFL has seen to the MLB trade deadline in terms of wheeling and dealing. Five legitimate players - including two current every-week starters in fantasy and a potential starting quarterback at some point in the near future - were moved in about a 24-hour period. While it is hard to say that any player's actual NFL or fantasy stock was altered drastically, there will be a ripple effect felt on each of those teams. As a result, I want to devote my time this week to analyzing each and every player who figures to see his role affected as a result of each of the five players changing addresses.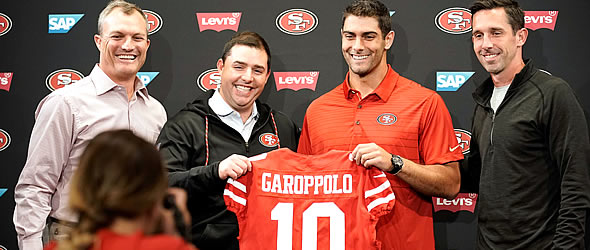 Don't count on Jimmy Garoppolo taking over the starting QB job after the 49ers' Week 11 bye.
QB Jimmy Garoppolo
Previous Employer: New England Patriots
New Employer: San Francisco 49ers
Garoppolo obviously is not going to save the 49ers' season, nor was that the intent of this trade. This is also not a deal that should be compared to the one the Vikings made last summer for Sam Bradford. For starters, Bradford was already familiar with Minnesota then-QB coach Pat Shurmur (who took over as offensive coordinator following Norv Turner's resignation). Garoppolo will be transitioning from the concept-based "Erhardt-Perkins system" to HC Kyle Shanahan's more traditional West Coast offense. (If you want to look for one of the several reasons why Bill Belichick-era quarterbacks who leave the Patriots don't experience much success elsewhere, this is one place to start.) Garoppolo operated mostly a spread attack at Eastern Illinois during his college years, so there's no reason here to suggest something in his background will help them make a quick transition.
In other words, anyone hoping Garoppolo will be ready to run the team following the Niners' Week 11 bye is likely fooling themselves. While C.J. Beathard is only a rookie himself and isn't the same kind of "prospect" as Garoppolo, the latter cannot be expected to run a wildly different offense from the one he spent his first three-plus pro seasons operating, mostly doing so with limited snaps in practice during the regular season. As a result, the earliest anyone should expect the former Patriot to take the field is December barring an injury to Beathard. Sticking a younger quarterback learning a new system out on the field - behind a questionable offensive line, no less - before he is anywhere close to ready mentally is a good way to get him hurt, shake his confidence and destroy the investment the team made in him.
That does not mean this trade lacks significance (quite the opposite, in fact). In acquiring Garoppolo, it seems logical - although Shanahan has and will likely continue to deny it - that someone such as GM John Lynch decided it was prudent to hit a double or triple with a young player they have already seen play at the pro level as opposed to going down the home run/strikeout route that a top-five quarterback can take a team. The popular Kirk Cousins-to-San Francisco rumors figure to come to a screeching halt as well. The upside for the 49ers is they get a two-month behind-the-scenes look at Garoppolo before deciding how they want to approach his upcoming contract negotiation and a two-month head start on teaching him Shanahan's offense.
As such, this trade isn't exactly the one redraft owners were hoping for in terms of potentially upgrading Pierre Garcon or Carlos Hyde's value the rest of the way. Ditto for Marquise Goodwin or George Kittle. Beathard was drafted to be the long-term backup this spring and operated something resembling a pro offense at Iowa, so the status quo applies here for all parties in San Fran. The same could be said for New England since Tom Brady has taken all 594 offensive snaps this season.
RB Jay Ajayi
Previous Employer: Miami Dolphins
New Employer: Philadelphia Eagles
The knee-jerk reaction to this trade will likely be Ajayi will replace LeGarrette Blount in a week or two, if only because Ajayi is a younger, more nimble version of Blount and running back is by far the easiest position to learn whether a player is moving from the college game to the pro game or switching teams. As with most things, it's unlikely to be that cut-and-dried. Despite what has been two straight down weeks, Blount is still averaging 4.7 yards per carry midway through the season. However, he provides next in nothing in the passing game - something Philadelphia was very aware of when it signed him to a one-year deal in May. So if owners are looking for a Week 9 role for Ajayi in his new surroundings, it might be as the player who occupies the touches Corey Clement and Wendell Smallwood have been getting lately.
Much like the deal for the 49ers pulled for Garoppolo, the acquisition of Ajayi was done with 2018 and beyond in mind. Blount is almost certainly done with the Eagles after this year - he turns 31 next month - and Ajayi is simply a more versatile player who comes at a very reasonable cost ($705 K) next season. That's not to say he won't contribute to fantasy teams before then, because it seems unlikely Philadelphia used a fourth-round pick in a year it is making a run to be the best team in the NFC to trade for a running back with knee issues to "play for next year." Unlike Garoppolo above, it is quite reasonable to assume Ajayi will be able to learn enough of the offense over the next two weeks (the team goes on its bye in Week 10) to take over as the primary back. At the very least, he should have advanced to the point where he's sharing carries.
Blount's value almost certainly takes a dive as a result of Ajayi's arrival, while one of the two from the tag team of Clement and Smallwood may end up getting cut, especially considering the team seems to like Kenjon Barner. Even if he manages to absorb all the information he needs in order to make the coaches feel comfortable with him as the primary early-down back by Week 11, Ajayi is unlikely to realize the value owners believed he had when they made him a top-20 pick in fantasy drafts this summer. He should, however, be able to find the end zone with some degree of regularity - he has yet to score in 2017 - and average more than the 3.4 YPC he was in Miami prior to the deal.
The more interesting - albeit less fantasy-significant - debate is how this affects the Dolphins' backfield. Damien Williams has taken nearly twice as many snaps (82) as Kenyan Drake (45), whose durability has been in question since his days at Alabama. Prior to the trade, HC Adam Gase only said he'd like Drake to be the No. 2 back behind Ajayi. Contrary to what appears to be conventional wisdom, recent snap counts (last week's disaster versus the Baltimore Ravens notwithstanding) suggest Williams is still the preferred option. Drake was drafted as a complementary back in 2016 and he has done little to suggest he's earned a bigger role. My opinion: as much as fantasy owners do not want to hear it, the odds are quite strong Gase & Co. chooses to use a committee approach for the remainder of the season. Given how poorly Miami's offensive line has blocked in the running game up to this point, Drake is probably the better bet of the two in fantasy since he is more likely to work in open space (i.e. see his touches in the passing game).
WR Kelvin Benjamin
Previous Employer: Carolina Panthers
New Employer: Buffalo Bills
It is rare when a contending team deals its top receiver to another contending team and pulls out the gem of "we had too much of the same thing" at the position. Those with long memories may remember the very reason the Panthers drafted Devin Funchess in 2015 was to make sure they had two of the "same thing" at receiver because QB Cam Newton tends to miss high when he misses throw and the prevailing thought was that a pair of skyscraping wideouts would be able to haul in a few more of those overthrows than the traditional 6-1 or 6-2 receiver.
While Newton has shown more faith in Funchess this year than he did in his first two years, the latter's 10.8 yards per reception is easily the lowest of his career. The lower yard-per-catch mark reflects the fact he is running shorter routes and partially explains why his catch rate (56.9 percent) is so much better - although far from great - in 2017 than it was in his first two years (44.6), as he is running higher-percentage routes with a quarterback known for having a strong - but not particularly accurate - arm. Need proof? Per Next Gen Stats, Newton and Funchess are 0-for-10 on deep balls. Funchess' promotion into the lead receiver role doesn't necessarily mean he is ticketed for a bigger role - he has averaged 8.3 targets since Greg Olsen went down with a foot injury in Week 2 - so what owners were getting before from him should be roughly what they are going to get going forward. The Benjamin trade should lock Olsen into "top-target" status and eliminate any chance he comes out of the gates slow once he is eligible to return from IR in Week 12. He should pick up the targets left behind by Benjamin.
The player most who should see his stock improve the most is Curtis Samuel, although he's hard to buy into as a redraft owner when he has struggled to stay healthy since the moment he arrived in Carolina and tallied 47 yards on seven catches through seven games. While he should be a fascinating player to own down the road, it's hard to see the rookie lighting it up in 2017. Russell Shepard is a good bet to remain in the situational deep threat role, meaning any boost to his fantasy stock will be modest at best.
The one player who could see his role increase - as hard as it might be to believe considering he already has 49 receptions - is Christian McCaffrey. As if it wasn't somewhat obvious based on its last two games, Carolina has a highly flawed offensive attack. Many want to point to his "inability" to run in between the tackles, but Jonathan Stewart - a noted inside runner - hasn't been any better. If any of the McCaffrey's critics would bother taking any time to look at the film, they would notice the interior of the Panthers' line is consistently losing the battle at the point of attack in the running game. It has to be part of the reason interim GM Marty Hurney is looking to "clear out the box" and put more speed on the outside. Reading between the lines, it would seem Hurney is hinting at more spread formations. Such a change would favor McCaffrey, who is about as scheme-versatile as they come. There's not much room for more targets for him - his 66 targets rank ninth in the league regardless of position - but there is plenty of room for an increase in carries, which is something that would likely happen if Carolina was experiencing even a hint of success running in between the tackles. I don't think there's any question McCaffrey will at least maintain his current level of activity, and I think there's a very good chance it increases if Hurney's vision becomes a reality.
As for Benjamin, it could be argued his move to Buffalo represents an upgrade at quarterback, at least in terms of accuracy. The Bills have already confirmed he will remain in the same "X" receiver role he had in Carolina. While Buffalo hasn't exactly torn it up on the ground in terms of efficiency, LeSean McCoy obviously demands more attention at this point of his career than McCaffrey or Stewart, meaning defenses shouldn't be able to prioritize shutting down KB. Benjamin would also seem to be the obvious top option in the red zone as well - something that wasn't always a given in Carolina - so this trade may actually serve to increase his stock as well, although how quickly depends on how fast he is able to absorb OC Rick Dennison's playbook.
Charles Clay will probably go from the top option in the Buffalo passing game upon his return to more of a secondary role behind Benjamin and McCoy, although fantasy owners need not fret since Dennison has a history of keeping his tight end busy. Zay Jones could benefit slightly as well as the rookie should avoid the physical coverage he was seeing off the line of scrimmage at the "Z." Jordan Matthews has been tabbed as a slot receiver by multiple regimes and that is the role he will mostly spend his most time in moving forward. With that said, this trade figures to wipe out what limited value either player had, leaving Benjamin, Clay and McCoy as players who could vie for 20-percent target shares.
LT Duane Brown
Previous Employer: Houston Texans
New Employer: Seattle Seahawks
Brown's trade to Seattle doesn't exactly shock the Texans' system since he only played one game with them this season (Week 8) after ending his long holdout days earlier. However, whatever hope Houston had of getting more efficiency out of its ground game probably left with Brown, as fill-in LT Chris Clark is among the offensive tackles with the lowest pass- and run-blocking grades in the league this year, per Pro Football Focus, and developmental OT Julie'n Davenport is not ready to be a starter. OGs Xavier Su'a-Filo and Jeff Allen have both struggled mightily as well, meaning bad things usually happen when the Texans try to run to the left or up the middle. As electric as Deshaun Watson has been and as elusive as he is, there's also plenty of reason to worry about his ability to avoid blindside hits moving forward. His 8.5-percent sack rate is tied with Matthew Stafford for the eighth-highest in the league. Trading away the one player who may have been able to improve that a bit isn't going to help the rookie's cause for staying healthy.
Brown said the Seahawks' offense is similar to the one Houston ran over the first six years of his career, so it may not be asking the world for him to have an immediate impact on Seattle's offense. The Seahawks' issues running the ball will not be solved simply with the addition of a solid left tackle, but there is plenty of reason for owners to be optimistic in regards to the passing attack. When offensive coordinators know their quarterbacks will have more time to throw, they tend to become more willing to take more deep shots and let their tight ends run routes more often. This obviously bodes well for Paul Richardson, Tyler Lockett and Jimmy Graham. Because Richardson and Lockett tend to share snaps to a large degree, they will likely remain inconsistent from a fantasy perspective, although they may "hit" for fantasy purposes more often. Graham, who was already becoming a bigger part of the offense despite a handful of drops in recent weeks, should have even more opportunity to produce and cement his status as an every-week starter - if not top-five option - at tight end. (Hopefully, this move will allow him to not be so touchdown-dependent as well.)
DT Marcell Dareus
Previous Employer: Buffalo Bills
New Employer: Jacksonville Jaguars
The Jacksonville defense has been known to make babies cry, cause nightmares in adults and send quarterbacks into panic attacks. While some and maybe all of that may not be true, their 33 sacks through seven games matches or surpasses the season total of 14 teams from all of last year. (Ironically, it matches the Jags' total in 2016.) The pass defense has allowed 150 fewer yards than any other team and nearly 200 fewer than the vaunted Denver Broncos' secondary, surrendered four passing touchdowns - next closest is six - and permitted one receiving score to a receiver (DeAndre Hopkins, Week 1). Needless to say, Jacksonville is doing a bang-up job just about any time the opponent drops back to pass.
The run defense is a different story. While the Jaguars haven't handed out the number of yards on the ground quite like the Chargers and 49ers, they are allowing a league-high 5.2 YPC. For a front four that includes big-ticket free-agent items such as Calais Campbell and Malik Jackson, it's a red mark on what is otherwise a menacing defense. Campbell has been living up to his end of the bargain (his PFF run defense grade of 84 ranks 19th in among edge players), but DTs Arby Jones (run defense grade of 75.8 ranks 54th among qualified interior players) and Jackson (70.4; 76th) have not. Dareus hasn't been substantially better (79.1; 44th), but a team taking a low-risk gamble on such a talented big player - especially one deep enough to limit his snaps and keep him fresh - is not a bad way to go about solving the problem. Dareus' presence alone is not enough of a reason to think the league's most forgiving run defense is suddenly going to become a bad matchup for fantasy purposes, but all we have to do is look at the Baltimore Ravens with and without Brandon Williams to see what kind of impact a 330-pound anchor can have on a run defense. Count your blessings if a running back on your fantasy squad faces Jacksonville over the next week or two, but don't be a bit surprised if that all changes by the time December rolls around, presuming Dareus finds it within himself to play up to his talent consistently and can stay out of the doghouse longer than he ever could in Buffalo.
---
Doug Orth has written for FF Today since 2006 and been featured in USA Today's Fantasy Football Preview magazine since 2010. He hosted USA Today's hour-long, pre-kickoff fantasy football internet chat every Sunday in 2012-13 and appears as a guest analyst on a number of national sports radio shows, including Sirius XM's "Fantasy Drive". Doug is also a member of the Fantasy Sports Writers Association.