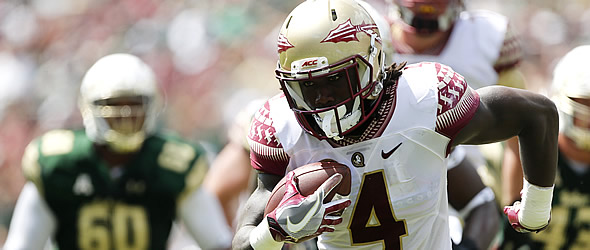 It's not hard to understand why Cook is being touted as the best prospect in a loaded RB draft class.




Vitals



College: Florida State
Height/Weight: 5'10"/210
Hands: 9 1/4"



Important NFL Combine Numbers



40-Yard Dash: 4.49
Vertical Jump: 30.5"
Broad Jump: 9' 8"
20-Yard Shuttle: 4.53
3-Cone: 7.27



Background

(College Stats)

Cook was a five-star recruit considered to be the second-best running back in the nation by multiple services out of Miami Central High School. He ultimately broke the hearts of the University of Florida faithful late in the recruiting process when he backed out of his commitment to the Gators to join the Seminoles. Despite sharing time with Karlos Williams in 2014, Cook became the first Florida State freshman to reach 1,000-yard plateau, needing only 170 carries to accomplish the feat. He joined Warrick Dunn as the only two backs in school history to record multiple 1,000-yard rushing seasons as a sophomore in 2015 while also staking his claim to the single-season Seminole records in rushing (1,691) and all-purpose yards (1,935). Cook topped those marks in his final college season in 2016 with 1,765 yards rushing - allowing him to break Dunn's school career rushing record - and 2,263 all-purpose yards. In addition to becoming the first Florida State running back with 100 yards rushing and receiving in the same game in a Oct. 1 win loss to North Carolina, he capped off his incredible three-year college career with Orange Bowl MVP honors in a win versus Michigan.

While Cook only missed one game as a Seminole, he dealt with hamstring issues throughout the 2015 season and has endured three shoulder surgeries since high school. Off the field, he had charges dropped against him twice in high school (2009 for robbery and 2010 for firing and possessing a weapon on school property) and was found not guilty after initially being accused of misdemeanor battery outside a bar in 2015.

High-end NFL Player Comp(s): Jamaal Charles
Low-end NFL Player Comp(s): Devonta Freeman

Best Scheme Fit: Universal. The combination of passing-game chops and breakaway speed should allow Cook to fit seamlessly into a traditional West Coast offense, much like Charles. His vision and patience would play nicely in a zone-blocking run attack, while his better-than-expected ability to work between the tackles and lower-body strength should enable him to succeed in a power-run scheme.

Note: All times listed in parentheses in strengths/weaknesses section reflect the start time on video - via Draft Breakdown - that displays that skill/trait.

Strengths
Excellent receiver out of the backfield (79 career catches) who can run multiple routes and embarrass linebackers in coverage (0:52, 1:06)


Darting and exciting cutback runner who is a nightmare for defenders in the open field with surprising lower-body strength (2:45, 5:44), elusiveness (0:53, 3:18, 5:53) or both (2:57).


Surprisingly effective and physical inside runner (2:57, 5:58, 7:07, 7:57, 8:22) who does not shy away from contact (0:17, 7:35) and consistently makes something out of nothing.


Has the patience and vision to set up blockers and defenders (1:08, 2:12, 6:26, 6:59, 7:55, 8:55) and the acceleration to pull away from the pack the moment he is even with them (5:39, 6:59, 8:26), speed at times appears almost effortless. (4:46, 7:36, 8:44)


Utilizes short, choppy steps to set up blocks behind line of scrimmage; maintains balance to keep his feet despite while working his way through trash or when taking a hit. (2:03, 2:33)


Seems to always play well on the big stage.
Weaknesses
Ball security (13 career fumbles, nine lost).


Considerable durability and off-field concerns, as noted above.


Will occasionally duck head (0:07, 0:17. 5:10) and doesn't lower his shoulder enough on a regular basis when anticipating contact.


Doesn't consistently sink his hips in pass protection (0:38, 4:04) - which tends to lead to him getting pushed back into the quarterback - square up his defender (1:29) and/or blows his assignment against the blitz. (3:34, 3:45, 7:45)


Bottom Line

Florida State has seen 27 of its running backs get drafted over the past 50 years - Marion Butts, Dunn and Devonta Freeman are the cream of the crop, at least in regards to what they did (or are doing, in Freeman's case) in the NFL - and Cook has the goods to be the best of the bunch. Outside of the aforementioned injury concerns, character red flags and fumbling problems - all of which are issues that should obviously not be disregarded - it's not hard to understand why Cook is being touted by some as the best prospect in what is a loaded draft class at his position: he is a "safe" football prospect with huge upside. Front-office personnel will need to spend the next month-plus deciding how quickly they can "cure" his ball security issues and how much of the "non-football stuff" they can tolerate, although it should be noted he hasn't been found guilty in any of his legal entanglements. (Nevertheless, repeatedly being in the wrong place at the wrong time is not a good character trait either.) Additionally, team doctors will need to be able to sign off on his past shoulder injuries.
Although there will undoubtedly be teams looking at him to lead a committee, Cook should be considered a three-down back. He is strong enough to withstand a heavy workload, so long as his new team understands how much of a difference-maker he will be in the passing game. Cook should be a 225-carry, 50-catch type of back in the right offense right away, and any decent offensive coordinator isn't going to struggle finding ways to get him the ball roughly 18 times per game. Even though Cook has taken a back seat to LSU's Leonard Fournette in terms of national media coverage, they are on the same level as prospects. There is also no question the Seminoles' all-time leading rusher is also more scheme-versatile, meaning he is the rare running back prospect who can honestly claim to be a fit in every NFL offense. If (and it is a big if) Cook has learned from his off-field issues - he had none to speak of in 2016 - and checks out medically, then he can legitimately claim to be the best running back in this draft, as his other aforementioned flaws are correctable. Cook's career could easily rival Charles' on the field if his past transgressions were a byproduct of immaturity.

---
Doug Orth has written for FF Today since 2006 and been featured in USA Today's Fantasy Football Preview magazine since 2010. He hosted USA Today's hour-long, pre-kickoff fantasy football internet chat every Sunday in 2012-13 and appears as a guest analyst on a number of national sports radio shows, including Sirius XM's "Fantasy Drive". Doug is also a member of the Fantasy Sports Writers Association.