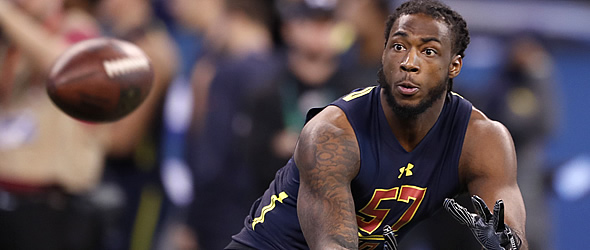 Like Alshon Jeffery, Mike Williams should be a red zone fiend and high-end second receiver.




Vitals



College: Clemson
Height/Weight: 6'4"/218
Hands: 9 3/8"



Important NFL Combine Numbers



40-Yard Dash: DNP (will update after pro day)
Vertical Jump: 32.5"
Broad Jump: 10'1"
20-Yard Shuttle: DNP (will update after pro day)
3-Cone: DNP (will update after pro day)



Background

(College Stats)

A four-star high school player who barely made it inside the top 200 on a few notable recruiting lists in 2013, Williams had 20 catches for 316 yards and three touchdowns as a true freshman while playing behind future NFL players Sammy Watkins, Martavis Bryant and Adam Humphries. The South Carolina native broke out as a sophomore the following season, landing on both All-ACC teams (second-team as voted by the media, third-team by the coaches) after tallying 57 receptions for 1,030 yards - a total that was seventh-best in school history at the time - and six touchdowns. His meteoric rise came to a frightening halt in the 2015 season opener as he suffered a fracture in his neck after colliding with the goal post on a short touchdown catch against Wofford, leading him to redshirt in 2015 and casting doubt on his football future. He was cleared before the start of the 2016 season, however, and the promise he showed two years earlier was finally realized in his junior campaign, amassing the second-most receptions (98) and third-most receiving yards (1,361) in program history. In addition to helping Clemson to its first national title since 1981, Williams was named the second-team All-American by multiple outlets and a first-team All-ACC performer.

High-end NFL Player Comp(s): Alshon Jeffery
Low-end NFL Player Comp(s): Brian Quick

Best Scheme Fit: Vertical offense, at least initially. Williams lacks the discipline and route-running to succeed in a West Coast offense at the moment. His willingness to go over the middle suggests he can be a complete receiver, but he needs to carry over that physicality to the other parts of his game that require it (refusing to let defensive backs push him toward the sidelines, blocking, etc.)

Note: All times listed in parentheses in strengths/weaknesses section reflect the start time on video - via Draft Breakdown - that displays that skill/trait.

Strengths
Prototypical size; excels at all three levels (short, intermediate, deep) and finds a way to get deep despite lacking great speed.


At his best on high and/or contested throws (0:52, 4:57); repeatedly wins on the back-shoulder fade (0:40, 2:42, 4:06, 4:27) and 50/50 balls. (0:52)


Large catch radius, shows off an impressive ability to dig out low throws (0:01, 0:26, 3:29) or outside his strike zone (1:20), especially near the sidelines. (0:29, 5:08)


Unafraid to catch the ball over the middle (0:27, 1:04, 1:07, 3:34) or take a shot from the safety down the field. (3:37)


Weaknesses
Lacks top-end speed, relies heavily on size advantage, long arms and ball skills; does not appear to have much of a second gear.


Average at best coming off the line of scrimmage; lacks urgency, which often tips his defender off to a run play) (1:18); too often uninspired and imprecise as a route-runner - a significant problem considering he primarily ran only two routes in college (back-shoulder and slants).


Struggles to get separation on shorter routes (1:39) due in part to a lack of sharpness in his cuts.


Doesn't always play to his size and allows himself to get muscled up against the sideline too often.


Stalk-blocker who rarely drives his defender much one way or the other; has the necessary size and strength to be a good blocker but seems to lack the desire to be one at this point. (0:03, 0:58, 2:20)


Occasional lack of concentration on "easy" catches belies his aggressive go-get-it mentality; focus drops not a huge problem, but something he was guilty of a few times throughout career.


Missed most of 2015 season with his neck injury.
Bottom Line

Williams' ability to show up big in both of his final two games - against college football bluebloods in Ohio State and Alabama, each of whom are full of NFL-level defensive talent - bodes well for his chances to succeed at the next level. Clemson coach Dabo Swinney went so far as to say "he is the most complete (receiver) that we've had coming out", meaning he feels Williams is a more pro-ready prospect than Watkins or DeAndre Hopkins. Clemson's fourth all-time leading wideout is certainly capable of living up to that praise, but in case it wasn't apparent from his aforementioned weaknesses, he's going to need some help. As a receiver who wins due to size and ball skills at the moment, Williams' game almost requires him to land in an offense with a quarterback willing to trust a rookie to win contested throws right away and/or force it to him from time to time (i.e. a quarterback with some job security). As a player likely to get drafted in the top half of the first round, the odds of that happening aren't great.
There is some thought in league circles that Williams is going to going to be a pretty good pro but perhaps maybe not a star, much like the player he is often compared to - Jeffery. Like Jeffery, he should be a red zone fiend and high-end second receiver almost immediately as his new employer coaches him up on the finer points of the game. While his upside is higher than that of Jeffery's, it would be a mistake for a franchise to believe he is the next Julio Jones or A.J. Green - he simply lacks the explosive speed the game's elite receivers possess. Can he settle into the tier or two below them? If he proves to be a hard worker, certainly. The problem is Williams isn't the same kind of slam-dunk prospect Amari Cooper, Watkins, Mike Evans or Odell Beckham Jr. were in recent drafts, but there is a chance he will get selected in the same general area. Teams who take receivers in that range need them to be stars and/or force defenses to consider altering their coverage in order to keep him contained. Considering the speed, route-running and injury history questions he enters the league with, Williams seems like a much better value in the back half of the first round as opposed to the top half.


---
Doug Orth has written for FF Today since 2006 and been featured in USA Today's Fantasy Football Preview magazine since 2010. He hosted USA Today's hour-long, pre-kickoff fantasy football internet chat every Sunday in 2012-13 and appears as a guest analyst on a number of national sports radio shows, including Sirius XM's "Fantasy Drive". Doug is also a member of the Fantasy Sports Writers Association.