We have reached the final leg of our journey. With my NFL.com Playoff Challenge biting the dust thanks to a no-show by the Minnesota Vikings, we'll get right into the pick-your-studs portion of my final column of the season.


Fuzzy's

With DraftKings bowing out (with the exception of its new "Showdown" offering), we are left with only the traditional playoff pick-your-studs leagues that are wrapping up this weekend.

Because there is only one game this week, I want to use the rest of my time to provide my readers with the kind of analysis one should expect in advance of the biggest game of the year. Enjoy.

Key for quarterbacks, running backs, receivers and tight ends:
P Yds - Passing Yards
P TD - Passing Touchdowns
INT - Interceptions
Ru Yds - Rushing Yards
Ru TD - Rushing Touchdowns
Rec Yds - Receiving Yards
Rec TD - Receiving Touchdowns
Rec - Receptions
Quarterbacks
Player
Fuzzy Pt Total
P Yds
P TD
INT
Ru Yds
Ru TD
Tom Brady
31.3
370
3
1
5
0
Nick Foles
22.1
290
2
1
5
0

Tom Brady - Remember the reverence Bill Belichick showed Peyton Manning in the 2009 regular-season game between the Patriots and the Colts when Belichick opted to go for it on fourth-and-2 on his own 28 with a six-point lead with 2:08 in the fourth quarter? While opposing coaches don't go to those lengths nearly 10 years later against New England, they are indirectly showing similar respect to Brady by playing scared when they get a second-half lead against the Patriots. Coaches - coordinators especially - have become so concerned about their decisions becoming fodder for the media in the postgame news conference - not to mention the team's analytics department - that making the bold call to potentially finish off an opponent usually gives way to the safe choice. While Brady has shown no lead against the Patriots is safe, there is plenty of proof that crawling into a shell offensively and trying to prevent the big play defensively isn't the way to beat New England either. The Patriots often change their identity on both sides of the ball from the first half to the second half, so it's foolish for a team to think it can remain a certain type of offense or defense for 60 minutes and believe the Patriots won't solve it. Beating New England has never been an impossible task, but teams will eventually have to realize doing so means keeping their foot on the gas. To use a tired and old analogy, we can generally assume the Patriots are playing chess every week. It's up to the opponent to make sure they aren't playing checkers. New England beats more teams with its mystique than perhaps any team in NFL history. The Patriots' schemes and players aren't revolutionizing the sport, they just don't make the plays that end up losing games. Meanwhile, their foes do, either by attempting things they aren't comfortable with or living in fear of becoming another notch on Brady's comeback belt.

That rather lengthy lead-in brings us back to Brady, who has destroyed zone coverage for years and is perfectly content at throwing the ball underneath and inside the hashes all game long. His kryptonite has already been revealed twice in Super Bowl losses to the Giants - get consistent pressure with four rushers, eliminate yards after the catch as much as possible and take away the middle of the field. Brady has made 287 career starts (including playoffs), so defensive coordinators can forget about hoping they are going to show him something he hasn't seen before. Eagles CBs Jalen Mills and Ronald Darby - a pair of outside corners once thought to be Philadelphia's weakest link on defense - have shown significant improvement over the latter part of the season and especially in the playoffs. Albeit slightly, slot CB Patrick Robinson has trended the other way, showing a bit of slippage from his early-season stellar play of late. If this trio has one more solid game left in them and keeps the yard-after-catch numbers to a minimum, the Eagles could easily pull the upset. If Philadelphia tries to get cute and becomes a blitz-heavy team or attempts to play a lot of zone, then Brady may tear apart yet another talent-rich defense.

Notable stat: Brady's passer rating when going no-huddle this year is 120.1.

Nick Foles - Perhaps the one statistic that explains what happened in the NFC Championship better than any other: per Pro Football Focus, Foles went 4-for-6 for 172 yards and two touchdowns on passes of 20-plus yards against Minnesota after going 2-for-15 on such throws over his first four games combined. Philadelphia did one or more of the following: 1) a great job of self-scouting, 2) trusted its offensive line to hold up against Minnesota's pass rush, 3) picked up on the aggressiveness of the Vikings' defensive backs in film study or 4) all of the above. The deep ball was alive and well for the Eagles in a game in which they had no business throwing down the field. As one might expect from a defense known a "bend-but-don't-break" unit, don't look for a similar number of big plays versus New England. Foles' ability to not get greedy and take what the defense gives him will be important to Philadelphia's chances to do what most believe is improbable this weekend: defeating the Patriots. As is the case in any game where the talent discrepancy at quarterback is so wide, the Eagles' ability to establish a running game is going to play a critical role in establishing the RPOs (run-pass options) that have allowed Foles to get comfortable during the postseason.

Notable stat: Foles' passer rating under pressure versus the Vikings was 152.1. Entering the contest, it was 34.0.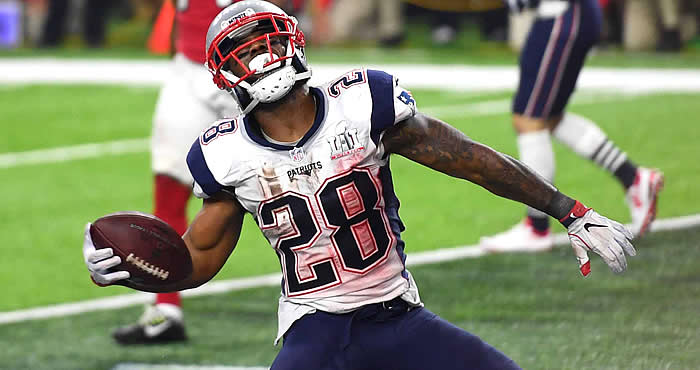 James White is becoming a favorite option in the redzone making him a viable fantasy asset in Super Bowl LII.






Patriots running backs -

Last year, New England rode LeGarrette Blount to a franchise-record 18 rushing touchdowns in the regular season, only to cycle through their three-headed monster of Blount, Dion Lewis and then James White in the postseason. Lewis was the star of the backfield for most of 2017 as he established himself as a sure-handed all-purpose back capable of handling a heavy load if necessary. White and Lewis each had huge fantasy days in the Divisional Round, but Lewis may have fell out of favor a bit in the AFC Championship despite holding a 16-6 edge in touches over White because he fumbled against the Jaguars. It's impossible to know for sure if and how much Belichick is going to hold that against Lewis in the Super Bowl, but it has become apparent New England seems to believe White gives the team more options in the red zone. Burkhead remains a wild-card. He is the back most capable of giving New England some degree of a power game if Mike Gillislee remains an inactive, but he managed only one touch in the AFC title game. Whether two full weeks will be enough time for him to return to the same role he enjoyed around Thanksgiving time is pure conjecture at this point. And let's not forget about FB James Develin. The Patriots motioned him out wide on occasion against the Jaguars, causing Jacksonville to waste top corner Jalen Ramsey on a fullback since it is common practice around the league for a defense's top cornerback to remain on the outside (and not follow the receiver he was initially expected to defend inside).

Notable stat: White has scored three times in two playoff games, matching his season total.

Eagles running backs - Beginning in Week 15, Ajayi has seen a bigger piece of the backfield pie, while Blount will occasionally change the pace and seems to be the favored option in short yardage. Ajayi is averaging 5.8 yards per carry since his trade from Miami and is a good bet to break at least one big play per game, although crossing the goal line has proved elusive. As his comfort with Philly has increased and HC Doug Pederson's trust in him has done the same, Ajayi is involved just enough in the passing game where the Patriots have to account for him as a receiver. Once again, he is producing big plays through the air as well, averaging 13.1 yards per catch on 10 receptions over the last four games. While Ajayi is becoming progressively more involved, Blount hasn't topped nine carries or 37 rushing yards since Week 12. Clement is an intriguing fantasy option this week, in part because New England struggled to track a similar - albeit more talented and explosive - back in Corey Grant two weeks ago. Furthermore, if the Eagles are forced to play from behind in this game as many expect, it's fair to assume Clement could see the most snaps and attract a plethora of targets.

Notable stat: New England allowed running backs to average 9.5 yards per catch during the regular season - the fourth-highest mark in the league.


Brandin Cooks vs. Ronald Darby - Cooks and Mills figure to tangle about as much as Cooks and Darby based on the Eagles' secondary tendencies. The Patriots move their receivers around as much as any team, so down and distance as well as play-caller preference will determine what pairing sees the most time across from one another Sunday. As recently as the start of the conference championships, Darby played 90 percent of his snaps on the right side of the defensive formation and Mills played 87 percent of his snaps on the left side, so they likely aren't moving inside or switching sides in this contest. (Cooks ran a 4.33 at the NFL Combine, while Darby ran 4.38 - for those readers who care about such things - so Darby should be able to keep up if those times are somewhat reflective of their current speed. Mills was a 4.61, so the Eagles may want to consider breaking tendency and use Darby as a shadow against Cooks.)

Chris Hogan vs. Jalen Mills - It may be tempting to use Hogan in fantasy with the hope another two weeks between games has allowed him to get closer to full strength. The reality is he hasn't posted a double-digit fantasy performance since Week 8, nor has he seen more than four targets in either of the Patriots' playoff games. This information alone is another reason while Philadelphia would be wise to consider using Darby as a shadow so Mills - generally considered the weak link of the Eagles' defense - would get the matchup least likely to expose him. As such, I would expect the Patriots have already have schemed up a number of ways to isolate Cooks on Mills as often as possible. Assuming Hogan sees more of Mills than any other defender, it's reasonable to believe Hogan will be able to find the end zone and enjoy a mildly productive fantasy day as a result. However, it seems highly unlikely this exact matchup is going to tilt the scale one way or the other if Hogan hasn't improved significantly health-wise over the last two weeks.

Danny Amendola vs. Patrick Robinson - Although this actual matchup figures to mean less to the game than the last receiver/cornerback matchup I discuss in a minute, it may be the most entertaining one of the bunch this weekend. Amendola has been his usual playoff-stud self this month, eating the lunch of Logan Ryan and Aaron Colvin so far to the tune of 18 catches for 196 yards and two touchdowns. In terms of ability and grade, Robinson is comparable to those players, so the Eagles need Robinson at his best in order to make sure Brady isn't wearing Philadelphia out on third down by hitting Amendola over the middle repeatedly. Despite the fact Robinson has enjoyed mostly a banner season in terms of his grades by metrics sites such as Pro Football Focus, the two biggest PPR games the Eagles have given up since Week 3 have been by slot receivers. Amendola is certainly comparable to Cooper Kupp (22.8 PPR points in Week 14) and Sterling Shepard (30.9 PPR points in Week 15), so Philadelphia would do well to use a linebacker in coverage to mirror Amendola's first move and hope the pass rush consistently forces Brady to come off his slot receiver before Amendola can shake loose.

Alshon Jeffery vs. Stephon Gilmore - For some odd reason, the fantasy community as a whole has been slow to recognize the Patriots' plan when it comes to defending receivers. Belichick has long preferred the approach of matching up size versus size and speed versus speed. In years past when New England did not have an elite corner and the offense had a true WR1, Belichick often took his top corner and asked him to follow the opponent's second receiver while asking his other starting corner to shadow the WR1 and gave him safety help. In this game, it's debatable whether or not Belichick feels Jeffery is an elite receiver (my guess would be no) and Gilmore has improved as the season has progressed, so he figures to get plenty of 1-on-1 time with Jeffery. I would be willing to bet big money the plentiful deep shots that were available two Sundays against Minnesota will not be there this time around. Jeffery's other means of contributing usually comes via the 50-50 ball - another avenue the 6-1 Gilmore seems unlikely to give up on a regular basis - leaving the slant route via the aforementioned RPOs as his most likely way of helping Philadelphia move the ball. From a fantasy standpoint, Jeffery hasn't topped 100 yards in 29 consecutive games and his 85 yards in the NFC Championship was his easily his best total since the Week 10 bye. As such, Jeffery is not a high-upside play this weekend.

Torrey Smith vs. Malcolm Butler - This is where Belichick's defensive philosophy addressed in the previous paragraph gets a bit tricky. Eric Rowe spent the majority of his snaps this season in the slot and is a better size-on-size matchup for Smith than Butler, but it's up for debate whether or not Smith actually strikes enough fear into DC Matt Patricia's unit to make a change. (I don't believe he does.) Considering Smith's strength is his ability to stretch the field, it makes sense for New England to leave well enough alone and keep Butler on the perimeter and Rowe inside. Smith is such an inconsistent option in part because he is limited in the routes he can run effectively, which unsurprisingly leads to inconsistent target totals. Even though Butler didn't have a particularly good year in 2017, it seems highly unlikely Smith will come anywhere close to repeating the 5-69-1 line he achieved versus the Vikings. After all, Smith has topped 30 receiving yards in only four of 18 games this season, although he is 2-for-2 in that regard during the playoffs.

Nelson Agholor vs. Eric Rowe - If the Eagles are going to pull the upset, Agholor needs to win this matchup Sunday. While Philadelphia has leaned more heavily on the run in the postseason, it is going to be critical for players like Agholor to move the chains on a consistent basis when the Eagles discover the Patriots won't let them have the deep ball. The problem is Foles hasn't shown near the chemistry with Agholor that Carson Wentz did, as the USC product has been targeted only 10 times in the last three contests, nor has he scored a touchdown in the last four. Pederson has used him on a reverse/end-around/jet sweep in each of the last three contests, but that alone isn't going to be enough to convince owners to take the plunge with him this week. With that said, Agholor is the most quick-twitch athlete the Eagles have at receiver at the moment, so his ability to win on quick-hitting routes (and creating plenty of separation while doing so) will ultimately determine whether or not he has any shot of living up to my projection. His production may end up being the single-most important factor in determining whether or not Philadelphia can win this game.


Rob Gronkowski - As of press time, Gronkowski has yet to be cleared from the league's concussion protocol, but he has said he intends to play and there doesn't appear to any concern from New England's side that he is in danger of missing the game. Even as Gronkowski edges closer to 30 years of age (he turns 29 in May), there is still no single defender who has proven he can shut Gronk down. While Eagles S Malcolm Jenkins is certainly one of the better players at his position in the league, Philadelphia has still struggled against athletic tight ends this season. Travis Kelce (8-103-1 in Week 2) is the most comparable tight end the Eagles have faced, although Jordan Reed (8-64-2 in Week 7) and Evan Engram (8-87-0 in Week 15) have also fared well. Certainly, if DC Jim Schwartz was going to bracket any pass-catcher this weekend, it would probably be Gronk, but that's not his style nor can defenses do just one thing against the Patriots and expect it to work all game long. While there is no such thing as a "lock" in the NFL, owners should be able to plug Gronkowski into all their lineups for the Super Bowl and breathe easy.

Zach Ertz - Meet the one player - besides Foles - that absolutely has to play well for Philadelphia on Sunday. While Ertz did not score a touchdown for the fourth straight game in the NFC title game, he caught all eight of his targets against Minnesota and had his way against one of the top safeties in the NFL in Harrison Smith. Devin McCourty and Pat Chung are not slouches by any stretch of imagination, but they are not in Smith's class either. Ertz also represents Philadelphia's most likely option to beat the Patriots downfield and should be Foles' top option in the red zone, so the sky is really the limit for Ertz if the game becomes a bit of a shootout. The downside is Belichick and Patricia also know Ertz is probably the one player who could ruin their plans of lifting the Lombardi Trophy for the sixth time, so bracket coverage is a possibility here. Also working against Ertz is the fact Marcedes Lewis' touchdown in the AFC title game was the first score from a tight end against New England since Week 6.

Key for kickers and defense/special teams units:
XP - Extra point
FG - Field goal
PA - Points allowed
TD - Defensive/return touchdowns
TO - Total turnovers
Bonus - Points allowed bonus



Defense / Special Teams
Team
Fuzzy Pt Total
PA
Sacks
TD
TO
Bonus
Patriots
8
27
4
0
2
0
Eagles
4
31
3
0
1
-1



Coaching -

Belichick's coaching resume and prowess cannot be overstated. During the Patriots' most recent run of postseason success, they are rarely the most talented team in the playoff field. They are, however, the one who typically makes the fewest mistakes while also winning the battle of "hidden yards." Using a boxing analogy to sum up their offensive and defensive approach, they make teams who wait 8-10 rounds to deliver an uppercut try to win on jabs and body blows and force the light hitters to try and go for the uppercut.

It goes without saying the Eagles must show they are willing to win with jabs when New England expects uppercuts and vice versa. Pederson deserves a ton of credit for what he and his staff did against Minnesota - use the Vikings' aggressiveness against them, take shots downfield when they had given no indication they were previously willing to do so with Foles and continue attacking offensively after jumping out to an early lead rather than try to run clock.

Summary

If Philadelphia shows the same flexibility and aggressive mentality (if/when they play with the lead) this weekend they showed two weeks ago, the Eagles are going to make this a good game and could easily win it. Foles, Ertz and Agholor playing well will be key; if two out of the three do so, it probably won't be enough. Philadelphia also has to run the ball effectively enough in order to make the RPOs work - Foles hasn't shown the ability to consistently gash NFL defenses any other way - and has to avoid putting its interim starting quarterback in a situation where he feels like he is going toe-to-toe with Brady. Most of all, the Eagles must avoid getting caught in the trap where they feel they need to protect their lead. For example, if they are lucky enough to find themselves with a three-score lead, they need to make it four. Defensively, Philly absolutely must get consistent pressure with four rushers. Last but not least, the Eagles cannot expect to carry a potentially successful first-half game plan into the second half and expect similar results.

New England must do what it usually does - avoid committing turnovers and force Philadelphia into field goals when the Eagles make it into the red zone. Gronkowski and Cooks appear primed to have huge days so long as the former is 100 percent and the latter sees more of Mills than Darby. Amendola should be heavily involved, but he doesn't necessarily need to have a huge fantasy day in order for the Patriots to win. Hogan is the X-factor; if he is able near full health, New England could win this game going away. In my opinion, if the Patriots are relying heavily on their running backs in the passing game this weekend, it's a good sign for the Eagles because it means they are having success against Gronk and Cooks.

Ultimately, very few teams possess the necessary mindset to beat the Patriots. Will Pederson show he can out-Belichick arguably the greatest coach in NFL history? If Pederson once again can zig when everyone else expects him to zag like he did against the Vikings, the Eagles will probably win. But can anyone remember the last time a team did that on the biggest stage against the Patriots? The Giants in 2011? The point is it doesn't happen very often, and I expect Pederson to fall into the same trap so many other coaches do against New England - hoping Brady won't deliver during the two-minute drill in a one-score game late in the fourth quarter - because his team wasn't aggressive enough earlier in the game.

Super Bowl Prediction: Patriots 31, Eagles 27

---
Doug Orth has written for FF Today since 2006 and been featured in USA Today's Fantasy Football Preview magazine since 2010. He hosted USA Today's hour-long, pre-kickoff fantasy football internet chat every Sunday in 2012-13 and appears as a guest analyst on a number of national sports radio shows, including Sirius XM's "Fantasy Drive". Doug is also a member of the Fantasy Sports Writers Association.