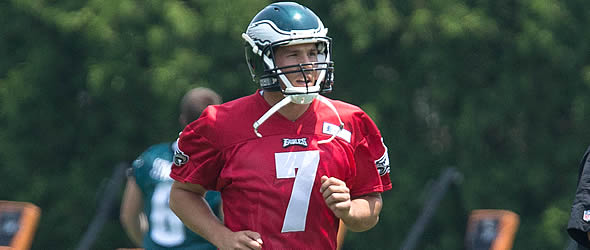 Sam Bradford's injury history should have fantasy owners thinking twice about drafting the Eagles QB.


I was born and raised in the Philadelphia area and I love my hometown teams.

Yes, I still have hope (possibly, make that probably foolish) that Sam Hinkie and Ron Hextall can turn the 76ers and Flyers around. OK, the Phillies and their current inept management team, not so much.

Then there is the one ray of hope all Philadelphians have of actually seeing a playoff game in the next calendar year - the Eagles.

The Eagles are led by a dynamic coach/general manager in Chip Kelly. He's won 20 games over his first two seasons as a head coach. He's done it mostly with former head coach Andy Reid's players.

In 2013, Kelly turned the Eagles into a dynamic offense. They had been ranked 29th in scoring the previous season. He molded a backup quarterback, Nick Foles, into a fantasy stud. He even made the less-than-mediocre Riley Cooper into a valuable fantasy wideout that season. LeSean McCoy led the league in rushing attempts (314) and yards (1,607) and DeSean Jackson produced the best season of his career (82-1,332-9).

Last season the Eagles, under the direction of Kelly, Foles and backup Mark Sanchez finished third in scoring (29.6 ppg), but the Eagles missed the playoffs by losing three of the final four games.

Meanwhile the coach/GM has continued to re-make the team with players who fit his "scheme and culture." During the past offseason he tried, and failed, to procure his old Oregon Ducks quarterback - Marcus Mariota. He let Jackson go in 2014 and this past offseason traded McCoy for defensive help.

Kelly also traded for former St. Louis Rams signal caller Sam Bradford (at what some would say was an exorbitant price). He re-signed Sanchez.

This leads us to the question of the day.

Who will be the Eagles quarterback in Week 1 against Atlanta?

Since Kelly has already proven that he has installed a quarterback-friendly offense (his first two seasons have averaged 4,493 passing yards, 29.5 TDs, 15 INTs), determining who will be under center is of paramount importance for fantasy owners.

Of course, who will be under center during the fantasy playoffs (weeks 14-16) is also an important question because we have seen that in both of Kelly's first two NFL seasons, none of his quarterbacks were able to stay healthy enough to play all 16 games.

And the newly-acquired Bradford is the epitome of injury-prone.

Bradford, the first overall pick of the 2010 NFL Draft, has played just seven of 32 games (21.8 percent) over the past two seasons due to two ACL injuries. He was pretty good in those seven games, however, throwing 14 touchdowns against just four interceptions. He's got a solid arm and is a quick decision-maker, two key attributes in a Kelly offense.

He can also be had for an inexpensive price ... by fantasy owners. Not the Eagles, who will pay him almost $13 million this season. Fantasy owners, however, can grab him in the 11th round based on his current ADP. That would likely be a "steal"" if I could promise you that he would play the entire season.

Unfortunately, I can't.

At this time I can't even guarantee he'll be ready for Week 1, though the latest news from Eliot Shorr-Parks of NJ.com is that he will be ready for 11- on-11 drills when training camp opens up on Aug. 2.

However, even if he makes it into the starting lineup for Week 1, there are a number of issues working against him.

The sore-kneed QB will have a "re-worked" offensive line in front of him. During the offseason the Eagles let go two of their starting front five which Pro Football Focus ranked No. 2 in 2015. They said goodbye to Evan Mathis and Todd Herremans.

And they failed to keep their top wideout from 2014 - Jeremy Maclin. Over the past two seasons the Eagles have lost their two best receivers - Jackson and Maclin, replacing them with rookie Nelson Agholor and second-year wideout Jordan Matthews.

The Eagles also loaded up at the running back position, essentially exchanging McCoy for 2014 rushing champion DeMarco Murray and former San Diego Chargers starter Ryan Mathews.
Health, a revamped offensive line coming together and the quick maturation of a very young receiving corps is a lot that has to go right for Bradford to become a fantasy star for the Eagles in 2015.

Still, the upside of producing top-five statistics in the Kelly up tempo offense means fantasy owners will have to pay close attention to the Eagles training camp and preseason games.

In my mind, however, Bradford can't be counted on to still be under center come the fantasy playoffs which means an owner would have to allocate at least three spots on his roster for his quarterbacks - Bradford, handcuff Sanchez and a third reliable option. With the way injuries can devastate a fantasy roster at other positions, that's just too many spots to justify the low percentage chance that Bradford becomes great this season.

---
Steve Schwarz served as the fantasy sports editor of The Sports Network and is the 2014 FSWA Football Writer of the Year.