Remember when you were just a kid and your father would say to you, "back when I was a young man ...?" This is one of those stories.

When I was a young lad, an NFL roster included a player called a fullback. Some of them even had fantasy value.

For those of you under the age of 40, you are probably staring at this sentence with a confused look on your face. According to Wikipedia, a fullback is "a position in the offensive backfield in American and Canadian football, and is one of the two running back positions along with the halfback."

In the late 1950s and 1960s Jim Taylor was one of the premier running backs and he rushed for more than 1,000 yards in five straight seasons.

But more typically, fullbacks are larger and slower than halfbacks and in most offensive schemes their duties are primarily blocking for both the quarterback and the other running back. And once in a while they would get to run the ball.

Despite not being used very much, they could still be useful as a second fantasy running back. That's because they were frequently the coach's preferred option near the goal line.

In 1984, during the infancy of fantasy football, I "owned" a running back buy the name of Pete Johnson of the Miami Dolphins. Johnson didn't run the ball very often either. The Dolphins were an explosive passing team led by quarterback Dan Marino (5,084 yards and 48 touchdowns) and his two receivers, the "Marks Brothers" - Mark Clayton and Mark Duper.

While no one was paying attention, however, Johnson rushed for 12 touchdowns that season on just 87 rushing attempts. Every touchdown came from within three yards of the end zone and nine touchdowns came from one-yard out.

But in the fantasy world, a one-yard touchdown run is the same as 60 rushing yards. So Johnson's fantasy value, on just the 12 touchdowns alone, were the same as rushing for 720 yards.

Late in his career, Pittsburgh Steelers running back Jerome Bettis became one of my favorite second running back options. This was after the many seasons in which he rushed for more than 1,000 yards (eight times).

Over his final four seasons, from 2002-05, Bettis scored 38 times while averaging just 696 yards rushing. That's a touchdown every 73 yards. This compared favorably to his first nine seasons in which he averaged a touchdown every 205 yards gained on the ground.

Alas, Bettis and his type are long gone. There are no touchdown "vultures" out there to use as an RB2.

This "new" fantasy world consists of just one running back and usually three receivers. In the rare times when the team needs a lead blocker, they call on a lineman. Quarterbacks throw the ball 45-50 times and only one running back is fantasy worthy.

And sometimes there isn't even one fantasy-worthy running back on a roster. Teams use multiple backs depending on the specific situation. It's the scourge of fantasy owners everywhere, known as "running-back-by-committee." This makes it tough on fantasy owners.

So once all the star running backs have been selected, what is a fantasy owner to do?

Below are eight running backs who just might be fantasy worthy in 2015 and none of them are starters.

Fred Jackson, Buffalo - Sure the Bills just traded for former Eagles running back LeSean McCoy, but Jackson will still get some work both as a running back and catching passes. In Philadelphia last season, McCoy's backup, Darren Sproles totaled 716 yards from scrimmage and six touchdowns. Jackson could match that total.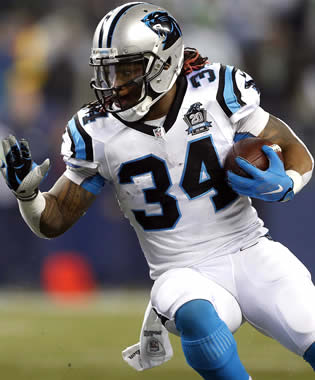 Williams needs to make his mark early in the season.

Giovani Bernard, Cincinnati - Last season was supposed to be a breakout year for Bernard, but rookie Jeremy Hill "stole" his opportunity. The Bengals loved using the big back, particularly late in the season, in bad weather. Bernard is too talented to let sit on the bench, however, and we expect Bengals coach Marvin Lewis to get him more than last season's 211 touches.

DeAngelo Williams, Pittsburgh - Starter Le'Veon Bell will miss the first three games due to suspension and Williams will get a chance to prove he's worthy of 8-10 touches a game even when Bell returns in Week 4. He'll have to earn his playing time against three tough defenses - New England, San Francisco and St. Louis.

Knile Davis, Kansas City - Davis might be the best running back in football who isn't a starter. Strong and fast, in his only start of 2014 he rushed for 132 yards and a touchdown. In his only start of 2013 he rushed for 81 yards and two scores. His problem is star Jamaal Charles is the starter and a fantasy stud, but a smart coach will get him more touches and Andy Reid is still a smart coach.

Joseph Randle, Dallas - Just signed Darren McFadden is not the long-term replacement for departed DeMarco Murray. He's not even the short-term answer. Assuming the Cowboys select a stud running back on Draft Day, Randle and his 6.7 ypc should be the rookie's backup. And if Dallas doesn't get their pick right, or the young back hits the "rookie wall" Randle could end up being the starter at some point this season.

Ryan Mathews, Philadelphia - Selecting Mathews with a late pick in your draft has two key factors going for him that may help you score big fantasy points. The Eagles ran a league-high 1,127 plays last season and under Chip Kelly are going to run up tempo again. Meanwhile, DeMarco Murray has only once played an entire 16-game schedule and that was last season when the Cowboys overworked him to the tune of 449 touches.

Antone Smith, Atlanta - Smith was an explosive playmaker in 2014, before a broken leg ended his season in Week 11. He scored five times last season, two rushing and three receiving, and the average length was 51 yards. If the Falcons don't draft a running back early, then Smith will get the ball a lot more in 2015 and could end up being one of the best running back bargains.

C.J. Spiller, New Orleans - Big things were expected of Spiller and in only one of his five seasons did he deliver the goods (2012). But with a smart quarterback in Drew Brees, Spiller will be the next Reggie Bush. That won't be the 1,000-yard Bush from Miami, but the all-purpose back that we saw in New Orleans from 2006-10. Add in that Mark Ingram has only once played all 16 games in a season and Spiller could start a couple of games too.


---
Steve Schwarz served as the fantasy sports editor of The Sports Network and is the 2014 FSWA Football Writer of the Year.