With just a couple of games left in the fantasy regular season and no teams on bye, you should be starting your strongest lineups of the season. Unless, of course, you were dependent on the Baltimore Ravens offense to help lead you to the championship.

Truths

While you live, tell the truth, and shame the devil!.

- William Shakespeare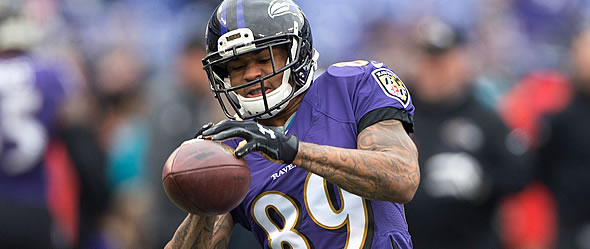 Nightmare: The Ravens have lost their starting quarterback, running back and wide receiver in 2015.




1) In the last 19 days, the Ravens have lost 100 percent of their passing yards, 65 percent of their rushing yards and 29 percent of their receiving yards, due to injuries.



True. Fantasy owners should stay as far away from the Ravens offense as possible. You may be tempted to claim Javorius Allen this week, but think about the offense in which he will play. No Joe Flacco (266-of-413 for 2791 yards, 14 TDs). No Steve Smith (46-670-3) No Justin Forsett (combined 794 yards, 2 TDs). Although Allen has favorable matchups the next two weekends, with no passing threat to speak of, he'll struggle against stacked defenses and his fantasy impact is likely to be minimal.



2) The Dallas Cowboys are 3-0 with Tony Romo under center and 0-7 without him.



Romo wasn't great Sunday (18-of-28 for 227 yards 2TDs, 2 INTs), but he was certainly better than Matt Cassel or Brandon Weeden. Plus, just having him under center opens up the running game. The bad news for those who waited patiently for Romo's return is the difficult schedule he will face. Four of his next five opponents rank in the top half of "net yards per pass" including a Thanksgiving Day game against undefeated and second-ranked against the pass – Carolina (5.2 yards per attempt). The Panthers also lead the league in passes intercepted (15).



3) Making a prediction on the best Green Bay running back is about as easy as choosing a Patriots back to start.



While it seems that Eddie Lacy took a huge step forward on Sunday, there are no guarantees in the Packers backfield. Lacy has led the team in running back fantasy points five times this season and James Starks has also been the better producer in five games. If you can figure out which one will be "the guy" in Week 12, he has a favorable matchup against the Bears, who are ranked 29th in yards per attempt (4.6). If forced, I'd choose Lacy.



4) Bucs management and fantasy owners were both wrong in giving up too quickly on Doug Martin.



Tampa Bay didn't pick up Martin's fifth-year option and that's going to be a costly mistake as he's posted 941 yards through 10 games and is averaging a career-high 5.0 ypc. The rushing total is second-best in the league behind only the 1,006 yards of Adrian Peterson. Martin's ADP dropped from 24.2 in 2014 to 42.0 in 2015 as owners were scared off by his health, the presence of Charles Sims and a rookie quarterback. It turns out Sims is just the change-of-pace back and Winston has been better than expected.



5) As I wrote last week, Danny Amendola played the role of "Julian Edelman" in the New England offense and posted solid numbers in Week 11.



Amendola gave fantasy owners 11.7 fantasy points, which wasn't quite up to Edelman's average of 12.6, but it was pretty close. Unfortunately, he hurt his knee late in the game so his future production is unknown at this time. Brandon LaFell could be the outside guy next week if Amendola isn't ready to play.



Lies



Any fool can tell the truth, but it requires a man of some sense to know how to lie well.

- Samuel Butler




1) Don't be fooled by Cardinals wideout J.J. Nelson's great production in Week 11.



Nelson led Arizona with four catches for 142 yards and a touchdown on Monday night, but his fantasy value is completely determined by the health of Michael Floyd and John Brown. You might get one more week of use from Nelson with Floyd unlikely to return for Week 12, but this could be a good opportunity to claim the former UAB receiver (he's owned in less than 5 percent of all leagues) and trade him while his value is at its peak.



2) Ben Roethlisberger was one of the best starting quarterbacks in Week 10.



False, but only because "Big Ben" didn't start. He set an NFL record for the most passing yards by a quarterback off the bench. Roethlisberger and the Steelers had a bye in Week 11 so he should be healthy, but he faces a tough stretch run over the next four weeks: @Seattle, Indianapolis, @Cincinnati and Denver. Only one of the four, the Colts, is a plus matchup.



3) The return of Karlos Williams has killed LeSean McCoy's fantasy value.



Surprisingly, McCoy has produced the fifth-most points by a fantasy running back since Karlos Williams returned from a concussion in Week 9. McCoy is averaging 17.4 FPts/G and carried the ball a season-high 20 times against the Patriots. He was also targeted 10 times. Meanwhile, Williams' production has dropped from 23 points in Week 9, to 11 points in Week 10, and 1.1 points Monday night. Williams is now completely touchdown dependent and McCoy is a must start.



4) Johnny Manziel is a changed "man" in 2015.



Apparently not. A video is making the rounds of Manziel partying over the Browns' bye week. It cost the second-year quarterback his starting assignment as head coach Mike Pettine benched him. Although it's a shame for the young quarterback, backup Josh McCown threw for 457 yards and a pair of touchdowns versus the Ravens in Week 5 and is a viable fantasy option.



5) First- and second-year quarterbacks are ready to contribute to your fantasy team on a week-in, week-out basis.



Mostly false. In a 12-team fantasy league, none of the following quarterbacks rank in the top-12 in FPts/G; Derek Carr (21.8), Jameis Winston (21.5), Marcus Mariota (21.5), Teddy Bridgewater (16.5), Manziel (12.6). Only Blake Bortles (23.2) is an everyday starting fantasy quarterback in 2015. The next three young quarterbacks, Carr, Winston and Mariota, rank 13th, 16th and 17th, respectively, among quarterbacks with more than one start. That doesn't mean the young guys can't help you in a shared situation. Two of them, Mariota facing Oakland and Winston against Indianapolis, have favorable matchups in Week 12.


---
Steve Schwarz served as the fantasy sports editor of The Sports Network and is the 2014 FSWA Football Writer of the Year.