Most fantasy leagues ended Monday night, but for those remaining, this week's games pose a new and difficult problem … the player "resting for the playoffs."

Truths

The truth, the whole truth and nothing but the truth …

- Noah Webster (although the basic tenet likely traces back to Roman times)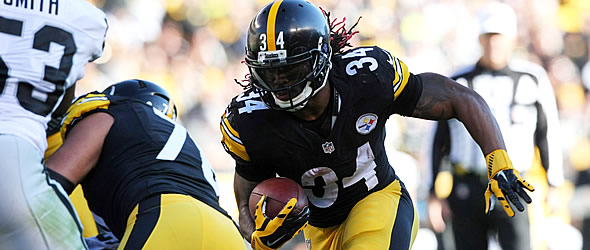 Pittsburgh Gold: Williams has been a key player on many fantasy championship teams in 2015.




1) Over the past three games (the fantasy playoffs) Washington QB Kirk Cousins was the No. 1 fantasy option, posting 33.1 FPts/G.



Truth. The fourth-year pro has gone from "why did they draft him?" in 2012 to quality starter in 2015. Selected in the fourth round four years ago, after the team spent a virtual fortune to move up and get Robert Griffin III with the second-overall pick, Cousins has posted three excellent weeks in this season's fantasy playoffs. Please remember this fact for next season – Cousins, who usually plays better at home than on the road, has started two games in Philadelphia in his career and posted 33.9 fantasy points both times. However, Washington is locked into the fourth seed and has nothing to play for in Week 17.



2) DeAngelo Williams produced more per start this season than Le'Veon Bell in any season.



True. Bell averaged 14.5 FPts/G this season while Williams posted 19.6 FPts/G in his nine starts. Even in Bell's great 2014 season he only averaged 18 points per contest. Did Williams earn playing time in 2016? Probably. Did he earn enough time to significantly reduce Bell's fantasy value? Only Mike Tomlin knows for sure. Williams figures to go big in the season finale against Cleveland's sad run defense which is yielding a league-worst 135.0 ypg.



3) The Panthers loss in Week 16 was great news for fantasy owners.



The Panthers first loss of the season means that the No. 1 seed in the NFC is still up for grabs heading into the final weekend. It also means that neither Arizona (32.2 ppg) nor Carolina (30.8) will rest their starters. Both have 4:25 pm start times so the NFL's top-two scoring teams will be playing the full 60 minutes. Start them as usual.



4) Fantasy owners can't complain about the lack of quality quarterback play this season.



Twenty-five quarterbacks averaged at least 20 FPts/G in 2015. Cam Newton was No. 1 at 28 ppg and Ryan Tannehill was No. 25 at 20 ppg. Even throwing out Geno Smith and Matt Schaub, who started one and two games, respectively, that leaves 23 quarterbacks who averaged 20 FPts/G. From 2000-14 the NFL average is just 10.2 quarterbacks producing at that level each season.



5) With a division title and a playoff spot in the balance, the Indianapolis Colts could be starting Stephen Morris at quarterback.



Sad, but true. The Colts placed Charlie Whitehurst (hamstring) on injured reserve and Head Coach Chuck Pagano labeled Matt Hasselbeck as "doubtful." Unless we hear good news about Andrew Luck, Morris is the only healthy quarterback left on the roster. This news can't make T.Y. Hilton or Donte Moncreif owners very happy.



Lies



The most common lie is that which one lies to himself; lying to others is relatively an exception.

- Friedrich Nietzsche

1) Fantasy owners are accurate at choosing top receivers.

Oh, how I wish I could say this was true, but I can't. Even with all the historic data available to fantasy owners, only three of the first 10 wide receivers selected this fall produced top-10 fantasy points per game totals (Odell Beckham Jr., Antonio Brown and Julio Jones). Thirty percent … we should be ashamed.



2) Selecting New England tight end Rob Gronkowski in the second round was worth the "reach."



While Gronkowski (13 FPts/G) led all tight ends in scoring for the third time in four seasons, the margin wasn't so great as to warrant the early selection. Four other tight ends averaged double-digits – Jordan Reed (12.1), Tyler Eifert (10.7), Gary Barnidge (10.1) and Greg Olsen (10.1). None of the other four were drafted before the fifth round. It's the first time five tight ends averaged double-digits in the last 15 seasons.

3) Adrian Peterson is really Superman without the cape.

Close, but not quite. "All Day" does things mere mortals can't imagine, like coming back from an ACL/ MCL knee injury in just nine months and rushing for 2,097 yards the next season. Or being forced to sit nearly a full season by the league before winning another rushing title as is the likely outcome after next weekend's games. He is the model of consistency, rushing for more than 1,200 yards and at least 10 touchdowns in seven of nine professional seasons. Peterson should crack the top-10 all-time in rushing yards next season. Is there a reason why he shouldn't be a top-three selection in 2016?



4) It's time to consider Doug Baldwin as a top-10 fantasy receiver.



While he is ranked seventh in fantasy points (186.3) and ninth in FPts/G (12.4), I think it's more of a "career year" than his stepping up in production level. There were a number of factors which helped him in 2015. Jimmy Graham went down with a season-ending injury in Week 12. Marshawn Lynch hasn't played since Week 10. Both should be back in 2016. In the seven games when both Lynch and Graham were in the lineup, Baldwin averaged just 7.04 FPts/G. He averaged 17.1 FPts/G when one or both were out of the lineup.



5) I would have won the fantasy title this year if only …



Perhaps you should read the Nietzsche quote about lying to yourself again. Analyze what went wrong and promise to be more prepared in 2016.


---
Steve Schwarz served as the fantasy sports editor of The Sports Network and is the 2014 FSWA Football Writer of the Year.