Truths

The truth is incontrovertible. Malice may attack it and ignorance may deride it, but in the end, there it is.
- Winston Churchill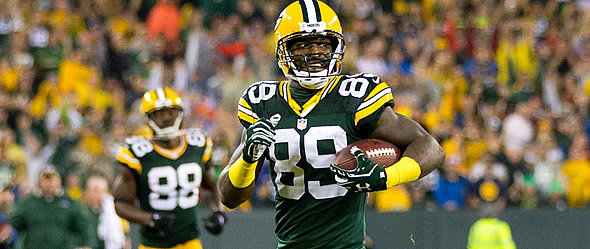 Underutilized: Green Bay's James Jones ranks 46th in targets (21) among fantasy wide receivers.





1) Green Bay wideout James Jones has been severely underutilized through four games.



Jones is ranked ninth in wide receiver fantasy points, yet he's produced those results with just 21 targets. That's 2.65 points per target (PPT), which is by far the best in the NFL among receivers with a minimum of 20 targets. The only other wideout with a PPT above two is Cleveland's Travis Benjamin (as a reference, position-points leader Larry Fitzgerald is averaging 1.97 PPT and Julio Jones is at 1.38 PPT). Hey offensive coordinators, get these two guys more work!



2) Michael Vick can't produce fantasy-worthy numbers.



Vick threw for 124 yards in his first start since coming to the Steelers in the same offense that has allowed Big Ben to average 304 ypg over the first three weeks. Week 4 was not a fluke. In Vick's last 10 starts, which included six games in a quarterback-friendly Chip Kelly offense back in 2013, he's averaged 174 passing yards and just 10.1 fantasy points per game. Starting Vick looks tempting with all the surrounding talent, but the plan is likely to continue to backfire.



3) The Buffalo Bills defense is overrated.



Blame some of that on the noise that comes out of the mouth of head coach Rex Ryan. The Buffalo pass defense has been horrible through the first quarter of the season, yielding almost 300 net yards per game and 22.2 fantasy points per game to opposing quarterbacks (third highest). At least their run defense is solid (78.7 ypg) … or is that number low because teams are choosing to pass the ball? The Bills will face Marcus Mariota in Week 5, who has thrown for 277.7 ypg with eight touchdowns against just two interceptions, so the Bills defense is unlikely to improve it's ranking this weekend.



4) Andy Dalton regression in 2014 was primarily due to outside circumstances.



Where Aaron Rodgers as an elite quarterback may be able to overcome major obstacles, Dalton as a good quarterback can't. Injuries to A.J. Green and Marvin Jones along with an emphasis on the running game led to Dalton's fantasy demise last season. His starting receivers are once again healthy and Dalton is off to a flying start averaging 296.8 ypg and 2.25 touchdown passes. Dalton's 128.3 home passer rating will be tested by Richard Sherman and the Seahawks in Week 5, but I'd still play him.



5) The Kansas City Chiefs defense has "earned" their league worst fantasy ranking and it could make for a spot start from both Jay Cutler and Teddy Bridgewater over the next two games.



Cutler returned from a hamstring injury and posted 281 yards and two touchdowns against the Oakland Raiders last Sunday while playing at less than 100-percent. He'll faced a depleted Chiefs secondary that is yielding 25.7 fantasy points per game including a league-worst 11 touchdown passes. I'd be even more excited if Cutler's No. 1 target, Alshon Jeffery, returns from his hamstring issues.



Lies



The great enemy of the truth is very often not the lie -- deliberate, contrived, and dishonest -- but the myth -- persistent, persuasive, and unrealistic.

- President John F. Kennedy

1) Brandin Cooks is the Saints deep threat in 2015.

Cooks was likely a popular pick at your fantasy draft as the guy to inherit Kenny Stills' job as down field threat. Through four games, not only isn't he a deep threat, but he's hardly any threat at all. He's caught 20 balls for 215 yards and zero touchdowns. He's averaging just 10.8 yards per reception. He could be a perfect "buy-low" candidate, however, as the Saints next four opponents (Philadelphia, Atlanta, Indianapolis, New York Giants) are all bottom-10 in pass defense.

2) Running back Ronnie Hillman had the "hot hand."

The implied meaning is that we should expect Hillman will get more touches than C.J. Anderson this coming weekend. While he may get more touches, Gary Kubiak's "hot hand" comment may be a bit of an overstatement. Hillman had one good run last Sunday (a 72-yard rushing TD). For the season, his 38 other carries have yielded a 3.13 ypc average which is only slightly better than Anderson's 2.7 ypc and well below the league average of 4.1 ypc. The Oakland Raiders' run defense is ranked 11th at 93.3 ypg therefore neither back is a great choice in Week 5.



3) David Johnson "played like a rookie today."



Bruce Arians' comment was just coach-speak for "we need to keep pushing this very talented young star." Yes, he did fumble the ball last Sunday, but he also scored for the fourth time in four games. He doesn't see a lot of touches per game so he'll always be "touchdown-dependent," but if you are dealing with injuries or bye week absences he's certainly worth a flier. Johnson is averaging 5.7 yards per rush, 15.2 yards per reception and 56.7 yards per kickoff return.



4) The defending rushing champion, DeMarco Murray, is on pace to run for 235 yards this season.



Murray didn't suddenly become a horrible runner. He's the same guy who rushed for 1,845 yards last season … with a little more wear. Blame this one on a completely inept offensive line. Murray rarely has time to look for a hole before he's hit by a defender. If Chip Kelly is as smart as he thinks he is, he'll find a way to fix the line and Murray can become useful to fantasy owners. Until then, it's probably smart to start someone else.



5) Patriots running back Dion Lewis can continue to average 14.8 fantasy points per game.



When it comes to Bill Belichick's running backs nothing is guaranteed. If I owned Lewis, which I don't, I'd be "selling high." Through the first three games the Patriots are passing the ball 63.9 percent of the time. LeGarrette Blount should take a larger chunk of the rushing attempts, particularly when the weather turns bad in the northeast, so Lewis figures to become the next "Kevin Faulk." There is nothing wrong with that if you are a Patriots fan, Faulk was a clutch performer, but his fantasy value was always limited. Lewis was out-rushed in Week 3 by Blount who should be the goal line and run-out-the-clock guy.


---
Steve Schwarz served as the fantasy sports editor of The Sports Network and is the 2014 FSWA Football Writer of the Year.