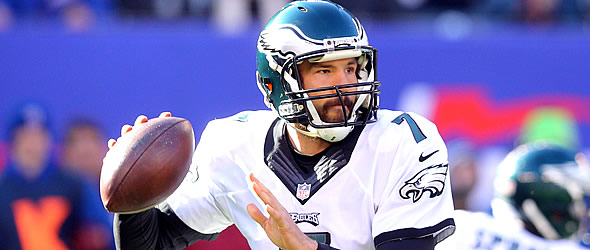 Nothing to see here: The last time the Eagles had a top 12 fantasy QB was Nick Foles back in 2013.


Last season the Eagles quarterback dilemma was whether Sam Bradford would be healthy enough to play in Week 1 for Chip Kellyís up tempo offense and whether he would still be around for the fantasy playoffs in Week 14.

The luckiest man alive (at least when it comes to signing multi-million dollar NFL contracts despite a complete lack of production or even wins) managed to overcome two knee surgeries and be in uniform for the start of the season. And while he did miss two games due to injury he was still on the field for Weeks 14-16. Bradford even threw for more than 300 yards twice (Week 15 and 16).

So you would think that would be the end of the controversy, right? Think again.

The Eagles front office has gone through massive changes this past six months. Out went Mr. Kelly and his fast-paced offense.

In came a disciple of Andy Reid football Ė Doug Pederson. We donít know much about what Pedersonís style is going to look like since heís never been a head coach, but all indications are that it will be a traditional offense. With a fullback! And huddles! And quarterback audibles! Those are three items the Eagles didnít believe in under Kelly.

With Kellyís departure went the general manager as well. His replacement, the previously demoted Howie Roseman, returned from his three-year exile of running the business side of the Eaglesí operation. His rise from the ashes was complete when he maneuvered the team up the draft board while dumping huge salary obligations created by the last GM until the team was in position to draft a top young quarterback.

And thatís just what Roseman did. Despite having signed Bradford to a large contract along with professional clipboard-holder Chase Daniel to an extraordinarily large backup quarterback deal, the Eagles selected Carson Wentz with the second pick of the 2016 draft. All told, Philadelphia will spend $22.3 million at the quarterback position this upcoming season.

But fantasy owners donít care about the teamís salary cap.

We want to know which one of their three quarterbacks under contract will be the Eagles starting quarterback on Opening Day and how well, or poorly, will he perform. We want to know whether we can count on said quarterback to produce solid fantasy statistics week-in and week-out. And we want to know whether that quarterback will still be around as we make our drive for the fantasy playoffs and the fantasy championship.

Across the state in Pittsburgh, thatís an easy question to answer for the Steelers and Ben Roethlisberger. In New England its Jimmy Garoppolo in the first four games and a well-rested Tom Brady the remainder of the way. For the Eagles, however, itís just a lot of question marks.

Barring a refusal to participate in summer camp, Bradford will be the Eagles starting quarterback on Opening Day. But in this new ďold-styleĒ offense with the same old receivers (yes, the Eagles signed Rueben Randle, but he will likely be the No. 3 receiver behind holdovers Jordan Matthews and Nelson Agholor) Bradford is no better than a fantasy backup. A bye week replacement. A bad matchup replacement on the weeks when a starting quarterback is up against the tough Seattle Seahawks in CenturyLink Field or the Broncos at Mile High.

Or as an injury replacement. Now thatís ironic.

In the latest fantasyfootballcalculator.com mock draft, Bradford is going in the 15th round (ADP 170.9).

If Bradford gets hurt, early in the season, my gut says Daniels steps in. Thatís a red flag for fantasy owners as heís been a backup in New Orleans and Kansas City for the last six seasons and managed to throw just 77 passes in that time. Not being able to beat out Drew Brees (four seasons of more than 5,000 yards) is one thing, not surpassing Alex Smith in Kansas City says a lot more about Danielsí ability as a starting quarterback. In three seasons at the helm of the Kansas City Chiefs, Smith has never thrown for more than 3,500 yards or for more than 23 touchdowns.

When the inevitable Bradford injury happens and it is later in the season, or the Eagles play themselves out of playoff contention in the NFL East, I believe we would see Wentz under center. I would not, however, want my fantasy playoffs dependent on how Wentz plays those first few games.

Wentz has all the physical attributes to be a good quarterback -strong arm, size, running ability. He scored a 29 on the Wonderlic test (QB average is 24). The question is how quickly will he be able to adapt to the NFL? This situation will not be Russell Wilson beating out Matt Flynn. Wilson was much more ďNFL readyĒ after playing at North Carolina State and Wisconsin. Wentz was playing against inferior talent at North Dakota State. His opponents in 2016: Weber State, South Dakota State and Montana, to name a few. There are no Richard Shermanís or Patrick Petersonís playing at Jacksonville State.

Since 1970 there have been five FCS quarterbacks selected in the first round of the NFL draft. I researched the first four games in their rookie season (I see no way Wentz plays more than that in 2016) and the results were not very good. See below.

2008 - Joe Flacco averaged 150.75 yards passing, 1 TD, 4 INTs.

1995 - Steve McNair averaged 189.7 yards passing, 3 TDs, 1 INT (3 games).

1979 - Phil Simms averaged 116.75 yards passing, 4 TDs, 3 INTs.

1978 - Doug Williams averaged 168.5 yards passing, 4 TDs, 3 INTs.

1971 - Dan Pastorini averaged 160.5 passing yards, 2 TDs, 11 INTs.

I believe Wentz to be a top-10 quarterback Ö eventually. Not in 2016. But by 2017 he will be the Eagles official starter and by 2018 when the Eagles have added more weapons on offense, Wentz will be a valuable fantasy asset, a top-10 option.

Dynasty leagues should make Wentz a target this season, but redraft leagues should ignore all three Philadelphia quarterbacks.


---
Steve Schwarz served as the fantasy sports editor of The Sports Network and is the 2014 FSWA Football Writer of the Year.