After a pair of weekends with six teams on bye, Week 10 has just four, but it encompasses four solid fantasy quarterback options; Derek Carr, Andrew Luck, Matthew Stafford and Tyrod Taylor. For that reason I've included information on a few of your fantasy replacement options.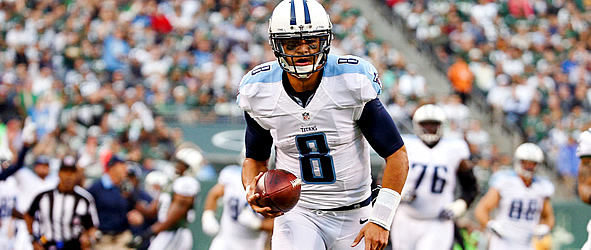 Marcus Mariota has finished as the QB4, QB3, QB10, QB13 and QB1 over the last five weeks.




Truths



"In a free society, there comes a time when the truth -- however hard it may be to hear, however impolitic it may seem to say -- must be told." - Al Gore



1) It's time to avoid all Minnesota running backs.



There was a time when fantasy owners thought Jerick McKinnon and Matt Asiata could be bye week fill-ins, but it's time to realize just how bad the Vikings' running game and offensive line has become. McKinnon averaged 18 carries per game from Week 3-5, but produced just one fantasy-worthy game and Asiata, thought to be the goal-line touchdown maker has just two touchdown runs in eight games. Trade them if you can, or drop them if you have more pressing needs.



2) Time to start noticing Marcus Mariota.



The addition of a running game not only hasn't hurt the second-year quarterback's stats, it's helped improve them. While the Titans seem to be a run-first team behind DeMarco Murray and rookie Derrick Henry, Marcus Mariota has increased his fantasy production from 21.2 FPts/G as a rookie to 23.7 in Year 2. He's averaging 28.7 FPts/G over his last five starts throwing 13 touchdown passes against just three interceptions as defenses try to start the running game. Tennessee has a favorable schedule over the next three weeks, until their bye in Week 13, with Green Bay (likely without Clay Matthews), Indianapolis and Chicago.



3) In addition to Mariota, fantasy owners should be looking at Tennessee's Rishard Mathews as a viable low-end option.



Mathews has emerged from a crowd of mediocre Titans receivers (Tajae Sharpe, Kendall Wright and Harry Douglas) to become their top wide receiver red-zone target. He's caught five of six red zone passes for five touchdowns. Matthews' yards still aren't there, but with five touchdowns in the last five games he's been Mariota's main man in the red zone.



4) Carson Wentz will be a viable fantasy option in Week 10.



The "Wentzwagon" has lost a lot of passengers over the past few weeks, but Week 10 should prove to be a good one for the rookie. Ranked 29th among quarterbacks at 16.8 FPts/G, this Sunday should be different. First, he's facing an Atlanta pass defense ranked 32nd (last) in the league, allowing 27.1 FPts/G to opposing quarterbacks. Second, if the Eagles want to stay close to this Falcons offense, who average 33.9 points per game, they better plan on putting up 30-plus points and they won't do that with their weak running game. This is only a one-game recommendation.



5) The Ohio State University has given us extraordinary rookie talent this season.



We have all seen what Ezekiel Elliott has done for Dallas and fantasy teams, but he's not the only Buckeye helping lineups. The No. 47 pick in the 2016 draft was Michael Thomas and he's blossoming into a star in New Orleans. Thomas has scored five times in the last six games and jumped past Willie Snead in the Saints receiving hierarchy behind Brandin Cooks. Meanwhile, defensive end Joey Bosa (No. 3 overall) has helped turn the Chargers' defense into a viable option (ranked No. 2 averaging 6.9 FPts/G). They were ranked 29th in 2015. And don't look now, but undrafted Buckeye Jalin Marshall put up 59 yards and a score on Sunday for the Jets, out-shining starters Brandon Marshall and Quincy Enunwa. Ohio State had 12 players drafted and three players signed as undrafted free agents in 2016 – Urban Meyer knows talent when he sees it.



Lies



"There is a rule for fantasy writers: The more truth you mix in with a lie, the stronger it gets." – Diane Duane

1) After a year-and-a-half of lies and half-truths, also known as political ads, it's back to beer, cars and Viagra ads during football games.

That's certainly an improvement, but I want more Carl's Jr. and Hardee's ads! And what ever happened to the Swedish bikini team?



2) Off his 18-carry, 107-yard effort on Sunday against Kansas City, Chris Ivory has become a viable fantasy option.



Sorry, I'm not buying Chris Ivory. This was really one fluke long run (42 yards) and more of the same mediocrity 17 carries for 65 yards (3.8 ypc). Ivory totaled 129 yards in 40 carries (3.2 ypc) over five previous games and neither he nor the Jaguars offensive line is very good. Plus, he's still going to split time with T.J. Yeldon.



3) Another popular pickup is likely to be Colin Kaepernick.



Don't be fooled by Colin Kaepernick's 398 yards passing – it was against the Saints. Although the Saints have won four of their last five after starting 0-3, it hasn't been because of their secondary. New Orleans has yielded 2,435 yards in eight games and even with poor math skills I can figure out that's more than 300 yards per game. The 49ers face Arizona in Week 10, who ranked third in points allowed (17.4).



4) Todd Gurley will eventually turn this thing around.



False. Through the halfway point of the 2016 season, Todd Gurley has been horrible, posting more than 75 yards just once and scoring just three times in eight games. Case Keenum has proven that he can't take advantage of a stacked defensive front and even when rookie No. 1 draft choice Jared Goff finally gets his chance it might be too late to help fantasy owners. Why does Jeff Fisher still have a head coaching job?



5) Aaron Rodgers struggled early, but he's back and ready to lead your fantasy team to the playoffs.



His team is just 4-4 and has lost three of their last four, but Aaron Rodgers' last three games have produced his three best fantasy totals of the season (29.0, 34.3 and 31.2). He's thrown 10 touchdowns and just one interception. Beware, however, the road to the playoffs gets bumpy for the Packers quarterback. He'll face Tennessee (ranked 19th in QB points allowed), Washington (8th), Philadelphia (9th) and Houston (2nd) over the next four weekends. In addition, three of the four are on the road where Rodgers is averaging just 219.3 ypg versus 276.2 ypg at Lambeau Field.


---
Steve Schwarz served as the fantasy sports editor of The Sports Network and is the 2014 FSWA Football Writer of the Year.