Week 4 is when fantasy coaching really begins as bye weeks come into play. Green Bay and Philadelphia will be sitting on the sidelines this weekend and team depth and waiver wire expertise begin to factor into fantasy results.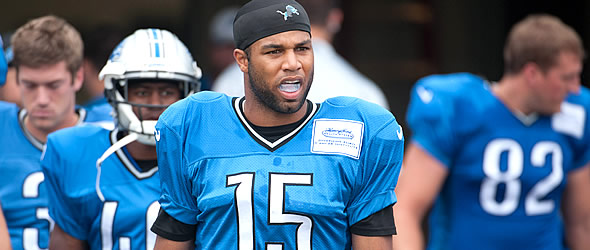 Golden Tate is off to a slow start, being overshadowed by Marvin Jones, Eric Ebron and Anquan Boldin.




Truths



"You can be standing right in front of the truth and not necessarily see it, and people only get it when they're ready to get it." - George Harrison



1) Not only has Marvin Jones taken over the No. 1 wideout role in Detroit, but Anquan Boldin is a better second option than Golden Tate.



Jones is doing everything (team-leading 29 targets, 18 receptions, 408 yards, 2 TDs, 17.6 fantasy ppg), Boldin (7.5 ppg) and tight end Eric Ebron are Matthew Staffordís ďgo-toĒ guys in the red zone and Tate (2.9) is unfortunately the mid-field possession receiver. Tate should be on your bench.



2) Jameis Winston has become a top-five fantasy quarterback option.



True. Despite a horrible four-interception game in Week 2 against the Cardinals, Winston confirmed his status as an elite quarterback by rebounding with a 405-yard, three-touchdown game in Week 3. The confirmation isnít just that he had such a big game, but that the coaching staff still let him throw 58 times after the disaster in Arizona and knows the ďteam goes as Winston goes.Ē Heís thrown a league-high 143 passes, three more than Drew Brees.



3) I am now a full-fledged, card-carrying member of the Carson Wentz fan club.



True. That doesnít mean, however, that I think heís a fantasy stud in redraft leagues. Despite his teamís early success, Wentz ranks 19th in fantasy points per game (20.2) and plays in a balanced offense. New Eagles head coach Doug Pederson will continue to protect his young quarterback by running the ball as much as he lets his talented rookie throw it (through three games the team has passed 102 time and run the ball 96 times).



4) Russell Wilson is one of the worst fantasy quarterbacks through Week 3.



True. Wilson ranks 30th among fantasy quarterbacks averaging just 16.4 ppg. The only QB ranked lower and also played three games is Case Keenum. Itís a two-part problem. Wilsonís offense doesnít have the threat of Marshawn Lynch in the backfield to pull linebackers and safeties close to the line of scrimmage and Wilson hasnít run the ball due to injuries. The Seahawks quarterback is currently dealing with a knee issue which means he probably wonít be running anytime soon and thatís a big part of his game (averaged 607 rushing yards and three TDs from 2012-15). The other issue, that Thomas Rawls or Christine Michael donít scare defenses as Lynch did, isnít going to change.



5) Three of the current top-5 fantasy running backs wonít be in the top-15 by mid-season.



True. David Johnson (18.9 FPts/G) and DeMarco Murray (18.6) should stay near the top, while LeGarrette Blount (17.9), DeAngelo Williams (17.6) and Tevin Coleman (17.3) are at their peak value right now and headed for a significant fall. When Tom Brady returns in Week 5 the Pats offense goes back to being short-pass oriented and Blount ends up being a short-yardage and red-zone specialist. LeíVeon Bell returns from suspension this Sunday sending Williams to the bench and Coleman and the Falcons hit the hardest part of their schedule beginning in Week 4.



Lies



"The truth is messy. It's raw and uncomfortable. You can't blame people for preferring lies." - Holly Black

1) The RBBC in Atlanta is working perfectly as Devonta Freeman is averaging 13.3 FPts/G and Coleman has put up 17.2 FPts/G.

False. The numbers look a lot better after the pair demolished the Saints for a combined 53.6 fantasy points, but they wonít get to play New Orleans again until Week 17 when many fantasy seasons are already completed. With Carolina, Denver and Seattle next up on the schedule and the Eagles, Cardinals and Rams later this season, Week 4 appears to be the perfect time to ďsell high.Ē

2) Big Eddie Lacy (23 rushing TDs 2013-15) is tough to stop in the red zone.

False. Apparently heís less effective in 2016 as heís an ugly 0-for-9 in scoring from the red zone. Perhaps thatís why teammate Jordy Nelson leads the league in red zone targets (9), red zone completions (6) and red zone touchdowns (4).



3) Washington tight end Jordan Reed, currently ranked 14th, should no longer be considered an elite fantasy tight end.



Itís too soon to write off Reed who has caught 16 balls for 190 yards. Heís still leading the Redskins in targets (25), but he hasnít been Kirk Cousinsí No. 1 guy in the red zone - thatís been Jamison Crowder (7). Last season Reed converted 23 red zone targets into 11 touchdowns, but this year heís 0-for-3. Too small a sample size.

4) Dallas wide receiver Dez Bryant, currently ranked 44th, should no longer be considered an elite fantasy wideout.

As with Reed, Iím not ready to give up on Bryant, but I will say that he wonít return to stud status until Tony Romo is under center. With rookie quarterback Dak Prescott at the controls, Bryantís value is greatly reduced. Prescott makes a quick read and either checks down to Cole Beasley or tucks it under his arm and runs with it. That trend allows defenses to take Bryant out of the offense by doubling him and forcing Prescott to look for a better option. Romo would still throw it to Bryant because he has the confidence in his receiver on any 50-50 ball.



5) Dustin Hopkinsí appearance at the top of the kicker stats is a fluke.



False. He may not beat out perennial favorite Stephen Gostkowski, but he appears to be capable of posting top numbers. Kirk Cousins isnít getting the Redskins into the end zone, but Washington has moved the ball well in each of the first three games - ranking third-best at 6.5 yards per play. Hopkins leads the NFL with 11 field goal attempts and heís been successful on all of them. Hopkins may finally break Washingtonís 10-year string of not producing a top-12 kicker.



---
Steve Schwarz served as the fantasy sports editor of The Sports Network and is the 2014 FSWA Football Writer of the Year.